Top 10 Logistics Companies in Ghaziabad for Fastest Deliveries in 2023
Having a seamless logistics operation ensures the successful growth of any business. Especially in a country like India, where traders, importers, and exporters are exponentially contributing to economic growth, the demand for solid logistics has also skyrocketed.
The logistics industry in the country grows at a rate of 10-12% annually and is expected to hit $380 billion by 2025; this figure is testimony to the fact that several logistics companies in India are increasing in number.
All the planning, controlling, storing, and figuring out the movement of commercial goods or cargo comes under the responsibility of a logistics company. They provide cost-efficient and hassle-free transportation and storage solutions to businesses. However, finding the proper logistics partner among the crowd is a tough nut to crack. Having done region-wise research of the entire country, in this following article, we have the top logistics companies in Ghaziabad.
Best Logistics Companies In Ghaziabad
There are many logistics companies in Ghaziabad, but here is a list of the top 10 most reliable logistics partners. Let us find out.
1. WareIQ
Founding Year: 2019
WareIQ is a trusted logistics partner in Ghaziabad that offers exceptional warehousing and order fulfillment services. With years of experience in the logistics industry, WareIQ has gained a reputation for its reliable and efficient services. Their cutting-edge technology and advanced supply chain management systems allow them to provide end-to-end logistics solutions to businesses of all sizes. The company's commitment to customer satisfaction is evident in their fast delivery times, real-time tracking, and 24/7 customer support. Their state-of-the-art warehouses are equipped with the latest security measures and can handle a wide range of products, making them the go-to logistics partner for businesses in Ghaziabad.
Key Features
Comprehensive logistics solutions: WareIQ provides end-to-end logistics solutions, from warehousing to order fulfillment and delivery, making it easier for businesses to manage their logistics operations under one roof.
Cutting-edge technology: WareIQ leverages advanced technology to optimize logistics processes, automate order processing, provide real-time tracking, and offer seamless communication between all stakeholders.
Cost-effective: WareIQ's logistics solutions are designed to be cost-effective, providing businesses competitive pricing while maintaining high-quality services.
Flexibility: WareIQ offers flexible storage options and logistics services that are tailored to meet the unique needs of each business, providing customized solutions that are adaptable to changing circumstances.
Reliable and timely delivery: WareIQ's logistics services are designed to ensure timely delivery, reducing lead times and ensuring that businesses can meet their customers' expectations.
2. Blue Dart Express Limited
Founding Year: 1983
Location: Raj Nagar, Ghaziabad
Blue Dart Express Limited was founded in 1983 and is among the top logistics companies in Ghaziabad and the entire South Asian continent. It delivers consignments to over 55,400+ locations in India and is a strong logistics partner to thousands of stakeholders, commercial verticals, and businesses due to its customer-centric approach. Blue Dart has accessibility to one of the most intricate and comprehensive distribution networks globally, which covers 220 countries and regions since it is a part of the Deutsche Post DHL e-commerce solution division.
Blue Dart provides an extensive set of logistics services to its clients, namely air express, freight forwarding, supply chain solutions, custom clearance, etc. Apart from being awarded for its innovative techniques and groundbreaking technology, and work ethic, Blue Dart is a climate-protective organization that believes in reducing its carbon footprints through its vital CSR initiatives.
Key Features
Strong operating systems and owns the largest network of computers in India.
Location, transit time, and price finder
Indigenous technology developed for track and trace, MIS, ERP, Customer service, Space Control, and Reservations.
Intricate surface network
Warehouses in 85 located and bonded warehouses in 7 major cities
ISO certified for quality assurance
3. FedEx Express India Pvt. Ltd
Founding Year: 1997
Location: Patel Nagar, Ghaziabad
FedEx Express was created in 1965 by CEO and Chairman Frederic W. Smit, who designed an innovative system back in his college days that would allow the safe delivery of shipments through time-sensitive deadlines. The logistics company is considered to be one of the biggest express transportation companies in the world, providing fast and reliable delivery to every US address and more. Its accessibility allows it to deliver to 220 countries and territories.
It guarantees delivery within one or two business days and uses an expansive international air and ground network for time-sensitive deliveries. FedEx provides corporate services like marketing, data analytics, finance IT, etc., to all its operating companies. To the customers, it provides delivery management, CRM, custom packaging, express freight services, ground packaging, and transportation, International freight services, web support, etc. 
Key Features
Customized packaging
Accessibility to a personal account to manage and operate shipping
Easy rescheduling and cancellation of pickup
Easy tracking systems to keep an eye on shipments
Online billing mechanism
Shipping data in customized formats
4. Gati Limited
Founding Year: 1989
Location: Mohan Nagar, Ghaziabad
If you are looking for the most reliable logistics companies in Ghaziabad, Gati Limited will perform beyond expectations. Founded in 1989, Gati is India's premier express Distribution and Supply Chain Management company having renowned expertise in surface and air express deliveries. Gati Limited is strategically owned by two major corporate and logistics giants, Allcargo Group and Japan's World Express. Gati provides custom-made solutions for all retail and MSME sectors.
If we have to talk about its widespread network, Gati has access to more than 19,800 PIN codes and 735 districts in India and operates globally in 180 countries. It provides end-to-end logistics services across multiple vertices, including International SupplyChain, CFS-ICD Contract logistics, Logistics park, crane rentals, etc.
Key Features
Multi-modal connectivity for logistics, 500 pickup points in India, and coverage of 200 countries
Technology-enabled management system
Regular updates of consignments
24X7X365 call centers and customer support
5. Safexpress Pvt. Ltd.
Founding Year: 1997
Location: Sahibabad, Ghaziabad
Making it to the top 10 logistics companies in Ghaziabad is Safepress Pvt Ltd, which began in 1997 with a mission to provide logistics excellence to its customers. Currently, the firm is one of the leading players in the supply chain and logistics industry in India, providing multiple and innovative solutions like Express Distribution, 3PL and Consulting, Inventory management, reverse logistics, etc. These services are provided to 9 different commercial verticals, namely Apparel & Lifestyle, E-commerce, Healthcare, Hi-tech, Publishing to Automotive, Engineering & Electrical Hardware, FMCG & Consumer Electronics, and Institutional. 
Key Features
3PL warehousing services are supported by 18 million+ sqft of warehousing space
9500+ GPS-enables vehicles and a network of 31188 pin codes in India
Operates on 2330 routes to over 5000 corporates across India
Containerized vehicles traversing 12,00,000 km every day
73 state-of-the-art logistics parks across the country. 
6. Agarwal Packers and Movers Ltd.
Founding Year: 1987
Location: Vrindavan Garden, Ghaziabad
Incepted by the hardcore effects of Shri Ramesh Agarwal and Shri Rajendra Agarwal in 1987, Agarwal packers and movers is one of the largest packing and moving companies in India and has continued to implement growth in the logistics sector of the country.
Starting from moving household goods, today it is not only one of the largest logistics companies in Ghaziabad and India, but it is also a Rs 650 crores business conglomerate offering a diversified set of services in Aviation logistics, packing and Moving (domestic and International), transportation, 3PL, Warehousing, Home Storage, Supply Chain, ODC Transportation, Cube-on-line Freight station, etc. Under their wing, they have 1200 vehicles, 3000 cubes, and 20 lac sqft of extremely secured warehouses. The firm serves not only in India but has a global presence in 182 countries.
Key Features
Customized trucking cubes with individual access – " Apka taala, apki chabi.'
Special LCD.LED screen cases to minimize the use of wooden crates
Shock absorbent moving boxes for fragile goods
State-pf-the-art packaging materials and system that saves cost by 26% and raise quality by 260%
Ventilates spaces for pets and plant carriers
Online vehicle tracking system round clock monitoring and centralized control room
7. Om Logistics Ltd
Founding Year: 1999
Location: Meerut Road Industrial Area, Ghaziabad
Om Logistics is the single largest multi-modal logistics company that offers integrated supply chain solutions to its customers, starting from transportation to warehousing. This is among the well-known logistics companies in Ghaziabad that believe in faster deliveries at the most efficient rates that reach the customers in perfect condition.
Having an established infrastructure and the support of several manufacturers in the country who tryst Om Logistics as a reliable partner, this firm has executed seamless, quick deliveries, organized the flow of goods, and combined advanced IT communication systems in logistics operations making shipments extremely convenient to handle. Services provided by Om logistics include warehousing, air cargo, speed trucking, import/export, 3PL logistics, railway cargo, sea cargo, FTL, PTL, Express cargo, etc. 
Key Features
675+ branch offices connecting 2500+ destinations in India
The fleet size of 4300 trucks, LCVs, Jumbo, and Containers
20 million sqft of warehousing space
Fully equipped Office automation and advanced communication systems.
8. Trackon Couriers Pvt. Ltd.
Founding Year: 2002
Location: Bhatiya Modh, Ghaziabad
Trackon is one of the most experienced logistics companies in Ghaziabad, with another headquarters in Mumbai. It started its journey in 2002, and since then, the firm has been an unstoppable force in the logistics sector of the country. Trackon is responsible for over 2 lakh consignments and services to 5000 pin codes daily. In 2010, the firm launched its premium product Prime Track which offers express deliveries to its customers and is used for valuable and urgent cargo by manufacturers.
Trackon provides express delivery through air, rail, and road across India, along with express surface cargo, risk management services, international deliveries, mailroom management, reverse pickup solutions, etc.
Key Features
Express delivery services across India and abroad
COD available
Reverse pickup solutions
Risk cover on consignments
Economical delivery solution
9. Spoton Logistics Pvt. Ltd.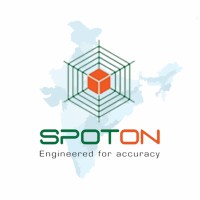 Founding Year: 2011
Location: Rishal Nagar, Ghaziabad
Spoton Logistics Pvt ltd, which was formerly known as Startrek logistics, is an Indian courier company that was established in 2014. It is one of the logistics companies in Ghaziabad to be funded by a private equity firm and employs more than 900 people across India. Spoton Logistics serves 22,000+ pin codes and has 252 located offices, 16 major hubs, 8 depots, and 447 operating fleets. The main headquarters for Spoton is in Bangalore, and it serves logistics solutions to a wide variety of industry verticals, namely Automotive, Engineering, Pharma, Electronics and amp, Lifestyle, Retail, etc. To expand its spectrum, Spoton combined itself with the 3PL company Raag technologies and Services by buying its majority stake.
Key Features
Day-definite domestic services
Express logistics
Reverse logistics services
Pan India Network
Industrial experience and a strong management team
10. Xpressbees Logistics Pvt. Ltd
Founding Year: 2015
Location: Sahibabad, Ghaziabad
With a 100% growth in annual revenue, Xpressbess Logistics Pvt Ltd has been accounted as the fastest-growing logistics company in Ghaziabad and across the country that provides end-to-end logistics services. The firm has a steep presence with over 3000+ offices and service centers in India, operates at 52+ cargo airports, hires 500+ customer care executives, and has 100+ significant hubs in the country.
By 2021, the firm was delivering more than 50,000 shipments per day. It started as a passionate fleet set sail by a bunch of entrepreneurs. Today, the company is a trusted partner of several major manufacturers and commercial organizations in e-commerce, healthcare, grocery, heavy machinery, finance, and automotive verticals.
Key Features
Capacity to handle 3 million+ shipments per day
35,000+ fleets on street
2500+ cities under its network
WareIQ – Amazon-prime Like Logistics for Modern Brands in India
WareIQ, an eCommerce fulfillment company, empowers online brands with a superior-tech platform to compete with Amazon like service levels by bringing their average delivery timelines from 5-10 days to 1-2 days.
"With WareIQ's full stack digital enabled fulfillment solution, we got access to the pan India network of fulfillment centers & cold storage facilities enabling same/next day delivery, without any upfront investment in supply chain infrastructure from our end. During the IPL campaign in April 2022,

WareIQ efficiently

handled unpredictable 200x surges in daily order volumes

of ~20k/day with a

99% fulfillment rate

. With WareIQ as our preferred fulfillment partner, we witnessed 172% growth in online order volume in just 4 months, with a significant improvement in the overall customer experience in fulfillment."
Suggested Read: Looking for Top logistics companies in Faridabad?
Services Offered by Logistics Companies
Logistics plays an important role in every business sector. Before you plan on hiring the right partner. Check out some of the services offered by logistics companies in Ghaziabad.
Warehousing Services
Cargo is usually stored at warehouses before being shipped for transit. It could either take one large warehouse or multiple warehouses, sometimes in several locations based on the shipping requirements. Businesses that have a larger infrastructure choose their in-house warehousing system; however, the most popular and cost-effective way of storing cargo is availing of warehousing services owned by third-party logistics providers. These companies are responsible for the entire handling, storage, and transportation of cargo, which makes it easier for businesses and saves time as well as money. 
3PL Services
Third-party logistics services, or 3PL services, are the bridge between manufacturers and consumers. They are the reason why manufacturers can take a breath of fresh air after their cargo has been picked up by a logistics partner. 3PL services do not mean the manufacturing of goods. It means a quality assurance of the product until it reaches the consumers. Other areas of expertise are customs relations, storage, terminal operation, etc. Logistics companies in Ghaziabad offer cutting-edge 3PL services, and every shipping and transportation process comes under their radar.
Cargo Shipping Services
This includes the transportation or movement of cargo through trains, ships, and trucks. These shipments are usually large in volume and use full truck loads or FTLs for large or oversized loads. Sometimes if your shipment is in small volumes, you can also consider sharing transportation costs with other companies using LTLs. Shipping can be very painstaking if you don't have an experienced player in the process. Hence, leave it to your logistics partner.
Transportation Management Systems
Logistics companies in Ghaziabad offer TMS systems to plan, optimize and execute activities involved in cargo transportation. All the data from the transportation network, route details, etc., are gathered in system software and presented in understandable formats. This ensures that the entire operation is streamlined and transparent.
How to Choose the Best Logistics Company for Your Business in Ghaziabad?
At the end of the day, the right delivery partner will ensure a steady growth graph for our sales. Timely and cost-efficient logistics are the only way to address your client's requirements. But what are the key factors you must consider before choosing the right logistics partner? Read below –
Analyze Your Requirements
The very first thing any business should do is to figure out what type of product they will be delivering and what are their logistics requirement. For example, some products may require special handling, such as fragile cargo. Others may require special attention in storage and transportation, like refrigerated or temperature-controlled containers and warehouses for perishable goods. Further, they need to analyze their order volumes and customer demands to approximate how often they need shipment services.
Reliable Partner
There are several logistics companies in Ghaziabad, but you have to pick the most suitable and reliable partner for your logistics requirements. Before putting your trust in any company, make sure you shortlist your top favorites based on research and check online reviews, references, and client testimonials.
Software And Management Systems
The right logistics partner will ensure that they have the most advanced and latest operating systems in place. By this, we mean the inventory management and scheduling systems that are owned by the logistics companies in Ghaziabad. Some prior research is required by businesses to find out which type of systems would suit their requirements. Many organizations look for real-time tracking, delivery monitoring systems, loss or damage insurance, etc., from their logistics partners before making a deal.
Flexible Services
It is essential to have on-demand transport services readily available for your business. Make sure you understand if your logistics partner is willing to go that extra mile and execute urgent or immediate deliveries outside business hours or not.
Figure Out Estimates
While making a deal with your logistics partner, request economic transparency so that you can make the most use of what you are paying for. Do a background search on the effectiveness of the logistics companies and ensure that they are well-equipped to fulfill your customer requirements before signing any contract.
Choosing WareIQ As Your Trusted Logistics Partner
Narrow down the top logistics companies in Ghaziabad before making any decision. The above list will give you a headstart in your search. Further comes the crucial part of deciding which logistics company will give you the widest pin code reach and the most advanced tracking services. Balance your cost to the services they are offering, analyze the solutions the company provides, and how they can benefit you and your customers. Logistics is the most important part of any business operation. Hence, make an informed decision.
Logistics Companies in Ghaziabad: FAQ