What is Seller Fulfilled Prime? Top 6 Advantages of Using Seller Fulfilled Prime (SFP)
Amazon Prime, a paid subscription service allows its members for availing services like two day shipping, video streaming, etc. Prime members are more engaged with Amazon as compared to non-prime members. This trend has been increasing for several years, and not only has it remained unaffected by the pandemic, but its demand has been further boosted by it. Seller Fulfilled Prime (SFP) is one of the primary services offered by Amazon. Read further to understand what it is and how it could be helpful for your business.
In 2015, Amazon launched their Seller Fulfilled Prime order fulfillment service, which enabled high-volume sellers to sell under the Prime label, provided they meet certain requirements needed by the service. In fact, with 200 million Prime members, as reported by Amazon in April 2021, and worldwide spending at an average of $1,400 a year — compared to the $600-per-year average spent by non-members — the Prime subscriber pool offers a significant opportunity to reach ready-to-spend buyers. Thus, sellers cannot ignore the benefits of selling to Amazon Prime members.
What is Seller Fulfilled Prime?
Amazon Seller Fulfilled Prime is a program that allows a seller to deliver products to Prime customers from their own warehouse or third-party (3PL) logistics order fulfillment companies that they partner with. With this, the seller gets to display the Prime badge.
Joining Prime also means fulfilling orders with two-day delivery at no additional charge for Prime customers. Since 2005, Prime has ensured two-day deliveries on all orders to their customers for a flat fee paid annually. Certain items are also delivered to customers in a few zip codes on the same day.
Hence, products qualifying for the Prime badge are recognized by the 200+ million Amazon Prime subscribers worldwide and are deemed to be more trustworthy and inspire more demand. Amazon says that a 2015 sales analysis recorded a 50% increase in Prime sellers' sales.
WareIQ – Amazon-prime Like Logistics for Modern Brands in India
WareIQ, an eCommerce fulfillment company, empowers online brands with a superior-tech platform to compete with Amazon like service levels by bringing their average delivery timelines from 5-10 days to 1-2 days.
"WareIQ came to Gynoveda with a full stack fulfillment platform & gave Gynoveda access to a nation wide network of fulfillment centers & last mile & hyperlocal courier partners closer to our customers based out of North East & North India.

They made

same-day delivery possible

for us in metros.

"
Suggested Read: How Trust Badges Improve eCommerce Sales?
What are the Services Offered by Seller Fulfilled Prime?
1 and 2-day shipping
The one and two-day premium shipping service to Prime customers are the standard criterion set by Amazon to be met by all Seller Fulfilled Prime sellers. They ship the Prime orders directly to the Prime customers from their warehouse or 3PL. In some zip codes, Prime shoppers receive same-day shipping for particular items. It is also necessary that the Prime seller uses only Amazon-approved shipping companies and must adhere to Amazon's set benchmarks.
Free shipping
A Seller Fulfilled Prime seller displaying the Amazon Prime badge on his listings commits to offer premium one or two-day shipping with no extra charges for prime customers. This free shipping completely depends upon program guidelines.
Same-day order processing
Orders received must be processed and shipped by 2 PM at the Seller Fulfilled Prime seller's time on the same day per the program guidelines. Same-day order processing means the Prime order must be checked for various information and sent to the warehouse closest to the delivery location. Pickers must pick up the item, pack, and hand it over to the shipping carrier the same day.
Saturday delivery and pickup
Seller Fulfilled Prime sellers offer Saturday delivery and pickup. This delivery and pickup came into being because Amazon recorded less than 16% of orders being delivered to Prime shoppers within two days by Prime sellers as promised. Fewer orders were delivered because most sellers did not work during the weekends.
Order tracking
Order tracking helps the stakeholders monitor all orders received at every stage through fulfillment status – processed, fulfilled, shipped, and delivered. Order tracking also communicates the regular status updates and ETD (estimated time of delivery) to the stakeholders, including the customer.
99% timely deliveries
Gartner says businesses lose 71% of customers because of poor customer service and on-time delivery is the most important metric for customer satisfaction in the shipping industry. Thus, on-time delivery is a key metric and is part of the Seller Fulfilled Prime program requirements.
Which Types of Business is Seller Fulfilled Prime for?
There are many eCommerce products, ranging from conventional retailing and private labeling to big brands selling direct, retail, selling stocks & shares, real estate, and selling second-hand or used items. While all these products can benefit from the Prime features, it is usually the retailers who have the most to gain.
Retailers compete with countless other businesses and stock hundreds if not, thousands of product lines. With the Prime badge on their products, retailers can command more demand than their competitors and achieve massive sales.
Seller Fulfilled Prime can benefit brand owners who already manage their shipping to customers. It can also help new brands build up their businesses using Amazon and can encourage them to become multi-channel sellers. Businesses that fulfill their orders are often reluctant to join the Fulfillment by Amazon (FBA) program. It doesn't make sense for companies who have put in the investment and hard work into shipping effectively to then outsource order fulfillment for fulfilling Amazon orders.
The Amazon Seller Fulfilled Prime Program makes even more sense for perishable goods or products, such as vitamins and supplements, with low shelf life or specific storage restrictions. FBA warehouses are not climate controlled and need to ship such cargo right away to avoid expiry or damage.
Below is a list of products that are suitable for Seller Fulfilled Prime. Although sellers also handle a few items in the below list via the FBA program, the list is for reference only and is by no means exhaustive.
Appliances and furniture items
High-value products or fragile items
Seasonal items that will sell for a few months in a year
Perishable items have a low shelf life or have specific storage restrictions such as being climate controlled
Products having unknown demand variation
Fast-changing fashion items such as clothing and apparel
Slow-moving items/products
Products shipped in multiple boxes
What are the Requirements to Qualify for Amazon Seller Fulfilled Prime in 2022?
Amazon takes exceptional care and pays a lot of attention to their Prime members during the purchasing period and product delivery, as it is one of their highest priorities. Hence, Amazon has strict requirements for sellers to qualify for the Seller Fulfilled Prime program.
Here are a few of the basic qualifications for the Seller Fulfilled Prime program to be met by the seller:
Eligible sellers or their 3PL partners must go through the Seller Fulfilled Prime trial period and meet the following requirements on a minimum of 50 Amazon Prime trial orders.
Sellers register for a 90-day trial period. Seller's listings DO NOT have the prime badge during this trial period.
Sellers need to complete 200 orders in 90 days.
Sellers need to use the free Prime shipping template and must offer Premium one-day to two-day delivery options.
Sellers must use shipping services that offer Saturday or Sunday Pickup and Delivery.
Sellers should ensure that at least 99% of all Prime orders must be delivered on time.
Sellers should provide a valid tracking ID for at least 97% of premium shipping orders.
Sellers should achieve a cancellation rate of less than 0.5% of pre-fulfilled Prime orders (by the seller).
Sellers should use Amazon Buy Shipping Services for at least 95% of orders (this is when you purchase shipping labels in Sellercentral, and tracking information is automatically added).
Sellers should process orders the same day that they are received.
Sellers should ensure that orders are shipped out the same day if they are made by 2 PM in the seller's timezone.
Sellers should achieve a feedback rating of 4.5+ to be sustained over a 30-day rolling period.
Sellers must offer one-day shipping to 30% of page views of potential buyers for standard-size products.
Sellers must offer one-day shipping to 17% of page views of potential buyers for oversize products.
Sellers must offer two-day shipping to 74% of page views of potential buyers for standard-size products.
Sellers must offer two-day shipping to 63% of page views of potential buyers for oversized Products.
Sellers should answer all product queries.
Sellers must follow Amazon's return policy.
The seller is auto-enrolled in Seller Fulfilled Prime on completing the trial successfully, and the product listing will then display the Prime badge. To continue to be eligible for prime services, the seller must consistently meet all the requirements on a rolling 7-day basis.
Sellers unable to adhere to the Seller Fulfilled Prime requirements will no longer be a part of the Seller Fulfilled Prime program. They may, however, continue to sell their products on Amazon.
Top 6 Advantages of Amazon Seller Fulfilled Prime
The advantages of Seller Fulfilled Prime are as follows:
Increased sales
Increased product exposure in the marketplace leads to higher sales. Amazon claims that Seller Fulfilled Prime sellers increased their sales by 50% when they displayed their Prime badge over their listings. Access to the Prime badge gives sellers the opportunity to reach Amazon's Prime members, whose annual spending is twice that of average shoppers; Forbes says that 46% of Prime subscribers make weekly purchases, versus only 13% of non-Prime members. Displaying the Prime badge ensures the same Buy Box privileges as FBA Sellers.
Inventory control
By joining Seller Fulfilled Prime, sellers need not send stock to Amazon. For FBA services, sellers need to send the products to Amazon's order fulfillment centers, thereby losing control and visibility of the product. It allows the seller to ship their product from a non-Amazon warehouse, giving them more control of their inventory. This control is especially advantageous if the company is a mature business with multiple sales channels or has a seasonal product that spikes during the holidays.
Cost control
By using Seller Fulfilled Prime, sellers can do away with order fulfillment and shipping costs to ship their inventory to the Amazon warehouse, thus reducing costs. Such cost control is not possible with FBA, where sellers need to pay both the order fulfillment and shipping charges.
Storage rates control
Seller Fulfilled Prime gives sellers control over their own warehouse costs. Unlike FBA, where sellers have no option but to pay Amazon's ever-increasing storage fees, It gives sellers who manage their supply chain efficiently and forecast their sales accurately the opportunity to save big on storage costs.
Product flexibility
Product changes or upgrades could lead to last-minute customization of the packaging, which is impossible at Amazon fulfillment centers. Sometimes, the seller may wish to include a booklet summarising the features of the upgraded product or maybe change the labels on the box. Seller Fulfilled Prime sellers manage inventory at either their own warehouse or their 3PL partner's warehouse, giving them more control over their products and customization.
Free trial of Seller-fulfilled Prime
One signs up for the Seller Fulfilled Prime trial period free of cost. Amazon FBA fees charge the cost of storing the products in Amazon's fulfillment centers, picking, packing, shipping, and customer service for the products sold. In addition, Amazon takes a commission on every item sold.
Sale of products ineligible for FBA
Certain items that are not eligible for FBA can be sold through the Seller Fulfilled Prime program. However, one must ship and sell products per the country's rules and regulations. A few items that one cannot sell on FBA are perishable products, large or bulky products, such as furniture, fragile items, and fashion products, such as clothing.
Control over returns and refunds
CNBC reported that the retail industry loses $50 billion per year by mismanaging the reverse logistics process which results in increasing logistics costs. Customer returns and refunds have been a serious drawback of the FBA program. The seller must put in a claim with Amazon for a refund. To make matters worse, correctly linking specific items to specific returns despite tracking IDs is a challenge. With Seller Fulfilled Prime, the seller handling his returns can design his own system to stay on top of it. 
Seller Fulfilled Prime or Fulfillment by Amazon: What is Right for Your Business in 2022?
Both programs allow one to sell on Amazon Prime; however, the similarities end there.
FBA and SFP are different, each having its pros and cons.
The key differentiation between the programs is as follows:
Activity
Seller Fulfilled Prime
Fulfillment by Amazon
Shipping
One of the major disadvantages of Seller Fulfilled Prime is that sellers must absorb the costs of express shipping (one or two-days delivery) at no additional cost to customers. So, investing in and maintaining one's warehouse, staff, software, and systems can be expensive.
Amazon takes care of shipping aggregation for Fulfillment by Amazon sellers. But these fees might be more than it would cost to ship orders oneself. For large, heavy, odd-sized, or slow-selling items, FBA can be particularly expensive.
Order Fulfillment
With Seller Fulfilled Prime, order fulfillment is carried out by the seller once the customer places the order through Amazon Prime. The seller picks, packs, and ships the item directly to the customer without interference from Amazon.
FBA means Amazon carries out order fulfillment. A portion of the seller's inventory sent to Amazon's fulfillment centers is stored until it gets sold. Amazon then picks this product, packs it, and ships it to the customer.
Storage
Seller Fulfilled Prime requires the seller to own a warehouse or a 3PL partner to control inventory and order fulfillment. The seller must ship the same day the Prime order is received. Hence, the seller must have proper warehouse management in place to be able to process orders efficiently.
Retailers with thousands of products are aware that some products have high demand and sell fast. Other products may be slow-moving, ending up as dead stock.
The long-term storage cost for such slow-moving products may be prohibitive. Also, Amazon has restricted sellers' storage capacities, causing problems for sellers having a large inventory of slow-moving items.
Fees
Seller Fulfilled Prime users avoid these fees by managing their storage, handling, packaging, and returns. Though it's challenging work that includes absorbing shipping costs, one might still end up with a bit more margin.
Amazon sometimes updates its rate structures and policies quite frequently. If the FBA seller fails to account for the latest inventory storage fees in his pricing, it will lower profits. Especially so for the products that have been in storage for a long time and incurring storage fees.
Selling via multiple marketplaces
With Seller Fulfilled Prime, it becomes easier, as the seller will fulfill and ship the orders received from Amazon as they would for the orders received via other channels.
If one is using FBA, selling through multiple channels, like one's website, eBay, other marketplaces, or a retail store, is challenging for three reasons:
Amazon will charge you higher fees for Multi-Channel Fulfillment (MCF). Managing your inventory side-by-side with FBA. Tracking one's inventory, reordering timely, and supplying products to the right facility becomes a nightmare.
Taxes
With Seller Fulfilled Prime, the seller could either have his warehouse in one or two locations or partner with a 3 PL with multiple warehouses at multiple locations. This would make paying taxes much simpler.
With FBA, Amazon is responsible for storing and shipping the seller's products. The seller could then be liable for paying sales tax in multiple states, creating administrative headaches.
Returns
With Seller Fulfilled Prime, the seller handles all returns and customer service. Although, Seller Fulfilled Prime sellers are expected to adhere to the same rules applicable to orders fulfilled by Amazon.
For FBA sellers, Amazon handles returns on the seller's behalf and provides excellent customer service. Small businesses benefit from this service, saving time and resources.
Conclusion: Should You Choose Seller Fulfilled Prime for Your Business?
Seller Fulfilled Prime generally works for the following businesses:
Businesses with established order fulfillment capabilities meet the stringent requirements for participating in the Seller Fulfilled Prime program. The seller might own a warehouse and have the necessary staff to manage it or have an outsourced 3PL and is looking to outsource order fulfillment processes.
Businesses selling heavy or oversized items.
Businesses selling products require temperature/climate-control storage.
Businesses having slow-moving products that could incur hefty FBA storage fees.
Businesses that are able to keep tight control over the returns and refund process.
It is challenging for small or new businesses to meet the Seller Fulfilled Prime program requirements and the costs incurred for managing one's order fulfillment. Small businesses would be better off associating with the FBA program initially since they wouldn't have the economy of scale that larger sellers enjoy for managing order fulfillment internally.
If the seller saves money on a transaction level by joining the Seller Fulfilled Prime program, the seller must then review the cost savings and see if it is worthwhile to continue.
The seller must consider all the pros and cons and the associated value, benefits, and risks of participating in this program. The sellers that leverage their inventory across multiple marketplaces instead of depending only on Amazon benefit the most. Selling higher volumes across multiple marketplaces does make up for any costs incurred through Seller Fulfilled Prime.
Here are a few tips and tricks for Seller Fulfilled Prime sellers:
One can shorten the trial period by using one's fastest-moving stock-keeping units (SKUs).
Keep track of one's customer reviews to ensure customers aren't confused by anything on your listings. Also, ensure to collect feedback from every customer in the form of a review.
Set up Ship by Region to reduce the shipping cost, thus allowing one to offer Seller Fulfilled Prime to particular parts of states.
Review one's performance. Monitor all three Seller Fulfilled Prime-eligibility metrics to enhance the Prime experience for customers—request the defect report from Seller central to see which of the metrics is underperforming.
If you are looking for the services provided by Amazon Seller Fulfilled Prime to outsource your order fulfillment requirements, in addition to many more technologically advanced facilities, WareIQ can be the solution for you.
Established in 2019, WareIQ, a Y-combinator backed startup, has rapidly grown to be the leading provider of full-stack eCommerce fulfillment services for some of the most reputed brands in India. WareIQ offers a full-stack platform for eCommerce companies to enable same-day delivery and next day delivery to customers – an Amazon Prime-like experience but accessible to everyone.
WareIQ's next-day delivery and same-day delivery services are helping eCommerce businesses set new standards with respect to setting customer expectations and fulfilling them with high efficacy. At the same time, WareIQ customers realise significant cost savings and wider reach due to better negotiations with shipping partners, strategically placed warehouses, economies of scale and scope in eCommerce warehousing, and data-driven decision making.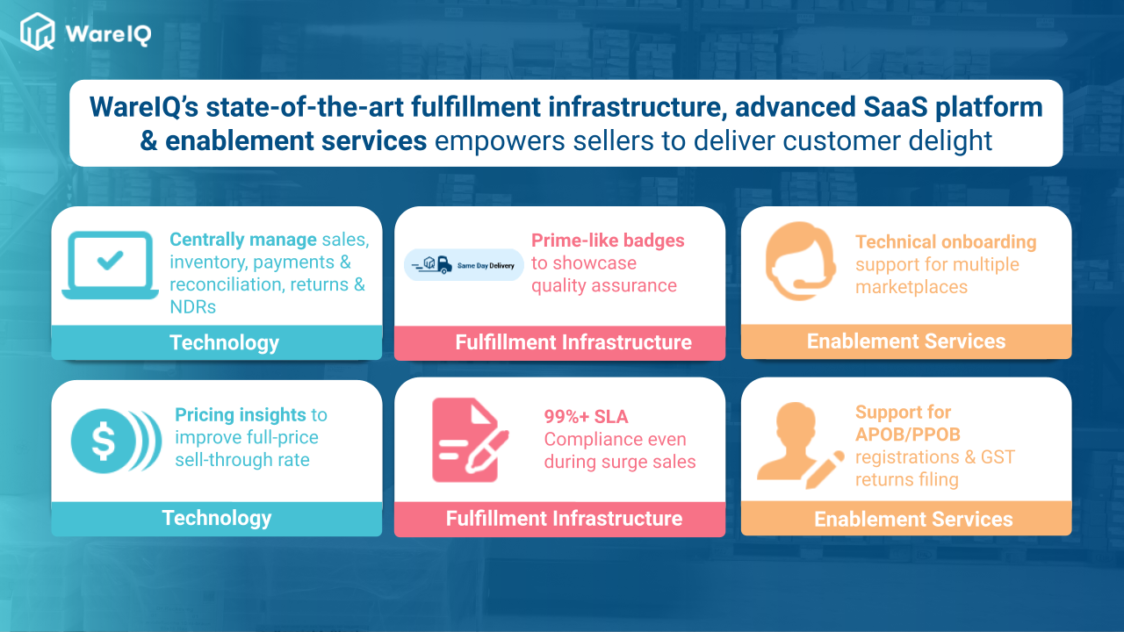 WareIQ also undertakes strict safety precautions at its warehouses and complete ownership of the operations, thereby minimising the risk exposure of WareIQ customers. Thus WareIQ will definitely prove to be a more reliable and trusted long-term fulfillment partner compared to dropshipping and conventional 3PL companies.
Are you eager to know more about WareIQ's offerings if you sign up now? Find the features of the best-in-class, category-defining fulfillment services for eCommerce & D2C brands below:
Pan India Fulfillment & Darkstore Network: Plug-and-play fulfillment infrastructure with no minimums, which is compliant with Amazon Seller Flex, Flipkart Assured, Myntra and other marketplaces
Inventory & Network Planning Excellence: Best-in-class AI models for sales forecasting, product segmentation, and inventory management to reduce inventory by 40% and increase revenue by 10%.
Vertically Integrated Fulfillment Tech Stack: Our Fulfillment Tech Solution supports integrations with 20+ top marketplaces & D2C platforms, and prominent national, regional and hyperlocal couriers, enhancing reach by covering deliveries for 27,000+ pin codes
Supply Chain Productivity Applications: Integrate a host of supply chain productivity apps with a single-click to your existing CRMs, ERPs & accounting software to manage your logistics workflows from one command center. Use Apps like RTO Shield to get 100% RTO protection, Branded Tracking to turn your order tracking page into a profitable marketing channel, and many more.
Trusted by 300+ top Indian brands, we are helping them accelerate online sales and expedite their growth through a synergistic combination of advanced technology, robust fulfillment infrastructure & seller enablement services!WareIQ is backed by leading global investors including Y Combinator, Funders Club, Flexport, Pioneer Fund, Soma Capital, and Emles Venture Partner.
Seller Fulfilled Prime FAQs (Frequently Asked Questions)