What are Retail Operations? The Ultimate Guide on the Best Practices for Streamlined Retail Operations Management for Online and Offline Retailers in 2023
Whether you sell on various eCommerce marketplaces or through conventional retail stores, retail operations are the motor that keeps your business running consistently. When you sell products to customers with the aim of providing them with a positive experience so you can generate sales and eventually profits, there are multiple processes involved in making sure it all happens smoothly and everything goes according to plan.
This is to ensure that highly demanded products are always kept in stock, items can be located easily when an order comes in and products can be packaged and dispatched with ease. When a company's retail operations are running at their optimum capacity, both the store and its customers benefit, leading to an optimistic sentiment among both parties. In this blog, we will take a look at what retail operations are, the functions they provide, the challenges associated with them, and 8 ways to help you streamline your retail store operations.
What are Retail Operations?
Retail operations comprise all the processes involved in the day-to-day operations of running a retail business. This includes tasks such as order fulfillment (learn about retail fulfillment), inventory management, adjusting your online store or warehouse layout, accounting, customer support, sales, returns management, and much more. Because retail operations are necessary for the smooth running of a retail business, efforts need to be made to streamline them wherever possible.
This could include optimising your storage space so that products can be identified and accessed more efficiently, eliminating various bottlenecks, and ensuring products are packaged and dispatched in a timely manner. Essentially, retail operations commence the moment a purchase is made and a person goes from a lead to a direct customer of the business. All the tasks involved in making sure they get their order and have a good experience is classified as retail operations.
WareIQ – Amazon-prime Like Logistics for Modern Brands in India
WareIQ, an eCommerce fulfillment company, empowers online brands with a superior-tech platform to compete with Amazon like service levels by bringing their average delivery timelines from 5-10 days to 1-2 days.
"With WareIQ, UTH is able to consolidate common inventory for all platforms and get much closer to the customer through access to WareIQ's strong nationwide network of fulfilment centres, and last mile & hyper-local courier partners.

We are excited about being able to offer

same day delivery

in several pin codes due to

WareIQ

.

"
Key Roles Involved in Retail Operations Management
Inventory Management
The quantity of goods that are on hand for customers to purchase at a retail establishment is known as inventory. This inventory needs to be constantly monitored and replenished so that items do not go out of stock (It is taken care of under stock replenishment).
Conversely, future demand needs to be forecasted accurately to prevent over-ordering of certain products. Inventory management varies between online and offline stores. While online stores generally store their products in fulfillment centers where a vast amount of tasks are automated, physical stores generally rely on staff manually taking care of these procedures.
Customer Service
While some businesses have separate eCommerce customer service and eCommerce operations teams, many companies mix the two activities. For instance, a lot of people who work in physical retail stores conduct customer service work like guiding consumers to the products they're looking for, while in online stores, this is taken care of by website navigation features or chatbots.
A retail operations specialist can also search the inventory supply for specific product models and address consumer concerns, among other customer-specific duties. The customer care representatives who work in the store or corporate office may also be under the direct administration of a retail operations manager.
Order Processing
Whenever an order comes in, it can either be accepted or rejected by the store, depending on the availability of the item or the capability to deliver it to the desired location. Oftentimes, this is done automatically through various software solutions. However, a company can also have dedicated staff that monitors each order as it comes in and manually makes a decision whether they want to go through with it or not.
Order processing should be done instantly so that products can be identified, packaged and dispatched as soon as possible. If not, customers could be left waiting without a confirmation, which will result in them having a poor experience.
Payment Acceptance
The approved modes of payment are another aspect of retail operations management, as is the way it is handled at checkout. Nowadays, point-of-sale (POS) systems are used by retailers who have physical stores. The good news is that most POS systems will assist with inventory management in addition to processing payments.
Standard operating procedures (SOPs) will be used for all aspects of handling cash and credit card payments in order to reduce human error. Managers and supervisors must make sure that all employees are knowledgeable of and skilled in using the company's SOPs.
Administrative Tasks
Many behind-the-scenes operations are conducted during administrative tasks. Before issues emerge, a store or eCommerce website requires the best upkeep. Every time a customer visits, they must have an efficient and consistent shopping experience. Any negative encounters, such as broken product links or unsuccessful payments, can leave a customer with a terrible impression. Training of the staff must be done to a high standard.
There must be consistency in everyday activities, whether it be in the documentation of stock receipts or the management of money. Checklists and training procedures must be used, followed and continuously evaluated. Staff who interact with customers or provide online support must receive service training and be familiar with SOPs.
Main Challenges Associated With Retail Store Operations
Finding the Appropriate Pricing
Both eCommerce and conventional retail are highly competitive industries. In order to capitalize on demand and convert interest into sales, sellers need to identify a pricing niche that their products can successfully fall into.
If products are priced too low, you risk reducing your profit margins and if they are priced too high, customers will gravitate towards cheaper alternatives. Therefore, thorough research needs to be conducted in order to determine the pricing strategy that will work best for your business.
Providing Tailored Experiences
​​Along with product selection and pricing strategies, the in-house shopping experience is also highly prioritized by consumers. More individualization and customization need to be provided so they can have the best possible experience. Customers demand a customized online shopping experience with pertinent product recommendations and concentrated marketing efforts.
However, they also anticipate having more alternatives so they can tailor their purchases to their own specific needs. Retailers must devise strategies to identify and appreciate loyal customers. However, they also need to find ways to make new clients feel valued. The latest personalisation trends must be followed so you can capitalize on providing customers with exactly what they are looking for.
Enabling Consistency Across Multiple Channels
It goes without saying that capturing a portion of the eCommerce and conventional retail market, ideally through omnichannel retailing, is essential for a retailer to succeed. Those with weak or nonexistent internet exposure will lag behind as more consumers shift their purchasing habits towards eCommerce. Selling across multiple sales channels is desirable for even the smallest firms. Physical retailers who disregard online shoppers do so at their own risk.
Numerous retail locations and channels can provide a number of advantages. However, enterprises pursuing this route will also face fresh difficulties. The more channels, procedures and people that are involved in operations, the harder it is to maintain consistency and this can also result in increased prices, errors and mishaps.
Retaining Quality Employees
Today's workers expect more for their efforts, just like today's customers. The wage range for retail sales workers is usually on the lower end. Because of this, some of the greatest rates of employee turnover is in the retail sector. When employees are engaged, they have an increased likelihood of sticking with a particular company.
Everyone has various motivations, but nobody wants to continuously work on monotonous, readily automated chores that don't add any value for a salary they aren't happy with. Effective involvement can be challenging for management and HR. To increase staffing and employee retention, the appropriate strategies and incentives must be identified.
Managing Inventory and Other In-House Tasks
Inventory is a critical component of retail operations. It is what enables customers to purchase items from your business so you can break even and start to turn over a profit. However, managing inventory, especially if you sell across multiple channels, can be a hassle and come with a range of challenges. You need to make sure that every SKU is stocked at appropriate quantities based on factors such as demand, seasonal relevance, price, storage space they occupy and much more.
If there is a shortage of a product in relation to its demand, it can cause negative sentiment among customers. Conversely, if a product is overstocked, it can lead to increased storage costs and eventual obsolescence. You need to conduct forecasts and ascertain the appropriate amounts of inventory to store during a given time frame.
8 Best Practices to Solve the Challenges and Streamline Your Retail Operations in 2023
Automate Tasks Wherever Possible
Automating some of your retail operations will optimize your daily administrative tasks, making it simpler to maintain accurate inventory records and assist in guiding future purchasing decisions. While keeping track of inventory using extensive spreadsheets can seem like a tempting prospect, it can soon spiral out of control. It takes time and you run the risk of making business decisions that are poorly informed and subject to blunders.
Instead, integrate all of your inventory and point-of-sale systems so that laborious tasks are taken care of. With the use of top-notch software, you can gain access to features like inventory reporting, automated replenishment orders and low-stock notifications. Additionally, when a product is sold, received, or returned, inventory management software reliably syncs your data across channels in real-time.
Consolidate Your Online and Offline Selling Efforts
Before making an online purchase, customers generally prefer to physically inspect the products. Hybrid shopping, which is a combination of online and offline shopping, is the main purchasing method for 27% of customers and 36% of Gen Z, which is more than any other generation and indicates that it will only increase in the future.
Despite trends toward increased internet shopping, 72% of customers still use physical stores as their primary means of shopping. Retailers must accommodate client preferences for both online and in-person purchases to ensure they have a positive experience and that all their requirements are met.
Streamline Your Inventory Management Procedures
Managing your inventory in an organised manner can make the difference between the success and failure of your retail operations. It pays to invest in a comprehensive inventory management software that can handle all your inventory-related requirements. Systems for inventory management will assist your company in providing accurate and live inventory updates.
They can additionally provide capabilities for efficient demand planning and forecasting. This enables you to identify demand using the relevant data and restock the appropriate products whenever you need to. You can also monitor your financials in real-time if your inventory management and accounting data are integrated into a single system.
Optimize Returns Management
Retailers lose a vast amount of revenue in sales each year as a result of returns. Returns don't necessarily signify the end of the customer's relationship with your company. Instead, refunds present a chance to further comprehend the needs of your clients and give them a flexible solution.
Take advantage of the chance to find out more about the precise product details your buyer is looking for. You can also provide customers with the option of getting a gift card in exchange for the returned items so that they can decide to purchase anything else at a later time to entice them to use your business again.
Simplify Your Checkout Process
The rate of online shopping cart abandonment in the retail sector is approximately 76%. Additionally, a drawn-out and challenging checkout procedure is to blame for 18% of all cart abandonments. You can encourage customers to click "purchase" and complete their orders by optimising your checkout procedure.
Additionally, for retailers that sell at physical storefronts, using a mobile POS system enables store workers to accept payments anywhere in the store, practically eliminating checkout lines. Customers benefit from a quick checkout process thanks to line-busting techniques by having shortened waiting times, simpler payment procedures and reduced complexity. Learn more about Checkout Page Optimization here.
Organise Your Warehouse Layout
Any online and offline retailer will want to have a well-organized warehouse, whether they are storing a product in-house for long periods of time or providing same-day or next-day delivery. One suggestion is to locate more commonly bought commodities near packing and processing units. Although it might seem obvious, this is frequently ignored.
Management should also collaborate with the personnel and supervisors in the warehouse. The business can benefit from employee ideas for time and labour-saving product storage layouts. A tidy, well-maintained stockroom will be beneficial to all enterprises, even the smallest ones, as products can be located, packaged and dispatched faster and more efficiently.
Identify and Reward Recurring Customers
Repeat customers contribute immensely to the success of any business, so your company should monitor who they are and reward them for their patronage. Utilize online account analytics and loyalty programmes to keep track of your customers. Make sure to tailor offers and rewards in accordance with data on each person's purchasing preferences.
Use social media, email and SMS to send clients personalised communications about new product launches and promotions. You can also offer them gift cards or discounts for items that they require to show that you appreciate their business.
Hasten Your Order Fulfillment
Customers in today's retail sector demand speedy delivery of their purchases because of the growth of same-day and next-day delivery from not only eCommerce behemoths like Amazon but also from the majority of companies that seek to be competitive. In order to be on equal footing, your business must offer quick and hassle-free deliveries.
Workflows for order processing and fulfillment can be automated to speed up the procedure and minimise human errors. Even if you depend on the postal service, you should try to speed up the process from your side as much as you can. This will enhance customer satisfaction and increase the probability of repeat purchases, and positive feedback and word-of-mouth marketing.
Conclusion: How WareIQ can Help Improve Your Retail Operations
Retail operations encompass a wide range of activities that are crucial for the success of a retail business. Effective management of inventory, staffing, marketing and customer service can help to increase sales, improve customer satisfaction and ultimately lead to a more profitable business. Therefore, it is imperative that your business puts in the time and effort to analyse, assess and improve all the tasks involved in retail operations so that you can reduce costs, effort and time, and provide your customers with an exemplary experience. If you need assistance with streamlining your retail operations, look no further than WareIQ.
WareIQ is an eCommerce fulfillment company that specialises in tasks such as order fulfillment, inventory management, returns management and much more. The company has emerged as one of the fastest-growing options in India and provides its clients with a vast pool of resources and technological solutions to tackle every requirement. Some of our services include:
​​Inventory Management: Our specialized WMS offers real-time alerts and the capacity to automate a number of processes.
Fast Order Fulfillment: We provide reliable same-day and next-day shipping alternatives through our partnerships with the largest shipping companies in the world.
Product Storage: With our assortment of dark stores and fulfillment facilities available across India, we can hold your products wherever you need them.
Personalized Packaging: We provide specialized custom packaging options that can be adjusted to meet your needs.
Returns Management: We handle returns and safeguard you from any repercussions that may follow.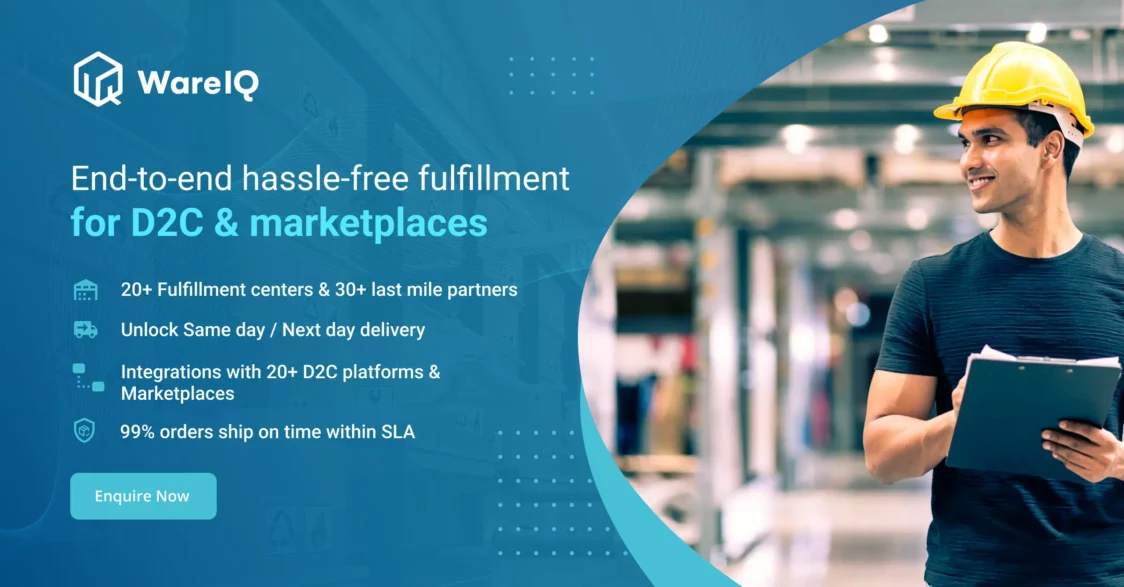 Retail Operations: FAQs