What is Online Consumer Behaviour? Why is It Important to Track Consumer Behaviour Towards Online Shopping to Meet eCommerce Expectations in 2023?
It is doubtful that anything will ever return to how it was in the past. Physical contact and trade are quickly sliding into obscurity. Online purchasing will probably become the standard for everyone in the future, pandemic or not. The number of online companies and service providers has increased in tandem with the rise in demand for online services. Of course, the pandemic's impact on the standard of living for regular people accelerates this rise in eCommerce.
With all the world-altering changes that have occurred in the past couple of years, it's critical to examine how online consumer behaviour has changed, including where they shop, how they shop and what they seek. The fact that internet purchasing is accessible 24 hours a day, seven days a week via smartphones and tablets contributes to rising changes in online buying behaviour. In order to constantly deliver a great customer experience, businesses must take into account the psychological components of online retail while creating websites, as well as the attraction and retention of online customers.
What is Online Consumer Behaviour?
Consumer decision-making in online commerce is referred to as online consumer behaviour. The behaviours themselves, such as recognizing a problem or choosing to buy something, are based on constantly changing wants and expectations. Additionally, while every buyer has different demands, the new expectations that shape consumer behaviour towards online shopping are firmly rooted in uniformity.
Customers use the Internet to compare costs, product features and the availability of post-purchase services before making an online purchase from a particular online retailer. Customers' decisions to buy products online and whether or not they will remain, devoted customers, once they have made a purchase, are influenced by expectations such as product availability, delivery transparency, reasonable shipping, and more recently, a convenient buying journey.
How Does Online Buyer Behaviour Differ From Offline Buyer Behaviour?
Online buying is frequently thought of as being quicker, simpler, and more convenient than traditional offline purchasing. This may be an overly optimistic stance without any backing from the academic literature. While some shoppers might like or feel more at ease entering a physical store in a more traditional offline buying environment, others might choose to shop online. Numerous traits of both the shopping experience and customers could shed insight on why people might favour one over the other. Consider the scenario where you require a new bed. Where should you start your research on which bed to buy?
Do you travel further afield to compare the same make of bed across a lot of physical stores or do you visit your local retail center and only the bed shops that they provide? Alternately, you may have already looked online to limit your options for a bed and mattress before visiting offline merchants to compare prices. Online reviews and consumer reports may have had an impact on online consumer behaviour. On the other hand, you might have looked at beds in brick-and-mortar stores before looking for the greatest offer online. The key point is that there are multiple ways in which our offline and online shopping habits might merge or diverge completely.
Retailers must transform a minefield of individual traits, preferences, perceptions, and interpretations into monetary gain from both online and offline customer encounters. When all of these elements are taken into account, it is easy to understand why some major retail businesses have recently filed for bankruptcy. Physical premises that cost a lot of money are required by offline merchants to display and store goods. In comparison to internet retailers, they also need more workers. Online retailers must, of course, take distribution and delivery into account but because of the cheap costs associated with website hosting and storage, they can sell a large number of items for a relatively tiny unit profit.
Although many merchants now provide a mix of online and offline sales, conventional stores still find it difficult to compete with businesses that just conduct business online, especially if they run on a high unit profit with low volume turnover. Understanding the specific variations in online buying behaviour can help them convert online footfall into profit.
WareIQ – Amazon-prime Like Logistics for Modern Brands in India
WareIQ, an eCommerce fulfillment company, empowers online brands with a superior-tech platform to compete with Amazon like service levels by bringing their average delivery timelines from 5-10 days to 1-2 days.
"WareIQ came to Gynoveda with a full stack fulfillment platform & gave Gynoveda access to a nation wide network of fulfillment centers & last mile & hyperlocal courier partners closer to our customers based out of North East & North India.

They made

same-day delivery possible

for us in metros.

"
Five Trends That Influence Consumer Behaviour Towards Online Shopping
Five key eCommerce trends that influence online consumer behaviour towards shopping were recently highlighted in a research study. While these tendencies manifest at distinct stages of online consumer behaviour, they all share one element – convenience.
Understanding these new trends and implementing business tactics to satisfy the demand for an easy purchasing process is essential for eCommerce success.
Convenience is a Top Priority
76% of consumers rank convenience as one of their top objectives, according to a recent study while 78% of consumers now place higher importance on convenience than they did prior to COVID limitations. The option to browse an online store and check out as a guest is one of the main conveniences that customers value. Additionally, shoppers regard their overall shopping experience to be more convenient and superior if they are required to fill out fewer forms.
Easy Access Across All Devices
A seamless transition across devices is desired by 81% of online buyers during the purchasing process. In fact, it is now expected that customers would be able to start their shopping adventure on one platform like a desktop and finish it on another, like a mobile device, all without being interrupted. On whichever device customers conclude their shopping journey, checkouts with personal information already filled in are likewise anticipated as part of this cross-platform experience (even if they filled in these details on a different device).
Access to Omnichannel Shopping
Online consumer behaviour is centred around an "always-on" shopping experience thanks to access to many technological possibilities. 70% of shoppers now multitask while shopping (for example, while scrolling through social media platforms). Additionally, they have grown accustomed to expecting their preferred brands to be available on the channels where they spend the majority of their time.
This maximizes convenience by preventing them from ever having to leave their preferred and reliable platforms during the purchasing process. Retailers may do this by adopting an omnichannel strategy and concentrating on the many online marketplaces where customers spend most of their time. More particularly, this means selling on social media platforms like Facebook and Instagram.
Effortless Payment
It is crucial to concentrate on all facets of the customer experience when merchants are thinking about how to keep up with the ever-changing online buying behaviour of customers. Consumers look for convenience at every step of the purchasing process. They search for eCommerce web stores that have simple-to-install payment gateways and also accept well-known payment options such as buy now and pay later as part of the end-to-end purchasing convenience.
89% of consumers make purchases more rapidly due to the ease of payment choices. Additionally, 84% of customers who are offered simple and flexible payment choices choose to purchase higher value orders.
Fast and Reliable Delivery
Fast delivery options are considered essential when shopping online by 95% of respondents. In order to save shipping costs, accelerate delivery times and satisfy customer expectations, most retailers need to offer quick same-day or 2-day shipping and have access to a scattered network of logistics facilities to distribute inventory.
Online sellers must meet high expectations for shipping transparency. In reality, buyers have abandoned their purchases 72% of the time because eCommerce companies lack shipment clarity and the necessary delivery speed.
7 Ways to Meet Customer Expectations in 2023
Understanding the complicated and constantly changing consumer patterns is essential for retailers to succeed in eCommerce. Creating the ideal online consumer behaviour is dependent on businesses meeting and exceeding customer expectations as outlined by changing online buying patterns. A few ways to do this in 2023 are listed below:
Sell Across Multiple Platforms
If retailers don't go where the customers are, they won't succeed online. And in the current market, that entails selling on several eCommerce platforms. Online marketplaces made for the highest portion of global online purchases in 2020, according to Statista's figures on global eCommerce. And while it is vital, managing sales and inventory while selling on many sites may be challenging. Partnering with a 3PL company like WareIQ to be able to seamlessly integrate with multiple selling platforms will greatly help in this regard.
Provide Faster Shipping
Online consumer behaviour demands open and practical accelerated delivery choices from all of their online retail stores due to the growth of eCommerce conglomerates like Amazon that are able to ship goods swiftly. Consumers want their goods in a fast and inexpensive way and they are prepared to give priority to retailers who can meet these expectations.
Offer a Simple Returns Process
When a customer makes a purchase, the customer journey is not over. Post-purchase services and interactions must be as seamless as possible in order to keep clients returning after they have completed their purchases. This entails providing a straightforward and practical return process. Customers can create return shipping labels using WareIQ and track returns from a single dashboard. A comprehensive system like this also makes it feasible for return items to be processed and restocked as quickly and painlessly as possible.
Create a Personalized Shopping Experience
Customers desire easy access to suggested items that meet their unique needs or address a problem they are currently facing. To do this, marketers must design a focused and unique shopping experience based on information from past searches, online consumer behaviour, and purchases. Customer demands or issues that need fixing can also be determined using demographic information like location and email. This approach can be scaled and automated with the help of a cross-channel marketing platform.
In order to provide the most personalized online consumer behaviour that satisfies the customer's needs or addresses their issues, the data gathered should be examined and put to use.
Upgrade the Mobile Buying Experience
Consumers spend 31% of their digital eCommerce money on mobile devices, according to Statista which is an estimated $47.8 billion. Such recent online consumer behaviour statistics cannot be disregarded. Retailers must make sure that the mobile experiences on their websites and applications are equal to those on desktops. The ease of use of the mobile shopping experience should provide convenience. Additionally, it should incorporate positive micro-interactions and seamless touchpoints along the buyer's journey.
Include Easy-to-Locate Product Reviews
Online consumer behaviour suggests that customers want to check the calibre of the products they buy and they don't want to go far for that information. Shoppers believe that online reviews are crucial when selecting whether or not to make a purchase, according to 38% of consumers. Younger age groups anticipate more reviews than older ones, which is another essential factor in expectations for reviews.
Retailers should make as many products as possible available with online reviews displayed in prominent locations. Customers are more likely to switch to another retail website where they can easily read reviews before making a purchase if they are having problems finding reviews.
Offer Flexible Payment Options
Consumers are likely to forego making a purchase entirely if the last stages of the purchasing process are difficult and cumbersome. In fact, 9 out of 10 respondents to Linnworks' survey said they anticipate flexible payment choices when shopping online. To match this expectation, shops must provide guest checkouts and buy now, pay later options to make this step of the customer purchasing process as simple as possible.
Conclusion: How Can WareIQ Help Enhance Customer Experience?
Keeping track of online consumer behaviour is essential to providing a better experience for your customers which enables positive feedback and repeated purchases. For some companies that may not have the available resources and financial capabilities, this can be challenging. However, you can consider partnering with a 3PL company like WareIQ.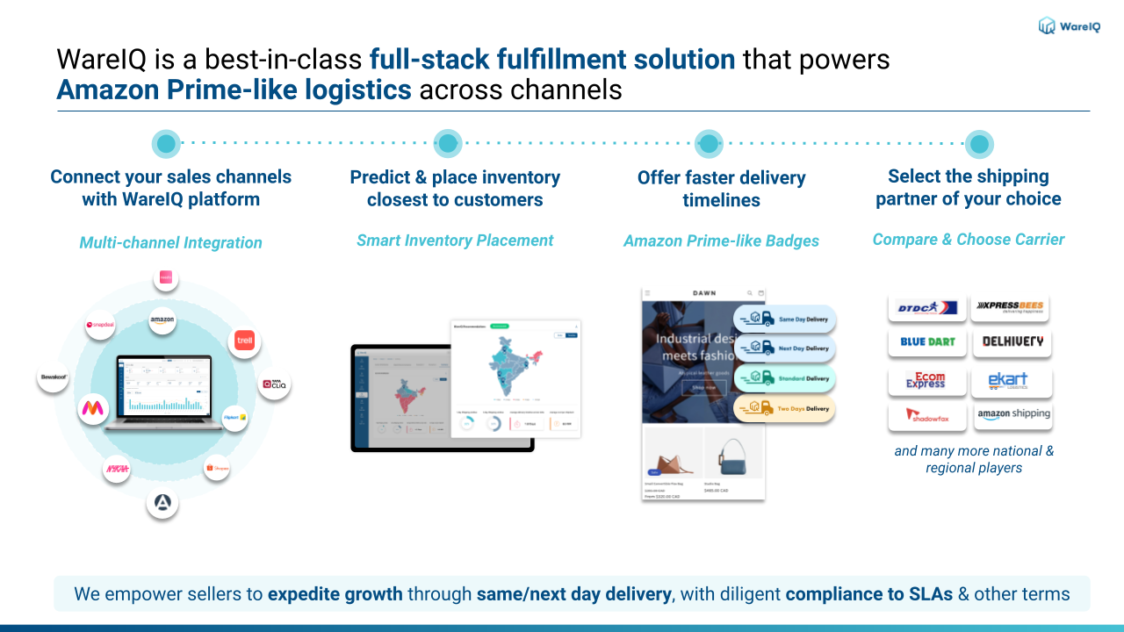 WareIQ makes client feedback a major priority throughout the company to aid in improving the customer experience. You can utilize consumer feedback to gain a thorough grasp of your audience and create a mechanism to gather input, analyze it, and take regular action on it.
We offer multiple services that can assist in providing an enhanced customer experience, such as ultra-fast same-day and next-day delivery through our partnership with more than 20 of the leading shipping companies in India and automatically assigns the quickest and cheapest option for every order, a nationwide network of fulfillment centers to store your goods closer to your customers, a custom WMS that can help you track historical data and online consumer behaviour towards your products and much more.
Online Consumer Behaviour: FAQS