10 Best Social Commerce Trends to Watch Out For in 2023 & Beyond
In recent years, social media platforms have included features such as shoppable posts, storefronts, and in-app transactions, indirectly making social platform feeds and social commerce trends sales generators for eCommerce brands.
According to recent Sprout Social statistics, nearly two-thirds (68%) of customers have purchased directly from social media, and almost all (98%) plan to make at least one purchase this year through social buying or influencer commerce. With social commerce expected to be a $1.2 trillion channel by 2025, the research demonstrates the considerable possibility that companies cannot afford to overlook.
Leading marketers leverage social media's massive reach to sell directly to consumers via their chosen social channels. Social commerce trends aim to make shopping lucrative, as feasible and quick as possible for people to buy the things they see while browsing their social feeds.
What began as internet advertising and influencer selling has grown into a multibillion-dollar industry that is only growing.
Here you will discover important social commerce trends for 2023 and beyond that will boost your brand's sales, marketing, and growth.
How Does Social Commerce Work?
Direct product sales on social media platforms are the focus of social commerce. Customers can interact with brands, browse items, and buy without leaving social media.
Instead of going to a brand's website to complete their purchase, as opposed to social media marketing, social commerce typically refers to people making their purchases directly on social media.
Facebook, Instagram, and TikTok are some examples of social media apps with built-in eCommerce capabilities.
WareIQ – Amazon-prime Like Logistics for Modern Brands in India
WareIQ, an eCommerce fulfillment company, empowers online brands with a superior-tech platform to compete with Amazon like service levels by bringing their average delivery timelines from 5-10 days to 1-2 days.
"With WareIQ's full stack digital enabled fulfillment solution, we got access to the pan India network of fulfillment centers & cold storage facilities enabling same/next day delivery, without any upfront investment in supply chain infrastructure from our end. During the IPL campaign in April 2022,

WareIQ efficiently

handled unpredictable 200x surges in daily order volumes

of ~20k/day with a

99% fulfillment rate

. With WareIQ as our preferred fulfillment partner, we witnessed 172% growth in online order volume in just 4 months, with a significant improvement in the overall customer experience in fulfillment."
Social Commerce's Advantages
Just a handful of the main benefits that social commerce offers are listed below.
Easy Purchasing Option
Social commerce allows customers to check out from any location without being forwarded to a different website. The path to buying is streamlined by eliminating extra stages. Customers frequently store even shipment and payment information.
Removing friction from the consumer experience is likely to increase conversions.
Huge Market Size
Nearly five billion people use social media worldwide, and many utilise these platforms to look for products.
This implies that brands can reach a sizable number of people ready to buy across all geographies and demographics.
Choose Your Buyer Personas
Social media networks offer a sizable audience, a plethora of user data, and unparalleled product ad targeting. As a result, businesses may personalise consumer experiences and increase revenue.
Improve Both Revenue and Brand Awareness
Customers who have recently learned about your company may convert as awareness, consideration, and conversion all happen on the same platform. And even if they don't, they'll probably think of your company in the future.
Evolution Of Social Shopping Trends
Social media users frequently scan through their newsfeeds. This forced businesses to be everywhere to do business, especially on social media platforms, successfully.
Indisputable strategies for the eCommerce sector and social shopping trends have grown and will keep expanding in the following years.
Speaking of statistics, Gen Z is leading the way in driving sales for Instagram and Snapchat as they spend 2x as much on social media as the average customer. On the other side, Gen X is more likely to use Facebook.
Additionally, the popularity of user-generated content (UGC) and consumers' dependence on and trust in it gave brands another justification for moving their marketing to social media.
In conclusion, you may look at a few social commerce trend examples to see how it is practical, alluring, and readily generates conversions for the brands.
Top 10 Social Commerce Trends to Acknowledge in 2023 & Beyond
Discover the top social commerce trends for 2023 and beyond that will undoubtedly open the door to successful social marketing and increased ROI.
Creating Personalised Social Shopping Experience On Facebook
Facebook stores are one of the most well-liked social commerce trends, and it has the benefit of being a well-known and widely utilised social channel. Additionally, there's a chance that your company already has a presence on the network, enabling you to benefit from several social commerce trends without effort.
One fantastic aspect of utilising Facebook for social commerce is that Facebook Shops are customisable, allowing you to design an experience that's unique to your business and consistent. The typefaces, colours and artwork may change, and you can import an existing product catalogue from your website.
With Facebook Shops, you can also communicate with clients on other Facebook platforms, such as WhatsApp, Messenger, or Instagram, to respond to their inquiries or provide help.
Create A Visual Social Storefront With Instagram
One of the most well-liked social commerce trends, shoppable Instagram, is employed extensively by brands to transform their Instagram feeds into shoppable stores.
60% of users, according to Instagram, find new products on their platform. Additionally, customers claim that when they were moved by something they saw, they immediately set out to discover and purchase it. So, if you've already created a Facebook Shop, you should also think about Instagram Shopping (you will need to set up a Facebook Shop first; your Instagram Shop will be pulling data from your Facebook catalogue).
It's generally accurate to argue that having things that could be visually noticeable in consumers' newsfeeds makes it more compelling to establish a presence on Instagram.
Instagram Shops enables you to build a personalised storefront where you can highlight particular product ranges and collections. Shopping tags, for instance, let you highlight products from your catalogue in Instagram Stories and the newsfeed, allowing users to view more details and purchase options immediately.
eCommerce businesses can design and publish interactive ads that make it simple for users to click and shop, lowering the possibility that they will give up on their purchase and switch applications or sign in to an unidentified store.
Single-Click Social Buying
The more stages you add between the customer and the checkout process, the greater the likelihood you will lose them. This is true for all points of sale, including the opt-in forms.
The procedure must be kept efficient with an optimised website at all times. In addition, make it more interactive and intuitive to give users a seamless and simple experience across the purchasing process.
Here, you can integrate your website's landing pages and checkout processes with social stores to shorten the lengthy and laborious purchasing processes.
For advertisers, this should be based on a discrete one-click buy approach mainly targeted at mobile user purchasing scenarios. With payment options like Stripe, you can quickly get a simple checkout design for socially connected online purchases.
Make sure social sign-ins are enabled while you're doing this so users can easily register and place orders without having to make the extra effort to navigate across pages and create new credentials.
Leveraging Descriptive Livestreams To Increase Engagement & Sales
For various purposes, including exhibiting new products, disseminating instructions or user manuals, engaging in topical subject discussions with industry insiders, conducting interviews, and more, live streaming is becoming increasingly popular among numerous social commerce trends for businesses.
High-definition videos are not required; low-budget films are also quite successful as long as they can add value.
Live streaming allows viewers to engage in an authentic and interactive experience that will help them learn more about the company. The most attractive feature is the ability to save live streaming for later use and continue conversations in the comments.
This is how businesses can leverage live-streaming products on social media platforms as one of the many social commerce trends.
Chat Commerce with Chatbots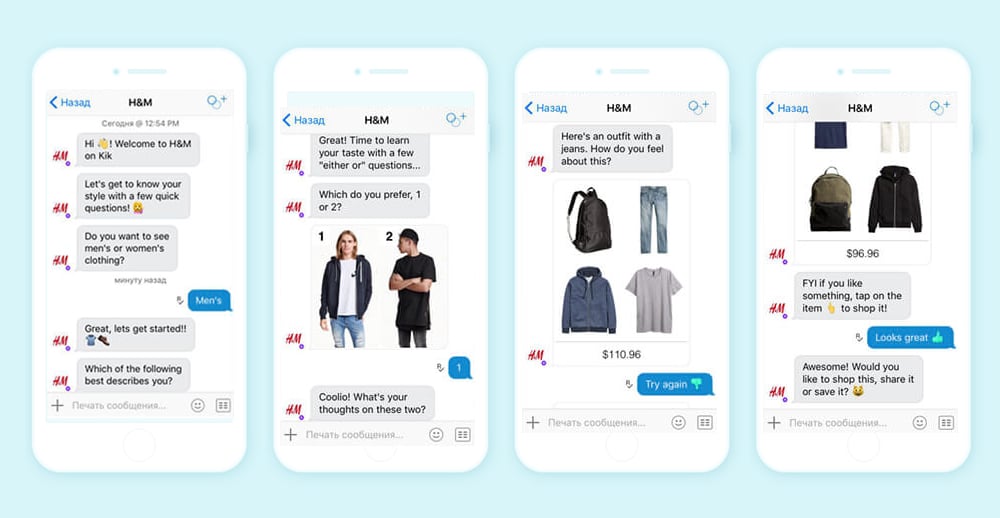 Conversations between people started to be facilitated by social media, which is the only explanation for the explosive growth of connectivity platforms like Facebook and WhatsApp. Moreover, by upgrading AI capabilities through chatbots, brands are already gaining a competitive edge in costs and sales.
Using chatbots, brands can answer client questions without having a live person present. Then, depending on the choices made by the clients, it can offer advice, share product images, and, if necessary, request human support.
More than ever, users are drawn to personalised experiences. As a result, chatbot adoption is a social commerce trend because consumers interact more with companies that respond quickly and accurately.
According to research, consumers spend more money when their buying experience is individualised. However, doing this at scale can be challenging, particularly in social media, where you have little to no influence over the technical setup of the channel.
Using chatbots is one way to address the customization issue. However limited their ability can be in detail, chatbots can quickly respond to customer queries. They can also save time and money and foster a sense of trust, which has numerous advantages for businesses.
5G Connectivity Extended Reality (XR)
The ongoing global rollout of 5G wireless connectivity will improve social commerce trends, edge cloud computing, and cutting-edge AI. It will make it possible for fully immersive experiences to be seamless on a range of linked devices.
In the U.S., there will be 101.6 million AR users in 2022, up from just 83.7 million in 2020, according to eMarketer data. However, if businesses successfully leverage cutting-edge technology and the power of 5G to give customers more immersive shopping experiences, this growth projection will likely be exceeded.
Micro-Influencers Assisting Brands in Expanding Their Reach
Although it isn't a new social commerce trend, working with micro-influencers is essential now and will be in 2023 and beyond. Micro-influencers, particularly for small firms, can help them better balance advertising costs while reaching a larger audience.
Contrary to specific well-known influencers who work with brands at prices even small businesses can afford, micro-influencers have tens of thousands to millions of followers. They have particular audience groups, which makes ad targeting and segmentation easier. Additionally, they are frequently seen as more honest and open about sponsored relationships than significant influencers. Given all of these elements, micro-influencers unquestionably influence how well brands generate conversions.
When working with micro-influencers, pick individuals who are specialised in your field and whose audience resembles your target demographic. Look for individuals who have built ties with their devoted following and interact personally with their audience.
Conversational Shopping and Voice Technology Are A Social Commerce Trend
As it can often be handier than typing, voice search is favoured by many Millennials and Generation Z. People who use speech technology for searching are also more likely to make purchases using that same technology.
Voice technology is a feature of Android and Apple products, and their voice assistants become more sophisticated with each iteration. However, as standalone devices like Amazon Alexa and Google Home grow more common, businesses must leverage voice technology to improve customer engagement and stay competitive.
Voice-enabled eCommerce sales are anticipated to grow from this year's $4.6 billion to $19,4 billion in 2023, according to Statista. In just two years, that is a more than fourfold gain. You wouldn't want to miss out on that substantial market share. This makes it the ideal moment to prepare your company's image for voice technology, including conversational commerce and voice search.
User-Generated Content: A Popular Social Commerce Trend
Social media is primarily about individuals communicating and exchanging information. While this would at first appear to be at odds with social commerce, as long as firms refrain from hard-sell tactics or overt advertising, there won't be any issues.
Of course, businesses have been using social media to advertise for years. People increasingly recognise Facebook Ads as a valid component of the site. However, it should be highlighted that the most prosperous firms don't produce conventional advertisements. They are less overt and "in your face." To add value to individuals exposed to these advertisements, brands frequently include pertinent and valuable information about a product. Any content that resembles conventional advertising is typically ignored and scrolled over by social media users.
User-Generated Content (UGC) has proven to be advantageous for businesses recently, and this will only improve going forward. It gives social media users the impression that they are collaborating with a brand with an identity rather than merely receiving messages. A social marketing campaign's potential reach is increased since people are far more likely to share messages incorporating UGC.
The fact that UGC is a social commerce trend and can more successfully change people's attitudes is its additional benefit. This material is not merely a brand pushing itself because it was made by a person seen as impartial and hence more reliable. On the contrary, it suggests a substantial degree of confidence.
Ephemeral Content
Ephemeral content is just transient content that exists online for a brief period before disappearing. The short content known as "social tales" is currently quite popular on Facebook, Instagram, Snapchat, WhatsApp, and, most recently, LinkedIn.
When Snapchat first debuted this concept seven years ago, it quickly gained immense popularity. It exploded in popularity and is being incredibly well-liked by social media users. The FOMO (Fear of Missing Out) impact was very effective!
It would help if you embraced this social commerce trend to stay socially engaged and keep your people interested in your eCommerce firm. This will increase the likelihood that they will visit your product pages on the website and will lengthen the average amount of time your audiences or followers spend on your social media profiles.
This is a fantastic technique to improve online user experience and confirm increased traffic and visit-time metrics to increase store revenue.
Conclusion
Retailers and online sellers must adapt because the eCommerce sector is always changing. To stay ahead of the curve as consumer buying power increases globally and social media blurs the line between information and commerce, businesses must forecast future social commerce trends. With the development of infrastructure and technology, the future of eCommerce in 2023 and beyond shines brighter than ever.
How WareIQ Simplifies Social Shopping Fulfillment?
Don't let the difficulty of social commerce fulfillment scare you away from the current market or keep you from expanding your market share as your company develops.
WareIQ will assist you in diversifying your sales channels with specialized advice on how to set up a social commerce fulfillment.
You can automate order fulfillment across social commerce platforms when you work with WareIQ, track inventories in real-time from a single dashboard, and save time and money by outsourcing logistics to professionals.
WareIQ's warehousing and fulfillment network, which consists of automatic dispatch, intelligent inventory placement, real-time inventory tracking, speedy fulfillment, and inward inventory processing, enhances eCommerce distribution and helps keep track of eCommerce distribution metrics and KPIs.
You have access to WareIQ's nationwide fulfillment network, cutting-edge technology, and first-rate customer care when you work with WareIQ as a fulfillment partner to help you optimize your supply chain and improve your logistical procedures.
Are you eager to know more about WareIQ's offerings if you sign up now? Find the features of the best-in-class, category-defining fulfillment services for eCommerce & D2C brands below:
Pan India Fulfillment & Darkstore Network: Plug-and-play fulfillment infrastructure with no minimums, which is compliant with Amazon Seller Flex, Flipkart Assured, Myntra and other marketplaces
Inventory & Network Planning Excellence: Best-in-class AI models for sales forecasting, product segmentation, and inventory management to reduce inventory by 40% and increase revenue by 10%.
Vertically Integrated Fulfillment Tech Stack: Our Fulfillment Tech Solution supports integrations with 20+ top marketplaces & D2C platforms, and prominent national, regional and hyperlocal couriers, enhancing reach by covering deliveries for 27,000+ pin codes
Supply Chain Productivity Applications: Integrate a host of supply chain productivity apps with a single-click to your existing CRMs, ERPs & accounting software to manage your logistics workflows from one command center. Use Apps like RTO Shield to get 100% RTO protection, Branded Tracking to turn your order tracking page into a profitable marketing channel, and many more.
Trusted by 300+ top Indian brands, we are helping them accelerate online sales and expedite their growth through a synergistic combination of advanced technology, robust fulfillment infrastructure & seller enablement services!WareIQ is backed by leading global investors including Y Combinator, Funders Club, Flexport, Pioneer Fund, Soma Capital, and Emles Venture Partner.
Social Commerce Trends FAQs (Frequently Asked Questions)