10 Strategies On How To Leverage Social Proof in eCommerce and Optimize Your Revenue Generation in 2023
When making an online purchase, 87% of consumers perform online research first. In addition, Oberlo estimates that up to 54,7% of online shoppers review at least four product testimonials before making a purchase. At the same time, online consumers say reviews and social proof in eCommerce influence their purchasing decisions 97% of the time.
It is established that while considering a purchase, people are more persuaded by the results and recommendations of others than by any other justification.
People tend to base their decisions on other people's behavior and opinions, which is a well-established phenomenon. The effect itself is not brand-new and is seen virtually everywhere. There is no better way to define social proof in eCommerce.
Consumers are 79% more likely to trust online reviews than personal recommendations. Online buyers are drawn to social evidence of your product or service whenever they need a service or product that your business can provide. As an online retailer or any other person involved in the eCommerce industry, you may compare it to a substantial number of sales and a brand recognition component.
Online marketers can use eCommerce social proof as a powerful technique to boost conversion rates. Because more favorable customer feedback and reviews here naturally draw in additional clients.
The following article will provide a general overview of social proof in eCommerce and explain how it may help your business thrive.
By the end of the article, you'll see how social proof in eCommerce can be used as a marketing strategy to increase conversion rates and raise brand awareness.
What is Social Proof in eCommerce?
Social proof in eCommerce, which includes reviews, testimonials, and social media shares, shows that others have made a decision or used a product or service, influencing others to follow in their footsteps. eCommerce social proofs are crucial to conversion optimization since they increase online shoppers' confidence levels when purchasing from an eCommerce store.
Knowing that others have done so and had good experiences makes buyers feel much more comfortable. A company's social media followers, product evaluations, blog entries, and news articles that mention it are all examples of eCommerce social proof for any B2B or B2C business. All of these are types of validation that give the company credibility in customers' eyes.
5 Types Of eCommerce Social Proof
eCommerce sites can use many tactics to grow and give their marketing strategy new life as they are currently unable to display things and draw customers physically.
Any retail platform with an online presence can produce eCommerce social proof, and if your business has a website and many social media accounts, your chances of gaining more clients rise as well. 
Below are types of social proof in eCommerce that you can employ for your business.
Customer Feedback
Reviews are among the essential variables influencing customers' purchasing decisions in eCommerce. A survey from 2019 found that 91% of customers trusted internet reviews and ended up purchasing the things they wanted.
Your eCommerce website's reviews area helps in converting people into buyers. In addition, it enables you to use it in other marketing campaigns to increase sales and, most significantly, strengthen your brand against rivals.
Influencer and Celebrity Endorsements
As we all know, compared to the company's views, customers are more likely to believe the opinions and viewpoints of the people they follow and admire. Therefore, adding endorsements and reviews from well-known bloggers, influencers, and other figures with large fan bases makes it simpler for your company to provide proof.
Social Interactions and Audience Engagement
A brand's increasing popularity attracts potential customers and encourages more significant conversation. Your brand's popularity is determined by the number of views, comments, likes, shares, and followers or subscribers on your social media platforms and website.
You can illustrate your existing credibility with larger audiences by displaying how many individuals are linked with your business across multiple social channels. Facebook, Twitter, and LinkedIn, among the most popular social media sites, all provide plugins that make it simple to display these data on your eCommerce website.
eCommerce Social Proof For Revenue Generated
This kind of social proof in eCommerce discusses your business's sales volume. For example, when your product sales are regularly expanding, more people are interested in buying them, which leads to additional sales.
You can get information about your eCommerce website's traffic, the number of items sold, and other metrics with the help of specific internet tools, which enables you to persuade them to buy your brand or product.
Content Created by Users
Online content your customers share is called User-Generated Content (UGC). This includes consumers writing in-depth blog articles about your company or product on the internet and publishing real-time photos and videos of the goods in use.
UGC is a powerful technique to obtain eCommerce social proof in a world with great online content. In addition, it gives your customers insight into what and whom to believe when making a purchase decision.
What Are the Benefits of Implementing Social Proof in eCommerce As a Marketing Strategy?
The psychological benefits of digital social proof in eCommerce are numerous when applied to your eCommerce marketing strategy. The top seven benefits are listed below.
Increases eCommerce Conversion Rate
The most blatant advantage of social proof in eCommerce is increased conversion rates for firms. By utilising one or more of the types as mentioned above of eCommerce social proof, you can increase the number of prospective customers who can buy your products or services.
Owners of online stores are always looking for strategies to increase the percentage of sales they convert. For example, posting high-quality eCommerce social proof from satisfied customers can help you get more conversions out of the traffic and leads you're getting each month.
Assists With Reducing "Buying Confusion"
Online shoppers frequently feel "purchase anxiety," as the term is termed. Making any purchase, especially a significant one, is fraught with anxiety.
Your social proof in eCommerce marketing initiatives helps calm customers' fears. For instance, user-generated information on a website or social network gives comfort in knowing that actual customers overcame their reservations to choose your business as their preferred purchase method.
Prospect is less likely to second-guess their choice or look into a competitor's product when their anxiety is reduced.
Establishes A Positive Brand Reputation
Your brand gains credibility thanks to eCommerce social proof. It aids in developing a reputation as a reliable and respectable eCommerce business.
Buyers notice that others who are similar to them are endorsing your business. Due to the testimonials from individuals who have already experienced your product, they comprehend you as a successful brand. Developing this decent image makes it simpler to gain new customers and the loyalty of those customers.
Distinguishes Your Business From The Competition
Social proof is a crucial differentiator for businesses in many industries. For example, the company with more social proof in the eCommerce industry will probably close the deal if the two businesses compete on pricing and offer comparable items. Still, one has more social evidence and influence than the other.
Examine your competitor's social media presence and client testimonials extensively while assessing your competition. Examine what they are doing well and look for methods to make it better.
It's challenging to use eCommerce social proof to influence consumer decisions. Generating digital testimonials requires quality efforts and commitment. In addition, the development of case studies will require time from your team. To develop the case study, you and your customer care team must speak with consumers to obtain positive testimonials.
Consider the social proof in the eCommerce industry for opportunities that your competitors are still missing out on.
Consider the strategies that you and your competitors haven't yet employed successfully. Then, fill that gap by moving in.
As you incorporate more eCommerce social proof strategies into your marketing initiatives, you'll see that more of your target audience is pulling toward you rather than your rivals who ignored this opportunity.
Attracts Loyal Customers
Social proof promotes trust between your brand and potential clients, which is one of its most significant advantages. Developing customer trust starts with demonstrating how you have already satisfied your existing clientele.
Consumers tend to trust other consumers more than a brand because they know that brands will always speak favourably of their goods. However, people can tell that personal recommendations come from a reliable source when they read positive customer evaluations, testimonies, and social media posts.
Decreases Return Rates
Customers feel confident in their choice when they view third-party recommendations before making a purchase.
Customer reviews, case studies, and other social proof in eCommerce assure buyers that they purchase from a well-known brand as they know that others have bought the product and liked it.
Therefore, they're more likely to let your customer service staff handle any early problems while using the product, indirectly reducing the probability of product returns.
Top 10 Ideas For Leveraging Social Proof in eCommerce and Optimizing Your Revenue Generation in 2023
Consider embracing "social proof marketing" if you're looking for strategies to increase sales for your eCommerce store.
A psychology case labeled social proof in eCommerce demonstrates how people frequently use other people's actions in a given scenario as a guide.
Reviewing other customers can encourage visitors to your online store who seem indecisive about whether to make a purchase.
Because of this, more online retailers are utilising eCommerce social proof to boost client confidence in their stores.
Check out the most innovative and effective eCommerce strategies for leveraging social proof in eCommerce.
Feature Text/DM Testimonials Across Your Pages
Display positive written customer feedback about your goods or services on your website's most popular pages.
By doing this, visitors will be able to see what other consumers have to say about your company and feel more comfortable making a purchase, regardless of the origin of their visit.
Therefore, if you received a review on a social networking platform in your DM, display the username or profile along with the text review. This will increase the credibility of the reviews in the eyes of your target audience.
Add User-Generated Images/Videos As Reviews
Online shoppers are frequently skeptical despite your best efforts to emphasise a product's advantages.
This is why user-generated visual material and other social proof in eCommerce marketing strategies are excellent additions to any business out there.
The retail niches of fashion, cosmetics, electronics, and other items benefit significantly from this strategy.
Encourage your consumers to produce user-generated content so that you may use it on product pages.
Compared to your high-definition product shoots, a user's image or video of your fashion and clothing product will put a customer at ease regarding a purchase where the video elevates the situation.
A survey found that watching a video increases a customer's likelihood of purchasing a product by 73%. When you solely take user-generated videos into account, that percentage will unquestionably be closer to the 100% mark.
You can eliminate any leftover worries that potential clients may have about your products by producing visual social proof in eCommerce for them.
Showcase Your Products' Popularity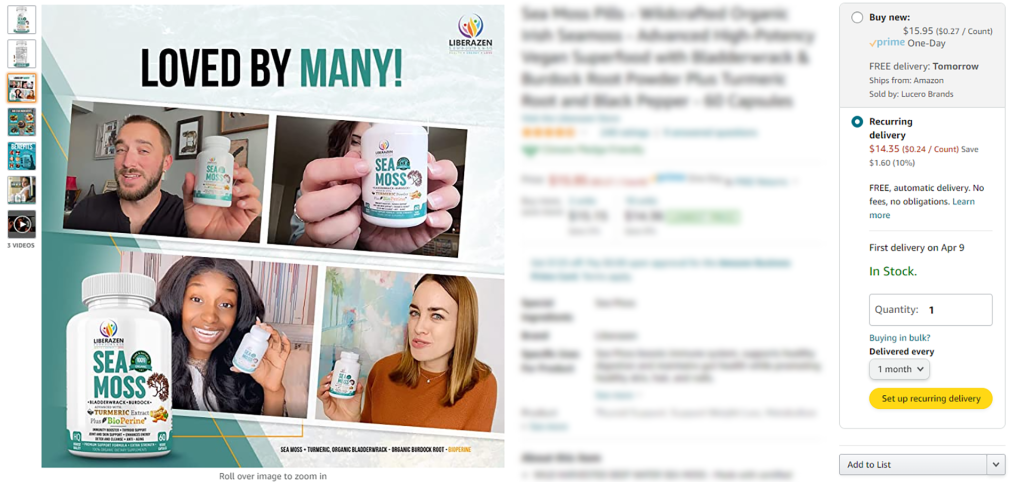 You should showcase any of your products that are well-liked by your consumers because the social proof in eCommerce drives potential clients to believe that a product is good if many people purchase it.
Hold on when implementing this tactic until a sizable proportion of customers have done so.
A product page with the phrase "250 consumers bought this product" will be more alluring than one with the phrase "3 customers bought this product."
Exceptionally Written Copy Can Help In Captivating Your Target Audience
The way you exhibit your goods will have a significant impact on how your buyers perceive them. Website visitors are much more persuaded to buy if you use tags like "Best Selling," "Most Popular," or "Fastest Moving."
This generates confidence in your customers, builds a sense of trust, and encourages them that they must purchase the best-selling product.
Every online retailer has a top-selling item, which must be emphasised continually. A tag like "product of the month" will significantly impact potential buyers even if sales of this product aren't sky-high. This strategy helps in developing eCommerce social proof.
Throw Some Light On Product Ratings
It would be best to emphasise what prior customers have to say about the product rather than merely promoting it through landing page copy or product descriptions.
Because of this, it's crucial to demonstrate how other customers are endorsing the product, even though product descriptions are an excellent method to emphasise how a product can benefit your customers.
A fantastic approach to achieve eCommerce social proof this way is to display the product's 4-5 star ratings, the number of product reviews, and the number of customers who made the transaction.
Others are more likely to buy when they see numerous people recommending the product they wish to purchase.
Showcase The Number of Likes For A Product By Previous Customers
A solid persuasive tactic shows potential customers that a product has previously been "liked" by many people.
It will also motivate people to "like" the product, making it much simpler for you to generate additional sales. Creating social proof in eCommerce builds consumers' trust in your business offerings.
This approach can also be very effective on websites like Facebook and Instagram.
You will undoubtedly attract more attention to the product page and raise brand awareness for your eCommerce store if you promote your goods and urge previous consumers to "like" and share the product.
Combat Extremely Negative Social Proof
Don't overlook a critical review of your goods if you find one. Discuss with the customer what you can do to assist.
It's just as helpful for other users to see how you responded to a negative review as it is for a favourable one.
It demonstrates to them your company's concern for the feelings of its customers and its resistance to promoting inferior products.
The assurance that you will always take a stand if a customer is unhappy with a product can have comparable advantages to a guaranteed product.
Suggest Similar/Recommended Products
If you manage a multi-product eCommerce site, you must make it easier for your customers to make decisions while fostering brand loyalty.
An incredible method to let your customers know that many people adore your products while also pointing out the most suitable products for them to consider is to include a section that states "People also bought" or "People also recommended."
Display Your Social Media Customers and Followers
When customers log in using their social media credentials, you will have the data on how many people are considering your brand. You may use this strategy to generate eCommerce social proof for your online store.
Your number of followers on social media isn't the most crucial factor, and it certainly isn't sufficient to cover a business' worth. However, displaying that on your eCommerce site can be a fantastic demonstration of eCommerce social proof if you have a sizable fan base.
Individuals enjoy following the herd; they are more likely to participate when they observe a large group of people doing something.
An automated post showing the number of purchases or the total sales for a particular product over a week/month can boost website traffic while building trust in your brand among clients who are already considering purchasing.
Endorsements From Celebrities As Social Proof
Endorsements from famous people are a fantastic way to create authority and credibility and add value to your business. You can pay for or receive free celebrity endorsements depending on your eCommerce venture.
Large firms frequently employ formal contracts when paying a public figure to represent a good or service under their brand.
The best thing about receiving celebrity support is that an endorsement from them can dramatically increase your visibility since they have a significant social media fan base. Fans get obsessed with a brand or product when they see their favourite celebrity using it and immediately want to purchase it.
Since it is not cost-effective for your budget, it is advised to concentrate on obtaining endorsements from social media fan sites, influencers, or local celebrities.
Conclusion
Since it capitalises on consumers' tendency to buy from people they know and trust, social proof in eCommerce is a powerful marketing technique. Throughout the sales cycle, provide your prospects with various eCommerce social proofs. Establishing strong trust in customers in your brand will help it take the lead in the marketplace.
Using social proof in an eCommerce marketing strategy for your online store can increase conversion rates, eliminate buyer's remorse, reduce return rates, and differentiate your company from the competition. As a result, leveraging eCommerce social proof can boost your sales.
Grow Your eCommerce Businesses Leveraging WareIQ's Contemporary Fulfilment Services
WareIQ, a Y-combinator-backed startup, offers same- or next-day delivery solutions for D2C businesses leveraging full-stack eCommerce fulfilment technology, giving customers a similar experience to Amazon Prime.
For organisations of all sizes and industries, WareIQ distinguishes out from the competition as one of the top D2C fulfilment partners.
WareIQ has services for merchants with a range of order sizes and delivery deadline expectations. Utilizing "WareIQ RUSH," our solution. Customers may typically expect same-day delivery from WareIQ, one of the few fulfilment technology companies in the globe.
WareIQ, a tech-enabled 3PL, helps D2C firms speed their growth by overseeing their company's complete order fulfilment process. Businesses can now focus on marketing, business growth, and daily operations.
Are you eager to know more about WareIQ's offerings if you sign up now? Find the features of the best-in-class, category-defining fulfillment services for eCommerce & D2C brands below:
Pan India Fulfillment & Darkstore Network: Plug-and-play fulfillment infrastructure with no minimums, which is compliant with Amazon Seller Flex, Flipkart Assured, Myntra and other marketplaces
Inventory & Network Planning Excellence: Best-in-class AI models for sales forecasting, product segmentation, and inventory management to reduce inventory by 40% and increase revenue by 10%.
Vertically Integrated Fulfillment Tech Stack: Our Fulfillment Tech Solution supports integrations with 20+ top marketplaces & D2C platforms, and prominent national, regional and hyperlocal couriers, enhancing reach by covering deliveries for 27,000+ pin codes
Supply Chain Productivity Applications: Integrate a host of supply chain productivity apps with a single-click to your existing CRMs, ERPs & accounting software to manage your logistics workflows from one command center. Use Apps like RTO Shield to get 100% RTO protection, Branded Tracking to turn your order tracking page into a profitable marketing channel, and many more.
Trusted by 300+ top Indian brands, we are helping them accelerate online sales and expedite their growth through a synergistic combination of advanced technology, robust fulfillment infrastructure & seller enablement services!WareIQ is backed by leading global investors including Y Combinator, Funders Club, Flexport, Pioneer Fund, Soma Capital, and Emles Venture Partner.
Social Proof in eCommerce: FAQs