Check Out These 10 Highly Effective and Proven eCommerce Social Proof Examples To Inspire Your Next Social Proof Marketing Strategy in 2023
Social proof has grown to be a popular marketing strategy. It can be powerful and effective if implemented appropriately. Social Proof in eCommerce is when previous buyers influence purchasing decisions of new or future customers.
In business, this could indicate:
Purchasing a product based on Facebook recommendations from friends
deciding against purchasing after reading too many unfavorable reviews
visiting a company's website after noticing a maker publishes a reel featuring their product
Social proof in eCommerce has become a need for brands because it is a fantastic source of validation. As a result, social evidence is more crucial than any other technical strategy in marketing.
Today, eCommerce social proof is priceless for brands. Looking for ways to use it in your marketing?
Here in this blog, we will discuss ten excellent eCommerce social proof examples to motivate you!
But first, a quick summary to remind you how beneficial social proof marketing strategy can be for your eCommerce business.
What is Social Proof Marketing Strategy?
People base their decisions on what others do, a psychological and social phenomenon known as social proof. In a word, it is attempting to behave appropriately to get the acceptance of others.
And as you might expect, it's a potent tool to include in your marketing. People are more likely to believe suggestions from others than direct marketing from a company.
To help promote your brand, you will learn about several eCommerce social proof examples in today's blog post.
What are Social Proof's Potential Benefits in eCommerce?
You can gain significantly from utilizing social proof in your marketing. That includes everything from building more client trust to raising your conversion rate.
Different forms of social proof exist. And to demonstrate just how effective they may be, consider these crucial figures:
Businesses with "excellent reviews" see an increase in spending of 31%.
92% of customers are likelier to patronize a local business if it has at least a 4-star rating.
On Yelp, an extra star can boost earnings by 5 to 9%. You could lose 30 consumers as a result of one unfavourable review.
Testimonials on sales pages can boost conversions by up to 34%.
According to 79% of respondents, user-generated material significantly impacts consumers' purchasing decisions.
89% of marketers claim that the ROI from influencer marketing is on par with or higher than other forms of advertising.
Therefore, focusing your marketing strategy on your clients will be the most effective way to boost sales. And using social proof to provide value is how to make it work.
WareIQ – Amazon-prime Like Logistics for Modern Brands in India
WareIQ, an eCommerce fulfillment company, empowers online brands with a superior-tech platform to compete with Amazon like service levels by bringing their average delivery timelines from 5-10 days to 1-2 days.
"WareIQ came to Gynoveda with a full stack fulfillment platform & gave Gynoveda access to a nation wide network of fulfillment centers & last mile & hyperlocal courier partners closer to our customers based out of North East & North India.

They made

same-day delivery possible

for us in metros.

"
10 Attention-Grabbing eCommerce Social Proof Examples To Motivate Your Sales Growth Strategy in 2023
Every other brand has adopted this eCommerce social proof strategy, from DTC and eCommerce businesses to technological solutions. Ten social proof marketing examples are provided below.
These 10 social proof examples in eCommerce demonstrate the variety of ways you may incorporate this tactic into your marketing strategy in 2023.
Rise.ai
The fact that a potential customer is unsure of whether something will be helpful to them is one of the main reasons many firms fail to convert. Because of this, you should use case studies to demonstrate how customers benefit from your product through social proof.
Case studies are considered one of the excellent eCommerce social proof examples because they primarily serve as proof of concept demonstrations, showcasing your satisfied clients and displaying social proof.
Rise.ai performs a fantastic job of displaying social proof through case studies. In addition, visitors can be sent to a landing page on their website to read success stories from previous clients.
Better still, rise.ai allows visitors to view the outcomes other clients experienced without requiring them to read the entire case study.
The advantages of employing their solution are made extremely evident and quickly by exhibiting the results in the brief headlines.
SEMrush
Users who click an SEO tool search ad are taken to the SEMrush landing page.
It gives users a chance to test out the product for free. This is an engaging element for new customers, and this can be an extraordinary tactic to allure new users through their landing page.
SEMrush promotes the popularity of its service using well-known businesses. As a result, the average user is familiar with the brand's Quora, eBay, Philips, and HP.
But even because well-known companies employ a tool doesn't mean it is inevitably beneficial. This social proof example demonstrates SEMrush's usefulness; the company uses an authority indicator.
The fact that the product has won accolades for best digital tool, best SEO software package, etc., demonstrates to visitors how effective the tool is.
One of the best eCommerce social proof examples used by SEMrush is the most convincing example of "wisdom of the crowd" social evidence. SEMrush utilizes and encourages new users to join "6,000,000 users" who are already using the SEMrush tool and have improved their SEO strategies with a compelling copy, displaying its user base.
If your company has millions of users, this is an effective strategy to encourage visitors to become customers.
Fender
Users arrive at the Fender landing page after clicking on a search advertisement for guitar tuition.
It provides a free trial of the internet product to visitors. You can see a social proof sample further down the page. This social evidence is compelling since it originates from a well-known company. Admittedly, it doesn't provide the product with the most shining endorsement, but stating the abilities, chords, songs, and riffs the user learnt from the course testify to the product's usefulness. Below that, further social proof from well-known brands strengthens the page's argument.
Fender employs an eCommerce social proof strategy in a unique way, which sets it apart as one of the best eCommerce social proof examples.
The other landing page appeals to the collective knowledge of visitors to urge them to accept the offer rather than using names and quotes.
Visitors are informed that the product must be good because it is being used and rated highly by such a large number of people by the high number of lessons taken, 5-star reviews given, hours spent studying, and quantity of lessons.
Udemy
A fantastic approach, one of the best eCommerce social proof examples to demonstrate the strength of your brand, is to show huge numbers of prior customers; this is similar to showing the number of people who are now using your online product or service.
Udemy operates in just that way.
They begin by displaying the sizable student enrollment in their online course. Individuals are quickly drawn to such large numbers and assume that something unique must happen since many have chosen to enroll in this course.
Udemy also provides the average rating score that students have given a course. Of course, it's fantastic to demonstrate that your product or service has earned positive reviews, but it's even better to demonstrate that many customers have given it.
People tend to mimic the behaviours of the herd. So, bragging about your user base's size might be a quick and effective approach to employ social proof.
Nespresso
Celebrity brand endorsements can significantly boost your business's sales and profits by establishing social proof and brand credibility.
One of the most well-known celebrities' eCommerce social proof examples is George Clooney's endorsement of Nespresso. George has had a very fruitful relationship with Nespresso over a long period. By association, it has increased brand recognition and buying intent.
Because possessing a Nespresso coffee maker will allow you to be like George, George's celebrity status has boosted sales.
What is one of the benefits of receiving celebrity support? First, an endorsement from a celebrity can dramatically increase your audience recognition because your favorite stars frequently have substantial social media followings.
Finding celebrities to do brand endorsements can seem like a complex (and expensive) endeavour unless your business is already well-known. So what can you do to entice your target audience? When looking for an endorsement, there's no need to be limited. You can approach anyone, from actors to influencers, community leaders to social media celebrities, and athletes to models.
With just a little shout-out, your brand can differentiate itself from the competitors.
Trilogy
Customer evaluations and testimonials are excellent for displaying social evidence and showing customer feedback and endorsements from fundamental authorities in your field.
When an authority figure or influential person endorses your product, this is known as expert social proof. They can demonstrate their support by blogging, publishing on social media, being cited in media, or being included in images as a product user.
For professional social proof, Trilogy uses the logo of the Allure Best of Beauty Award winner on its website. As a well-known brand in the cosmetics industry, allure's endorsement gives the product credibility even among those unfamiliar with it.
Briefly, after this kind of social proof, your target audience would think it wouldn't receive an award if the product weren't good. So can be one of the best eCommerce social proof examples, clearing doubts in your customers and encouraging them to buy the product.
ASOS
Shoppers' fear of missing out can have a significant impact. Your website visitors will feel a sense of urgency only by seeing when goods are running short or sold out.
It may influence more individuals to make an immediate purchase and fewer people to "go home and think about it."
By indicating when a product is "low in stock" or "selling fast", ASOS effectively uses this approach of social proof, which makes them stand apart to create a sense of urgency among customers to buy it before it sells.
Stock shortages can work in your favour. Consider limiting supplies of your products as a technique to demonstrate scarcity to your clients and raise the perceived worth of your products rather than as a restriction on the number of sales you may make.
ToyFight
One of your website's most important areas, the About Us page, offers a great chance to use social proof. When someone visits your blog or website, it's frequently one of their first stops, and it might decide whether or not they convert.
Your About Us page's main objective is to give visitors a feel of who you are as a person or a business. Additionally, by making the website lively, engaging, and educational, you may inspire visitors to begin connecting with your company.
An About Us page on ToyFight serves as an illustration of social proof. You can sense Jonny and Leigh's personalities from the page as it changes as you interact with it.
Speaking of them, their bio paragraphs make good use of social proof by listing all of the well-known companies they have previously collaborated with.
Introducing your team members and their roles within the organization can add professionalism to your About Us page while using social proof.
Showing a map of locations or the nations where your product is sold also employs one of the best eCommerce social proof examples to support the worth of your goods.
Chevrolet
The strategy of Chevrolet is one of the best eCommerce social proof examples by issuing a press release. A press release's primary goals are to attract attention, make news, and get publicity. In addition, it can raise brand recognition and is cost-effective (free).
Suppose the media has written favourable articles about your brand. In that case, this earned media is a fantastic approach to increase brand recognition, backlinks to your website, and social proof that your company is noteworthy.
The press release for Chevrolet's new launch uses multimedia, including images and video, to increase journalist engagement and the likelihood that they will want to write about the story. In addition, the text is digestible and enables the journalists to create original stories and give the product its polish.
H&M
Check out how H&M uses their #HMxMe channel to encourage user-generated content on-site to wrap things up.
It's wise to designate a unique branded hashtag for collecting user-generated content. Doing this will give you a steady stream of client testimonials to use as social proof. For perspective, the #HMxME hashtag on Instagram has more than 1.2 million posts.
The company also advertises a social media-style feed that features UGC in various formats. This is a social proof example; visitors can visit the product's page by clicking on the photographs in the feed. After that, they can go shopping for clothing-related products.
These social media posts' ability to be purchased demonstrates how proof can result in immediate sales. The route from product discovery to social proof to purchase has been made frictionless by H&M.
Conclusion
As you can see, these eCommerce social proof examples can increase conversions dramatically and takes many different shapes.
In this post, we examined 10 eCommerce social proof examples utilized by well-known businesses and talked about how they function to boost sales.
However, the possibilities for using Social Proof messaging across the eCommerce funnel can go far beyond what is seen in these instances.
The most important lesson learned is this- To give your clients the most satisfying experience possible, you should use Social Proof strategies.
It's important to be data-driven and customer-focused, but it's also outstanding to be creative.
WareIQ as Your Fulfillment and Distribution Partner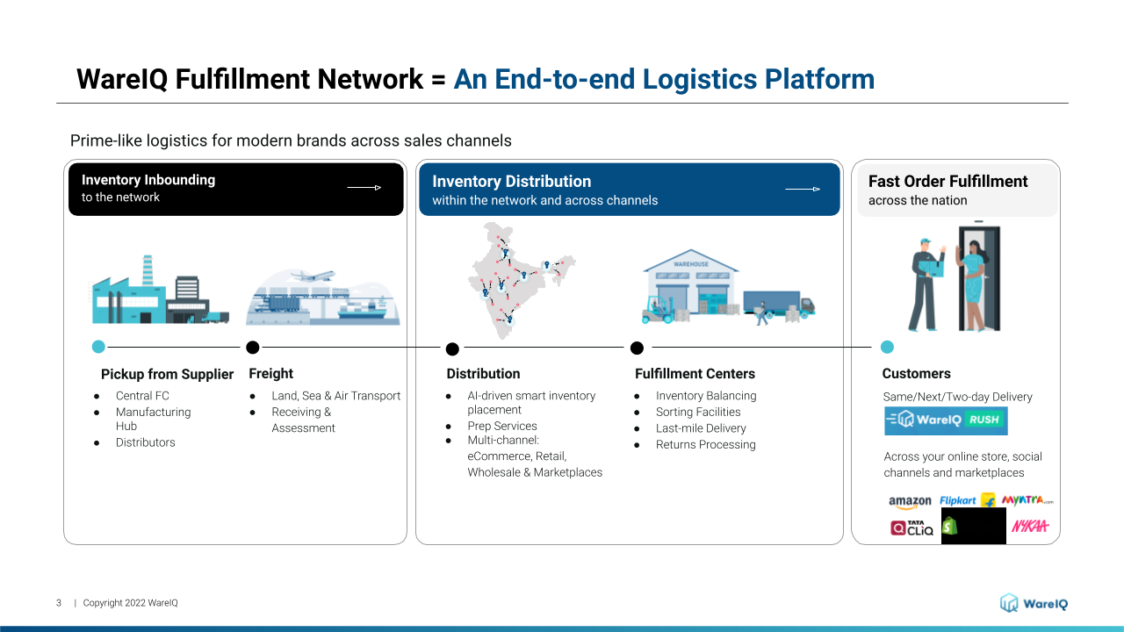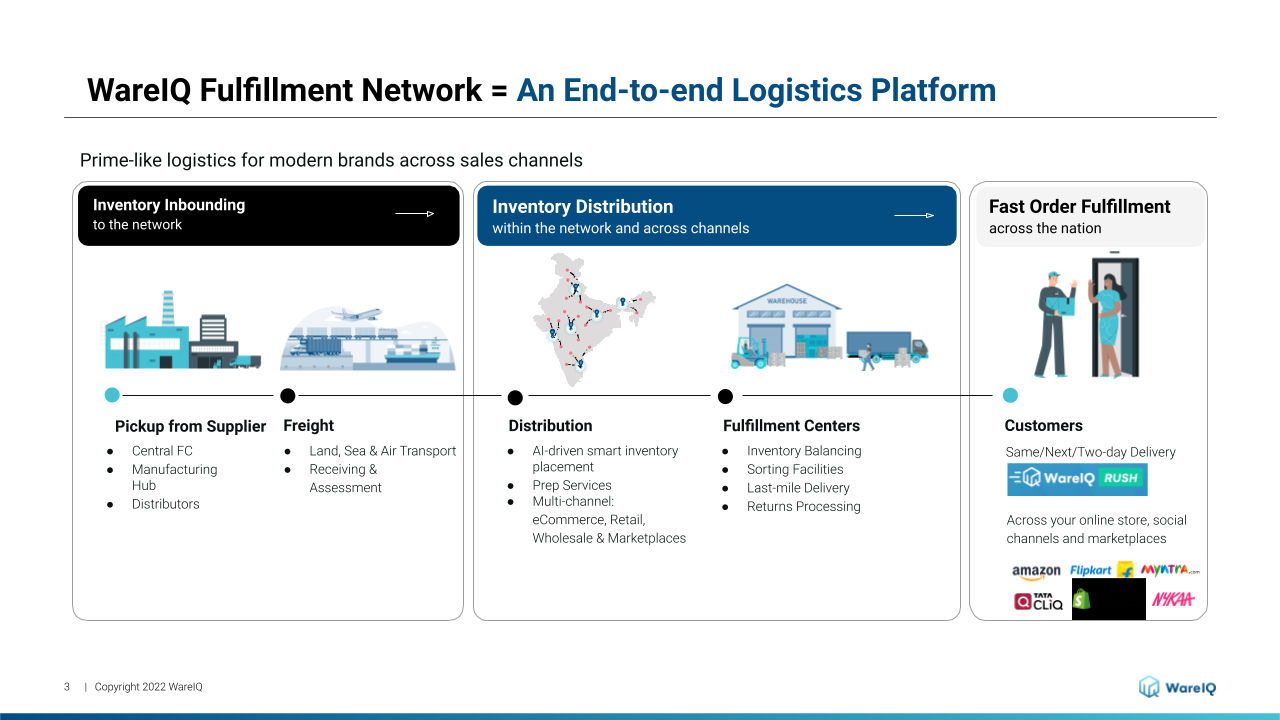 WareIQ's network of fulfillment centers makes it simpler to effectively distribute your products among many regions, save shipping costs, and achieve same-day delivery.
Businesses in the B2B and B2C industries may swiftly and affordably grow their operations across the nation with the aid of WareIQ's extensive fulfillment network.
With the help of our analytics, retailers can select the ideal mix of inventory to meet customer demand while preventing stockouts, backorders, and deadstock.
Furthermore, WareIQ uses the best fulfillment technology and offers complete visibility into business activity across the distribution network. As a result, you can trust WareIQ to handle your order fulfillment processes and delivery. Retailers can also manage warehouse operations and follow orders through the supply chain using various technologies.
WareIQ also helps you monitor important metrics at each site you utilize, such as inventory turnover, order accuracy, time in transit, and on-time percentage, to improve your 3PL experience further. You may use this information to pinpoint problematic areas and enhance supply chain management for your brand success.
Are you eager to know more about WareIQ's offerings if you sign up now? Find the features of the best-in-class, category-defining fulfillment services for eCommerce & D2C brands below:
Pan India Fulfillment & Darkstore Network: Plug-and-play fulfillment infrastructure with no minimums, which is compliant with Amazon Seller Flex, Flipkart Assured, Myntra and other marketplaces
Inventory & Network Planning Excellence: Best-in-class AI models for sales forecasting, product segmentation, and inventory management to reduce inventory by 40% and increase revenue by 10%.
Vertically Integrated Fulfillment Tech Stack: Our Fulfillment Tech Solution supports integrations with 20+ top marketplaces & D2C platforms, and prominent national, regional and hyperlocal couriers, enhancing reach by covering deliveries for 27,000+ pin codes
Supply Chain Productivity Applications: Integrate a host of supply chain productivity apps with a single-click to your existing CRMs, ERPs & accounting software to manage your logistics workflows from one command center. Use Apps like RTO Shield to get 100% RTO protection, Branded Tracking to turn your order tracking page into a profitable marketing channel, and many more.
Trusted by 300+ top Indian brands, we are helping them accelerate online sales and expedite their growth through a synergistic combination of advanced technology, robust fulfillment infrastructure & seller enablement services!WareIQ is backed by leading global investors including Y Combinator, Funders Club, Flexport, Pioneer Fund, Soma Capital, and Emles Venture Partner.
eCommerce Social Proof Examples FAQs