Why Outsource Flipkart Fulfillment and Shipping to WareIQ?
Multi-Channel Selling
WareIQ's fulfillment platform allows multi-channel integration – D2C and Marketplaces. Furthermore, WareIQ's Branded Tracking app helps brands turn tracking pages into profitable marketing channels.
Speed & Cost Optimisation
WareIQ utilizes smart inventory placement to place inventory closest to customers through pan-India network of fulfillment centers/warehouses and enables same day/next day deliveries at a cheaper cost.
Stock Availability
WareIQ's inventory planning program using AI-based inventory optimization helps brands to ensure that high-selling SKUs are always available in stock to avoid any kind of sales loss.
Online Conversions
WareIQ provides Prime-like shipping badges displaying fastest delivery timelines [next day & same day delivery promises] to reduce cart abandonment and boost conversions on D2C websites.
Returns & Exchanges
WareIQ's state-of-the art returns processing facilities, enabled with camera and scan-based devices, with a platform actively tracks the same for visibility. Furthermore, WareIQ also helps brands intelligently identify & insure themselves against RTOs through the RTO Shield App.
Inventory Cost Reduction
WareIQ's AI-based inventory planning program helps brands identify slower-moving SKUs easily so that brands can start liquidating the space and free up working capital, along with improving sales by making space for higher-selling SKUs.
WareIQ vs Fulfilled by Flipkart
WareIQ's automated order fulfillment system ensures efficient and accurate picking & packing. We also have the bandwidth to fulfill 1 to 100,000+ orders each day.
| | Fulfillment by marketplaces | WareIQ |
| --- | --- | --- |
| Inventory available for sales through multiple channels? | | |
| Ready access to marketplace benefits such as Prime tag, F-Assured Tag etc.? | | |
| Dedicated support to centrally manage returns claim management across marketplaces? | | |
| Easy inventory call-back available? | | |
| Availability of inventory planning & optimization for higher product availability, and lower inventory holding cost? | | |
| Availability of on-demand inventory storage with no fixed-cost? | | |
How Does WareIQ Fulfill Orders For Flipkart Sellers?
WareIQ's centralized platform with a single UI for fulfillment ops, inventory management & last-mile seamlessly integrates with Flipkart online marketplace. Your Flipkart cart can now directly communicate with our warehouse management, order management and inventory management systems with minimal setup.
A customer places an order on Flipkart marketplace, and information about the order is directly transferred to WareIQ's centralized fulfillment platform.
WareIQ's WMS quickly recognises and collects the correct order stored in the warehouse or fulfillment center, located nearest to the customer. The warehouse staff picks and packs the order after printing the labels, making it ready for shipping.
WareIQ's order management system (OMS) automatically provides tracking data to your customer and back to your Flipkart business.
Choose your preferred company from WareIQ's extensive list of last mile delivery and courier service partners, who will pick the order from the FC and deliver on the same/next day. Boost revenue through fastest shipping & delivery.
Why Utilize WareIQ Fulfilment Services For Your Flipkart Marketplace Orders?
Easily link your Flipkart and other marketplaces To WareIQ's fulfilment platform
Place your merchandise near to customers with smart inventory placement in WareIQ's FCs
Make inventory stored in WareIQ's FCs available for sales in multiple channels
WareIQ's lightning-fast fulfilment helps you increase your Flipkart sales
RTO Insurance and seamless returns claim management with WareIQ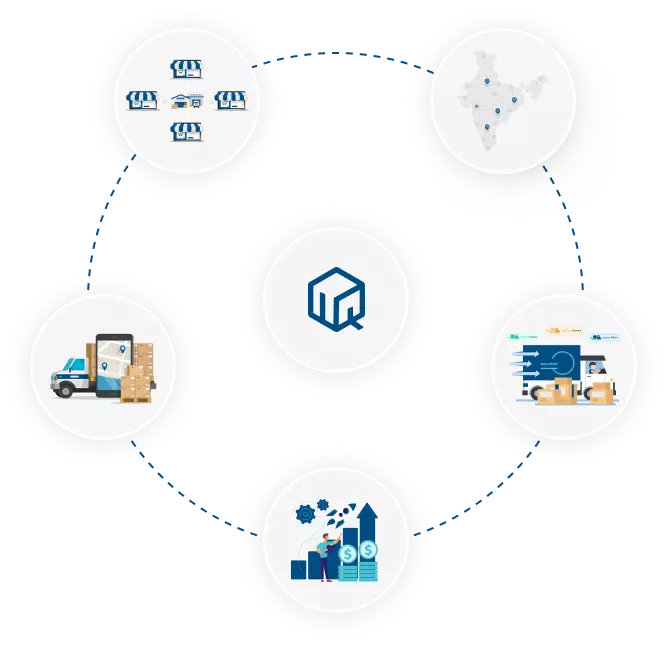 Frequently Asked Questions (FAQs)