List of the 10 Best Logistics Companies in Ahmedabad in 2023 for eCommerce, D2C, B2B, and B2C Sellers
Ahmedabad is a city located on the banks of the Sabarmati River. While not the capital of Gujarat, it is the largest and most populous city in the state and one of the fastest-growing cities in the entire country. It is currently the 5th most populated city in India, beating out major cities such as Chennai and Kolkata. Due to it being the 2nd largest producer of cotton in India, it has come to be known as the "Manchester of India". The city also hosts the Narendra Modi Stadium – the largest stadium in the world and has emerged as a strong player in the commerce, construction and communications sectors.
Ahmedabad constantly ranks highly in lists published by major magazines, like Forbes and Times, for metrics such as ease of living and growth rate. This makes the city an attractive proposition for setting up or relocating businesses. Due to the influx of companies, both international and local, many logistics companies also call the city home. In this blog, we will take a look at what logistics companies are and the top 10 logistics companies in Ahmedabad.
What are Logistics Companies?
Businesses that offer facilities like storage, transportation and distribution logistics services to transfer commodities, materials, and products from one place to another are known as logistics companies. They oversee all aspects of the supply chain, including dropshipping, order fulfillment, inventory management and warehousing, among other things. By assisting enterprises of all sizes in carrying goods to clients in markets locally and abroad, these organisations play a significant role in both the native and worldwide economies.
Shipping, transportation through air, land and sea, customs clearance, and warehousing are among the services offered by logistics companies in Ahmedabad. Additionally, some of them provide value-added services, including labelling, packing, and more. Nonetheless, keep in mind that the scope and cost of the services provided by the logistics companies in Ahmedabad might differ considerably.
WareIQ – Amazon-prime Like Logistics for Modern Brands in India
WareIQ, an eCommerce fulfillment company, empowers online brands with a superior-tech platform to compete with Amazon like service levels by bringing their average delivery timelines from 5-10 days to 1-2 days.
"With WareIQ, UTH is able to consolidate common inventory for all platforms and get much closer to the customer through access to WareIQ's strong nationwide network of fulfilment centres, and last mile & hyper-local courier partners.

We are excited about being able to offer

same day delivery

in several pin codes due to

WareIQ

.

"
Top 10 Logistics Companies in Ahmedabad in 2023
WareIQ
Founding Year: 2019
Services Offered: Inventory storage, order fulfillment, packaging, shipping aggregation, reverse logistics and more.
About the Company: WareIQ is well-known for its extensive range of eCommerce solutions and very customizable pricing plans. Aside from standard logistical services like order fulfillment and last-mile delivery, the company also offers an all-encompassing app store, an in-built WMS, customisable packaging, branded tracking and much more. It is also revered for its use of cutting-edge technology, such as the use of AI and ML for a variety of tasks and the provision of various automations. As a result, if you require a firm that can handle any logistical requirement you may have, WareIQ is unquestionably one of the best selections among logistics companies in Ahmedabad.
Are you eager to know more about WareIQ's offerings if you sign up now? Find the features of the best-in-class, category-defining fulfillment services for eCommerce & D2C brands below:
Pan India Fulfillment & Darkstore Network: Plug-and-play fulfillment infrastructure with no minimums, which is compliant with Amazon Seller Flex, Flipkart Assured, Myntra and other marketplaces
Inventory & Network Planning Excellence: Best-in-class AI models for sales forecasting, product segmentation, and inventory management to reduce inventory by 40% and increase revenue by 10%.
Vertically Integrated Fulfillment Tech Stack: Our Fulfillment Tech Solution supports integrations with 20+ top marketplaces & D2C platforms, and prominent national, regional and hyperlocal couriers, enhancing reach by covering deliveries for 27,000+ pin codes
Supply Chain Productivity Applications: Integrate a host of supply chain productivity apps with a single-click to your existing CRMs, ERPs & accounting software to manage your logistics workflows from one command center. Use Apps like RTO Shield to get 100% RTO protection, Branded Tracking to turn your order tracking page into a profitable marketing channel, and many more.
Trusted by 300+ top Indian brands, we are helping them accelerate online sales and expedite their growth through a synergistic combination of advanced technology, robust fulfillment infrastructure & seller enablement services!WareIQ is backed by leading global investors including Y Combinator, Funders Club, Flexport, Pioneer Fund, Soma Capital, and Emles Venture Partner.
Kenn Global Logistics
Founding Year: 1987
Services Offered: Transportation, packaging, warehousing, customs clearance, project logistics and more.
About the Company: Kenn Global Logistics is one of the best logistics companies in Ahmedabad. It provides comprehensive worldwide trade services to Indian exporters and importers. The company operates both regional and global offices throughout Asia, Europe, Africa, Australia and the United Kingdom. In addition to conventional logistics facilities, it allows you to trace packages from pickup through delivery using its fully integrated system. It also provides customised solutions based on the demands of each customer. MNCs such as Godrej, Raymond and Reliance have all used the company's services.
Kotak Logistics
Founding Year: 2005
Services Offered: Transportation, international shipping, customs clearance, vessel management, freight forwarding and more.
About the Company: Kotak Logistics, located in the heart of Ahmedabad, has been relentlessly servicing its clients for almost 18 years. They are one of the most rapidly expanding and professionally managed logistics companies in Ahmedabad. In addition to providing various logistics services such as international and domestic shipping, customs clearance and more, it has also proven its experience in specialised logistics operations at key Indian ports.
DHE Shipping Services
Founding Year: 2012
Services Offered: Customs clearance, distribution, warehousing, cross-border shipping, contract logistics and more.
About the Company: DHE Shipping Services is an Ahmedabad-based shipping and logistics company that provides multiple facilities such as freight forwarding, customs clearance and various other types of logistics services. The company also offers product insurance and warehousing facilities. Engineering, pharmaceuticals, agriculture, textiles and hotelling are among the industries served by the organisation. It also has a worldwide shipping network that spans over 100 countries, which makes it one of the best logistics companies in Ahmedabad if your business needs to ship products abroad.
Shakti Cargo
Founding Year: 1999
Services Offered: Freight forwarding, supply chain management, packaging, warehousing, distribution and more.
About the Company: Shakti Cargo is one of the most experienced logistics companies in Ahmedabad, which gives its customers a competitive advantage. The company is known for its cost-effectiveness, dispatch speed and reliability. Their knowledge, technology and employee training program keeps their staff constantly up to date on the requirements of their customers and the current import and export laws in various nations. This information enables them to operate at peak efficiency for the most trouble-free deliveries.
Transvoy Logistics
Founding Year: 2015
Services Offered: Warehousing, customs clearance, contract logistics, transportation, freight forwarding and more.
About the Company: Transvoy Logistics is a multinational logistics and freight forwarding company headquartered in Ahmedabad. They offer a full range of international and domestic logistics services, including intermodal freight services, NVOCC, project logistics, cargo management, transportation and much more. They have a devoted team of professionals handling the entire procedure and ensuring that all their services are hassle-free and error-free. The company has a comprehensive distribution network within India, as well as the Middle East, Europe, South East Asia and Hong Kong.
Paradise Logistics
Founding Year: 2018
Services Offered: Supply chain management, warehousing, customs clearance, transportation, cargo services and more.
About the Company: Paradise Logistics is a logistics company that handles all areas of the supply chain, including ocean and air freight forwarding, warehousing and customs clearance. They have effectively helped minimise surplus inventory, boost order efficiency and control elevated delivery-cycle times while lowering total supply chain expenses. Their success in the freight forwarding market can be credited to their highly experienced workforce, the ability to provide enhanced products and services, a solid financial foundation and dedication to the maximised use of technology.
Relay Express Logistics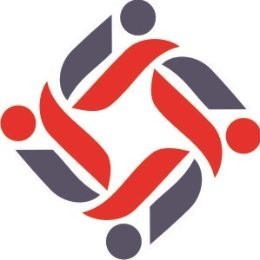 Founding Year: 2012
Services Offered: Reverse logistics, warehousing, transportation, 24/7 customer support, supply chain management and more.
About the Company: Relay Express is an Ahmedabad-based technology-driven logistics company. The company is committed to providing transparent, high quality and flexible logistics and shipping facilities in the entire country, with a current network of 40-plus cities in 14-plus states. Its premier offerings include its single-window express distribution services and a diverse range of competitive services through a dependable network built on heightened levels of security. They have core experience in delivering and providing cost-effective solutions to their customers across multiple industries and product categories.
Supreme Logistics Solutions
Founding Year: 2012
Services Offered: Transportation, product storage, tailored solutions, warehousing, distribution and more.
About the Company: Supreme Logistics Solutions, an Ahmedabad-based 3PL logistics provider, has more than 40 years of experience in the industry, making it one of the most experienced logistics companies in Ahmedabad. With expertise in warehousing and transportation, they offer their customers completely customizable logistics services. The company's solutions are intended to give organisations a competitive edge by delivering cost-effective and reliable logistics services across sectors. Their integrated offerings make sure that their customer's supply chain runs effectively and that they receive a prompt response whenever they need it.
EPT Global Logistics
Founding Year: 2007
Services Offered: Freight forwarding, warehousing, customs clearance, industrial packaging, international shipping and more.
About the Company: Incorporated as a logistics company in Ahmedabad, EPT Global Logistics has more than 15 years of experience and currently has additional offices in Mumbai, Bangalore, Chennai and New Delhi. The company also has an international presence in locations such as China, the United Kingdom and the United States. Throughout its tenure, the company has earned the trust of its partners in a wide range of industries, including energy, oil and gas, engineering, telecommunications and automobiles, to handle their requirements on a global scale.
People Also Search: List of the Top 10 Logistics Companies in Gujarat in 2023
Conclusion: How Partnering With WareIQ Can Enhance Your Logistics Operations in Ahmedabad?
Ahmedabad has become one of the country's most rapidly growing cities and has received international recognition for being one of the best places in India to live and conduct business. The city has a well-established network of shipping and logistics companies. It is also strategically located between the largest cities in the country – Delhi and Mumbai – making it a good starting point for shipping goods to other parts of the country and the world.
While there are many logistics companies in Ahmedabad that offer various types of services, it is important to understand your own short-term and long-term objectives and your available finances so you can choose one that would be the right fit for you. If you need a wide combination of services coupled with accessible pricing, you should consider partnering with WareIQ.
WareIQ has become one of the most renowned fulfillment companies in India for its use of advanced AI and ML-based technology to provide a wide range of eCommerce and B2B services. Some of our key facilities are listed below:
We assist with reverse logistics services and also protect every product with an RTO Shield to prevent any harm brought about by returns.
We don't have any minimum order restrictions, so you can always upgrade or modify your subscriptions in accordance with your changing needs and choose to only pay for the services you actually need.
We offer a SaaS system for AI-enabled inventory management that keeps the right amounts of inventory and lessens the likelihood of overstocking and understocking.
We have a dedicated team of skilled customer service representatives available around-the-clock to respond to client questions.
We can help adjust the theme, elements, style, and more to fit your packaging tastes with our assortment of custom packaging choices.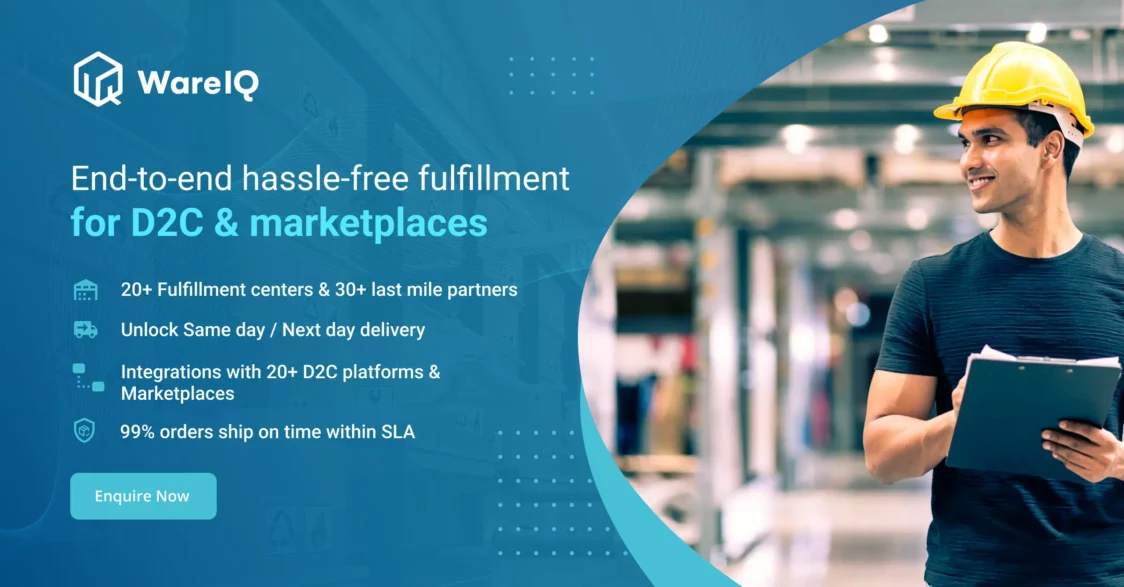 Related Article: 10 Best Shipping and Logistics Companies in Indore for Retailers in 2023
Logistics Companies in Ahmedabad: FAQs