10 Best Logistics Companies in Bangalore Providing Best Warehousing and Logistics Services for Omnichannel Retailers in 2023
Bangalore is one of India's fastest-growing cities and is the capital of the southern state of Karnataka. The city gained prominence during British rule for its soothing weather and strategic location which is around 1000 meters above sea level. These traits are also the reason why it has become a popular destination for people looking for a better quality of life as well as expanding their business opportunities and interests. The city has emerged as the startup capital of India and has long been known as the Silicon Valley of India.
Out of the 75,000-plus startups currently present in India, more than 13,000 of them were founded in Bangalore. It also consists of the regional offices of multiple big-name MNCs, such as Amazon, Flipkart and more. This makes Bangalore the primary go-to option for sellers looking to set up their businesses from scratch or existing retailers looking to take advantage of the burgeoning growth and business-friendly atmosphere that comes with it. In this blog, we will take a look at the top 10 logistics companies in Bangalore and why you should consider WareIQ.
What are Logistics Companies?
Services related to the management of inventory, the processing and fulfillment of orders, the identifying and packaging of goods, and distribution and last-mile delivery are among the many eCommerce services offered by logistics companies. They are a great choice for order fulfillment since they provide greater flexibility, reasonable pricing, and additional facilities such as order tracking for eCommerce capabilities, WMS software, customizable packaging, and more.
Although the range of services provided may vary between companies, successfully delivering orders to customers is always given the utmost importance. All you have to do is collect orders and keep an eye on them once you've partnered with one of the many logistics companies in Bangalore and they'll take care of the rest. These companies relieve you of most of the logistics-related tasks, allowing you to focus on your company's core competencies like product development and marketing.
WareIQ – Amazon-prime Like Logistics for Modern Brands in India
WareIQ, an eCommerce fulfillment company, empowers online brands with a superior-tech platform to compete with Amazon like service levels by bringing their average delivery timelines from 5-10 days to 1-2 days.
"With WareIQ, UTH is able to consolidate common inventory for all platforms and get much closer to the customer through access to WareIQ's strong nationwide network of fulfilment centres, and last mile & hyper-local courier partners.

We are excited about being able to offer

same day delivery

in several pin codes due to

WareIQ

.

"
Top 10 Logistics Companies in Bangalore in 2023
WareIQ
Founding Year: 2019
Bangalore-based WareIQ, a provider of eCommerce fulfillment services, was established in 2019. In addition to last-mile delivery, inventory management, specialised packaging, product preparation, distribution, and storage facilities, the company provides a comprehensive range of logistics and fulfillment services. It provides a custom WMS that can be integrated with many eCommerce marketplaces like Amazon and Flipkart, web-builders like Shopify and Magento, and courier services like FedEx and DHL, in addition to automating numerous warehouse activities.
The company also uses intelligent courier allocation, which selects the quickest and least expensive option for each item, and partnerships with over 12 of the largest shipping companies in the industry. The organisation has a large storage network spread over the entire nation. It can even ship worldwide to more than 220 nations. Some services provided by WareIQ that make it one of the best logistics companies in Bangalore are listed below:
Services Offered:
It has transparent pricing and does not have minimum order obligations
It is compatible with web-building platforms like Shopify and WooCommerce, along with several online selling channels like Amazon and eBay
It provides exceptionally speedy delivery through a partnership with multiple shipping companies
It makes it possible to customize packaging elements to your tastes
It provides branded tracking services for each order
DHL
Founding Year: 2001
Location: Hsr Layout, Bangalore
DHL has had a significant presence in India beginning in 2001 and is a global leader in supply chain management and also among the best logistics companies in Bangalore. DHL offers comprehensive eCommerce logistics and shipping services with specialised solutions for distribution, from warehousing to transportation. It serves a variety of sectors, including pharmaceuticals, manufacturing, healthcare and energy. It offers customised packaging and storage facilities with temperature control capabilities.
To handle a diverse range of collaborations, they offer proactive shipping and auto-generated responses. Additionally, DHL's international shipping services are well-tuned operations that offer consumers superior tracking capabilities with thorough security protocols.
Services Offered:
It offers customised logistics services in accordance with the needs of eCommerce firms
It offers value-added services like packaging, assembly, and direct delivery of products
It offers a user-friendly, multi-login dashboard for managing orders and inventory
It offers options for delayed cut-offs and speedy delivery
It provides comprehensive logistics services, such as order fulfillment, shipping, and warehousing
BlueDart
Founding Year: 2001
Location: Indiranagar, Bangalore
Founded in 1983, Blue Dart is one of the premier providers of logistics services in India. It has considerable operations in Bangalore and offers a wide range of domestic logistics services. Upwards of 12,000 employees work for Bluedart across the country. It started its operation in Bangalore, in the year 2001. It is a dependable logistics partner that assures consumers can easily avoid any problem while importing or exporting goods thanks to their abundance of global distribution experience and connectivity to more than 220 countries. Additionally, they provide precise order tracking as well as expedited last-mile delivery services.
You can also take advantage of delivery service optimizations, including quick delivery, scheduled delivery and cash-on-delivery services. Furthermore, it offers value-added services like weather-proof packaging, making Blue Dart a leader in the field, a preferred supplier for many Bangalore-based companies and one of the best logistics companies in Bangalore.
Services Offered by BlueDart:
It makes it possible to plan deliveries for specific times and dates
It offers distinctive features, such as impermeable packaging
It utilises the majority of the widely used payment methods that are available
It includes both international and domestic solutions
It has comprehensive knowledge of the sector due to its more than 40 years of experience
Atlas Logistics
Founding Year: 1999
Location: Kodihalli, Bengaluru
This reputable logistics business is based in Bangalore and was founded in 1999. They consist of a young, knowledgeable crew that makes use of cutting-edge supply chain fulfillment techniques and new technologies. They provide unique packaging and customised solutions to serve a variety of industries. Atlas Logistics also makes use of technical solutions for thorough order tracking, insurance and warehouse management.
Additionally, they offer affordable rates for road and rail transportation. They are also capable of handling large amounts of freight with qualified staff and are well-equipped for bulk transportation. No doubt, it is the best logistics companies in Bangalore.
Services Offered by Atlas Logistics:
It provides warehouse distribution services across the country
It offers freight management which aids in the efficient shipping of every order
It provides order-tracking facilities
It consists of value-added services such as custom packaging
It offers in-depth insurance for every product
Safe Express Logistics
Founding Year: 1997
Location: Naraspura Hobli Kolar, Banaglore
Safe Express is a reputable and knowledgeable logistics company in Bangalore that was founded in 1997 to offer time-assured deliveries and complete storage facilities in Bangalore and other parts of India. They offer specific solutions to sectors such as electronics, healthcare, engineering and automotive. With dependable services and precise returns management, they maximise order pick-up capabilities. For operational effectiveness, the company has incorporated IT systems as well.
Additionally, end-to-end supply chain efficiency is never compromised by logistics solutions such as digital warehousing, instant stocking of products and supplier management. This makes it one of the best logistics companies in Bangalore.
Services Offered by Safe Express Logistics:
It provides consultation services for a vast number of business tasks
It offers warehouse management services at all its storage facilities
It provides last-mile delivery services to the customer's doorstep
It emphasizes sustainable logistical procedures
It offers returns management services for all orders
Blackbuck Logistics
Founding Year: 2015
Location: Kadabeesanahalli, Bengaluru
It is one of the many reputable trucking-focused freight shipping businesses, with its corporate headquarters located in Bangalore. It was initially incepted in 2015. In matter of 7 years, it is among the top logistics companies in Bangalore. Their sophisticated fleet of well-maintained delivery vehicles and highly skilled human resources enable them to offer highly creative solutions.
With more than 12,000 trucks and 2000+ serviceable locations, Blackbuck Logistics is a large company. To assign each operation with the ideal trucking system, they use a complex set of data analytics.
Services Offered:
It provides all-encompassing road transportation facilities
It maintains a fleet of more than 12,000 delivery vehicles and trucks
It services more than 2,000 pin codes across the country
It offers complete management of its entire fleet of vehicles
It provides custom freight forwarding services
Kintetsu World Express
Founding Year: 1997
Location: Kodigehalli Gate, Hebbal, Bengaluru
This well-known Bangalore-based parcel delivery business was founded in 1997. It is a subsidiary of the multinational company Kintetsu. It provides multiple logistics solutions in one place. This shipping company offers specialised products and services, and industry-specific solutions to multiple sectors such as manufacturing, pharmaceutical, engineering, aerospace and automotive, energy, healthcare, electronics and more.
There are currently 418 employees working for Kintetsu across 18 offices. Additionally, with 24 strategically located warehouses across India, they provide multiple storage facilities. Some services provided by Kintetsu World Express that make it one of the best logistics companies in Bangalore are listed below,
Services Offered:
It offers insurance for various risk-prone business activities
It provides customisable packaging services that can be tailored to your liking
It equips you and your customers with order tracking facilities for every order
It provides last-mile delivery services
It services a wide range of industries and offers tailored solutions for each
Freightco Logistics
Founding Year: 2006
Location: Old Chandapuura , Bangalore
The premier shipping company Freightco was founded in Bangalore, Karnataka in 2006. The company is committed to providing excellent trucking services across the country and is successfully running as one of the top logistics companies in Bangalore. Freightco is well known for its expertise in exporting products from different industries to neighbouring countries like Bangladesh and Nepal. It disperses shipments to many pin codes across the country.
Due to its prompt and affordable services, this courier company is the choice of many businesses in Bangalore. They offer also convenience features such as 24/7 customer support and international shipping. Freightco is one of the best logistics companies in Bangalore.
Services Offered:
It provides ground, air and rail distribution services across the country
It offers round-the-clock customer service
It enables the easy export of products to bordering countries
It provides international shipping and freight services within the US
It employs the use of advanced technology to ensure your orders are always secure
Coast Liners
Founding Year: 1980
Location: St Johns Road, Bangalore
Coast liners is a logistics and distribution that was founded in 1980 and has a vast amount of experience in the sector. It primarily offers transportation-based logistics that are carried out by trucks and it is well-known for its excellent services. It provides services mainly to the electrical and energy industries. Bangalore businesses take advantage of its services because of the scale and scope of solutions it offers. For LTL and PTL needs, the company has a large selection of trucks, trailers, pullers, axles and freighters.
Additionally, with the assistance of their operational partners, they have over 90 offices spread across 45 countries, with their international headquarters in Germany. Thus it is able to meet the needs of its clients on a massive scale.
Services Offered:
It has plenty of experience in the logistics industry
It has a wide selection of distribution-related machinery
It is extremely cost-effective
It provides international services and has multiple international offices
It has a customer base in excess of 250 companies
FedEx
Founding Year: 1971
Location: Tumkur Road, Raghavendra Colony, Bangalore
FedEx has established a strong name in Bengaluru and is one of the most recognisable logistics and supply chain firms globally. FedEx has been operating in India for 20-plus years. FedEx provides affordable costs and quick deliveries for every eCommerce requirement. Customers can take advantage of delivery services that are adaptable and offer options for postponing and redirecting deliveries. Additionally, it provides end-to-end insights, accurate real-time order status and prompt notifications.
FedEx packaging features self-sealing choices and user-friendly, ready-to-use solutions. Additionally, with a global presence in more than 220 nations, they provide a broad range of specialist services for delivering commodities, including hazardous materials like firecrackers and toxic gas. Some services provided by FedEx that make It one of the best logistics companies in Bangalore are listed below:
Services Offered:
It offers a seamless experience by enabling connection with other business tools like Xero and QuickBooks
It has a specialised eCommerce platform that allows companies to manage their operations remotely
It offers exceptional customer service where each inquiry is resolved immediately
It has an online commerce platform that enables customers to track their orders and get in-depth financial information
It also offers essential 3PL services, in addition to order fulfillment, 3PL logistics companies, packaging, warehousing, and reverse logistics
Suggested Read: Logistics Companies in Pune Offering the Best Logistics Services for Online and Offline Brands in 2023
Conclusion: Why WareIQ Should be Your Primary Choice Among Logistics Companies in Bangalore in 2023?
Bangalore is one of India's premier business destinations and is leading the charge to make India a household name in eCommerce and other retail sectors. For companies that want to generate increased sales, expand their offerings, increase their efficiency, and be a part of an ecosystem that is tailored toward business growth, Bangalore is the perfect option to make that happen.
Additionally, because of the vast amount of businesses located in the city, there are a proportional number of logistics companies in Bangalore that are looking to provide their services to online and offline sellers alike. Thus, if you want to take advantage of the services provided by logistics companies, you have plenty of options. However, with state-of-the-art technology, an experienced team and the provision of most eCommerce services at fair and transparent pricing, WareIQ can be your bet among logistics companies in Bengaluru.
In 2019, WareIQ was founded in Bangalore, Karnataka and has emerged as one of the best and fastest-growing fulfillment options in the country. The company offers a wide swathe of eCommerce services, operates across the nation and even provides worldwide shipping access to more than 220 nations and territories. The following are some of the main services provided by WareIQ that will make WareIQ your Primary Choice Among Logistics Companies in Bangalore :
Inventory Management: Our in-house WMS can automate a number of procedures and provides real-time notifications.
Fast Order Fulfillment: We offer dependable options for same-day and next-day shipping.
Inventory Storage: We can store your SKUs wherever you need, thanks to the variety of dark stores and fulfillment centers we provide throughout India.
Shipping Badges: We enable you to add shipping badges, which show estimated delivery dates, to your product listing pages, much like Prime
App Store: With a wide selection of easily-downloadable applications, our app store is comprehensive yet intuitive.
Branded Order Tracking: To differentiate yourself from the competition, you can personalise the information you include on your order tracking pages.
Shipping Aggregation: We work with over 12 different courier companies and always select the best option for each item.
Online Integrations: We are able to link to more than 20 web development and online retailing platforms, including Amazon, Flipkart, Shopify and others.
Customized Packaging: We offer personalised packaging choices that can be modified to match your requirements.
Returns Management: We take care of returns and protect you from any negative effects that may result.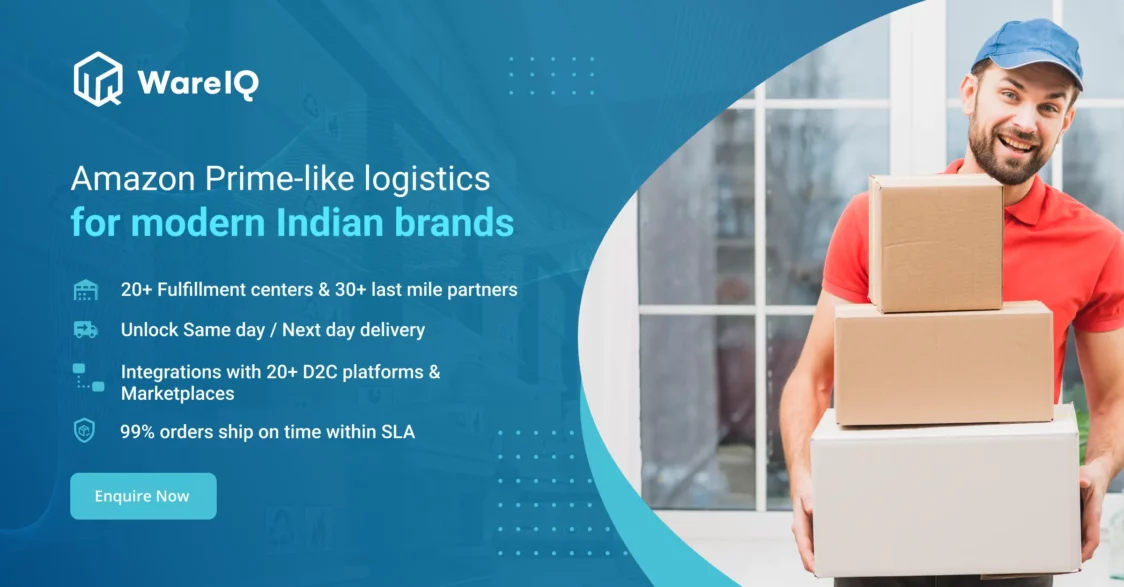 Suggested Read: List of Top 10 Warehousing Companies in Bangalore in 2023
Logistics Companies in Bangalore: FAQs