List of Top 10 Warehousing Companies in Bangalore in 2023 for Online and Offline Sellers
You require eCommerce warehousing services for your eCommerce fulfillment if you sell goods online. The appropriate warehousing services can increase your business's profitability and consumer engagement.
Warehousing companies in Bangalore provide support to numerous eCommerce businesses. The state is home to many internet and tech-savvy residents and has a sizable eCommerce industry.
For warehousing and fulfillment services, labor costs typically account for 60–65% of the entire price. In a labor-intensive environment, outsourcing warehousing services enhance productivity while reducing extra labor expenses. Utilizing the top warehousing companies in Bangalore is recommended because warehousing is a crucial component of supply chain forecasting and management. The skilled and competent experts handling the warehousing operations can better manage the business elements, meet spot stocking requirements, and expand the core company with a customized management system.
To conduct end-to-end supply chain activities, warehousing organizations have also shifted toward automated tools and complete digitization.
Finding logistic and warehousing companies in Bangalore that will meet your needs and carry out consistent operations day in and day out is crucial due to the eCommerce business and the emphasis placed on delivery times and customer satisfaction.
The following list of warehouse companies in Bangalore for the year 2023 has been put up to make it easier for enterprises to find reliable warehousing service providers.
List of Top 10 Warehousing Companies in Bangalore
To help enterprises find reliable warehousing service providers, the following list of warehousing companies in Bengaluru has been assembled.
The organizations listed below can care for your eCommerce shipping and delivery requirements, from big projects like product launches to everyday order fulfillment.
A list of the 10 best warehousing services in Bengaluru in 2023 along with their prominent features and offerings is mentioned below.
WareIQ
BlueDart
Snowman Logistics
Safe Express Logistics
Right Logistics
Ecom Express
Aramex
Atlas Logistics
Dart Global
Prakash Parcel
WareIQ
As a full-stack, tech-enabled fulfillment partner, WareIQ offers cutting-edge, innovative warehousing solutions and is one of the top warehousing companies in Bangalore. Working with a technologically advanced fulfillment partner like WareIQ, which provides intelligent storage solutions, will help you stay competitive.
Any retail business, whether new or well-established, uses the most recent technologies to increase the efficacy and efficiency of operations, from receiving goods from warehouses to sending orders as quickly as possible.
WareIQ is a nationwide extensive fulfillment network that provides online retailers with a cutting-edge, end-to-end supply chain solution using best-in-class technology.
By automating warehouse procedures, such as choosing, packaging, shipping, and inventory management, WareIQ may enable you to cut/reduce shipping costs, reduce transit times, and provide more excellent value to your customers.
Additionally, WareIQ merchants have access to a robust fulfilment network that enables affordable 2-day shipping.
Here are a few of WareIQ's key characteristics:
Darkstore & Pan-India Fulfillment Network
Plug and play without a set minimum
Compliant with Myntra, Flipkart Assured badge, Amazon Seller Flex, and other markets
Hubs for regional sourcing to reduce first-mile delivery expenses
Internally run warehouses with no outsourcing
Excellence in Inventory & Network Planning
Best-in-class AI models for auto-replenishment triggers and sales forecasting
Improved sell-through focus through product segmentation based on product type (regular, non-regular, seasonal, etc.)
Vertically Integrated Fulfillment Tech Stack
Incorporates 20+ leading markets and direct-to-consumer channels
27k+ pin codes are covered by integration with national, regional, and hyperlocal couriers
OMS, and WMS software use the same tech stack
Applications for Productivity in Supply Chains
WareIQ Rush
WareIQ Rush provides same-day delivery with no minimum order amount or charges for mileage
An up to 30% increase in revenue conversion
NDR & COD Verification using WhatsApp with almost zero RTO%
less expensive per shipment (CPS)
Racks and Rollers
Racks and Rollers, Bengaluru was founded by Mr. Hanif Khatri in 2009. It is one of the premier warehousing management service companies in Bangalore, India. It covers a vast domestic network of warehousing services.
They are among the top warehousing, shelving, racking, structural works, automation, and stainless steel works. They have positively impacted clients all over the globe ranging from micro warehouse operators to multinational giants. We have served multiple industries that include Food, Pharma, Chemicals, Retail, FMCG, and many others.
We have executed over 2500+, served 30+ countries, and have served 900+ happy customers.
Some of the services are as follows:
Logistics services
Storage services
Warehousing solutions
Warehouse automation
Intralogistics
Racking and Shelving
Snowman Logistics
It is one of the top warehousing companies in Bangalore. It began functioning in 1993 and is currently India's leading provider of temperature-controlled logistics services. Surat, Delhi, Pune, Kolkata, Mumbai, Kochi, Chennai, Bengaluru, Hyderabad, Ahmedabad, and Bhubaneswar are the cities the company maintains warehouses. These warehouses offer temperature control features and freezing capabilities ranging from +25 degrees Celsius to -20 degrees Celsius. Snowman Logistics offers distribution, quality assurance, inventory management, and warehousing services in Bangalore. Additionally, it provides services like labelling, blast freezing, stickering, repackaging, and processing customer orders.
The advantages include palletized storage, eco-friendly refrigerants, many generators, a command centre, and round-the-clock operations. Port facilities, complete truckloads, 246 refrigerated trucks, plug-in facilities, a fleet with GPS, and bespoke milk run services are a few more. In addition, it sends ice cream, seafood, dairy products, healthcare, pharmaceuticals, baked goods, fruits, vegetables, poultry, meat, and prepared foods. In addition, the business holds several confirmed certifications, including Fssai, ISO 14001, ISO 22000, BRC Global Standards, and four EIA Approved Warehouses.
Some of the services they offer are:
Warehousing services
Dedicated warehousing
Storage and distribution services
Blast Freezing
Shipping Labelling
Inventory Management
In-house Re-packing services
Safe Express Logistics
Safe Express, a reputable and knowledgeable logistics firm, was founded in 1997 to offer time-definite deliveries and complete warehousing solutions, which makes them one of the top warehousing companies in Bangalore and across India.
They offer specific solutions to healthcare, FMCG, consumer electronics, automotive, and engineering sectors. Additionally, they provide pickup optimization, dependable services, and precise returns management. Besides, with stock2shelf, end-to-end supply chain processes for vendor management inventory and virtual warehousing never miss a beat. Additionally, they have integrated IT systems for smooth operations.
They provide the following services:
Transport services- Includes service for individuals
Warehousing management services
Storage and distribution
Last mile delivery
Reverse logistics
Inventory control
Express Distribution
International distribution
Supply Chain Consulting
Right Logistics
Top among warehousing companies in Bangalore, Right Logistics is a freight forwarding company & logistics company. It began operating in 2004 to establish a thorough collaboration and improve forwarding requirements. Right Air, Right Movers, Right Haz, Right Sea, Right D2D, Right Critical, Right Projects, and Right Cold Chain are the company's services. The Right Air services provide a direct, cost-effective, and customer-specific shipping experience. Right Movers offers all door-to-door, relocation, and international shipping services. As the name implies, Right Critical manages the delivery of urgent items around the globe. Finally, the Right Cold Chain service includes every freezer and temperature-controlled item.
The business participates in the 5 Star Logistics Network, Ship Spares Freight, Alfa Logistics, AMTOI, and World Cargo Association. The International Air Transport Association, the Federal Maritime Commission, the authorized economic operator, and the ISO-certified company. The business offers some of the best logistics and warehousing services in Bangalore, Delhi NCR, and others.
Suggested Read: Find Best Warehousing Companies in Gurugram.
Uniworld Logistics Group
Founder M. Prem Kumar founded Uniworld Logistics in 2002 with offices in the 5 major metros in India. It is now among the most versatile logistics service providers and among best warehousing companies in Bangalore.
They provide top-notch customised logistics solutions and ensure that requirements of customers are fulfilled. They make sure to handle your warehousing and logistics needs while you focus on building your business.
Some of the services that Uniworld offer are:
Freight services
Logistics services
Customized warehousing solutions
Reusable packaging
Supply chain management
Balaji Warehousing Company Private Limited
BWC is South India's leading private warehousing company in Bangalore, Karnataka. It was founded in 1994 by founding chairman Sri Kaliki Kodandarami Reddy. With over 30 branches and 40+ clients, they are successfully running for 24 years across Karnataka, Andhra Pradesh, and Tamil Nadu.
They offer a complete package of warehousing and logistics services for the transportation of goods, inventory storage, and handling bulk orders.
Among the services BWC provides:
Warehousing
Railway Clearing
Fleet Management
Clearing and Forwarding
Handling and Transport
Atlas Logistics
It was founded in 1999 and is one of the most reputable logistics and warehousing companies in Bangalore. They provide a young, knowledgeable crew that uses cutting-edge supply chain fulfilment techniques and new technologies.
They provide unique packaging and customized solutions to serve a variety of industries. Atlas Logistics also uses technical solutions for thorough order tracking, insurance, and warehouse management service. They also offer reasonable rates for a vast rail network and on-road transit systems. Additionally, they can handle oversized freight with qualified staff and are well-equipped for bulk transportation.
Among the services they provide are:
Storage and Distribution
Logistics Management
Supply-chain Management
Order Monitoring
Packaging
Insurance Contracts
Warehousing Express
Warehousing Express Logistics Pvt. Ltd. is led by seasoned logistics experts with more than 25 years of demonstrated and diverse expertise, primarily with top global corporations in India. It has also been rated as best among warehousing companies in Bangalore.
In order to achieve its primary goal of customer satisfaction, the company concentrates on this one aim of "Delivering Quality Services at a Competitive Cost." To note, they are experts in warehouse management and distribution/transportation business, two of the key tech-enabled logistics tasks.
Among the services they offer:
Warehouse services
Contract Logistics
Fulfillment warehouse
On-demand warehousing
Distribution Transportation
Order Management
3PL services
Warehousing in-plant operations
Reverse Logistics services
Global Freight Forwarding
360-degree supply chain services
Prakash Parcel
A renowned logistics firm focused on freight forwarding services. It has been operating since 1992. The business supports the heavy industrial, consumer products, transportation, and chemical sectors. It emphasizes comprehending business issues, developing concepts, and carrying out objectives. It manages minor shipments, paperwork, customs clearance, and international jobs using the most recent technology and qualified personnel. The business is steadily making a name for providing reliable logistics and warehousing services in Bangalore in the eCommerce sector.
The company provides customs clearance, warehousing, break-bulk, consolidation, and supply chain solutions. Door-to-door delivery, air/ocean freight forwarding, and import and export services are also offered. Customized services are available for Express Cargo, Full Container Loads (FCL), Less Than Container Loads (LCL), and Supply Order Tracking. In addition to having a head office in Delhi, Prakash Parcel also has offices in Kolkata, Mumbai, and Chennai.
In addition, it now offers the lowest prices, on-time delivery, and online tracking information. On the list of warehousing companies in Bangalore, the company is one of the top providers.
The Main services that they offer:
Transportation services
Warehousing and 3PL services
Shipping & Handling
Custom Clearance
Custom Logistics Solutions
How to Choose the Best Warehousing Company for Your Online Business?
When choosing a warehousing company for warehousing management services for your online business, it's important to consider the following factors:
Location: Choose a warehouse that is geographically convenient for your customers. This will help reduce shipping costs and ensure prompt delivery.
Capacity: Make sure the warehouse has enough space to accommodate your inventory and can handle your volume of orders.
Services: Look for a company that offers additional services such as order fulfillment, packaging, and shipping.
Security: Choose a warehouse with a good security system in place to protect your inventory.
Technology: Look for a warehouse that uses technology to track inventory and manage orders, such as a warehouse management system.
Flexibility: Consider the flexibility of the warehouse in terms of the length of the contract and any minimum storage requirements.
Cost: Compare the costs of different warehousing options and choose the one that fits your budget.
Reputation: Research the company's reputation by reading reviews and talking to other businesses that have used their services.
Additionally, you can also visit the warehouse in person to get a better understanding of the company's operation and see if they meet your requirements.
Why Choose WareIQ As Your eCommerce Business' Preferred Fulfilment and Warehousing Service Partner in Bengaluru in 2023?
Leading provider of full-stack eCommerce fulfillment services in India, WareIQ works with some of the country's most well-known businesses. For eCommerce businesses, WareIQ, a fulfillment startup, offers a full-stack platform to enable same-day and next-day delivery to customers. This Amazon Prime-like experience is open to everybody.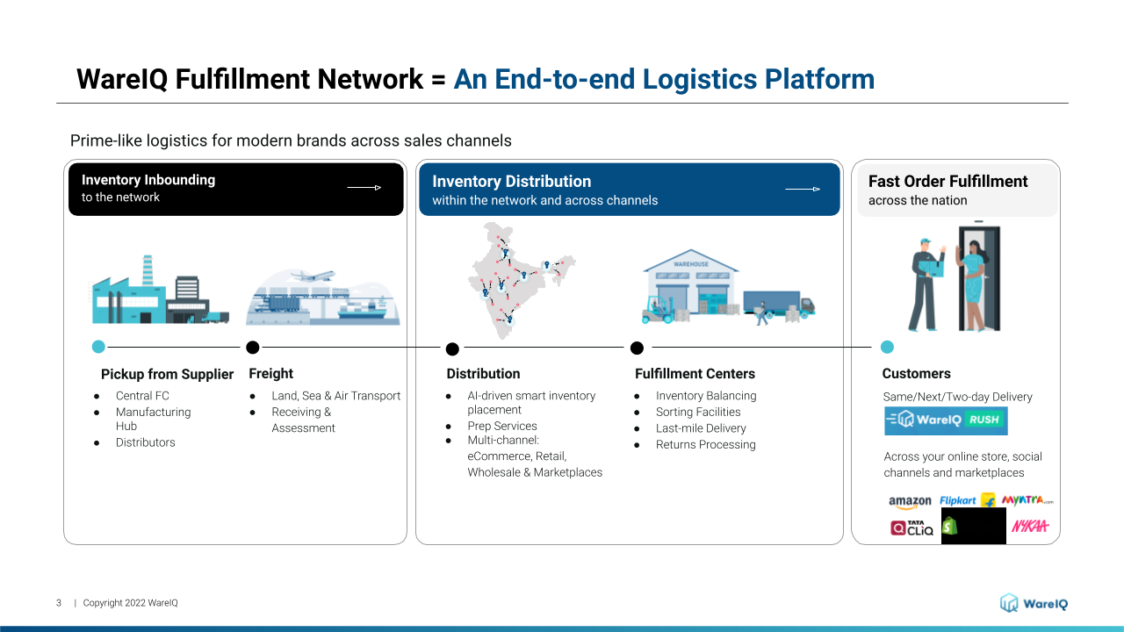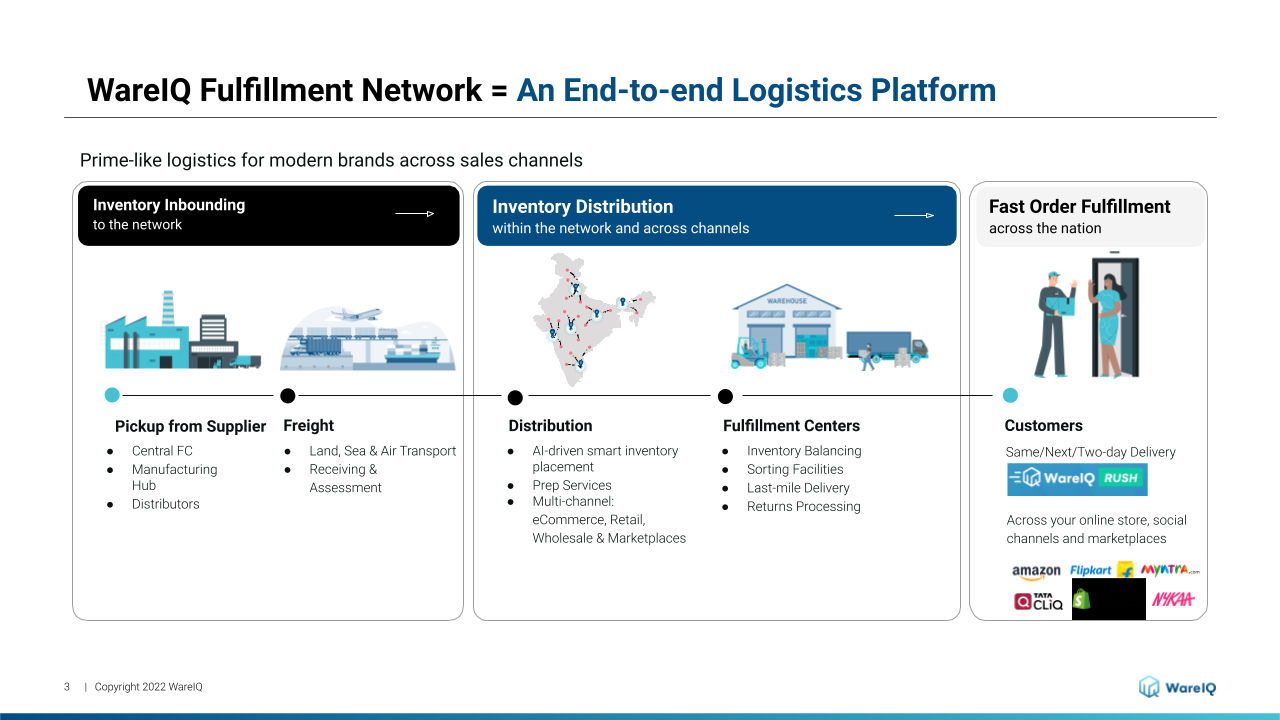 When you use WareIQ as your preferred order fulfillment business, you can deliver your products across the nation (including tier 2 and tier 3 locations) safely and more quickly than ever. Moreover, it will provide you with the capabilities necessary to deliver a service on par with Amazon, which makes WareIQ one of the top logistics and 3PL warehousing companies in Bangalore. Other intriguing advantages exist in addition to this.
When you entrust the management of eCommerce logistics to a reputable 3PL company like WareIQ, you'll free up time to concentrate on other crucial facets of your company, such as brand marketing and introducing new products, etc. You can leave the task of sending them to your clients with a reliable partner.
The cutting-edge technology behind the WareIQ platform makes it incredibly simple to track and monitor your orders in real time.
WareIQ features like intelligent inventory placement can further assist your company in generating timely sales at places with high demand.
Suggested Read: List of Warehousing Companies in Mumbai.
Conclusion
The leading warehousing companies in Bangalore are listed in this article. These companies have worked to comprehend the requirements of consumers and modify their strategies to adapt. All these logistics and warehouse management service companies in Bangalore prioritize meeting the demands of their clients by offering the best logistics services in India.
Warehousing Companies in Bangalore FAQs (Frequently Asked Questions)