10 Best Logistics Companies in Coimbatore for Online and Offline Sellers in 2023
Coimbatore is the 2nd largest city in the South Indian state of Tamil Nadu after its capital, Chennai. The city lies on the banks of the Noyyal River and is in the midst of the Western Ghats, just a short distance away from major hill stations like Ooty and Kodaikanal. As a result, the city has experienced immense growth in the past couple of decades, owing to the inception of multiple special economic zones (SEZs) that have been set up in the city to boost economic growth.
Coimbatore regularly features among the top 15 Indian cities in terms of having a business-friendly environment. It is also a major textile hub and is regarded as one of the leading fashion-producing cities in India. All these factors combined make Coimbatore an attractive proposition for starting a business. Hence, to assist you in that endeavor, we have taken the liberty of compiling a list of the top 10 logistics companies in Coimbatore and the factors you should consider while choosing them.
5 Factors to Consider While Choosing Logistics Companies in Coimbatore
Experience and Expertise
One of the primary factors to consider when choosing logistics companies in Coimbatore is their experience and expertise. An experienced logistics company will have a deep understanding of the supply chain and be able to provide efficient and effective transportation solutions. You should look for a company that has relevant experience in your industry and can provide customized logistics solutions tailored to your specific needs. This will also ensure that they will have the ability to scale their operations to meet growing demand and future expansion.
Geographic Coverage
When choosing logistics companies in Coimbatore, it is essential to consider their geographic coverage in terms of storage and distribution. The logistics company should be able to transport your goods to all the locations you need, including local and regional areas within the country, as well as international destinations. They should have a robust network of carriers, warehouses, and distribution centers that can handle your logistics needs and ensure that orders can be fulfilled regardless of where they come from, so you don't have to worry about turning away customers based on their location.
Technology
Technology plays a crucial role in modern logistics. The logistics company you choose should have a robust IT infrastructure that can provide real-time visibility and tracking of your shipments. They should have the ability to integrate their systems with your own systems for seamless communication and data exchange. They should also be equipped with technology such as WMS software so you can gain insights into your sales patterns and automate various procedures, such as inventory replenishment and stock management.
Pricing Plans
The cost of logistics companies in Coimbatore should be an important factor to consider. You should compare the rates of different logistics companies and consider the value they provide in terms of service quality and reliability. You should also consider any hidden costs, such as fuel surcharges or accessorial fees. Additionally, you should also take into account your own budget. It wouldn't be of any use in finding a company that meets your criteria, only for you to realise that you cannot afford it. You can learn more about logistics costs here.
References and Reviews
Finally, you should ask for references and check online reviews on various forums to get a sense of the logistics company's reputation. You can also ask for case studies or customer testimonials to get a sense of their experience working with businesses like yours. Additionally, having a few unhappy customers is unavoidable for every company but the priority and speed with which they handle complaints can indicate a lot about the way the business conducts itself and the importance it gives to its customers. This can be reflected in the way they respond to critical comments and whether or not they were able to solve those issues.
Top 10 Logistics and Shipping Companies in Coimbatore in 2023
WareIQ
Founding Year: 2019
Services Offered: logistics and fulfillment facilities, 3PL services, inventory management, last-mile delivery, first mile delivery and others.
WareIQ has offered eCommerce fulfillment services. The firm offers a wide range of logistics and fulfillment facilities, from inventory management to last-mile delivery. In addition to being able to automate many warehouse processes, it offers a bespoke WMS that can be coupled with numerous online selling platforms like Amazon and eBay, website builders like Shopify and WooCommerce, and courier service providers like FedEx and DHL.
It also partners with over 12 of the biggest courier services, and multiple delivery partners in the sector and uses sophisticated courier allocation, which chooses the fastest and least expensive alternative for each parcel. The company also has a vast storage network that is dispersed over the entire country. Some key points that make WareIQ one of the best logistics companies in Coimbatore are listed below:
It provides clear pricing and has no minimum order thresholds.
It offers a number of integrations with selling platforms, website builders and courier services.
It has collaborations with numerous shipping providers and offers incredibly quick delivery.
It enables you to personalise package components to suit your requirements.
It offers branded tracking facilities for every order.
Are you eager to know more about WareIQ's offerings if you sign up now? Find the features of the best-in-class, category-defining fulfillment services for eCommerce & D2C brands below:
Pan India Fulfillment & Darkstore Network: Plug-and-play fulfillment infrastructure with no minimums, which is compliant with Amazon Seller Flex, Flipkart Assured, Myntra and other marketplaces
Inventory & Network Planning Excellence: Best-in-class AI models for sales forecasting, product segmentation, and inventory management to reduce inventory by 40% and increase revenue by 10%.
Vertically Integrated Fulfillment Tech Stack: Our Fulfillment Tech Solution supports integrations with 20+ top marketplaces & D2C platforms, and prominent national, regional and hyperlocal couriers, enhancing reach by covering deliveries for 27,000+ pin codes
Supply Chain Productivity Applications: Integrate a host of supply chain productivity apps with a single-click to your existing CRMs, ERPs & accounting software to manage your logistics workflows from one command center. Use Apps like RTO Shield to get 100% RTO protection, Branded Tracking to turn your order tracking page into a profitable marketing channel, and many more.
Trusted by 300+ top Indian brands, we are helping them accelerate online sales and expedite their growth through a synergistic combination of advanced technology, robust fulfillment infrastructure & seller enablement services!WareIQ is backed by leading global investors including Y Combinator, Funders Club, Flexport, Pioneer Fund, Soma Capital, and Emles Venture Partner.
MJM Express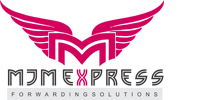 Founding Year: 2006
Location: Ganapathy Housing Unit, Coimbatore,
Services Offered: Consignment Tracking, Courier Parcel Tracking, Air Cargo Tracking, freight trucks, rail freight, and many others.
The Coimbatore-based courier business MJM Express has been providing logistics solutions since 2000. For those who need economical parcel delivery services, they are a cost-effective and dependable alternative. Clients have the option of sending documents, packages and other consignments via normal or priority delivery, which is best for urgent and time-sensitive transportation.
The company's staff and delivery personnel handle the products securely and attentively in order to deliver them safely. You can ship cargo and commodities securely and timely to any location in the world. They also offer train cargo services, air cargo services, logistics and international parcel delivery, among other services. Some key points that make MJM Express one of the best logistics companies in Coimbatore are listed below:
It offers a range of domestic and international courier services.
It provides both normal and express delivery solutions.
It can transport products through any medium, such as air, land and sea.
It offers package tracking facilities for every order.
It provides freight forwarding services.
Fouress Logistics
Founding Year: 2010
Location: Villankuruchi, Coimbatore
Services Offered: Freight forwarding, storage services, distribution, warehousing solutions, shipping and logistics services.
Since the company's founding in 2010, Fouress Logistics has advanced significantly, consisting of a  highly effective workforce that possesses knowledge, adaptability, innovation and customer focus. They offer customers competent shipping and freight forwarding services that are on par with large-scale global shipping operators thanks to their human resources and contemporary infrastructure.
The company has the ability and teamwork that are properly combined with individualised services and dedication to deliver in the current environment. Some key points that make Fouress Logistics one of the best logistics companies in Coimbatore are listed below:
It offers detailed freight forwarding services.
It is able to consolidate multiple operations for more efficiency.
It offers a comprehensive storage and distribution network.
It offers support for a wide range of logistics procedures.
It helps with product sourcing through partnerships with various vendors.
Patel Integrated Logistics
Founding Year: 1959
Location: Perianaickenpalayam, Coimbatore
Services Offered: Air freight, domestic air and surface freight, cost-effective transportation and logistics.
Patel Integrated Logistics began as a single-truck operation in 1959 but quickly changed directions to become one of Asia's biggest on-ground logistics and transport firms. With a nationwide network of 500 stations and a staff of more than 1,000 highly skilled workers, the company is renowned for its timely, dependable delivery services and strict compliance with delivery timetables that ease the yearly transfer of cargo, valued at ₹12,000 crores each year.
Currently, the company has more than 75,000 happy clients, including multinational corporations, public and private sector organisations, small-scale businesses and the trading community. Some key points that make Patel Integrated Logistics one of the best logistics companies in Coimbatore are listed below:
It offers dependable and timely delivery services.
It has a vast amount of experience and has many clients spanning different industries.
It specializes in on-ground logistics and transportation.
It offers order-consolidation services.
It can also ship goods by air and sea, in addition to road.
Joveens Logistics & Services
Founding Year: 2015
Location: Trichy Road, Coimbatore
Services Offered: Freight forwarding, projects and engineering solutions, 3PL logistics, transportation, warehousing, and distribution.
With years of proven expertise in the service sector, Joveens Logistics & Services, a diverse organisation with a focus on C&F services, entered the customs clearance & freight forwarding industry in 2005. This background, when combined with a committed group of skilled, youthful and experienced executives, allowed the business to develop itself as a reputable and well-known freight forwarding service/CHA.
It is able to handle practically any consignment, whether it is local or international. It is also able to give customers individualised services. Some key points that make Joveens Logistics & Services one of the best logistics companies in Coimbatore are listed below:
It specializes in NVOCC LCL and FCL services.
It provides engineering solutions to better your fulfillment infrastructure.
It offers warehousing solutions.
It provides conventional services such as order fulfillment, inventory storage, and more.
It provides a wide range of distribution facilities.
Broekman Logistics

Founding Year: 1988
Location: Alagu Nagar Coimbatore
Services Offered: Forwarding & shipping, warehousing & distribution, Road transport, Sea freight, and Air freight.
Broekman Logistics was founded back in 1988. Via its various offices around the world, the company offers solutions for global logistics services. It has multiple offices around the world, primarily in Southern and Eastern Asia, as well as Central and Western Europe. The firm collaborates closely with all of its offices across the world.
It has amassed a sizable global infrastructure of agents and partners over the years. Being a trustworthy logistics company, their goal is to assist clients with any and every requirement they have. Some key points that make Breokman Logistics one of the best logistics companies in Coimbatore are listed below:
It provides door-to-door distribution facilities.
It offers customs clearance for cross-border parcels.
It provides warehousing services for inventory storage.
It offers configurable transportation services by air, land and sea.
It can ship products internationally.
Chetak Logistics
Founding Year: 1979
Location: Sundarapuram, Coimbatore
Services Offered: Vehicle transportation, express service, warehousing & distribution, and supply chain solutions.
Chetak Logistics has over 40 years of experience, being founded in 1979. They have regional offices in all of the country's major towns as well as the ability to serve clients worldwide. Since its inception, they have consistently complied with the business needs of every type of client. With a long-term goal of offering complete and synchronized supply chain management and logistical solutions, the company entered the freight-forwarding industry.
Currently, it offers a complete range of supply chain services, which include domestic shipping, international customs clearance, global freight forwarding, warehousing, distribution and much more. Some key points that make Chetak Logistics one of the best logistics companies in Coimbatore are listed below:
It offers in-house vehicle leasing and maintenance.
It provides customs clearance facilities for international parcels.
It offers supply chain management for more efficiency.
It has a warehousing network for product storage.
It offers an express delivery service.
Toben Logistics Solutions
Founding Year: 2013
Location: R.S. Puram, Coimbatore
Services Offered: freight forwarding, custom-made logistics solutions, and shipping services.
Toben Logistics Solutions has provided versatile freight and distribution solutions since 2013. Their offerings range from organising single container loads to transporting multiple shipments. It acts as a one-stop solution for every shipping requirement. Personal dedication to every partner company and a willingness to go above and beyond for their clients are unique aspects of the company.
They also have existing clients from every size and industry, making it an experienced option. Some key points that make Toben Logistics Solutions one of the best logistics companies in Coimbatore are listed below:
It provides multiple forms of product and shipping insurance.
It provides customs clearance facilities.
It offers a variety of delivery options through air, rail, road and sea.
It has many value-added solutions, such as break bulk and relocation services.
It offers affordable pricing schemes.
Sarvam Logistics
Founding Year: 2011
Location: Avinashi Rd, Coimbatore
Services Offered: Air and Sea freight, storage & distribution, and warehousing services. ​​
2011-founded Sarvam Logistics is the brainchild of seasoned experts who have worked in the field for many years. Every need of all types of industries is met by Sarvam Logistics' committed and proactive workforce. The business is constantly working to improve the quality of services by utilising the greatest human resources and training them to increase productivity and provide efficient service solutions.
They are renowned for their flawless and precise logistics services. Some key points that make Sarvam Logistics one of the best logistics companies in Coimbatore are listed below:
It has a variety of transport options, including freight delivered by air, land and sea.
It offers warehousing facilities.
It is able to ship orders internationally.
It offers customs clearance facilities for international orders.
It provides chartering and break bulk services.
Consolidated Shipping Line India
Founding Year: 2013
Location: Ramanathapuram Coimbatore, Coimbatore
Services Offered: Ocean freight, Air cargo, land transportation, shipping line, custom clearance, and project forwarding.
Consolidated Shipping Line India offers a comprehensive range of shipping and logistics solutions, regardless of company size and scale, from anywhere to everywhere. The company was founded in 2002 to provide effective shipping services internationally and within India. Based on a solid foundation of knowledge and experience, they have a particularly flexible approach to business, believing that being able to act quickly helps them be the first pick for many customers.
The company takes the appropriate actions and aligns its services to suit customers' requirements for their goods to reach their destination in time with the most affordable costs. Some key points that make Consolidated Shipping Line India one of the best logistics and shipping companies in Coimbatore are listed below:
It offers a wide range of distribution services through air, land and sea.
It provides packing and relocation services.
It offers customs clearance for international orders.
It provides project-forwarding solutions.
It has various value-added services, such as supply chain management and the ability to ship bulky and dangerous items.
Conclusion: Offload Your Logistical Requirements by Partnering With WareIQ
Coimbatore is one of the fastest-growing cities in South India. Due to the government's concerted efforts in trying to boost economic activity by establishing SEZs and other business-friendly policies, the city has emerged as an appealing location to conduct business operations. However, you would definitely need to partner with a competent logistics company if you want to expand business operations and retain customers by ensuring they have a good experience. Therefore, it is important to consider all your options and identify your own requirements and financial capabilities so you can make a decision that will benefit you in the long run. A company that can take care of all your logistical needs without compromising on affordability is WareIQ.
WareIQ is one of India's leading fulfillment solutions. Having started out in 2019, we have ensured that multiple big-name brands have been able to expand their operations and fulfill orders seamlessly to every corner of the country. Some of the services that can help your business thrive compared to its competitors are listed below:
No Minimum Order Requirements: We do not have any minimum order thresholds and you only need to pay for the services you use.
Smart Courier Allocator: We offer automated courier allocation that always chooses the cheapest and fastest option among the shipping companies we have partnered with.
Intelligent Inventory Placement: We provide inventory storage recommendations so you can utilise our vast network of fulfillment centers and dark stores to store products closer to your customers.
Custom WMS: We have an in-house WMS that can aid in seamless inventory management and automate many warehouse procedures.
RTO Shield: We take care of returns management and provide an RTO Shield to protect your business from the adverse effects of dealing with returns.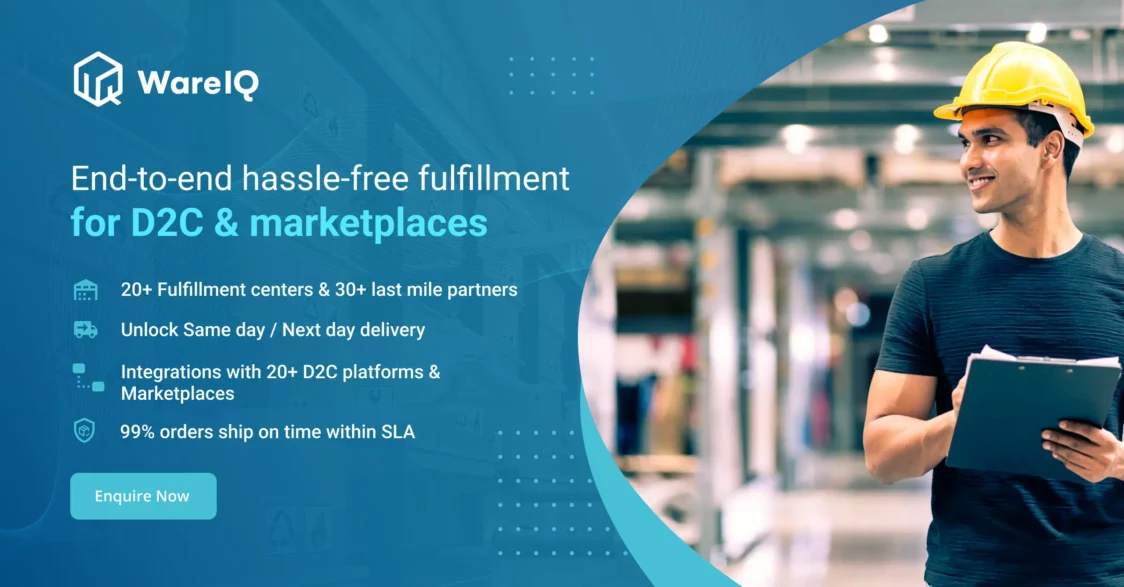 Logistics Companies in Coimbatore: FAQs