What is Post Purchase Dissonance? Definition, Examples, Factors and 7 Methods to Reduce Cognitive Dissonance in Post Purchase Behaviour in 2023
Gaining repeat customers and enticing existing customers to spend more money at your company after they have already made a purchase is a recipe for success for most businesses. This sentiment is backed up by droves of data – retaining 25% of customers can lead to a 95% increase in profitability, repeat customers are estimated to spend up to 67% more than new ones, 82% of companies suggest that focusing on retaining customers is less expensive than acquiring new ones and many businesses imply that 65 to 75% of their existing business comes from repeat customers.
With these numbers in mind, it should be your utmost priority to ensure that customers have a good first impression of their experience with your brand and a pleasant Post-Purchase Experience in eCommerce. But, failing to do this can result in post-purchase dissonance and can ruin their chances of ever returning. In this blog, we will take a look at the meaning of post purchase dissonance in addition to examples, factors leading to it, and 7 ways to reduce its occurrence.
What is the Meaning of Post Purchase Dissonance?
Post purchase dissonance, also known as buyer's remorse, is a psychological phenomenon that occurs when a person experiences feelings of doubt or regret after making a purchase. It is primarily caused by cognitive dissonance that arises when a buyer has made a purchase decision but then experiences a sense of conflict or unease about that decision, which may cause feelings of regret and anger.
Post purchase dissonance is a common occurrence that affects many people and it can be especially pronounced in situations where the purchase involves a significant amount of money or emotional investment. For instance, a person who buys a new car may experience post-purchase dissonance if they later find out that they could have purchased the same car for a lower price or that the car does not perform as well as they expected.
WareIQ – Amazon-prime Like Logistics for Modern Brands in India
WareIQ, an eCommerce fulfillment company, empowers online brands with a superior-tech platform to compete with Amazon like service levels by bringing their average delivery timelines from 5-10 days to 1-2 days.
"With WareIQ's full stack digital enabled fulfillment solution, we got access to the pan India network of fulfillment centers & cold storage facilities enabling same/next day delivery, without any upfront investment in supply chain infrastructure from our end. During the IPL campaign in April 2022,

WareIQ efficiently

handled unpredictable 200x surges in daily order volumes

of ~20k/day with a

99% fulfillment rate

. With WareIQ as our preferred fulfillment partner, we witnessed 172% growth in online order volume in just 4 months, with a significant improvement in the overall customer experience in fulfillment."
Instances of Cognitive Dissonance in Post Purchase Behaviour
Initiating the Return of a Product
Returns are one of the most common forms of post-purchase dissonance. Not all returns are initiated due to cognitive dissonance in post-purchase behavior. However, many instances of returns do stem from customers having regret about making a purchase and take a conscious decision to return it and get their money back.
Retailers are expected to have flexible return policies that allow their customers to return items for a variety of reasons and can also put measures in place to shield themselves from the additional costs associated with it. It is important to make sure that customers have a smooth returns experience so that they will consider purchasing from your company in the future.
Leaving Negative Online Feedback
Oftentimes, post purchase dissonance can manifest in the form of customers leaving negative reviews and customer feedback for e-commerce on a company's own website or other online forums. Many customers often check the reviews and consensus from other customers before they decide to make a purchase from a business. However, negative reviews are an unavoidable occurrence in the retail business, regardless of how perfect you strive to be.
What is important is the way that you handle these negative reviews, an opinion also shared by the majority of customers. For instance, complaints should be responded to and addressed immediately for the satisfaction of both the person who wrote them and for potential customers observing how your business handles them.
Unsubscribing From a Paid Service
Subscription-based services have become the norm in many types of retail businesses. Customers may be encouraged to subscribe to such services by a well-made ad or a smooth-talking customer service executive, only to regret it after the recurring bills begin to stack up. This is when they try to remove any unessential expenses from their lives, which often include subscriptions to various services.
This is where your business should make it easy and swift for customers to delete their subscriptions if they want to, rather than making them jump through various hoops in order to prevent money from being debited from their accounts. Giving up on their business in the short term could result in them having enough satisfaction to give your business a chance again.
Factors Leading to Post Purchase Dissonance
Having High Involvement in a Purchase
Post-purchase dissonance is more likely to occur with high-involvement purchases, such as a house, car or an expensive electronic item. This is because these purchases involve a significant amount of time, effort and money, and consumers want to make sure they have made the right decision. Therefore, consumers generally do a lot of research when it comes to these types of purchases and can easily experience feelings of regret if everything isn't as it seemed in the beginning.
Getting Only Limited Information
If a consumer feels that they do not have enough information about the product or service they purchased, they may experience post purchase dissonance. This can happen if the consumer relied on incomplete or inaccurate information or if they were not able to compare the product or service with other options. Customers should be informed about what to expect from products through specifications and measurements. Accurate and detailed product information should be provided to ensure that customers can make well-informed decisions.
Having Unmet Expectations
Post purchase dissonance can also occur if the consumer's expectations are not met after purchasing the product or service. This can happen if the commodity they purchased does not perform as expected or if the consumer discovers a flaw or defect that was not apparent at the time of purchase. This is especially pronounced for high-value purchases but can still be a factor, regardless of how much the item costs, due to most customers wanting the best value for their money. If the product is lacking in any capacity than what they anticipated, it can lead to feelings of instant regret.
Instances of Social Pressure
Social pressure can also lead to post purchase dissonance. For instance, if a consumer made a purchase to impress others or to fit in with a particular group, they may experience feelings of regret or embarrassment if they later realize that the purchase was not worth it after having spent their hard-earned money on it. While this isn't a reflection of the business itself, which may not lead to the customer having negative impressions of their purchase experience, it does play a part in them regretting their purchase, which is also a form of cognitive dissonance in post purchase behaviour.
Availability of Alternative Options
If a consumer becomes aware of other, more value-for-money or cost-effective options after making a purchase, they may experience post purchase dissonance. This can happen if the consumer discovers a product or service that would have been a better fit for their needs or if they find out that they could have gotten a better deal elsewhere if they waited a little longer or did some more research.
7 Ways to Reduce Post-Purchase Dissonance in 2023
Have a Flexible Returns Policy
The last thing a consumer wants to do after making a purchase with which they are not satisfied is to put undue amounts of additional effort into learning about your return policy. Returns are undoubtedly inevitable so secretly keeping your policy in small print simply breeds mistrust and creates more dissonance. Note that difficulty in viewing your return policy is the first step in an unsatisfactory returns experience that causes more than 80% of customers to abandon a store.
So consider improving the accessibility and transparency of your return policy if you want to lessen post purchase dissonance. Links to your policy can be made available across your website, like the homepage, listing pages, automated chat and FAQ pages, and you can also include a summary of it in the email that customers receive upon placing an order.
Give Customers the Ability to Track Their Orders
Being able to track their packages is viewed by most customers as a right, not a privilege. Many a time, instead of looking forward with anticipation at the arrival of their package, customers experience feelings of regret because the order didn't arrive at the expected date and time and they didn't have the information they needed to keep them informed about it.
When something similar to this occurs, your company would take all the blame for the results and the impending hard-pressed feelings that come with it. After one late delivery, 17% of customers will cease making purchases from an eCommerce company. If their product isn't delivered within 2 days of the scheduled delivery date, 69% of customers are less inclined to make another purchase from the store. Therefore, make it a point to provide order tracking details along with every purchase.
Ensure That Every Detail is Provided to the Customer
Customers of eCommerce firms generally fall into 2 main categories – those who make impulsive purchases and those who conduct extensive studies on the items they're interested in purchasing. Even though it is challenging to lessen post purchase dissonance for customers that make spur-of-the-moment purchases, the propensity of the latter set of clients to experience it can be reduced by providing the necessary information.
Try leveraging content such as product guides and instructional films to provide comprehensive information about your items. You can get ideas by visiting some well-known establishments and seeing what kind of information they are providing. To acquire inspiration for the content and its presentation, look at their listing pages, social media profiles, blogs, and other digital domains.
Identify the Root Cause of Their Regret
Post purchase dissonance frequently results from issues that need to be fixed that afflict many people. Knowing this information will be beneficial for your eCommerce firm since it will help you develop client loyalty by identifying and resolving the sources of customers' woes. Identifying the root causes that generated the dissonance is more simple than you would assume.
To find out more about your consumers' expectations, employ feedback methods like customer surveys, go through existing customer reviews and actively encourage customers to lay out their grievances. Statistics about product returns might also paint a reliable picture. You can use this data to implement practical strategies for lowering post purchase dissonance and improving customer service.
Provide Customers With a Noteworthy Unpackaging Experience
Consumers constantly anticipate the delivery of their online orders and if you don't take advantage of meeting their expectations when it finally arrives, their excitement could rapidly turn to regret. Coupled with lightning-fast delivery, a fantastic unboxing experience can win over your customers and make sure they don't experience post purchase dissonance.
Providing customers with what they need is just one aspect of the unboxing process that can also help to avoid confusion. Custom packaging can be used to offer a memorable unboxing experience as opposed to using a standard brown box. You can also use tactics such as environmentally friendly shipping, packing, adding personalized touches such as a handwritten letter, a thank you note or a unique message and providing samples of other products or promotional coupons within the box.
Provide an Easy Way to Offer Product Replacements
You can place an emphasis on retaining your consumers even if they are experiencing post purchase dissonance. You simply need to give them the impression that if they are dissatisfied with one item, you can provide them with other options in your eCommerce catalogue that they might find appealing.
By suggesting this, you can demonstrate you have the desire to work with clients to locate products that meet their demands and that it is a partnership worth preserving. You can convert returns into exchanges by offering tailored suggestions. In order to encourage repeat purchases, you can also offer them the option of receiving their refund within the company's wallet.
Implement Post-Sale Communication With Customers
Engaging with customers even after they have purchased an item shows them that you value them more than just their money. By doing this, it is pretty simple to decrease post purchase dissonance.
To reassure your consumers that you genuinely value their patronage, you can communicate with them on a personal level, such as sending them messages on WhatsApp, highlighting upcoming sales, promoting new products and more. You can also inform them of the information they can expect along with their order, including the order's receipt, shipping status and arrival date.
Conclusion: Eliminate Post Purchase Dissonance With WareIQ's Enticing Services
Repeat customers are an essential component of the success of many businesses. Importance should be placed on ensuring they have a positive experience, whether purchasing goods or returning them. Companies should take care to address customer complaints as soon as they crop up and have flexible return or replacement policies in the event that something goes wrong with a product or its delivery.
Post purchase dissonance, if not handled with care, can be detrimental to a company's reputation among existing and prospective customers. With just a little bit of effort and common sense, you can reduce the impacts of post purchase dissonance and even get rid of it almost entirely. Partnering with a 3PL company that offers customer-focused services will ensure that they take your brand seriously, limiting the effects of cognitive dissonance in post purchase behaviour. One such company is WareIQ.
WareIQ is one of India's leading eCommerce fulfillment companies. From order to fulfillment and inventory storage to last-mile delivery and enabling customer feedback, we provide your business with all the tools to ensure your customers have a seamless and positive experience with your brand. Some of the ways we can discourage post purchase dissonance are listed below:
Branded Order Tracking
We provide customizable eCommerce order tracking pages that can be designed according to your preferences and will help your customers gain real-time insights about their orders in style.
Customizable Packaging
We provide personalizable packaging where every element can be customized so that you can ensure your customers have a worthy unboxing experience, lowering their chances of feeling regret.
Online App Store
We have an app store with multiple downloadable apps that include functionality such as being able to provide shipping badges on your product listings to increase trust and being able to easily generate customer reviews so any complaints or feedback can be taken into consideration.
Ultra-Fast Delivery
We provide same-day and next-day delivery to ensure that packages reach their destinations intact and on time.
Returns Management
We are a reverse logistics company that completely handles your entire process so that your customers can return items seamlessly and hassle-free.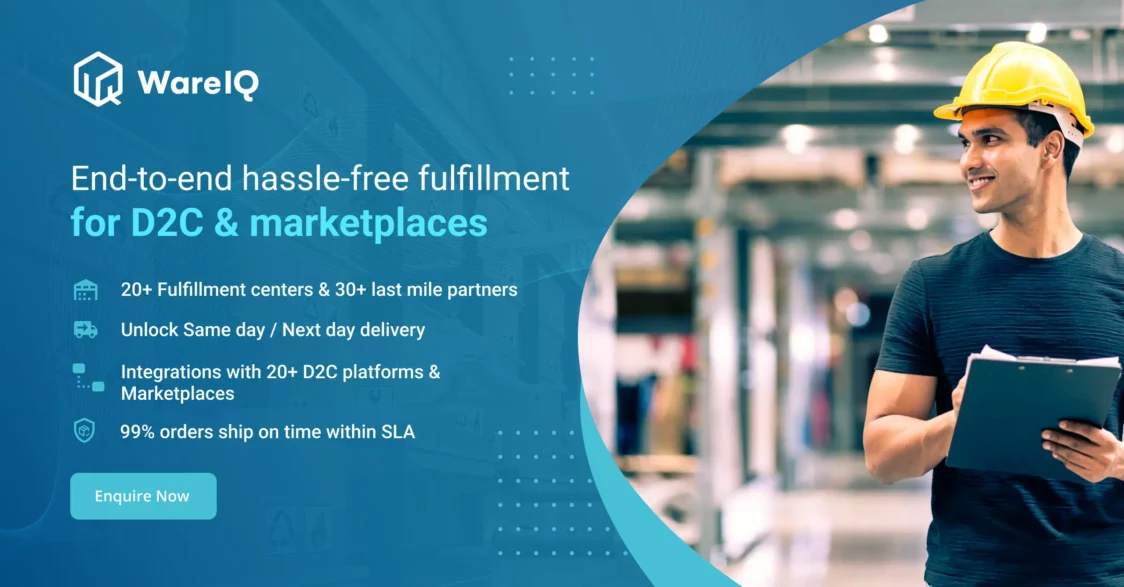 Post Purchase Dissonance: FAQs