Vamaship vs Shiprocket vs WareIQ: An In-Depth Comparison to Help Simplify Your 3PL Fulfillment Choice in 2023
In order to successfully provide all the features and facilities that customers expect when they purchase a product, such as ultra-fast delivery, order tracking, a pleasant unboxing experience, and more, sellers a faced with a tough choice. They can either opt for a first-party fulfillment solution, such as Amazon FBA, but will have to abide by rigid restrictions and pay a hefty fee.
They can also opt to fulfill orders on their own but risk increasing costs exponentially, having to manage all these services in addition to core business activities, and risk not providing important features through lack of research and funding. Lastly, which should be the number one choice for all up-and-coming eCommerce sellers, they can choose to partner with a 3PL company.
The benefits of doing so are enormous as they can get access to the latest features and technology, for a fraction of the cost if they did it themselves. Additionally, these companies aim to make things as easy and seamless as they can for their clients, so the main beneficiaries would be your business and your customers. In today's blog, we will compare 3 of the most prominent options in India – Vamaship vs Shiprocket vs WareIQ – and help you decide an option that best fits your requirements. Let's get started.
About WareIQ
WareIQ is a rapidly-expanding eCommerce fulfillment company that has emerged as one of the best options in India for retailers that require a mix of many different eCommerce solutions. Since the company's inception in Bangalore in 2019, it has utilized advanced technology at every step of the supply chain to provide simple and meaningful services to its customers. Some of these features include the basics, such as a nationwide network of fulfillment centers, a custom WMS, integrations with multiple online selling platforms, partnerships with more than 12 shipping aggregators, and much more.
Additionally, WareIQ also offers more advanced features, such as an app store, an RTO Shield to offset the damage caused by returns, branded order tracking, and much more. The company also has extremely flexible pricing and does not impose any minimum order quotas. Some helpful aspects of WareIQ that make it a good choice between Vamaship vs Shiprocket vs WareIQ are listed below:
It provides a custom WMS that aids in inventory management and enables real-time updates about order and inventory data from multiple platforms and storage locations, in a single dashboard.
It provides ultra-fast same-day and next-day shipping through its WareIQ Rush platform. It also offers dark stores that aid in sub-30 minute hyperlocal deliveries.
It has partnerships with more than 12 of the biggest shipping carriers in the country and automatically allocates the most cost-effective and quick option for every package.
It has a pan-India network of fulfillment centers and also offers smart inventory placement recommendations to help store products closer to areas of high demand and major transport hubs.
It offers the complete management of returns and provides an RTO Shield, which insures every product against the negative implications of returns and reduces costs associated with them.
WareIQ – Amazon-prime Like Logistics for Modern Brands in India
WareIQ, an eCommerce fulfillment company, empowers online brands with a superior-tech platform to compete with Amazon like service levels by bringing their average delivery timelines from 5-10 days to 1-2 days.
"With WareIQ's full stack digital enabled fulfillment solution, we got access to the pan India network of fulfillment centers & cold storage facilities enabling same/next day delivery, without any upfront investment in supply chain infrastructure from our end. During the IPL campaign in April 2022,

WareIQ efficiently

handled unpredictable 200x surges in daily order volumes

of ~20k/day with a

99% fulfillment rate

. With WareIQ as our preferred fulfillment partner, we witnessed 172% growth in online order volume in just 4 months, with a significant improvement in the overall customer experience in fulfillment."
About Vamaship
Vamaship was established in 2016 and specialises in eCommerce logistics and shipping aggregation services. It is presently based in Mumbai, Maharashtra. The company currently operates in more than 200 countries and helps businesses ship their products by land, air, and sea at the most reasonable prices, while also giving them the option to automate a lot of their shipping processes to make their order fulfillment quick and efficient.
Additionally, it provides customers with access to a consolidated platform to manage their shipping partners and other related resources. Some helpful aspects of Vamaship that make it a good choice between Vamaship vs Shiprocket vs WareIQ are listed below:
It has a shipping comparison tool to help consolidate the important information, such as price, coverage, facilities, and more, of all their partner shipping companies to help retailers make an informed decision.
It can integrate with multiple eCommerce selling platforms and website builders, such as Shopify, Amazon, Magento, and more.
It has partnered with multiple shipping carriers and offers retailers a choice between all of them.
It consists of a document manager that conveniently assembles important files and paperwork in an orderly and searchable format.
It gives its users access to the central dashboard to be able to monitor and analyse important shipping and order-related information across platforms.
About Shiprocket
Shiprocket is one of the most widely used and well-respected shipping aggregation company in India. The company's current headquarters are in Delhi, where it was established in 2012. As a shipping aggregator, its main services consist of the consolidation of courier services to provide its partners with a streamlined selection, the automation of various logistics and distribution facilities and connections with various online marketplaces.
Additionally, it provides value-enhancing services like cost estimation, which enables retailers to more clearly comprehend the entire cost of their purchases and order management across several selling platforms. The company currently has a daily order capacity of 200,000 orders, and it has operations in 200-plus nations. Some helpful aspects of Shiprocket that make it a good choice between Vamaship vs Shiprocket vs WareIQ are listed below:
It provides a single dashboard to monitor and analyse all your order, shipping and inventory-related data and can also integrate with multiple online selling platforms.
It offers a thorough platform for analysing and monitoring vital order-related data, enabling you to quickly analyse your success rates and pinpoint areas in need of development.
It is one of the most complete shipping platforms currently accessible and offers value-added services, including shipping label printing capabilities and insurance for each order.
It provides a bespoke shipping rate calculator that can assist you in determining which distributor is providing the finest and most inexpensive service for certain orders based on variables like product characteristics, distance to the customer's location and more.
It enables you to choose from up to 17 shipping companies and its user-friendly interface lets you manage and combine your logistics and order data.
Vamaship vs Shiprocket vs WareIQ: 10 Primary Distinctions Between Their Services and Offerings in 2023
Vamaship vs Shiprocket vs WareIQ: Core Offering
WareIQ: The cornerstone of WareIQ's portfolio is its eCommerce fulfillment services and all associated services, including, but not limited to inventory management, SKU storage, shipping aggregation services, packaging facilities, and last-mile delivery. The business streamlines and automates these processes using cutting-edge technology.
Vamaship: Vamaship's primary service is centred around its shipping aggregation solutions. It offers the standard suite of distribution-related facilities, such as the automation of multiple shipping processes, integration with multiple shipping carriers through a centralized dashboard, domestic and international distribution, and much more.
Shiprocket: The main service that Shiprocket offers is shipping aggregation, which involves grouping several shipping companies in an easily-identifiable way so that their clients can make an informed choice. The business uses an AI-powered recommendation engine to aid with this. Shiprocket's main aim is to make quick and effective shipping accessible to a large customer base at a reasonable cost.
Vamaship vs Shiprocket vs WareIQ: Customer Onboarding Time
WareIQ: WareIQ's customer onboarding process gets completed in roughly 7 days.
Vamaship: Vamaship does not provide specific customer onboarding assistance.
Shiprocket: Customer onboarding at Shiprocket happens at a fast rate but an estimated duration isn't specified by the company.
Vamaship vs Shiprocket vs WareIQ: Pricing
WareIQ: In addition to affordable and flexible payment options, WareIQ offers pricing perks, including no minimum order requirements and the ability to simply opt for the facilities you actually need. Additionally, it provides a range of internal solutions that lessen the need to acquire specific services from outside sources, such as a customized WMS and a variety of shipping carriers.
Vamaship: Vamaship offers some of the most competitive prices in the industry and does not charge any fee to use its platform. You only need to pay for the inventory you actively ship.
Shiprocket: With numerous payment options available, Shiprocket's base subscription is ₹20 for every 500 grams of inventory. Additionally, you have the opportunity to add certain services that you need to your subscription.
You May Like: Amazon Pricing Strategy
Vamaship vs Shiprocket vs WareIQ: Technological Features
WareIQ: The extensive use of technology in most aspects of WareIQ's services is one of its key selling factors. A custom WMS, real-time inventory alerts, automatic replenishment initiations, an app store, connections with various online marketplaces, branded order tracking and many more technological features are provided by the company.
Vamaship: Vamaship offers technological features, such as integrations with multiple shipping platforms through a central dashboard, instant price quotations from multiple carriers through a single search, order tracking, a document manager, shipping analytics and much more.
Shiprocket: An AI-enabled recommendation tool, NDR control, SMS notifications, automated distribution centers, order tracking and many more critical technologies are just a few of the many features that Shiprocket gives its customers access to.
Vamaship vs Shiprocket vs WareIQ: App Store
WareIQ: Several business operations can be enhanced with the use of WareIQ's easy and well-designed in-house app store. Available functions include gathering customer feedback, offering shipping badges to showcase delivery time estimations, and employing customized tracking pages to enhance the order delivery experience for customers.
Suggested Read: Which is Better: Ecourierz vs Shiprocket vs WareIQ
Vamaship: Vamaship does not provide an app store or integrate with any 3rd-party apps.
Shiprocket: Shiprocket consists of in-house apps that cannot be integrated with external applications but does provide access to a dedicated app store.
Vamaship vs Shiprocket vs WareIQ: Services Offered
WareIQ: In terms of eCommerce fulfillment services, WareIQ offers practically all of them, including shipping aggregation, inventory storage, a bespoke app store, an internal WMS, shipping badges, inventory management, last-mile delivery, custom packaging , branded order tracking, and more.
Vamaship: Vamaship offers a variety of shipping-related services, including integrations with multiple carriers and online platforms, a document manager, no setup or recurring fees, a choice of many shipping companies, and much more.
Shiprocket: In addition to providing shipping aggregation, Shiprocket also provides packaging services, prepaid COD, zero monthly fees, no order thresholds, API connections, and many other services.
Vamaship vs Shiprocket vs WareIQ: Integrations
WareIQ: Through its unique WMS, WareIQ offers a variety of integrations with online shopping sites like Amazon, Nykaa, eBay, Flipkart, and more, as well as with website-building tools like WooCommerce, Magento and Shopify, among others. Additionally, historical order data can be imported and a single dashboard provides access to data from multiple platforms.
Vamaship: Vamaship can integrate with all of its shipping partners in addition to website builders and online marketplaces, such as Shopify, WooCommerce, Magento and more.
Shiprocket: Most major eCommerce selling platforms, including eBay, Shopify, Amazon and others, can be integrated with Shiprocket to successfully track and gather order data in one place.
Vamaship vs Shiprocket vs WareIQ: Unique Selling Point (USP)
WareIQ: Technology is used by WareIQ to offer a wide range of eCommerce solutions that cover practically any demand that an online seller might have. The organisation is extremely adaptable because it permits retailers to change their plans and simply select the services they require.
Vamaship: Vamaship's platform is designed to make eCommerce shipping and distribution as intuitive and hassle-free as possible. By providing features like a document manager and consolidating important information in one place, retailers can easily monitor and analyse the performance of their shipping partners.
Shiprocket: Shiprocket's signature pitch is its shipping aggregation services, which make use of cutting-edge technology and are easily available to eCommerce sellers in bulk for relatively low prices.
Vamaship vs Shiprocket vs WareIQ: Customised Packaging
WareIQ: WareIQ offers specialised packaging services where every element of the package, including its size, shape, materials used and logo, can be altered to meet your needs.
Vamaship: Vamaship offers customised labels but the entire package cannot be customised to fit your liking.
Shiprocket: Shiprocket does offer comprehensive package customization options.
Vamaship vs Shiprocket vs WareIQ: Cold Storage Facilities
WareIQ: WareIQ offers cold storage facilities throughout its fulfillment center network.
Vamaship: Vamaship does not provide cold storage facilities.
Shiprocket: Shiprocket provides cold storage facilities in certain warehouses.
Vamaship vs Shiprocket vs WareIQ: Feature Comparison Table
Company ➡️
Features ⬇️
WareIQ
Vamaship
Shiprocket
Core Business
All-encompassing fulfillment solutions such as inventory storage, warehouse management, shipping, last-mile delivery, eCommerce marketplace integration and much more.
Shipping aggregation and logistics
Shipping aggregation and logistics
Unified Platform Experience (OMS & WMS)
Yes (fully integrated WMS, OMS, inventory analytics & prediction, shipping aggregation and returns management)
No (required to bring your own tech solutions separately)
No (only provides access to shipping aggregation tools)
Smart Fulfillment Network Design
Yes (AI-powered inventory and network planning tools are available)
No
No
Inventory Placement Insights
Yes
No
No
Marketplace Fulfillment Compliance
Yes
No
No
Smart Courier Allocation
Yes (AI-powered shipping recommendations provided to help balance cost and speed)
No
Yes (AI-powered shipping recommendation engine is available)
Assured Prime-Like Shipping Badges for D2C Websites
Yes (Same-Day, Next-Day, Two-Day and Standard shipping badges are available
No
No
AI-based Inventory Forecast & Replenishment
Yes
No
No
Periodic Reports for Inventory Planning & Management
Yes
No
No
Fulfillment Centers
Yes, managed in-house
No
Yes
Dark Store-Led Same-Day Delivery
Yes
No
No
Integration with Top
Courier Partners
(Last Mile Delivery)
Yes
Yes
Yes
RTO Risk Prediction & Insurance
Yes, with insurance claims managed internally
No
No
Integrated Value Apps
Yes (Self-built and can integrate with 3rd party apps)
No
Yes (Self-built but cannot integrate with 3rd party apps)
Branded Tracking
Yes
No
Yes
Notifications/Alerts
(Post Ship Experience)
Yes
Yes
Yes
Key Account Manager
Allocation
Yes
No
Yes
Onboarding Support
Yes
No
Yes
Troubleshooting Support
(Customer-Success Led Seller Enablement Services)
Yes
No
No
Returns Management
Yes
Yes
Yes
SPF Claims Filing
Yes
No
No
Suggested Read: Delhivery vs Blue Dart vs WareIQ
Conclusion: Why is WareIQ Your Best Bet Among Vamaship vs Shiprocket vs WareIQ as a Fulfillment Partner in 2023?
With the sheer number of order fulfillment companies jostling it out for the country's top spot, each of them needs to expand its feature set and offer them at the lowest possible prices in order to attract prospective customers. As a result, eCommerce retailers and their customers benefit the most. No longer is it the case that smaller companies have to lag behind their larger competitors in terms of adopting technologies and providing the latest features.
3PL companies have leveled the playing field and as a result, no matter which company you choose, you will still be in a suitable position to expand your business. However, the rate of this expansion can vary depending on the company you choose. 3PLs like Vamaship and Shiprocket are more suited towards shipping aggregation and logistics rather than order fulfillment as a whole. If you need a comprehensive eCommerce fulfillment solution, look no further than WareIQ.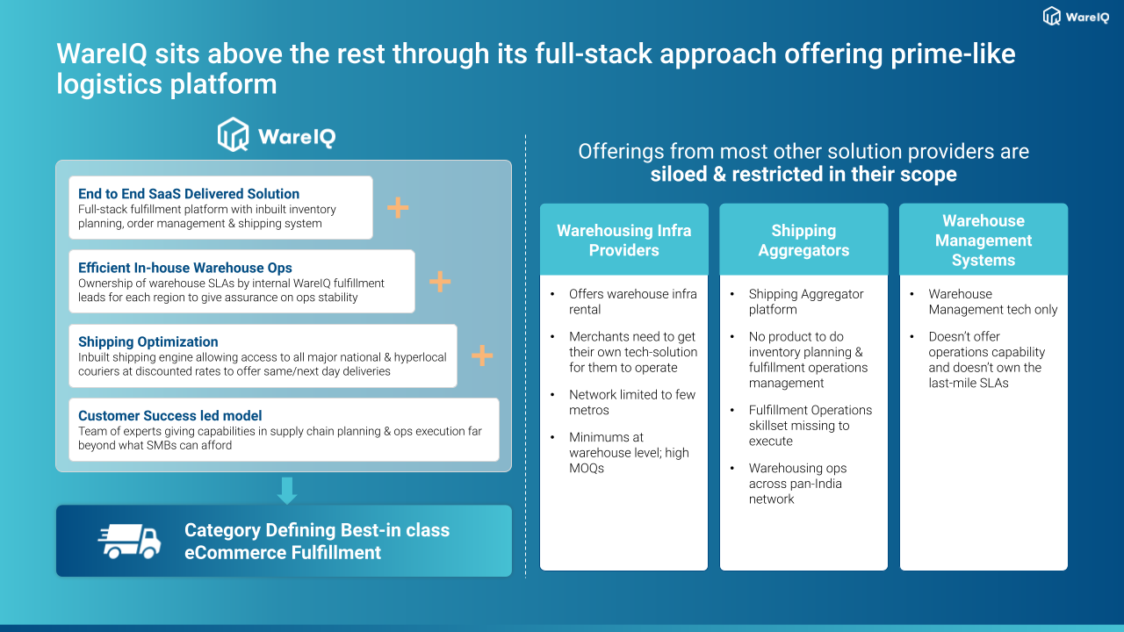 WareIQ is one of the leading eCommerce fulfillment companies in the nation. It provides class-leading features, a few of which are mentioned below:
Lightning-Fast Delivery: We offer same-day and next-day fulfillment options that are incredibly quick and reliable.
Bespoke Packaging: We offer custom packaging facilities that can be tailored to your preferences
Product Storage: Our pan-Indian network of dark stores and fulfillment centers can help you store inventory wherever you need it.
Shipping Badges: We make it possible for you to add shipping badges, similar to Prime, that display shipment estimates on your product listings.
App Store: We offer a comprehensive, well-optimised app store with a wide selection of apps.
Branded Tracking: We provide branded monitoring options so you can give your clients access to any information you like on your order tracking pages.
Returns Management: We manage returns and protect you from the negative consequences that come with them.
Partnerships With Multiple Shipping Carriers: We provide a selection of over 12 courier providers and automatically assign the best option for every order.
Inventory Management: We have an internal WMS that can automate a number of fulfillment center activities.
Online Integrations: We offer integrations with more than 20 eCommerce platforms and website builders, including Amazon, Shopify, Flipkart, Magento, eBay, WooCommerce, and many others.
Vamaship vs Shiprocket vs WareIQ: FAQs