eCourierz vs Shiprocket vs WareIQ: A Detailed Guide to Help You Choose the Best eCommerce Fulfillment Company in 2023
eCommerce fulfillment is one of the most complex activities in the industry as it involves the consolidation of many different processes in order to successfully deliver products to customers. As a more significant number of people grow accustomed to using eCommerce for their everyday needs, the industry grows exponentially and the facilities retailers are expected to provide go from being just an added convenience to an absolute necessity, such as free shipping, ultra-fast delivery, order tracking and more. To take advantage of the explosive expansion of the eCommerce sector in India, many burgeoning fulfillment companies have emerged to bridge the gap between large international corporations and small local sellers.
However, not all fulfillment companies are created equal and there are many disparities between the services offered by each of them. To successfully make the most of the fulfillment company you partner with, you need to jot down your own expectations and requirements. In this blog, we will do a detailed comparative analysis of 3 of the leading fulfillment companies in India – eCourierz vs Shiprocket vs WareIQ – and help you understand the differences between them so you can make an informed decision.
Introduction to WareIQ
WareIQ has been one of India's leading eCommerce fulfillment companies since its inception in 2019. Currently headquartered in Bangalore, the company offers a swathe of eCommerce solutions, using technology as the central pillar to differentiate itself from its competitors. It offers most major eCommerce facilities, such as a nationwide network of fulfillment centers, a custom WMS, ultra-fast shipping, returns management, and integrations with multiple selling platforms.
Additionally, it offers more nuanced features, such as an app store, branded tracking facilities, customised packaging, and much more. The company also offers extremely transparent pricing and flexible plans where sellers can opt specifically for the services they need without having to pay for the entire lineup of facilities. Some noteworthy points about WareIQ that make it a good option in the comparison between eCourierz vs Shiprocket vs WareIQ are listed below:
It provides various value-added services, such as an app store, NDR management, custom packaging, branded tracking, and much more, that help in gaining the attention of your customers.
It has partnerships with more than 20 shipping carriers and automatically appoints the quickest and most cost-effective option for every package.
It provides an in-house WMS that can be utilised for inventory management and can also provide access to historical order data, across platforms, in a single location, which helps with analysis and making considerations for the future.
It can integrate with more than 20 of the largest eCommerce marketplaces, such as Amazon, Flipkart, eBay, Nykaa, and more, and consolidates all information pertaining to orders and inventory levels in one dashboard.
It offers ultra-fast shipping to almost every pin code in the country and has provisions for dark stores to aid with hyper-local delivery.
WareIQ – Amazon-prime Like Logistics for Modern Brands in India
WareIQ, an eCommerce fulfillment company, empowers online brands with a superior-tech platform to compete with Amazon like service levels by bringing their average delivery timelines from 5-10 days to 1-2 days.
"With WareIQ, UTH is able to consolidate common inventory for all platforms and get much closer to the customer through access to WareIQ's strong nationwide network of fulfilment centres, and last mile & hyper-local courier partners.

We are excited about being able to offer

same day delivery

in several pin codes due to

WareIQ

.

"
You May Like: Which One to Choose for Your Business: Delhivery vs Blue Dart vs WareIQ
Introduction to eCourierz

eCourierz is a 2015-founded fulfillment and logistics firm with its current headquarters in Chennai, Tamil Nadu. It offers shipping and courier services on both a domestic and global scale. The company offers some of the cheapest rates in the sector and adheres to stringent safety regulations to protect items while they are being transported to safeguard against unwarranted damages and returns.
Currently, the corporation operates in more than 220 nations, utilizing the services of some of the biggest shipping carriers, such as DHL, BlueDart, Aramex, and more. Some noteworthy points about eCourierz that makes it a good option in the comparison between eCourierz vs Shiprocket vs WareIQ are listed below:
It makes use of white labeling, which assists companies in highlighting their own brand image while utilizing eCourierz's own technologies.
It gives users access to a central dashboard from where they can monitor all their important information, across carriers and platforms.
It currently collaborates with more than 18 shipping companies to provide its customers with multiple options to curtail any unforeseen delays.
It sends out order tracking updates in real-time, primarily through email.
It does not impose any minimum order requirements, so you can ship as many packages as you need.
Introduction to Shiprocket
Shiprocket is one of the most recognisable and experienced shipping aggregation companies in India. Since the company's founding in Delhi in 2012, it has provided simple and easily-accessible shipping solutions to eCommerce retailers all over the country. The main draw of Shiprocket is its ability to enable sellers to make informed decisions about their shipping carriers, by providing them with a consolidated choice of most major courier services in a simple layout.
Additionally, Shiprocket offers automated shipping processes, an AI-powered recommendation engine, a warehouse network for inventory storage, and much more. The company's current order capacity sits at around 200,000 daily orders and it services more than 200 countries across the globe. Some noteworthy points about Shiprocket that make it a good option in the comparison between eCourierz vs Shiprocket vs WareIQ are listed below:
It provides a consolidated dashboard from where you can monitor and analyse important order and inventory information so that you can be accurate in forecasting demand levels in the future.
It gives its customers access to a shipping rate calculator, which enables them to identify which shipping company has the services and rates that are the most closely aligned with their requirements.
It has partnered with upwards of 17 shipping carriers and provides a recommendation engine powered by AI that helps you make a decision between them.
It can integrate with multiple eCommerce marketplaces, such as Amazon, Flipkart, eBay, and more, and enables you to keep track of important information across whatever platforms you sell on.
It provides value-added services, including insuring every order, label printing, and a warehouse network, which propels it as an all-in-one solution for most eCommerce requirements.
You can also check these alternatives to Shiprocket.
eCourierz vs Shiprocket vs WareIQ: 10 Key Distinctions Between Their Features and Services in 2023
eCourierz vs Shiprocket vs WareIQ: Core Offering
WareIQ: WareIQ's flagship offering is its eCommerce fulfillment services which are enabled by leveraging the use of advanced technology at every stage. By using facilities such as a custom WMS, providing a nationwide network of fulfillment centers, offering a choice of courier services, and facilitating last-mile delivery, the company is able to provide solutions to most requirements that are sought after by eCommerce sellers.
eCourierz: eCourierz's primary service is centered around shipping aggregation and logistics. The company provides many convenient features relating to the aforementioned sectors, such as consolidating shipping carriers to help sellers make a simplified decision, integrating with multiple shipping companies to enable retailers to monitor all their information from a central dashboard and much more.
Shiprocket: Shiprocket's shipping aggregation facilities are a highly-valued service that the company publicizes as its core offering. This works in conjunction with its AI-powered recommendation engine and other automation that help enhance the efficiency and ease of use of eCommerce shipping and distribution (you can keep track of distribution metrics effectively).
eCourierz vs Shiprocket vs WareIQ: Customer Onboarding Time
WareIQ: WareIQ's customer onboarding process takes just 7 days to be completed.
eCourierz: eCourierz does not offer dedicated customer onboarding facilities.
Shiprocket: Shiprocket provides speedy customer onboarding but does not mention a specific duration.
Suggested Read: Nimbuspost vs Shiprocket vs Wareiq
eCourierz vs Shiprocket vs WareIQ: Pricing
WareIQ: WareIQ provides more economical pricing compared to other companies, in addition to expense-reducing features, such as zero down payments and charges based on usage. Additionally, since WareIQ offers services, such as a WMS and integrations with multiple shipping carriers and eCommerce platforms internally, customers don't need to spend extra money on acquiring them elsewhere.
eCourierz: eCourierz prides itself on imposing some of the lowest shipping rates in the industry. Coupled with features such as no minimum order requirements, the company provides extremely affordable services.
Shiprocket: In relation to industry standards, Shiprocket offers affordable prices for its distribution facilities and their clients can benefit from savings of up to 50% for various services.
eCourierz vs Shiprocket vs WareIQ: Technological Features
WareIQ: WareIQ delights its customers by utilising a wide range of technological tools to improve its eCommerce services. A custom WMS, order tracking capabilities via email, Whatsapp and SMS, a central dashboard to receive real-time alerts across all platforms, and much more, are all provided by the company.
eCourierz: eCourierz provides a vital technology shipping infrastructure with provisions for features, such as a multi-carrier library to seamlessly search for every shipping company, integrations with multiple shipping carriers, order tracking, a central dashboard and much more.
Shiprocket: Shiprocket offers many advanced technical facilities, such as NDR management, automated shipping services, order monitoring, a recommendation platform powered by AI and much more.
Suggested Read: Clickpost vs Shiprocket vs Wareiq
eCourierz vs Shiprocket vs WareIQ: App Store
WareIQ: WareIQ provides a straightforward, well-designed and easy-to-navigate app store with a comprehensive library of readily-downloadable apps in order to improve the fulfilment experience that eCommerce sellers are able to deliver to their customers. These apps consolidate features, such as branded monitoring order tracking, suggestions to boost productivity in many areas, order alerts, RTO insurance and customer feedback.
eCourierz: eCourierz does not have an app store or offer any first or third-party app support.
Shiprocket: Shiprocket does not have an app store but provides a few in-built apps. However, they cannot connect with any external applications.
eCourierz vs Shiprocket vs WareIQ: Services Offered
WareIQ: Many traditional eCommerce services are offered by WareIQ, including order monitoring, same-day and next-day fulfillment, inventory management, SKU storage, WMS software, and more. Bespoke packaging, Flipkart preparation, Nykaa fulfilment, FBA preparation, Seller Fulfilled Prime and many other value-added services are also available.
eCourierz: eCourierz mainly offers shipping aggregation and other distribution-specific services, such as having strict safety guidelines to protect orders in transit, white labelling, multi-channel integrations, order tracking software and much more.
Shiprocket: In addition to shipping aggegation services, Shiprocket provides features, such as custom packaging, no minimum order restrictions, no monthly fees, API integrations and more.
eCourierz vs Shiprocket vs WareIQ: Integrations
WareIQ: Through its unique WMS, WareIQ offers numerous eCommerce marketplace interfaces with platforms, including Amazon, Flipkart, Meesho, and Myntra, among others. Additionally, the company provides integrations with website-building platforms like Magento, Shopify, WooCommerce, and others. This gives users the ability to manage orders after they have been verified and monitor their SKU and order data across platforms.
eCourierz: eCourierz can integrate with a variety of selling platforms in addition to most major shipping companies, which allows you to access and track your data across platforms, through a single dashboard.
Shiprocket: Most of the major global fulfilment platforms, including Amazon, Magento, Shopify and others, can be integrated with Shiprocket. Benefits include the ability to manage your inventory, track orders across channels, sync vital data, and much more.
eCourierz vs Shiprocket vs WareIQ: Unique Selling Point (USP)
WareIQ: WareIQ offers a full-stack technological platform in order to offer solutions at each stage of the supply chain. The specific services that customers require can be chosen by them, starting with warehousing, inventory control, packaging, order tracking and delivery, and whatever else may be required by their business.
eCourierz: eCourierz provides some of the most cost-effective shipping rates in the industry as well as facilities to help safeguard products while they are in transit. They also offer other facilities will help improve the efficiency of your shipping operations.
Shiprocket: With the help of effective distribution services, Shiprocket aims to provide affordable shipping facilities to a large customer base across the country. The organisation provides numerous automations and can integrate with multiple eCommerce selling platforms as well as shipping carriers.
eCourierz vs Shiprocket vs WareIQ: Customised Packaging
WareIQ: WareIQ provides customised packaging where every aspect of the package can be tailored according to the preferences of the sellers, such as the logo, materials, design and dimensions.
eCourierz: eCourierz provides basic packaging facilities but it cannot be customised in any meaningful way.
Shiprocket: Shiprocket offers customised packaging solutions where many aspects of the package can be tailor-made to fit your requirements.
eCourierz vs Shiprocket vs WareIQ: Cold Storage Facilities
WareIQ: Cold storage facilities are provided in most of WareIQ's fulfillment centers.
eCourierz: Cold storage facilities are not offered by eCourierz.
Shiprocket: Cold storage facilities are offered in select Shiprocket warehouses.
eCourierz vs Shiprocket vs WareIQ: Feature Comparison Table
Company ➡️
Features ⬇️
WareIQ
eCourierz
Shiprocket
Core Business
All-encompassing fulfillment solutions such as inventory storage, warehouse management, shipping, last-mile delivery, eCommerce marketplace integration and much more.
Shipping aggregation and logistics
Shipping aggregation and logistics
Unified Platform Experience (OMS & WMS)
Yes (fully integrated WMS, OMS, inventory analytics & prediction, shipping aggregation and returns management)
No (required to bring your own tech solutions separately)
No (only provides access to shipping aggregation tools)
Smart Fulfillment Network Design
Yes (AI-powered inventory and network planning tools are available)
No
No
Inventory Placement Insights
Yes
No
No
Marketplace Fulfillment Compliance
Yes
No
No
Smart Courier Allocation
Yes (AI-powered shipping recommendations provided to help balance cost and speed)
No
Yes (AI-powered shipping recommendation engine is available)
Assured Prime-Like Shipping Badges for D2C Websites
Yes (Same-Day, Next-Day, Two-Day and Standard shipping badges are available
No
No
AI-based Inventory Forecast & Replenishment
Yes
No
No
Periodic Reports for Inventory Planning & Management
Yes
No
No
Fulfillment Centers
Yes, managed in-house
No
Yes
Dark Store-Led Same-Day Delivery
Yes
No
No
Integration with Top
Courier Partners
(Last Mile Delivery)
Yes
Yes
Yes
RTO Risk Prediction & Insurance
Yes, with insurance claims managed internally
No
No
Integrated Value Apps
Yes (Self-built and can integrate with 3rd party apps)
No
Yes (Self-built but cannot integrate with 3rd party apps)
Branded Tracking
Yes
No
Yes
Notifications/Alerts
(Post Ship Experience)
Yes
Yes
Yes
Key Account Manager
Allocation
Yes
No
Yes
Onboarding Support
Yes
No
Yes
Troubleshooting Support
(Customer-Success Led Seller Enablement Services)
Yes
Yes
No
Returns Management
Yes
Yes
Yes
SPF Claims Filing
Yes
No
No
Suggested Read: Shipkaro vs Shiprocket vs Wareiq: Which is Better?
Conclusion: What Makes WareIQ the Definitive Choice As an eCommerce Logistics Partner Among eCourierz vs Shiprocket vs WareIQ in 2023?
As an eCommerce retailer, choosing a fulfillment company whose services, pricing and outlook coincide with your own, is of great importance if you want to give yourself the best possible chances of succeeding in a highly competitive industry. While most 3PL fulfillment companies offer a standard array of services, such as order fulfillment, shipping facilities, order tracking and more, there are some that go above and beyond to make their customer's lives as easy as possible by providing value-added services in addition to conventional operations.
eCourierz is primarily a shipping and courier service, so if that is what you need, then it is a good option to consider. Shiprocket also offers mainly shipping aggregation services with a few other fulfillment options, such as a warehouse network, that give it the ability to tackle a wider range of requirements. However, if you need a one-stop solution for all things eCommerce, WareIQ should definitely be your go-to option.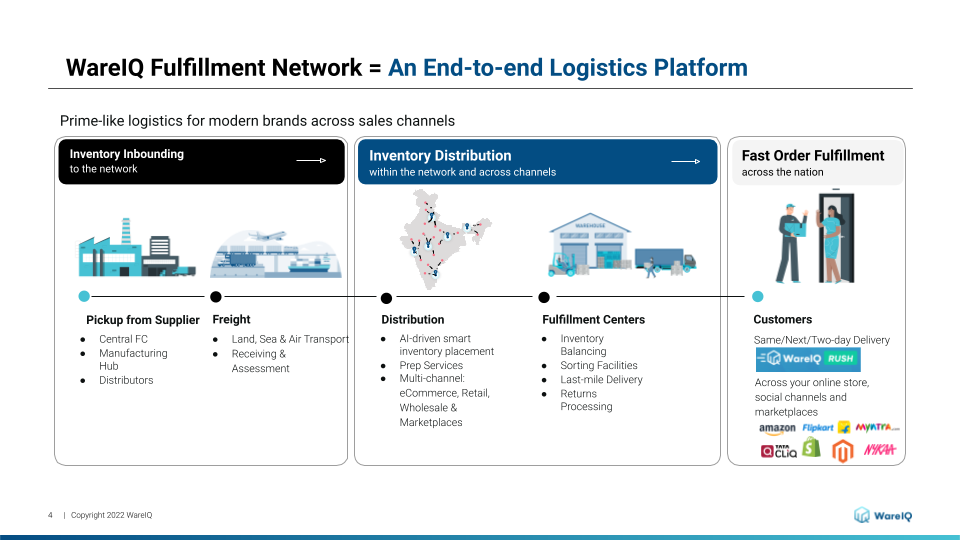 WareIQ is an eCommerce fulfillment company that provides solutions to almost every eCommerce requirement you may have. Some of the key facilities we offer are listed below:
National Network of Dark Stores and Fulfillment Centers
Offers a straightforward plug-and-play setup with no minimum requirements
Provides integrations with the eCommerce selling platforms Myntra, Flipkart Assured, Amazon Seller Flex, and others
Offers local sourcing hubs to cut down on first-mile costs
Manages warehouse operations internally
Improved Network Planning and Inventory Management
Provides industry-leading AI models for predicting sales and auto-replenishment thresholds
Increases sales conversions by conducting product segmentation depending on kind (regular, non-regular, seasonal, etc.)
Stack of Vertically Integrated IT Services
Provides connections to more than 20 popular channels and D2C sites
Offers integrations with over 27,000 pin codes worth of regional, national and hyperlocal courier providers.
Provides a single, integrated technology stack with a custom OMS and WMS
App Store With Productivity-Enhancing Applications
Enables RTO Shield, which offers complete security against RTOs
Improves the post-purchase experience through branded tracking that is personalised for each customer
Provides consumers with email, SMS and Whatsapp notifications about the status of their orders
Aids in gathering feedback from customers through our Customer Feedback app
Ultra-Fast Delivery With WareIQ Rush
Provides same-day delivery without requiring a minimum order amount or distance-based billing
Offers up to 30% more revenue conversion
Has about zero RTO%
Provides NDR & COD verification via Whatsapp.
Lowers the cost per shipment (CPS)
eCourierz vs Shiprocket vs WareIQ: FAQs