ClickPost vs Shiprocket vs WareIQ: The Ultimate Comparison to Help Simplify Your 3PL Fulfillment Company Decision in 2023
Choosing an eCommerce fulfillment company can be one of the hardest and most important decisions you will have to make as an eCommerce retailer. The benefits 3PL companies provide to budding sellers are exponential as they provide assistance in closing the gap to larger, more experienced, and financially-abled companies in terms of fulfillment, features, and technology. By ensuring that every seller that partners with them have these resources, they have enabled every seller to be successful, as long as they have a good product and are targeting the right audience.
Gone are the days when local sellers had to sit idle while large firms acquired chunks of their market. However, not all 3PLs offer the exact same feature set. Some focus on shipping aggregation, while others provide services that encompass the entire array of eCommerce fulfillment processes. In this blog, we will compare 3 of the best fulfillment companies in the current day – ClickPost vs Shiprocket vs WareIQ – so you can handily choose one that fits the bill and your requirements. Let's get started.
About WareIQ
Since WareIQ's inception in 2019, the company has steadily emerged as one of the leading fulfillment options in India. Currently headquartered in Bangalore, a city known for its technology and start-up-friendly environment, WareIQ has used its own technological prowess to inspire innovative solutions to a wide range of eCommerce requirements. The company provides every eCommerce-related service under the sun, such as order fulfillment, inventory storage, warehouse management, shipping aggregation, last-mile delivery, and much more.
Additionally, it offers advanced software solutions in-house, such as a custom WMS and online app store, so you don't need to purchase these items additionally from an external source. It also offers extremely cost-effective and transparent pricing along with no minimum order requirements and the ability to add or remove features from your plan. Some notable points that should make you consider WareIQ among the ClickPost vs Shiprocket vs WareIQ are listed below:
It has connections with more than 12 of the region's largest shipping companies, allowing for dependable, ultra-fast same-day and next-day delivery, and always designates the quickest and most cost-effective alternative for every purchase.
It consists of an internal WMS that can track inventory levels and order-related data and generate real-time alerts across storage facilities and B2C, b2b eCommerce marketplaces.
It offers an RTO Shield to lessen the impact of returns and provides insurance for each product, in addition to managing the complete reverse logistics process.
It can interact with more than 20 online selling platforms, including Amazon, eBay, Flipkart and others, in addition to website builders like Shopify, WooCommerce, and Magento.
It offers intelligent inventory placement and a nationwide storage network comprising of fulfillment centers and dark stores to assist you in keeping your inventory close to customers and transportation hubs.
WareIQ – Amazon-prime Like Logistics for Modern Brands in India
WareIQ, an eCommerce fulfillment company, empowers online brands with a superior-tech platform to compete with Amazon like service levels by bringing their average delivery timelines from 5-10 days to 1-2 days.
"With WareIQ's full stack digital enabled fulfillment solution, we got access to the pan India network of fulfillment centers & cold storage facilities enabling same/next day delivery, without any upfront investment in supply chain infrastructure from our end. During the IPL campaign in April 2022,

WareIQ efficiently

handled unpredictable 200x surges in daily order volumes

of ~20k/day with a

99% fulfillment rate

. With WareIQ as our preferred fulfillment partner, we witnessed 172% growth in online order volume in just 4 months, with a significant improvement in the overall customer experience in fulfillment."
About ClickPost
ClickPost is a fulfillment and 3PL logistics company that is primarily known for offering a comprehensive technology platform that simplifies and speeds up the ability for eCommerce companies to integrate with online selling platforms and shipping carriers so that they can access all their important information pertaining to orders, fulfillment, and shipping in one place. The company was pioneered in 2015 and is currently headquartered in Gurgaon, Haryana.
It offers integrations with industry-leading 120-plus shipping carriers, in addition to features such as a smart courier allocator, branded order tracking, automated real-time updates via email, Whatsapp and SMS to customers, seamless management of delays, and much more. Its current daily order volume sits at more than 10 million shipments. Some notable points that should make you consider ClickPost among the ClickPost vs Shiprocket vs WareIQ are listed below:
It can integrate with more than 120 shipping carriers which enables you to monitor all your shipping data in a centralized location.
It can send automated alerts to customers whenever an important event occurs, such as when an order moves to a new phase in the delivery process or if it has reached the same city as the customer.
It provides a tool to automate the management of any unforeseen circumstances that could cause a disruption in the supply chain and provides the quickest and easiest solution to offset it.
It provides complete returns management to help reduce the negative implications of returns.
It has a Shopify app that can enhance the functionality of selling on Shopify.
About Shiprocket
Shiprocket is a shipping aggregation company in India that is one of the most experienced and best-regarded in the industry. The company currently has an order volume of more than 200,000 packages a day and operates in over 200 countries worldwide. It was founded in Delhi in 2012, where it is currently headquartered. As a shipping aggregator, its key services include automating several logistics shipping eCommerce operations, consolidating shipping services to provide customers with a more easy selection, and integrating with various eCommerce platforms.
It also offers retailers other services such as cost estimation, which allows them to understand ahead of time how much money they will spend overall and order management across many selling platforms. Some notable points that should make you consider Shiprocket among the ClickPost vs Shiprocket vs WareIQ are listed below:
It provides a comprehensive platform to track and analyse critical order-related data, allowing you to swiftly assess your rates of success and spot areas that require revision.
It provides additional services such as shipping label printing, order insurance and much more. This makes it one of the most comprehensive shipping platforms available today.
It provides access to key data about your inventory levels and orders via a unified dashboard and also integrates with a variety of eCommerce marketplaces.
It gives you the option of selecting up to 17 shipping carriers, and its intuitive UI allows you to manage and aggregate your order and logistical data across all of them.
It offers a custom shipping rate calculator to help you choose which distributor is offering the best and most affordable service for each purchase depending on variables such as product attributes, distance, and more.
ClickPost vs Shiprocket vs WareIQ: Key Variations in Their Set of Services
ClickPost vs Shiprocket vs WareIQ: Core Offering
WareIQ: WareIQ's primary offering is eCommerce fulfillment that leverages its technology-based offerings such as online integrations, an ML-powered predictive engine for intelligent inventory placement, a custom WMS that can track and provide real-time updates across online marketplaces and storage locations, and connectivity to nationwide fulfillment facilities and last-mile delivery partners.
ClickPost: ClickPost's central objective is to make use of advanced technology to seamlessly consolidate important data, across online selling platforms and shipping carriers, in one easily-accessible dashboard. To make this possible, the company offers a variety of online, storefront and WMS integrations.
Shiprocket: Shiprocket's core service is shipping aggregation, which primarily consists of grouping many shipping firms in an organised manner so that their clients can make a proactive choice. To help with this, the company employs an AI-powered recommendation engine. Shiprocket's major goal is to make speedy and efficient delivery available to a big audience at a low cost.
ClickPost vs Shiprocket vs WareIQ: Customer Onboarding Time
WareIQ: It takes just 7 days for the entire customer onboarding process to be completed.
ClickPost: ClickPost does offer dedicated customer onboarding facilities but does not specify a duration.
Shiprocket: Shiprocket claims to offer quick customer onboarding but does not explicitly mention a timeline.
ClickPost vs Shiprocket vs WareIQ: Pricing
WareIQ: WareIQ offers lower pricing than its competitors, as well as cost-effective features such as billing per usage and no additional down payments, as well as customers not needing to additonal money on 3rd-party WMS and shipping software because it provides in-house solutions for these specific purposes.
ClickPost: ClickPost charges its user a base amount to be paid on a monthly basis and imposes additional fees for every feature that is used. This can make subscription plans quite expensive once all the costs are added up.
Shiprocket: Shiprocket's base subscription is ₹20 per 500 grams of merchandise, with other payment options available. In addition, you can add specific services that you require to your membership.
ClickPost vs Shiprocket vs WareIQ: Technological Features
WareIQ: WareIQ aspires to be known for its technology platform in addition to being a fulfillment provider, It offers technologically advanced services, such as an in-house WMS, comprehensive order monitoring software with SMS, Whatsapp, and email updates, a control center with a dashboard view so that users can monitor and analyse key performance metrics, automated restocking triggers and much more.
ClickPost: ClickPost utilises technology in many different aspects of its portfolio, such as being able to integrate with multiple online platforms and shipping companies, integrated order tracking, a Shopify app, and much more.
Shiprocket: Shiprocket provides its customers with an NDR control, AI-powered suggestion engine, SMS order alerts, order tracking, automated distribution sites, and many other key technologies.
ClickPost vs Shiprocket vs WareIQ: App Store
WareIQ: WareIQ offers a well-designed, intuitive and easy-to-navigate app store with a full suite of downloadable apps to improve the fulfillment experience of sellers and their customers by unifying branded tracking solutions, recommendations to enhance optimization in various areas, order alerts, shipping badges, prompting customer feedback and much more, in a single location.
ClickPost: ClickPost has its own Shopify app and other apps to manage various functions but do not have an entire catalogue consolidated together in an app store.
Shiprocket: Shiprocket provides API integrations and has first-party apps. However, it does not specifically offer an app store or support for 3rd-party apps.
ClickPost vs Shiprocket vs WareIQ: Services Offered
WareIQ: WareIQ provides services for many different business functions, such as B2B and B2C fulfillment, FBA preparatory facilities, Nykaa fulfillment, Flipkart preparation, custom packaging, an in-house WMS, a pan-India distribution network, ultra-fast delivery, inventory management, branded tracking and much more.
ClickPost: ClickPost offers technology-related features, such as integrations with multiple selling platforms and shipping companies, consolidated shipping services, returns management, NDR support, order tracking, COD reconciliation and much more.
Shiprocket: Shiprocket offers packing services, prepaid COD, no order thresholds, no monthly charges, API connections, and a variety of other services in addition to its shipping aggregation services.
ClickPost vs Shiprocket vs WareIQ: Integrations
WareIQ: In addition to numerous well-known B2C and B2B markets like Flipkart, Amazon and eBay, WareIQ also provides WMS integrations to web-building platforms like Shopify, WooCommerce and more. This enables customers to manage inventory, keep track of orders, and migrate and export order and inventory data across several platforms without any issues.
ClickPost: ClickPost offers different types of integrations, such as with shipping providers like FedEx and DHL; with WMS providers, such as NetSuite and Increff and with digital storefronts, such as Shopify and Magento.
Shiprocket: To properly track and gather order data in one location, Shiprocket can be integrated with the majority of the main eCommerce selling platforms, including eBay, Amazon, Shopify and more.
ClickPost vs Shiprocket vs WareIQ: Unique Selling Point (USP)
WareIQ: In order to provide solutions at every level of the supply chain, WareIQ offers a full-stack technology platform. Customers can choose the exact services they need, starting with warehousing, packing, inventory management, order tracking, shipping and everything in the middle.
ClickPost: ClickPost uses technology to give sellers access to all their prime information in a simple and seamless way. The company offers multiple integrations in addition to most post-order fulfillment services.
Shiprocket: The key selling point of Shiprocket is its shipping aggregation services, which are easily accessible to eCommerce sellers in bulk at reasonable pricing and make use of cutting-edge technology.
ClickPost vs Shiprocket vs WareIQ: Customised Packaging
WareIQ: WareIQ offers sellers the utility of customised packaging where each element of the unboxing experience, such as brand logo, design, size and materials can be tailored according to their preferences.
ClickPost: ClickPost does not provide customizable packaging options.
Shiprocket: Shiprocket does offer bespoke packaging where different parcel elements can be tailored according to the customer's requirements.
ClickPost vs Shiprocket vs WareIQ: Cold Storage Facilities
WareIQ: WareIQ offers cold storage facilities in several of its fulfillment center locations that span the entirety of its network.
ClickPost: ClickPost does not provide cold storage facilities.
Shiprocket: Cold storage facilities are offered by Shiprocket in specific warehouses.
ClickPost vs Shiprocket vs WareIQ: Feature Comparison Table [Updated 2023]
Company ➡️
Features ⬇️
WareIQ
ClickPost
Shiprocket
Core Business
All-encompassing fulfillment solutions such as inventory storage, warehouse management, shipping, last-mile delivery, eCommerce marketplace integration and much more.
eCommerce fulfillment and technology
Shipping aggregation and logistics
Unified Platform Experience (OMS & WMS)
Yes (fully integrated WMS, OMS, inventory analytics & prediction, shipping aggregation and returns management)
No (offers 3rd-party options for additonal pay)
No (only provides access to shipping aggregation tools)
Smart Fulfillment Network Design
Yes (AI-powered inventory and network planning tools are available)
No
No
Inventory Placement Insights
Yes
No
No
Marketplace Fulfillment Compliance
Yes
No
No
Smart Courier Allocation
Yes (AI-powered shipping recommendations provided to help balance cost and speed)
Yes
Yes (AI-powered shipping recommendation engine is available)
Assured Prime-Like Shipping Badges for D2C Websites
Yes (Same-Day, Next-Day, Two-Day and Standard shipping badges are available
No
No
AI-based Inventory Forecast & Replenishment
Yes
No
No
Periodic Reports for Inventory Planning & Management
Yes
No
No
Fulfillment Centers
Yes, managed in-house
No
Yes
Dark Store-Led Same-Day Delivery
Yes
No
No
Integration with Top
Courier Partners
(Last Mile Delivery)
Yes
Yes
Yes
RTO Risk Prediction & Insurance
Yes, with insurance claims managed internally
No
No
Integrated Value Apps
Yes (Self-built and can integrate with 3rd party apps)
Yes
Yes (Self-built but cannot integrate with 3rd party apps)
Branded Tracking
Yes
Yes
Yes
Notifications/Alerts
(Post Ship Experience)
Yes
Yes
Yes
Key Account Manager
Allocation
Yes
Yes
Yes
Onboarding Support
Yes
Yes
Yes
Troubleshooting Support
(Customer-Success Led Seller Enablement Services)
Yes
No
No
Returns Management
Yes
Yes
Yes
SPF Claims Filing
Yes
No
No
Related Article: Which is Better: Ecourierz vs Shiprocket vs WareIQ
Conclusion: Why Should WareIQ be Your Go-To Option for Fulfillment Among ClickPost vs Shiprocket vs WareIQ in 2023?
Choosing an appropriate eCommerce fulfillment company that reflects the values of your business and encompasses all the requirements you have can have majorly positive implications regarding customer perception and satisfaction when they purchase from your company. To do this, you need to chalk out what your goals are, how you plan to achieve them, what services you should prioritize from your 3PL partner, and what your available financial resources are to take the plunge.
The choice between ClickPost vs Shiprocket vs WareIQ is a difficult one because each company specializes in different aspects of eCommerce. Shiprocket is mainly a shipping aggregator that can help you up your shipping game. ClickPost offers cutting-edge technology and integrations, and WareIQ offers a seamless blend of both, with shipping aggregation services and its own suite of advanced technological solutions, and everything in between. That is why it receives our pick for the best fulfillment company out of the bunch. If you need access to a vast amount of eCommerce services and a company that offers terrific scalability, look no further than WareIQ.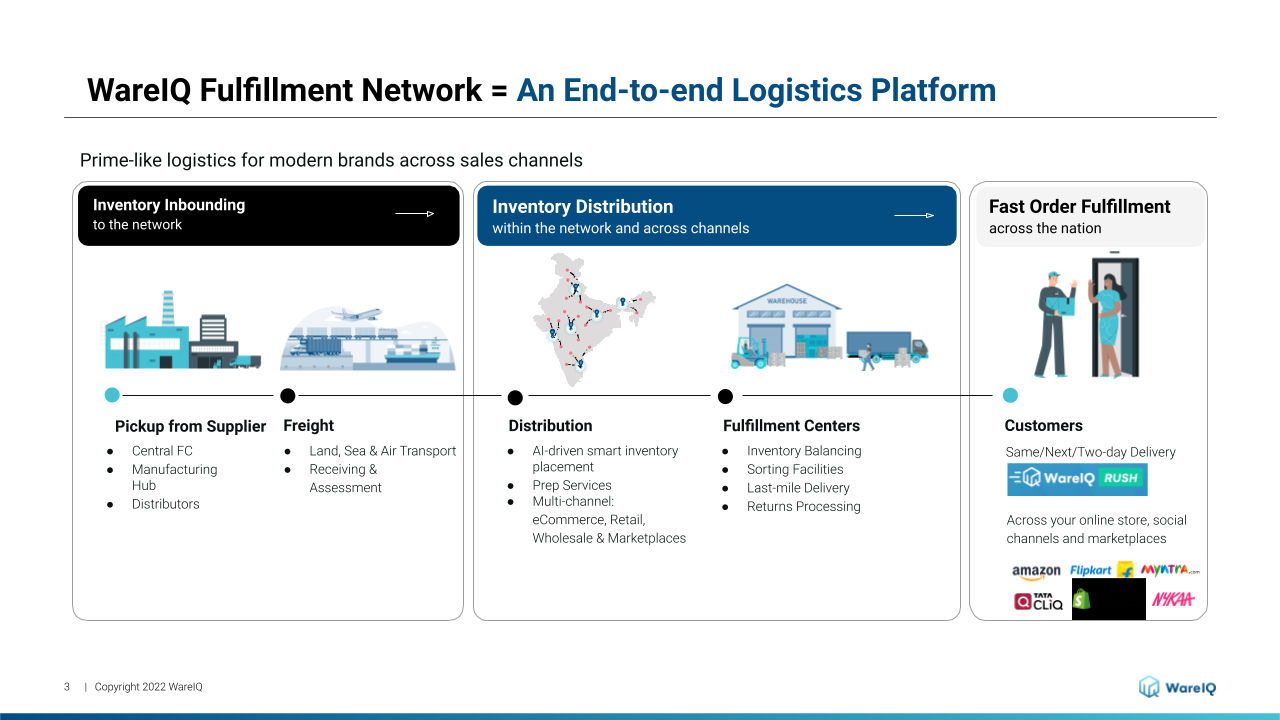 WareIQ is an eCommerce fulfillment that specialises in every eCommerce activity that you can think of. Some of our primary services are listed below:
Branded Packaging: We provide custom packaging services that can be adapted to your needs.
App Store: We provide a complete, well-optimized app store with a diverse range of apps.
Inventory Storage: You can store your merchandise anywhere you need it with our pan-India network of dark stores and fulfillment facilities.
Shipping Badges: Similarly to Prime, we allow you to add shipping badges that provide delivery estimations on your online listing pages.
Returns Management: We handle returns and shield you from any negative repercussions associated with them.
Branded Order Tracking: We offer branded order tracking so that any information you want to highlight can be added to your order tracking pages.
Collaborations with Shipping Companies: We collaborate with more than 12 courier companies and automatically assign the optimal alternative for each order.
Marketplace Integrations: We can connect over 20 online selling platforms and web-building platforms, including Amazon, Magento, eBay and more.
Inventory Management: We have a custom WMS that can automate a variety of functions and provide real-time updates.
Ultra-Fast Fulfillment: We provide same-day and next-day delivery alternatives that are both speedy and dependable.
Suggested Read: Shipkaro vs Shiprocket vs Wareiq: Ultimate Comparison
ClickPost vs Shiprocket vs WareIQ: FAQs