Shipkaro vs Shiprocket vs WareIQ: 10 Major Differences to Help You Choose the Best 3PL Fulfillment Company in 2023
In the current eCommerce landscape, providing basic order fulfillment services doesn't cut it. With larger companies researching and introducing new technologies and features on a rapid basis, smaller companies are constantly playing catch up, and more often than not, they cannot afford to compete. Since eCommerce shoppers have become accustomed to these conveniences, such as flexible return policies, same-day shipping, comprehensive order tracking, and more, the onus is on eCommerce companies to adapt and ensure that they offer these facilities, to maintain and enhance the satisfaction of their customers.
If they are not capable or willing to adopt cutting-edge services, they risk losing customers to competitors that are. We understand that not every company has the financial and technological resources at their disposal to make such services possible but fret not. This is where 3PL fulfillment companies come into even the playing field. By consolidating advanced technology and trending services, they are able to offer retailers the boost that they may have been lacking. In this blog, we will compare 3 of the best options currently available – Shipkaro vs Shiprocket vs WareIQ – and help you decide which would be the best one for you.
Introduction to WareIQ
WareIQ started out in Bangalore, Karnataka, in 2019 with the goal of offering a comprehensive fulfillment infrastructure that was widely available to every eCommerce retailer across the country. They have emerged as one of the fastest-expanding fulfillment companies in India and offer one of the most expansive service catalogs in the industry. Whether it is 3PL logistics services, such as order fulfillment, shipping aggregation, and last-mile delivery, or storage facilities, such as a pan-India fulfillment center network, custom packaging, and more, WareIQ is filled to the brim with all sorts of eCommerce solutions.
To make this happen, the company uses advanced technology, such as an in-house WMS, multiple marketplace integrations, custom apps that can be connected externally, and much more. This makes it one of the best all-in-one solutions on the market. Some key points that make WareIQ worth considering among Shipkaro vs Shiprocket vs WareIQ are listed below:
It provides intelligent inventory placement suggestions to store inventory in proximity to high-demand localities and significant transportation hubs. It also has a nationwide network of fulfillment centers.
Its WareIQ Rush platform offers lightning-fast same-day and next-day shipping. Additionally, it provides dark storefronts that facilitate hyperlocal delivery in less than 30 minutes.
It offers a tailored WMS that helps with inventory control and allows real-time updates regarding inventory levels and order data from various channels and fulfillment center locations, all in one dashboard.
It offers total return management and an RTO Shield, which protects every SKU from the adverse effects of returns and lowers associated expenses.
It has connections with over 12 of the largest shipping companies in the nation and automatically chooses the least expensive and fastest choice for each delivery.
WareIQ – Amazon-prime Like Logistics for Modern Brands in India
WareIQ, an eCommerce fulfillment company, empowers online brands with a superior-tech platform to compete with Amazon like service levels by bringing their average delivery timelines from 5-10 days to 1-2 days.
"With WareIQ, UTH is able to consolidate common inventory for all platforms and get much closer to the customer through access to WareIQ's strong nationwide network of fulfilment centres, and last mile & hyper-local courier partners.

We are excited about being able to offer

same day delivery

in several pin codes due to

WareIQ

.

"
Introduction to Shipkaro

Since its establishment in 2017, Shipkaro has provided shipping aggregation services to eCommerce businesses that need efficient order management. The Gurgaon-based business also enables businesses to automate and tailor shipping processes to achieve their desired outcomes. Additionally, it provides services like label printing, personalized delivery timetables, bulk order syncing and many more.
The company also provides international shipping solutions across the globe and claims to offer the lowest shipping prices in the industry with no setup fees required upfront. Some key points that make Shipkaro worth considering among Shipkaro vs Shiprocket vs WareIQ are listed below:
It is able to synchronise order tracking data from multiple order management channels to simplify the processing of orders and have access to important information across platforms in a central location.
It provides accurate order tracking facilities for every order to ensure that customers are kept in the loop regarding every development.
It helps customers benefit from bulk discounts and also provides a tool to compare charges to those of rival companies, which helps them understand how much money they are saving.
It can connect directly with other eCommerce marketplaces, such as Flipkart and eBay, to make order management as seamless as possible across all online selling channels.
It has partnered with more than 14 national and foreign distribution companies to provide a wide range of options for both domestic and international shipping.
Introduction to Shiprocket
Shiprocket is a homegrown shipping aggregation firm that has been at the forefront of eCommerce distribution services in India. Its headquarters have been based in Delhi since 20212, the year it was founded. As a shipping aggregator, its primary services include combining courier services to give its partners a more streamlined selection, automating various distribution and logistics facilities and establishing linkages with various online markets.
Additionally, it offers value-adding services like purchase management across multiple online marketplaces and cost estimation, which helps retailers better understand the total cost of their transactions. The company currently operates in more than 200 countries and has an order volume of more than 200,000 orders a day. Some key points that make Shiprocket worth considering among Shipkaro vs Shiprocket vs WareIQ are listed below:
You can select up to 17 delivery providers from its user-friendly interface, which also allows you to manage and consolidate your order and logistics data.
It helps you immediately assess your success rates and identify areas that require improvement thanks to the comprehensive technology platform it provides.
It offers a customised shipping rate calculator that is based on factors, such as product qualities, distance to the customer's location, and more, which will help you identify which distributor is offering the best and most affordable service for specific orders.
It is one of the most comprehensive shipping platforms available right now and provides value-added services like the ability to print mailing labels and coverage for every SKU.
It can interact with many eCommerce marketplaces and offers a central dashboard to track and examine all your shipment, order, and inventory information.
Shipkaro vs Shiprocket vs WareIQ: Key Distinctions in Their Facilities and Services
Shipkaro vs Shiprocket vs WareIQ: Core Offering
WareIQ: The main service provided by WareIQ is eCommerce fulfillment, which makes use of its technology-based solutions like online integrations, a machine learning-powered forecasting system for smart inventory placement, an internally-built WMS that can monitor and send real-time alerts across eCommerce selling platforms and fulfilment center locations, and accessibility to an India-wide network of fulfilment centres and last-mile delivery services.
Shipkaro: Shipkaro's key offering is shipping aggregation and offers most of the conventional facilities that are associated with it, such as integrations with multiple carriers, international and domestic shipping, bulk order discounts and much more.
Shiprocket: The primary offering of Shiprocket is shipping aggregation, which entails organising a number of shipping companies so that their clients can make informed decisions. The business uses a recommendation engine enabled by AI to aid with this. The main objective of the company is to make quick and effective delivery affordable for a large audience.
Shipkaro vs Shiprocket vs WareIQ: Customer Onboarding Time
WareIQ: The complete customer onboarding process is carried out within 7 days.
Shipkaro: Shipkaro does not provide dedicated customer onboarding support.
Shiprocket: Shiprocket provides speedy customer onboarding, but there isn't an official duration given by the company.
Shipkaro vs Shiprocket vs WareIQ: Pricing
WareIQ: WareIQ imposes lower prices than its rivals and offers cost-saving features like paying based on usage and no initial deposits. It allows customers to avoid spending extra money on third-party WMS and shipping solutions because it already has internal solutions for these particular uses.
Shipkaro: Shipkaro has multiple pricing plans and subscriptions. The base model does not impose any monthly payments but instead, charges ₹32 per 500 grams, which, despite the company's claims, is far from the most affordable option in the market.
Shiprocket: The base membership rate for Shiprocket is ₹20 for every 500 grams of goods, with other payment alternatives available. You can also add particular services that you need to your membership.
Shipkaro vs Shiprocket vs WareIQ: Technological Features
WareIQ: In addition to providing fulfilment services, WareIQ also aspires to be known for its cutting-edge technology platform. It provides sophisticated technology, including an internal WMS, extensive order monitoring software with email, Whatsapp and SMS updates, automated restocking triggers, a control panel with a dashboard view so users can track and review crucial analytics and much more.
Shipkaro: Shipkaro offers standard technological solutions, such as integrations with multiple shipping carriers and online selling platforms, automated order syncing, a price comparison tool, automated logistics management, shipment tracking and much more.
Shiprocket: An NDR control, an AI-generated recommendation engine, SMS notifications, order monitoring, automated shipping processes and many other crucial facilities are just a few of the technology-based services that Shiprocket offers to its clients.
Shipkaro vs Shiprocket vs WareIQ: App Store
WareIQ: In order to improve the fulfilment experience for sellers and their customers, WareIQ offers an app store with a simplified UI that has a wide variety of apps in various categories. These apps combine functions, such as suggestions to strengthen efficiency in multiple business facets, branded order tracking services, shipping badges, order updates, spurring customer feedback and more, all within a single online store.
Shipkaro: Shipkaro does not provide an app store or support for any 3rd-party apps.
Shiprocket: Shiprocket offers in-house apps and API connections. It does not, however, particularly provide an app store or support for third-party applications.
Shipkaro vs Shiprocket vs WareIQ: Services Offered
WareIQ: WareIQ offers services for a wide range of business needs, including B2B fulfillment and B2C fulfillment, FBA preparation services, ultra-fast delivery, branded packaging, Flipkart preparation, an internal WMS, an India-encompassing fulfillment center network, Nykaa fulfillment, SKU management, branded order tracking and much more.
Shipkaro: Shipkaro offers a vast array of services in addition to shipping aggregation, such as automated logistics management, scheduled pickup of goods, order tracking, integrations with multiple shipping companies and eCommerce marketplaces, COD cycle support, delivery to 15,000-plus pin codes, bulk order uploading and much more.
Shiprocket: Along with its shipping aggregation services, Shiprocket also provides packaging facilities, prepaid cash-on-delivery, no purchase minimums, no monthly fees, API integrations and a variety of additional services.
Shipkaro vs Shiprocket vs WareIQ: Integrations
WareIQ: WareIQ offers WMS connections to website builders like Shopify, Magento, WooCommerce, and others in addition to various well-known online selling channels like Flipkart, Amazon, and eBay, among others. Customers can easily migrate and import data across all these platforms, manage their inventory, and keep track of orders.
Shipkaro: Shipkaro offers multiple integrations with shipping carriers, such as Delhivery, Aramex, BlueDart, and more, as well as online selling platforms, such as Amazon, Flipkart, and StoreHippo, among others.
Shiprocket: Shiprocket integrates with the majority of the major online marketplaces, including eBay, Amazon, Flipkart, Shopify, and more, to accurately monitor and analyse data in one place.
Shipkaro vs Shiprocket vs WareIQ: Unique Selling Point (USP)
WareIQ: WareIQ offers a filled-to-the-brim technological platform in order to tackle requirements at every stage of the supply chain. Customers can select the precise services they require, starting with order tracking, product storage, packaging, inventory management and shipping, among many others.
Shipkaro: Shipkaro provides many useful value-added features that enhance its shipping aggregation facilities and make it easier for sellers to simply sign up and ship their products using the fastest and most effective carriers.
Shiprocket: Shiprocket's shipping aggregation services, which are readily available to eCommerce sellers in bulk at affordable prices and make use of cutting-edge technology, are its main selling feature.
Shipkaro vs Shiprocket vs WareIQ: Customised Packaging
WareIQ: With WareIQ, sellers may benefit from customised packaging, where every aspect of the unpackaging process, including the brand logo, design, materials, and dimensions can be customised to their tastes.
Shipkaro: Shipkaro does not offer customizable packaging facilities.
Shiprocket: Shiprocket does provide customised packing, where various parcel components can be customised to meet the needs of their clients.
Shipkaro vs Shiprocket vs WareIQ: Cold Storage Facilities
WareIQ: WareIQ provides cold storage in a number of its fulfillment centers across its whole network.
Shipkaro: Shiprocket does not provide cold storage in any capacity.
Shiprocket: Shiprocket provides cold storage in certain fulfillment center locations.
Related Article: Clickpost vs Shiprocket vs WareIQ
Shipkaro vs Shiprocket vs WareIQ: Feature Comparison Table
Company ➡️
Features ⬇️
WareIQ
Shipkaro
Shiprocket
Core Business
All-encompassing fulfillment solutions such as inventory storage, warehouse management, shipping, last-mile delivery, eCommerce marketplace integration and much more.
Shipping aggregation and logistics
Shipping aggregation and logistics
Unified Platform Experience (OMS & WMS)
Yes (fully integrated WMS, OMS, inventory analytics & prediction, shipping aggregation and returns management)
No
No (only provides access to shipping aggregation tools)
Smart Fulfillment Network Design
Yes (AI-powered inventory and network planning tools are available)
No
No
Inventory Placement Insights
Yes
No
No
Marketplace Fulfillment Compliance
Yes
No
No
Smart Courier Allocation
Yes (AI-powered shipping recommendations provided to help balance cost and speed)
Yes
Yes (AI-powered shipping recommendation engine is available)
Assured Prime-Like Shipping Badges for D2C Websites
Yes (Same-Day, Next-Day, Two-Day and Standard shipping badges are available
No
No
AI-based Inventory Forecast & Replenishment
Yes
No
No
Periodic Reports for Inventory Planning & Management
Yes
No
No
Fulfillment Centers
Yes, managed in-house
No
Yes
Dark Store-Led Same-Day Delivery
Yes
No
No
Integration with Top
Courier Partners
(Last Mile Delivery)
Yes
Yes
Yes
RTO Risk Prediction & Insurance
Yes, with insurance claims managed internally
No
No
Integrated Value Apps
Yes (Self-built and can integrate with 3rd party apps)
No
Yes (Self-built but cannot integrate with 3rd party apps)
Branded Tracking
Yes
No
Yes
Notifications/Alerts
(Post Ship Experience)
Yes
Yes
Yes
Key Account Manager
Allocation
Yes
No
Yes
Onboarding Support
Yes
No
Yes
Troubleshooting Support
(Customer-Success Led Seller Enablement Services)
Yes
No
No
Returns Management
Yes
Yes
Yes
SPF Claims Filing
Yes
No
No
Conclusion: What Makes WareIQ the Best Choice Among Shipkaro vs Shiprocket vs WareIQ in 2023?
The determining factor of whether customers choose to make repeat purchases from your business or choose one of your competitors is often the order fulfillment experience that they have. A single delay, sub-standard packaging, damaged product,
or incorrect item sent can leave a long-lasting negative impression on any customer and can also cause tangible harm to your business in the form of poor online feedback and a high rate of returned goods.
Conversely, a positive delivery experience can leave customers raving about your company to their friends and colleagues and will make them consider your company when they need to purchase a similar item again. This will enhance your reputation, sales figures, and profit margins. Therefore, making the right decision between Shipkaro vs Shiprocket vs WareIQ is more important than it seems. While all companies offer tremendous value for money, WareIQ is our pick for the variety of services it offers, use of advanced technology to curtail any unforeseen circumstances, and its flexible pricing plans that are available.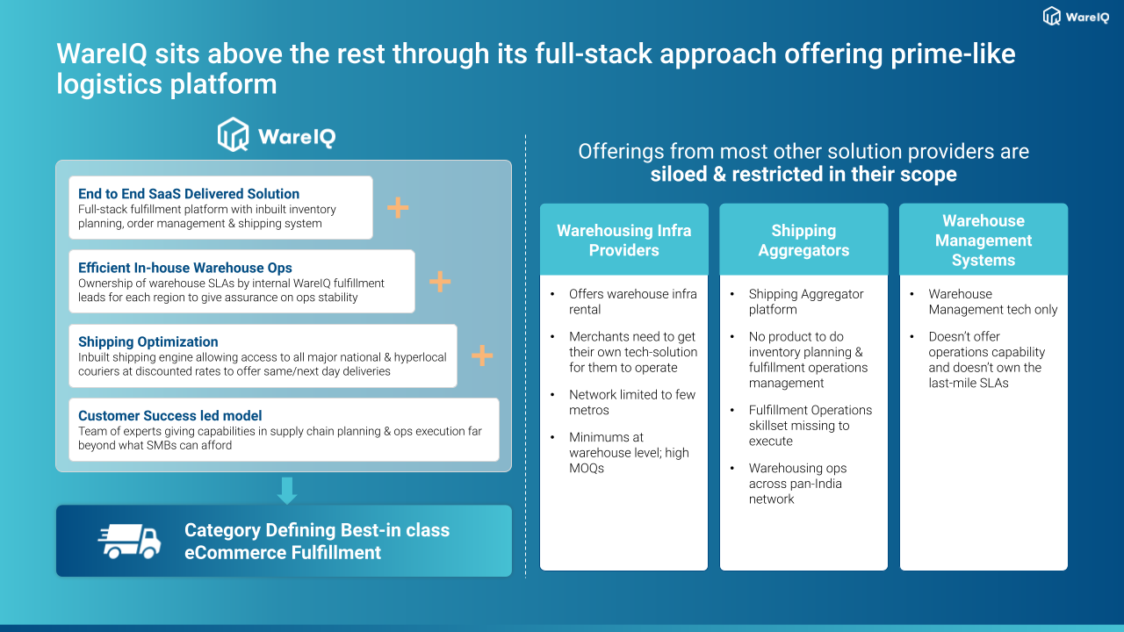 WareIQ is a Bangalore-based eCommerce fulfillment company that offers a large suite of eCommerce solutions. Some of the key ones are listed below:
We offer a SaaS system for AI-powered inventory administration that keeps your inventory at the appropriate levels and minimises understocking and overstocking issues.
We provide aid with reverse logistics and provide an RTO Shield that guards against any damage from returns for every product.
We provide a variety of custom packaging choices, allowing you to change the theme, materials, design, and more to fit your tastes.
We have a dedicated team of knowledgeable customer service representatives who are available round-the-clock to respond to client inquiries.
We make it possible for you to select and pay for the services you desire, and since we don't have a minimum order restriction, you can always upgrade or modify your subscriptions in response to your future requirements.
Shipkaro vs Shiprocket vs WareIQ: FAQs