NimbusPost vs Shiprocket vs WareIQ: Which is the Best eCommerce Fulfillment Company for Sellers in 2023?
Order fulfillment is one of the most complex and important procedures in the entire eCommerce industry. Without a comprehensive and efficient fulfillment process in place, eCommerce companies run the risk of not delivering a good enough experience to their customers, which can result in a backlash against the company by existing and prospective consumers. To avoid this risk, you can always opt to partner with a 3PL fulfillment company. Explosive growth has not just taken place in the eCommerce industry as a whole but also in order fulfillment providers.
Observing the increased amount of local and international players in the market, enterprising companies have sought to provide a solution to their requirements by providing exceptional features at competitive prices. The result is that you are spoiled for choice when it comes to which eCommerce fulfillment provider you seek to partner with. In this blog, we will go through 3 of the best options – NimbusPost vs Shiprocket vs WareIQ – by giving you important details about each and comparing their features, services, and pricing. Let's get started.
About WareIQ
WareIQ is a homegrown eCommerce fulfillment company that is one of the fastest growing in the country. It was founded in 2019 and is currently headquartered in Bangalore. Seeking to use advanced technology to tackle a wide variety of eCommerce issues and requirements, the company provides many value-added services, such as an app store, RTO Shield, specialised storage facilities, and more, along with its conventional list of facilities, such as a nationwide network of fulfillment centers, a custom WMS, ultra-fast delivery and much more.
The company also offers highly flexible and transparent pricing, owing to the fact that there are no minimum order requirements and sellers can simply opt and pay for the amount of storage space and other facilities they need, which can always be upgraded according to future requirements. Some of the primary reasons to partner with WareIQ are listed below:
It provides a nationwide network of fulfillment centers and dark stores scattered in most major locations across the country and has smart inventory placement that enables you to store your inventory in the most suitable location based on factors such as demand and proximity to transport facilities.
It has a custom WMS that aids in inventory management as well as integrating with multiple eCommerce marketplaces, such as Amazon, Flipkart, eBay, and more, and consolidates your order and inventory data across all of them and provides real-time updates to any changes that might occur.
It offers ultra-fast same-day and next-day delivery through a partnership with more than 12 shipping aggregators and will always assign the fastest and most cost-effective option to every order.
It provides an RTO Shield that offsets any negative implications caused by returns by ensuring every product and taking care of the entire reverse logistics process.
It has a custom app store with multiple easily-downloadable apps that enhance the productivity of various business functions, such as generating customer feedback and providing shipping badges that indicate delivery speeds.
WareIQ – Amazon-prime Like Logistics for Modern Brands in India
WareIQ, an eCommerce fulfillment company, empowers online brands with a superior-tech platform to compete with Amazon like service levels by bringing their average delivery timelines from 5-10 days to 1-2 days.
"With WareIQ's full stack digital enabled fulfillment solution, we got access to the pan India network of fulfillment centers & cold storage facilities enabling same/next day delivery, without any upfront investment in supply chain infrastructure from our end. During the IPL campaign in April 2022,

WareIQ efficiently

handled unpredictable 200x surges in daily order volumes

of ~20k/day with a

99% fulfillment rate

. With WareIQ as our preferred fulfillment partner, we witnessed 172% growth in online order volume in just 4 months, with a significant improvement in the overall customer experience in fulfillment."
About Shiprocket
Being one of India's top shipping aggregators, Shiprocket was founded in 2012 and is presently headquartered in Delhi. Its main service is to let online merchants choose the delivery provider of their choice based on their own goals and other factors. Additionally, the organisation offers a variety of automations for different business operations. Over 200,000 orders are currently placed each day on Shiprocket.
More than 200 different countries are represented in the company's customer base. The business also provides connections with significant eCommerce platforms such as Amazon and Flipkart, and provides other services like cost estimation and order management, among others. Some of the primary reasons to partner with Shiprocket are listed below:
It offers a choice between more than 17 shipping companies and allows you to manage and consolidate your order and logistics data through a simple interface.
It provides a custom shipping rate calculator that can assist you in figuring out which courier partner is providing the best and cheapest service for specific orders based on metrics such as distance, product dimensions, and more.
It offers integrations with multiple eCommerce marketplaces and allows you to access all your data through a single dashboard.
It provides a combined platform to analyse and keep track of important order-related details, so you can easily monitor your success rates and find areas that need to be improved.
It offers additional facilities, such as opting for insurance on every parcel and printing services for shipping labels, which make it a one-stop solution for most shipping and distribution requirements.
About NimbusPost
NimbusPost is primarily a shipping and logistics company that was founded in 2018 and is currently headquartered in Gurgaon, Haryana. The company's core offering is consolidating distribution and courier services so that its partners will have easy access to the best shipping and fulfillment facilities. One of the company's main goals is to help eCommerce retailers make well-informed decisions by providing all the information they need at their fingertips.
By using technology to bridge the gap between automated processes and on-ground activities, NimbusPost is able to provide exceptional facilities at competitive rates. The company provides shipping solutions both domestically and internationally. Some of the primary reasons to partner with Shiprocket are listed below:
It has an existing customer base that exceeds 60,000 online sellers. This ensures that they have enough experience to tackle any unforeseen challenges that could occur.
It currently covers more than 29,000 pin codes and operates in more than 196 countries, which will ensure that it is able to deliver orders to even the most remote locations without a hassle.
It offers an AI-enables allocation engine that is able to assign the best courier partner for every order based on criteria such as distance, product dimensions and more.
It provides a comprehensive post-shipping experience to assist with feedback generation and post-purchase communication, among other services.
It has a nationwide warehouse network that is certified by Amazon Flex and Flipkart Smartbuy which helps with inventory storage and shipping preparation for every order.
Shiprocket vs NimbusPost vs WareIQ: 10 Main Differences in Services and Facilities
NimbusPost vs Shiprocket vs WareIQ: Core Offering
WareIQ: The primary offering of WareIQ is using technology and AI to provide order fulfillment, inventory management, product storage, eCommerce shipping, and last-mile delivery to eCommerce retailers. The company can integrate with more than 20 online marketplaces and provides a custom WMS to consolidate all order and inventory data in a single dashboard.
NimbusPost: Like Shiprocket, NimbusPost's primary offering is also centered around shipping aggregation by consolidating distribution partners so that their customers can easily choose the best option. It also provides fulfillment facilities such as eCommerce warehouses and last-mile delivery.
Shiprocket: The primary offering of Shiprocket is providing retailers with a choice of shipping partners by aggregating all their courier partners in an easily-selectable format. It also provides automation for various shipping processes.
NimbusPost vs Shiprocket vs WareIQ: Customer Onboarding Time
WareIQ: WareIQ has swift customer onboarding that happens in just 7 days.
NimbusPost: NimbusPost also offers quick onboarding but again, the timeline is not mentioned by them.
Shiprocket: Shiprocket provides fast onboarding, but the exact speed isn't specified.
NimbusPost vs Shiprocket vs WareIQ: Pricing
WareIQ: In comparison to its rivals, WareIQ offers more affordable pricing, as well as cost-effective features like no additional deposits and billing as per usage. Additionally, customers don't need to spend additional money on external WMS and shipping software because WareIQ provides all of these facilities in-house.
NimbusPost: NimbusPost offers a variety of different pricing plans and also provides completely customized shipping that has varying charges depending on the specifications of the model.
Shiprocket: Shiprocket provides cost-effective rates for their distribution facilities compared to industry standards and their customers can also take advantage of discounts of up to 50%.
NimbusPost vs Shiprocket vs WareIQ: Technological Features
WareIQ: WareIQ prides itself on its broad use of technological features to enhance its eCommerce services. The company offers facilities such as a custom WMS, order tracking facilities through Whatsapp, email, and SMS, a central dashboard to get real-time updates across all platforms, and much more.
NimbusPost: NimbusPost offers advanced technological solutions that assist with efficient and secure shipping, such as an AI-enabled fraud detector, a recommendation engine, simple integrations with courier partners and eCommerce marketplaces, shipping automations, cloud-based customer support, and much more.
Shiprocket: Shiprocket provides technological facilities such as automated shipping services, NDR management, a recommendation engine, SMS notifications, and order tracking services.
NimbusPost vs Shiprocket vs WareIQ: App Store
WareIQ: In order to enhance the fulfillment experience that retailers are able to provide to their customers, WareIQ offers an intuitive, well-designed and simple-to-navigate app store with a full catalog of easily-downloadable apps. These apps combine branded tracking solutions, recommendations to increase efficiency in various areas, order notifications, RTO insurance, and customer feedback in a single location.
NimbusPost: NimbusPost does not offer its own app store or offer any app support. It does however offer API integrations.
Shiprocket: Shiprocket also does not provide an app store or offer support for first-party apps. It only provides API integrations.
NimbusPost vs Shiprocket vs WareIQ: Services Offered
WareIQ: WareIQ provides many conventional eCommerce services, such as product storage, inventory management, same-day, and next-day delivery, WMS software, a pan-India distribution network, order tracking, and more. It also offers value-added services, such as customized packaging, FBA preparation, Flipkart preparation, Seller Fulfilled Prime, Nykaa fulfillment, and much more.
NimbusPost: NimbusPost offers many services, including automated shipping, a choice of shipping carriers, an AI-powered fraud detector, a recommendation engine, a warehouse network, international shipping facilities, and much more.
Shiprocket: Shiprocket provides a vast array of facilities, such as no minimum shipment requirements, zero monthly fees, packaging facilities, API integrations, prepaid COD, and much more.
NimbusPost vs Shiprocket vs WareIQ: Integrations
WareIQ: WareIQ offers multiple eCommerce marketplace integrations through its custom WMS with platforms such as Amazon, Flipkart, Meesho, and Myntra, among others. Integrations with website builders, such as Magento, Shopify, WooCommerce, and more, are also enabled. This enables users to track their order and inventory data across platforms, get real-time updates and manage orders once they are confirmed.
NimbusPost: NimbusPost offers integrations with multiple leading website builders such as Shopify, Etsy, WooCommerce, and more. The company also provides integrations with various courier partners so you can monitor important orders and shipping-related information.
Shiprocket: Shiprocket enables integrations to most of the main worldwide fulfillment platforms such as Amazon, Magento, Shopify, and others. This provides perks such as being able to track orders across platforms, manage your inventory, syncing important information, and much more.
NimbusPost vs Shiprocket vs WareIQ: Unique Selling Point (USP)
WareIQ: In order to provide solutions at every level of the supply chain, WareIQ offers a full-stack technology platform. Customers can choose the exact services they need, starting with warehousing, inventory management, packaging, order tracking, shipping, and everything in between.
NimbusPost: NimbusPost provides a seamless and efficient shipping and distribution experience by consolidating courier partners, providing integrations with selling platforms and automating various shipping processes.
Shiprocket: Shiprocket seeks to offer cost-effective shipping solutions to a wide audience and make efficient distribution facilities easily accessible. The company offers a large number of integrations and automation.
NimbusPost vs Shiprocket vs WareIQ: Packaging
WareIQ: WareIQ provides retailers with the choice of custom packaging where they can customize every aspect of their containers and boxes, standard packaging, and WareIQ-themed packaging.
NimbusPost: NimbusPost does not offer customisable packaging facilities.
Shiprocket: Shiprocket provides branded packaging facilities as per the requirements of its customers.
NimbusPost vs Shiprocket vs WareIQ: Cold Storage Facilities
WareIQ: WareIQ provides cold storage facilities in most fulfillment centers.
NimbusPost: NimbusPost does not provide cold storage facilities in their warehouses.
Shiprocket: Shiprocket does offer cold storage facilities in select warehouses.
You May Like: ithink logistics vs shiprocket vs wareiq
NimbusPost vs Shiprocket vs WareIQ: Feature Comparison Summary Table [Updated 2023]
Company ➡️
Features ⬇️
WareIQ
NimbusPost
Shiprocket
Core Business
All-encompassing fulfillment solutions such as inventory storage, warehouse management, shipping, last-mile delivery, eCommerce marketplace integration and much more.
Shipping aggregation and logistics
Shipping aggregation and logistics
Unified OMS & WMS
(Fulfillment Tech Stack)
Yes
Yes
No
Smart Inventory Placement
Yes, enables same/next-day delivery
and prevents inventory bloat
No
No
AI-based Inventory Forecast & Replenishment
Yes
No
No
Periodic Reports for Inventory Planning & Management
Yes
No
No
Fulfillment Centers
Yes, managed in-house
Yes, outsourced FCs
Yes, outsourced FCs
Dark Stores
Yes
No
No
Integration with Top
Courier Partners
(Last Mile Delivery)
Yes
Yes
Yes
RTO Prediction & Insurance
Yes, with insurance claims managed internally
No
No, but RTO management through WhatsApp notifications available
Branded Tracking
Yes
Yes
Yes
Notifications/Alerts
(Post Ship Experience)
Yes
Yes
Yes
Key Account Manager
Allocation
Yes
No
Yes
Onboarding Support
Yes
Yes
No
Troubleshooting Support
(Customer-Success Led Seller Enablement Services)
Yes
No
No
Returns Management
Yes
Yes
Yes
SPF Claims Filing
Yes
No
No
Conclusion: What Makes WareIQ the Best Choice for eCommerce Fulfillment Among NimbusPost, Shiprocket, and WareIQ?
Having a competent fulfillment partner that uses the latest technology and provides the best facilities can take a severe amount of strain away from you and your business. Order fulfillment is one of the most important tasks in eCommerce as it ensures that customers get what they pay for and is often the determining factor as to whether they will choose to purchase from your business again or switch over to a competitor. NimbusPost vs Shiprocket vs WareIQ is a difficult choice because each company has their own special features and core offerings.
However, because both NimbusPost and Shiprocket are mainly shipping aggregation companies, they lack some of the value-added services that make WareIQ such a good option for almost any eCommerce task. We recommend partnering with WareIQ because it offers the most diverse feature set at the most competitive prices. We guarantee that you won't be disappointed.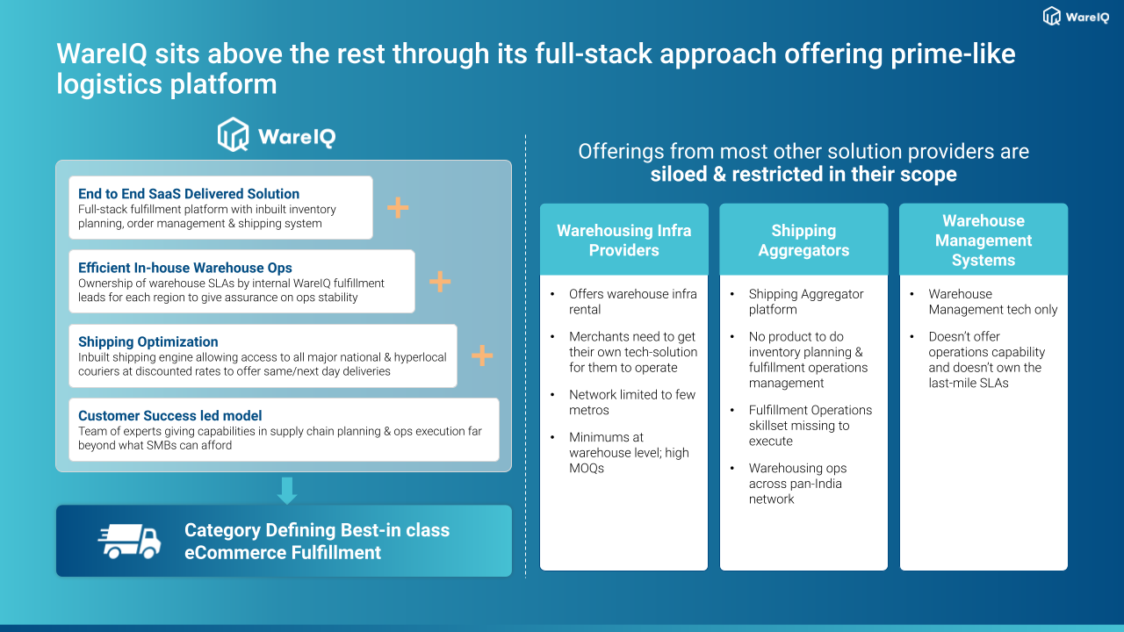 WareIQ is an up-and-coming eCommerce fulfillment provider that was pioneered in 2019 and currently offers some of the best services in the industry. Some of WareIQ's premier offerings are listed below:
Inventory Storage: We provide a nationwide fulfillment center and dark store network
Warehouse Management: We provide a custom WMS that automates many warehouse procedures
eCommerce Marketplace Integrations: You can integrate with more than 20 online selling platforms, such as Amazon, eBay, Flipkart and more
Productivity Enhancement: We offer a custom app store with multiple apps
Returns Management: We handle reverse logistics and protect you from the negative impacts of returns
Branded Tracking: We provide branded tracking pages that can convey information to your customers in an attractive way.
Customized Packaging: We offer customizable packaging that can be personalised according to your liking.
Ultra-Fast Delivery: We provide exceptional same-day and next-day delivery services
Choice of Shipping Aggregator: We provide a choice of more than 12 shipping companies
Shipping Badges: We provide Prime-like shipping badges that indicate delivery speed
NimbusPost vs Shiprocket vs WareIQ FAQs