10 Impactful Logistics Innovations & Logistics Industry Trends in 2022 That are Changing the eCommerce Landscape
eCommerce as a whole refers to online retailers that sell products via their own websites or marketplaces through a variety of processes that entail all the activities involved in driving customers to their page to buy their products by enhancing their brand visibility through ad campaigns, setting up attractive product listing pages and offering value-for-money deals. Once a customer takes the bait and decides to eventually purchase an item, one of the most essential procedures in eCommerce commences – logistics.
This includes all the processes involved in selecting, packaging and shipping orders to the destinations of their relevant customers. Because competition in the fulfillment space is getting rife, companies are increasingly required to offer shorter delivery times for reduced shipping and operational costs. This is where logistics innovations can make life tremendously easier for both sellers and their customers. In this blog, we will take a look at what logistics innovations are, their importance and 10 logistics industry trends that are taking the eCommerce industry by storm in 2022.
What are Logistics Innovations?
As mentioned above, eCommerce logistics consists of all the operations involved in successfully delivering an order to the end customer, which is made possible by the large number of logistics innovations that have taken place in the past decade or so. Logistics innovations include any factor, including technological advancements, streamlining of logistical procedures, adopting of innovative strategies and more, that can enhance the capabilities of a company's logistical processes to help them fulfill a larger number of orders in shorter periods of time with lower overall logistics costs incurred and fewer errors that can cause disruptions.
WareIQ – Amazon-prime Like Logistics for Modern Brands in India
WareIQ, an eCommerce fulfillment company, empowers online brands with a superior-tech platform to compete with Amazon like service levels by bringing their average delivery timelines from 5-10 days to 1-2 days.
"With WareIQ, UTH is able to consolidate common inventory for all platforms and get much closer to the customer through access to WareIQ's strong nationwide network of fulfilment centres, and last mile & hyper-local courier partners.

We are excited about being able to offer

same day delivery

in several pin codes due to

WareIQ

.

"
Importance of Logistics in eCommerce
Decreases Delivery Times
When firms have a sound logistics strategy in place and employ the use of logistics innovations and technology, delivery times get drastically reduced and this creates an advantage for retailers because there is more breathing space to fulfill a larger number of orders in the same timeframe, and for customers because they will receive their orders in the shortest possible time frame.
Results in Innovative Strategies
Because retailers constantly strive to fulfill orders in the quickest time and at the lowest possible price to out-compete their rivals, they constantly rely on logistics innovations to streamline various procedures to make them more efficient and cost-effective. This results in companies experimenting with different technologies and tactics, and if something works that haven't been tried previously, it can gain popularity and be adopted on an industry-wide scale, which will benefit every retailer and their customers.
Increases Sales Velocity
Efficient use of logistics innovations and having a sound logistics strategy will enable firms fulfill a larger number of orders during a particular time period which will encourage firms to spend more resources on marketing and advertising their products to make use of all the extra logistics abilities on tap. Hence increasing sales velocity. This will generate more income and result in higher profit margins for eCommerce sellers.
Improves the Customer Experience
When placing online orders, the main thing customers desire is for their purchase and delivery process to be as seamless and quick as possible. Happy customers are key to the success of any business and especially ones that operate in a vastly competitive industry such as eCommerce. By making use of logistics innovations and taking part in logistics industry trends, companies can deliver the highest quality service to their customers, which will result in positive customer feedback and reviews and in turn, more customers.
Segments Expenditures
Because logistics encompasses a variety of operations and provides a means to track expenses across different departments, retailers can use it to get insights into the expenses of those procedures and can figure out how to reduce costs wherever possible. Sellers can use this information to budget themselves more methodically and eventually become more profitable.
10 Latest Logistics Innovations and Industry Trends in eCommerce in 2022
Customizable Warehousing
Not all eCommerce retailers have the same or similar eCommerce warehousing requirements or the same amount of resources to spend on storage facilities. For firms that require temporary storage facilities, especially those that routinely deal in seasonal products, on-demand warehousing is increasingly being used to fulfill these specific requirements. The premise is that sellers are connected with warehouses that fit their needs and offer storage on a temporary basis for a much lower amount than conventional warehouses.
Speedier Last-Mile Delivery
As customers grow more accustomed to recovering their orders as soon as possible, the importance of a competent and professional last-mile delivery procedure is imperative to the success of a retailer. Last-mile delivery refers to the final journey of an order from the dispatch point to the customer's destination and firms are constantly trying to find ways to speed it up. With an average of 28% of a firm's total costs being spent on last-mile delivery, they can benefit from streamlining it. You can also know more about how last mile delivery companies can help in the same.
Advanced WMSs
Warehouse management systems are of the utmost importance for eCommerce firms to manage their warehouse processes, especially those that deal in large amounts of inventory spanning across multiple fulfillment centers. WMSs take care of tasks such as inventory management, order consolidation, tracking data across platforms and more. Investing in a WMS can have a major positive impact on how firms manage their inventory and the speed and accuracy at which they can dispatch orders. know more about how WMS software can help with logistics processes.
Enhanced Implementation of Automation
There are various components of the fulfillment cycle that are increasingly using automation as a way to reduce the need for manual labour. Automation is one of the most important logistics industry trends as it not only speeds up processes and reduces the amount of effort required from the on-the-ground team but it also reduces the frequency of errors. Automation can be used in various ways starting from the automation of warehouse tasks such as storage and product selection to assigning the relevant last-mile delivery service and more.
Cloud-Based Solutions
eCommerce as an industry relies on the raw power of the internet for the majority of its services whether it is a customer browsing a website or online listing and paying for it online or a firm tracking its inventory across multiple fulfillment centers and consolidating orders from different online selling platforms in one dashboard so they can be monitored more easily. This is all made possible through cloud computing and internet-based services which are made available to retailers through their marketplaces on the selling front and 3PL companies on the operational front.
Geolocation Services
Geolocation services are one of the most prominent eCommerce trends that are visible to sellers in the form of tracking inventory and receiving real-time updates across multiple warehouses, and customers in the form of order tracking facilities that keep them posted on every development and update about their order until it reaches them. Geolocation is not only important for retailers to manage their inventory but also to mitigate customer apprehension and increase their confidence by providing more visibility and transparency regarding their purchases.
Drones for Delivery Purposes
The latest developments in logistics innovations have led to the mainstream adoption of drones to deliver orders, especially to locations with limited accessibility by conventional vehicles. While drones are already being used in developed countries for delivery purposes, they are progressively being adopted in developing markets due to the benefits they offer such as lowering costs, providing faster delivery, not being restrained by geography and much more.
Crowdsourced Delivery Methods
Crowdsourced delivery is one of the logistics industry trends that is becoming more prominently used. It refers to the leveraging of local courier services by retailers to deliver parcels to customers on a large scale. By consolidating multiple orders together and delivering them one by one, crowdsourced delivery can increase the speed and efficiency of last-mile delivery. This method is already widely used in the food delivery industry and is increasingly being used for eCommerce deliveries as well.
Reliance on Data and Metrics
eCommerce as an industry relies heavily on numbers and logistics as a process necessitates the use of analytics and data to gauge the efficiency of various operations by analysing costs, performance, customer receptiveness and more. By using data to come to conclusions, firms can make the necessary changes and improvements to whichever processes require it so that the entire logistics process can be streamlined as much as possible.
Self-Shipping Vehicles
While still in various stages of testing in different parts of the world, self-shipping services through automated vehicles are one of the logistics innovations that should become widely used in the next couple of years. While it would be more difficult to implement in developing countries due to road conditions, hazards, overcrowding and other factors, the technology has gone through multiple successful trial runs in countries like the US and should be ready to deliver products in the not-so-distant future.
You May Like: 10 Prominent and Latest eCommerce Shipping Trends for eCommerce Sellers to Watch Out For in 2023
Conclusion: Take Advantage of Logistics Innovations With WareIQ
Logistics is a very important part of eCommerce services as it enables products to be successfully delivered to their required destinations. There are many new logistics innovations and trends that are taking hold of the eCommerce space which are bound to improve the experience of retailers and customers alike by enabling faster, cost-effective and more efficient deliveries to a wider range of locations. If you are an eCommerce retailer that needs assistance with your logistics services, you can take advantage of WareIQ's offerings.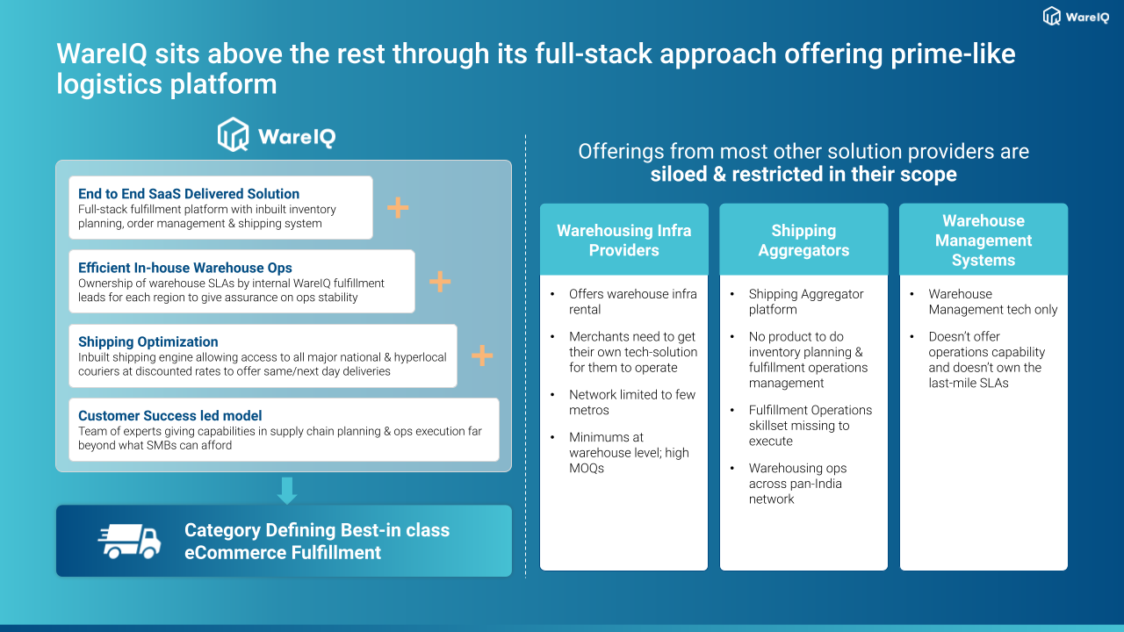 WareIQ has emerged as one of the fastest-growing eCommerce fulfillment companies in the nation. Through our wide utilization of technology to provide various solutions, WareIQ's services are often more efficient, innovative and cost-effective than the rest. When it comes to eCommerce logistics, WareIQ as an eCommerce logistics company offers multiple services, some of which are listed below:
We offer a pan-India network of fulfillment centers, logistics centers and dark stores
We provide intelligent inventory storage based on proximity to areas of high demand and transport facilities
We provide a choice of more than 20 major shipping carriers and always assign the fastest and cheapest option for every order
Our branded tracking pages can be customized to your liking to provide a highly personalized experience to your customers
Our custom WMS can integrate with more than 12 eCommerce platforms and can track and update inventory in real-time across multiple fulfillment centers
We provide reverse logistics services and an RTO Shield to mitigate the damage caused by returns
Logistics Innovations: FAQs