Future of eCommerce Shipping | 10 Prominent and Latest eCommerce Shipping Trends for eCommerce Sellers to Watch Out For in 2023
Every industry is subject to changing trends and newly introduced technologies and features. eCommerce is even more affected by the latest fads due to its highly competitive nature. For instance, if one company pioneers a service that has the potential to change the eCommerce landscape for the better, such as what Amazon did with same-day delivery service and order tracking, the onus is on other companies to follow suit and implement similar services, to avoid losing customers to businesses that have been able to successfully adapt.
Shipping is one of the most crucial and painstaking eCommerce activities as it enables orders to be delivered to their customers on the specified date and time. There are constantly new eCommerce shipping trends that revolutionize the way orders are delivered to their customers. In this blog, we will examine the importance of keeping up with eCommerce shipping trends, the top 10 trends that are currently taking place, and the future of eCommerce shipping.
What are eCommerce Shipping Trends?
eCommerce shipping includes all the processes involved in getting an order to a customer's doorstep, including preparing an item for dispatch, picking it up from the warehouse, transporting it to the customer's location, and using last-mile delivery partners to get it to their doorstep. eCommerce shipping trends refer to the introduction of various technologies and services that can have a profound impact on changing or improving eCommerce shipping procedures.
Additionally, they can also refer to the implementation of certain methods for conducting various tasks and processes on a massive scale by several eCommerce sellers, necessitating other retailers to follow suit for fear of being left behind if they don't get on board. Some examples of past eCommerce shipping trends that have contributed to the way sellers currently ship their products include the enhanced popularity of same-day delivery, cross-border shipping, providing order tracking facilities and much more.
WareIQ – Amazon-prime Like Logistics for Modern Brands in India
WareIQ, an eCommerce fulfillment company, empowers online brands with a superior-tech platform to compete with Amazon like service levels by bringing their average delivery timelines from 5-10 days to 1-2 days.
"With WareIQ's full stack digital enabled fulfillment solution, we got access to the pan India network of fulfillment centers & cold storage facilities enabling same/next day delivery, without any upfront investment in supply chain infrastructure from our end. During the IPL campaign in April 2022,

WareIQ efficiently

handled unpredictable 200x surges in daily order volumes

of ~20k/day with a

99% fulfillment rate

. With WareIQ as our preferred fulfillment partner, we witnessed 172% growth in online order volume in just 4 months, with a significant improvement in the overall customer experience in fulfillment."
Importance of Monitoring eCommerce Shipping Trends in 2023
Enhances Customer Satisfaction
By monitoring and taking advantage of eCommerce shipping trends, you will be able to provide a better overall experience to your customers. eCommerce shipping trends gain popularity because they bring something new to the table that may not have been implemented before.
Therefore, by utilizing the services and technologies that are made popular by certain trends, you can offer your customers the bleeding edge in terms of order fulfillment – something that they're sure to appreciate. The positive customer feedback and reviews will make them more likely to make repeat purchases and will spark interest from potential customers that may have been on the fence.
Reduces Shipping Expenditures
As is laid out above, trends become trends by introducing new and improved ways of doing certain tasks. While the end result of staying on top of eCommerce shipping trends would ultimately be the same – delivering products to customers – the time and money spent would drastically reduce.
This is due to the fact that advances in technology and services are often more expensive when it is newly introduced but fall dramatically when it starts to become mainstream. Thus, if you are able to identify trends beforehand, you can make use of it once it starts to become more broadly adopted.
Increases Competition
While this may not necessarily be a direct benefit for your business, it does pave the way for the hastening of trends becoming more widespread, contributing to the lowering of costs and scrambling by other companies to find a worthy alternative.
Just like how customers benefit from increased competition by getting access to the best products and services at the cheapest prices, your business will benefit from other companies researching and introducing new and more efficient ways of conducting shipping operations. However, this does also mean that you need to stay on your toes and offer a service if it becomes pervasive.
Streamlines Various Procedures
Keeping up with eCommerce shipping trends can assist businesses with streamlining their operations and improving their efficiency, which can help them save time, effort, finances and resources.
Since eCommerce shipping involves multiple different processes, enhancing the efficiency of even one of them can have a snowball effect on procedures further down the line, resulting in an overall more well-put-together shipping experience for both your business and customers.
Improves Flexibility
By following up with shipping trends, businesses can access a wider range of shipping options and be more competent at adapting to changes in the market or the needs of their customers. You will be able to preemptively make decisions based on the nature and scope of various trends, resulting in your business being more prepared to handle challenging situations.
Additionally, if a trend introduces a new feature, you can be one of the early adopters and test the waters to see if it is worth the hype.
What is the Future of eCommerce Shipping and Where Is It Heading?
The future of eCommerce shipping looks bright and full of potential for innovation and growth. With the consistently rapid expansion of the eCommerce user base in terms of both sellers and customers in the past few years, there has been an increasing demand for efficient and reliable shipping options that can meet the needs of consumers.
Overall, the future of eCommerce shipping is full of potential for innovation and growth. As technology continues to advance and consumer preferences evolve, we can expect to see a range of exciting developments in the way packages are delivered to customers. Here are a few statistics that showcase the direction eCommerce shipping is heading in:
73% of online shoppers specified that they were placing more online orders than in previous years.
18% of the total retail spending in the world is generated by eCommerce.
44% of consumers indicated that they were willing to only wait 2 days to have their orders shipped.
57% of eCommerce customers have shifted to purchasing online from conventional brick-and-mortar stores.
56% of Gen X and 55% of Millennials, the age groups that make up the majority of the world's population, prefer having their orders shipped to them than the other way around.
10 Emerging eCommerce Shipping Trends to Watch Out For in 2023
Increase in International Shipping
eCommerce, unlike conventional brick-and-mortar stores, is not subject to the restrictions on international distribution imposed by country borders. The industry is expected to grow by $44 billion by 2025. It has become common for customers in one part of the world to order products that are listed, sold and manufactured in a completely different part of the world.
Due to the rapid emergence of globalism and all the benefits that come with it, including being able to seamlessly distribute products globally, eCommerce retailers and customers alike are more inclined to take advantage of the tools at their disposal. International shipping enables sellers to locate a region where they can manufacture their goods at the cheapest rates and sell their products in a market that commands the highest prices.
Accelerated Expansion in Rural Areas
With more and more people gaining access to the internet every day and making a concise effort to change their age-old habits and use it for their everyday needs, eCommerce is expanding like never before to distant and isolated rural areas. This trend is especially prominent in countries like India, where it is possible to witness seemingly overnight changes in many regions.
While the Indian population sits at around 1.4 billion, the total internet user base was just 300 million people in 2017. Since then, it has more than doubled, with 750 million users in 2020 and is estimated to reach 1.5 billion people, more than the current population of the country, by 2040. This will result in even more people choosing to use eCommerce for their everyday needs and will necessitate that sellers begin to streamline eCommerce shipping.
Advent of Hyperlocal Order Fulfillment
Hyperlocal delivery refers to the eCommerce shipping strategy that is currently used by most food and grocery delivery apps. Having strategically located hyperlocal or "dark" stores scattered across areas of high demand enable sellers to drastically reduce the amount of time it takes to deliver their products to their customers.
Same-day and next-day delivery has been replaced by 30-minute and even 10-minute delivery timelines. Trends like this have resulted in eCommerce retailers needing to streamline shipping processes for eCommerce to take advantage of the increased visibility and convenience that customers associate with it.
Use of Drones and Other Advanced Technology
Drones are being tested for use in delivering packages to remote and hard-to-reach areas. Companies like Amazon have already implemented the use of drones for various delivery circumstances. eCommerce shipping trends such as this, although still in early in their lifecycle, have the potential to revolutionize the way packages are delivered and make shipping faster and more efficient.
Other new technologies that could shape the future of eCommerce shipping include self-driving delivery vehicles and augmented reality technology to assist with package tracking and delivery. Once these technologies become mainstream, consumers will start to have more interaction with them, resulting in a better overall experience.
Accelerated Shipping Speeds
Providing ultra-fast delivery has been important for quite some time now, a sentiment that is reiterated by the fact that over 61% of customers would voluntarily pay more to get access to faster shipping. In years gone by, customers wouldn't complain if their order reached them in a week. However, if the same thing were to happen today, they would instantly take to social media and online forums to voice their displeasure.
Additionally, some sellers offer even quicker delivery times, such as 30-minute and even 10-minute deliveries to certain locations. The hyper-competitive nature of eCommerce has necessitated that retailers adopt features as soon as they become popular and due to the resounding success of ultra-fast delivery when it was first introduced, the entire industry has jumped onto the bandwagon.
Enhanced Focus on Sustainability
In our increasingly aware world, focusing on sustainability has become one of the most persistent eCommerce shipping trends. Many companies are focusing on eco-friendly packaging and reducing the carbon emissions and overall footprint of their shipping operations.
Achieving this does not come easy and companies have had to go through massive changes to various tools and processes in order to generate success in being sustainable. Additionally, there is the added pressure of any mishaps or issues spreading like wildfire on social media so it is important for companies to ensure that they are reducing their contribution to global warming and pollution.
Rise of Branded Packaging
The unboxing experience is one of the most important factors in the entire purchase. After customers have spent their hard-earned money on purchasing a product and have waited patiently for it to arrive, they want to see a well-protected, well-designed package that feels premium and gives a sense of luxury.
Therefore, many brands have started providing branded packaging where every element of the box and outer layers can be customized with various designs, materials, logos and more. It also provides much-needed publicity to the company's brand itself, so if a customer is happy with their experience, they know who to thank. Over 40% of all eCommerce customers also share their unboxing moments on social media, contributing to eCommerce shipping trends like this one.
Implementation of Artificial Intelligence and Machine Learning
Artificial intelligence and machine learning can help eCommerce companies optimize their shipping processes and improve efficiency. For instance, AI can be used to predict shipping demand and route packages in the most efficient way possible, reducing costs and delivery times.
It can also perform tasks such as assigning the quickest and most cost-effective shipping carriers, determining the quickest route to a given destination, tracking orders across multiple fulfillment platforms, placing replenishment orders and much more. Another advantage of AI and ML is that because they are software tools, they are constantly being refined and updated with new features and capabilities.
Use of Omnichannel Order Fulfillment
Omnichannel order fulfillment occurs when retailers list and sell their products on multiple selling platforms. Advances in technology and integrations have enabled sellers not to put all their eggs in one basket and branch out to different online marketplaces so that they can get the maximum exposure and generate the most sales.
For instance, a retailer may have more sales on Amazon than Flipkart but combined, they will have more sales than if they were selling on each channel individually. As a result, the number of orders that need to be shipped and delivered increases exponentially and sellers need to take the necessary steps to scale up their operations.
Choice of Shipping Carriers
In addition to traditional carriers like FedEx and UPS, some eCommerce companies have increasingly started using alternative carriers, such as USPS, DHL and more. This can help businesses find the most cost-effective and efficient shipping options for their products.
It also helps reduce the effects of unwanted shipping delays and unforeseen circumstances by providing multiple alternatives so that orders can still get fulfilled on time. This ensures that customers can still receive their orders, despite challenging situations, increasing their faith and satisfaction in the brand they ordered from, prompting them to consider the same company for future purchases.
Conclusion: Stay On Top of eCommerce Shipping Trends in 2023 With WareIQ
eCommerce shipping has come a long way in recent years, introducing various convenience and lifestyle features that have contributed to an ever-increasing amount of people using eCommerce for their everyday requirements. It continues to evolve and adapt based on the changing state of technology and consumer expectations. Staying up-to-date with the latest eCommerce shipping trends can help your business improve its operations, reduce costs and better meet the needs of its customers.
By keeping an eye on these trends, you can stay relevant and competitive as the eCommerce market continues to be inundated with sellers from every sector and industry. If you need assistance with monitoring eCommerce shipping trends, delivering orders to your customers and having a vast amount of shipping partners at your disposal, WareIQ could be the right choice for you.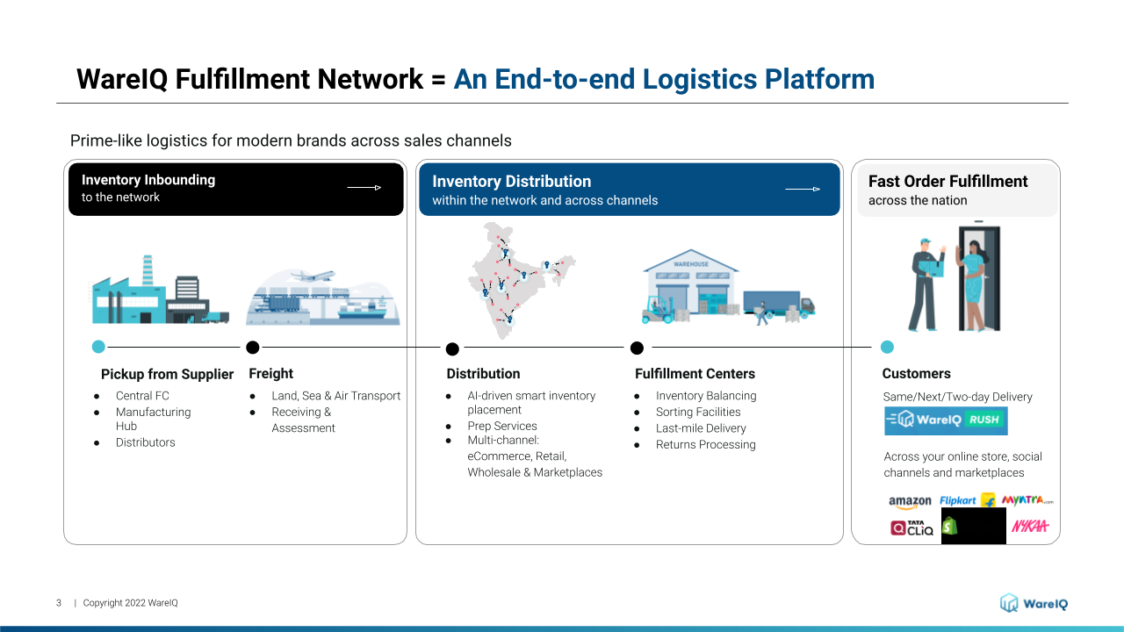 WareIQ is one of India's fastest-expanding eCommerce fulfillment companies. We provide a vast range of services that can contribute to the efficient operation of your eCommerce shipping procedures. Some of them are listed below:
International and Domestic Shipping
Through our WareIQ Global service, retailers can ship their products locally and to more than 220 countries and territories around the world. We also provide storage facilities, last-mile delivery and more, both domestically and internationally.
Last-Mile Delivery
We help retailers with the last leg of the delivery process by ensuring their products are picked up from the warehouse after they have been transported to the relevant customer's city and delivered right to their doorstep.
Choice of Shipping Aggregator
We have partnered with more than 20 of the largest shipping services in the country and automatically assign the fastest and cheapest option for each individual order to enhance customer satisfaction, in addition to providing ultra-fast same-day and next-day delivery.
No Minimum Order Requirements
Unlike other 3PL fulfillment companies, we do not have any minimum order requirements for packages to be shipped. Additionally, we give users a choice of services they want to opt for and they pay only for the facilities they use, which increases their profit margins and reduces their prices.
RTO Shield
Our custom RTO Shield employs methods to minimize RTO requests and prevents retailers from incurring RTO expenses through liability protection and insurance.
eCommerce Shipping Trends: FAQs