Google Shopping Ads Optimisation: How To Optimize Google Shopping Ads Campaigns For Online Retailers in 2023?
Now that your campaign is set up and launched, you know what it takes to run a campaign and what that implies.
You must be considering what you should do next to increase conversions. It is stated that the higher the click-through rate (CTR), the higher the conversion rate.
That's not quite accurate; there is still more work to be done.
Understanding how to optimize Google Shopping Ads campaigns for the most notable outcomes is the next step.
It's essential to note right away that this will be a continuous process; as long as a campaign is active, you'll be adjusting it and making changes to see what generates the most revenue.
The success of your product advertising depends on how well you optimize google shopping ads. The first step is to create a flawless data stream. A high-quality feed, however, needs to be improved. Therefore, google shopping ads optimization is an additional crucial step. By doing this, you can increase sales and save money by avoiding strategies on products that are performing below your expectations.
In this article, we will walk you through the 12 most crucial best practices that are indeed required to optimize the Google shopping ads campaign.
What are Google Shopping Ads?
When people are looking for items on Google, Google Shopping provides an automated advertising network that allows online retailers to directly market their products to customers with high buy intent. When a customer searches for a product, Google Shopping ads are displayed in their Google search. Google will display the products that best match the search query. The product listing of the ad owner will appear when the advertisement is clicked. The product heading, cost, pictures, reviews and occasionally, shipping details are all displayed in the Google Shopping ad. While Google ads are accessible in the majority of nations, Google Shopping is currently accessible in 94 nations (with others having limitations or being in testing). Any online store's scaling and online marketing strategy must include Google Shopping ads.
How do Google Shopping Ads Campaigns Help Generate Sales?
Increases Visibility
Google is used to investigate potential online purchases by more than half (51%) of consumers. In addition to online purchases, 59% of consumers indicated they research possible purchases they want to make in-store or online using search engines. Due to its enormous volume of users, Google is a crucial channel for acquiring new clients, both online and offline.
Grows Initial Demand
At the onset of the buyer's journey, when they are looking for potential answers to their problems, your adverts are displayed prominently. By developing brand recognition early in the buyer's journey, you can get an advantage over your rivals and influence a customer's purchase decision. When making a purchase, individuals are more inclined to go with a well-known brand.
Enhances Targeting
To reach customers at various phases of the buying process, you may tailor your potential target audience and ad execution settings for Google Shopping ads. To improve ad effectiveness and return on investment, you can customize advertisements based on where clients are. 85.3% of total clicks on Google Shopping and Adwords campaigns together come from Google Shopping ads. This means that in addition to contacting customers early on, you can also target them with advertisements during key stages of the purchasing process when they're most likely to convert.
Uses the Influence of Images
Research indicates that just 3 days after listening to something, only 10% of it is likely to be retained in your memory. However, that memory rate increases to 65% when the same information is combined with a pertinent image. Images of your products can be displayed in Google Shopping ads as long as they adhere to their rules, unlike regular Google search results. Google Shopping Ads lets you show customers how fantastic your product is rather than just telling them about it.
12 Best Practices To Optimize Google Shopping Ads Campaigns in 2023
To get the best results, you need to do more than move your shopping to Google; you also need to ensure that your company's feeds are optimised for search engines. So how do you approach achieving that, then?
Here are the 12 best practices to optimize google shopping ads campaigns listed below:
Perform Competitor Analysis
You will profit and be able to improve your campaigns by conducting research and learning what your competitors are doing and what is effective for them.
Consider this like they are experimenting to see what will lead to significant conversions. Researching them will reveal the results of their experiments.
Give one of your products a quick Google search and select the Shopping tab, using your product feed as an example. Is there another vendor listed above you? Great, examine their product and contrast the information with your own. For example, do they have more photographs, a favourable price, or a better product description?
This is just one of the examples of how you may use competitor products to your campaign's advantage. I hope you got the point.
Optimize Your Product Feed
Improving your product feed is the first step to optimize google shopping ads, as google's algorithm utilizes this information about your products to display your adverts.
Your chances of appearing for the right clients increase as you make it simpler for Google to "read" the information about your products. Of course, your file may already include all the information required; it's just that it needs to be organised in a way that Google can readily interpret it.
To start noticing better results by optimizing google shopping ads product feed, start by enhancing your product titles. By tweaking the product title, you can anticipate a 10-fold boost in traffic volume. The following techniques for improvising product titles are simple:
Optimize Your Product Title
Include the brand name in the title – Brand names can increase the product's validity and make it appear more enticing. When preparing to make a purchase, devoted customers frequently include brand names in their search queries.
Include Gender – Although it's sometimes forgotten, including the gender in the product title can be advantageous. It enhances the likelihood of narrowing down to product related audience. It might assist you in tailoring the title to the particular gender you want to reach. Such as "Women's Running Shoes."
Incorporating the Manufacturing Partner Number (MPN) – MPN at the end of the title draws the attention of users who are likely to purchase. Customers with high intent will identify the product's unique identity number, particularly when buying hardware products.
Include colour, pattern, and size – When making an online purchase, colour, pattern, and size are crucial considerations. The easiest way to create a product title is to include this information. It gives the product title a clear, descriptive appearance.
Improve Your Product Descriptions & Categories
Regarding decision-making, product descriptions and classifications are regarded as of the utmost importance. More than 88% of consumers take the details from the product feed description into account. It would be best if you abode by all Google's suggested prerequisites to optimize google shopping ads better. The visibility on SERP will rise thanks to an enhanced product listing feed, which will boost CTR.
Optimize Products Images
Google shopping ads optimization involves enhancing the quality of product images, which is one of the ways to differentiate yourself from the competition. Product photos are seen to be the most crucial for customers to make a purchase. Therefore, the performance improves as the graphics look more enticing!
More than 82% of consumers, according to intriguing survey research, would click on a shopping advertisement that shows a model using the goods rather than an image of the item alone. When choosing the final product feed photographs, keep the following things in mind:
Make sure the product is visible in the image.
It seems more enticing when the lighting is high quality.
Try providing an image of a model wearing the goods rather than just the thing itself.
The URL link to the product page and the picture link should be considered.
Utilize Split Testing
It is also known as A/B testing since you can only sometimes predict which image, title, description, or another attribute will capture their interest and which will perform poorly, even if you believe you know your clients well.
Image A/B testing
It's crucial to A/B test the graphics for optimizing google shopping ads campaigns to determine which ones perform best. First, try out several image modifications, then evaluate the results.
With this information, you can modify your photos and raise the effectiveness of your advertisements. Making assumptions would be a horrible strategy if you are serious about marketing.
A/B Testing Product Titles
The same strategy should be applied to product titles. Invariably, some titles perform better than others.
You can run two different versions of titles concurrently throughout your product portfolio using several feed management tools, such as Hubspot and Optimizely.
Build versions A and B of the specific product title using two alternative title structures, and compare which will perform well based on the success prediction score.
Utilize the Google Shopping Ad Extensions
The click-through rate (CTR) and conversion rates can be significantly increased by using ad extensions. There are two types of extensions that help in optimizing google shopping ads:
Using Merchant Promotions for special Christmas offers or other holiday or seasonal offers on the products. You can add visually appealing messages that, when clicked, open a different dialogue box with the special deal shown.
Also, Automated extensions include pre-made templates that you can edit to suit your needs. For example, you can include "free delivery" or "a 60-day exchange policy" to give your ads some originality and entice customers to click on them.
Employ a Negative Keyword Approach
It is firmly and frequently advised to utilize a negative keyword approach for google shopping ads optimization. You must routinely check your search query report to identify irrelevant negative keywords. Negative keywords are essential if you want your advertising to appear just for relevant keywords.
Negative keywords cause a reduction in the number of clicks on your advertising. A negative keyword approach can help you save money by increasing your quality score.
Increase Bids for High-Performance Products
It is strongly advised to consider unique bid management tactics that consider performance factors. For example, you can use a customized bid management technique to influence the number of ad impressions for a particular product, brand, or category.
For instance, you should lower the bids for products with low ROAS and raise the bids for products with excess inventory. Of course, you can do this manually at the campaign level, but the modifications will affect all the items in that campaign.
It can also be done at the product level, but that requires much manual labour and is laborious. Because neither choice is the best, Google has created Custom Bid Strategies.
Develop a Remarketing Strategy
Remarketing refers to the technique of prior retargeting clients of your business with advertisements. Remarketing tactics are highly advised for increasing conversion rates.
Dynamic Remarketing
You can utilize the Display Ad Campaign to display adverts to prior customers of your store as they browse the web. When Dynamic Remarketing is enabled, Google will use the data from the Merchant Center's Google Shopping feed to create tailored advertising based on the items that customers have previously visited.
Remarketing Lists for Search/Shopping Ads
The most popular remarketing approach for Google Shopping Ads in Shopify stores is remarketing lists for search/shopping ads. Remarketing lists are simple to create because they aren't part of a real campaign. Merchants and advertisers can apply Google Ads or Analytics to their campaigns to attach the audiences they have already created instead of constructing an entire campaign from scratch. The advertising will now be shown to a former visitor who searches for a product you sell based on the items they previously viewed on your website.
Consider Adopting the Performance Max Campaign
Even if you've only been running typical Google Shopping campaigns, you should still consider adopting this new campaign type because it handles everything for you.
The Performance Max campaign is a brand-new Google Ads campaign type that combines targeting and innovative bidding features. The primary objective of this campaign is to boost brand visibility and sales across the whole Google network. Smart bidding is used by Performance Max to real-time optimise ad performance.
Running a Performance Max campaign is something you should think about if:
You wish to target new customer demographics (across the Google Network).
It will help if you require a massive amount of information on audiences, the performance of your campaigns, and other things.
Your marketing strategy comprises a variety of goals.
You want to spend only a little bit of time working out your advertising approach.
Run Multiple Campaigns
Starting, you should focus on one campaign; there's no point in being overextended and setting yourself up for failure. However, creating a second campaign is a good idea if you've read through our tutorial, learned how to set up your google shopping ads campaign, and your first campaign is (nearly) running itself.
Remember that each campaign should have clear objectives, and starting a second campaign would allow you to pursue different goals.
Consider running a high-priority campaign concentrated on your discounted products if your first campaign is targeted at search terms for branded products. Experimenting is not anything to be afraid of because there are many options!
Conclusion
If you previously felt anxious about starting your Shopping advertising, you shouldn't feel that way anymore. However, if you are stuck, follow these recommended practices and their lead. Everything begins with your campaign organization and how you arrange your ads afterward.
Analyzing to ensure you have optimized google shopping ads campaigns appropriately is all required. This is only possible with continuous analysis and reporting.
How WareIQ Can Aid in Business Growth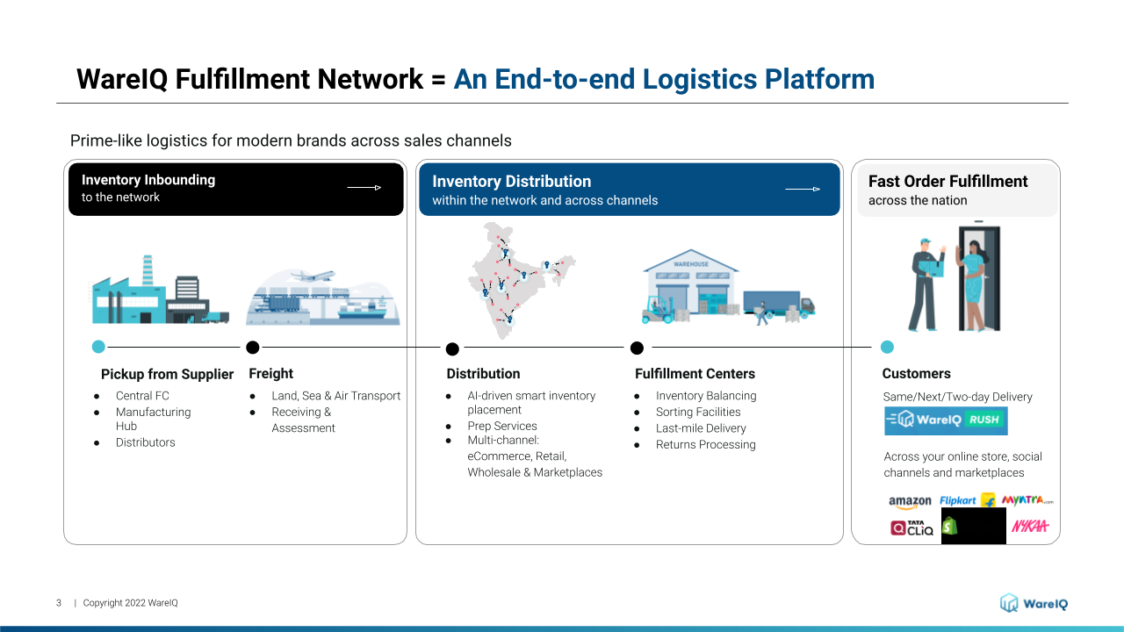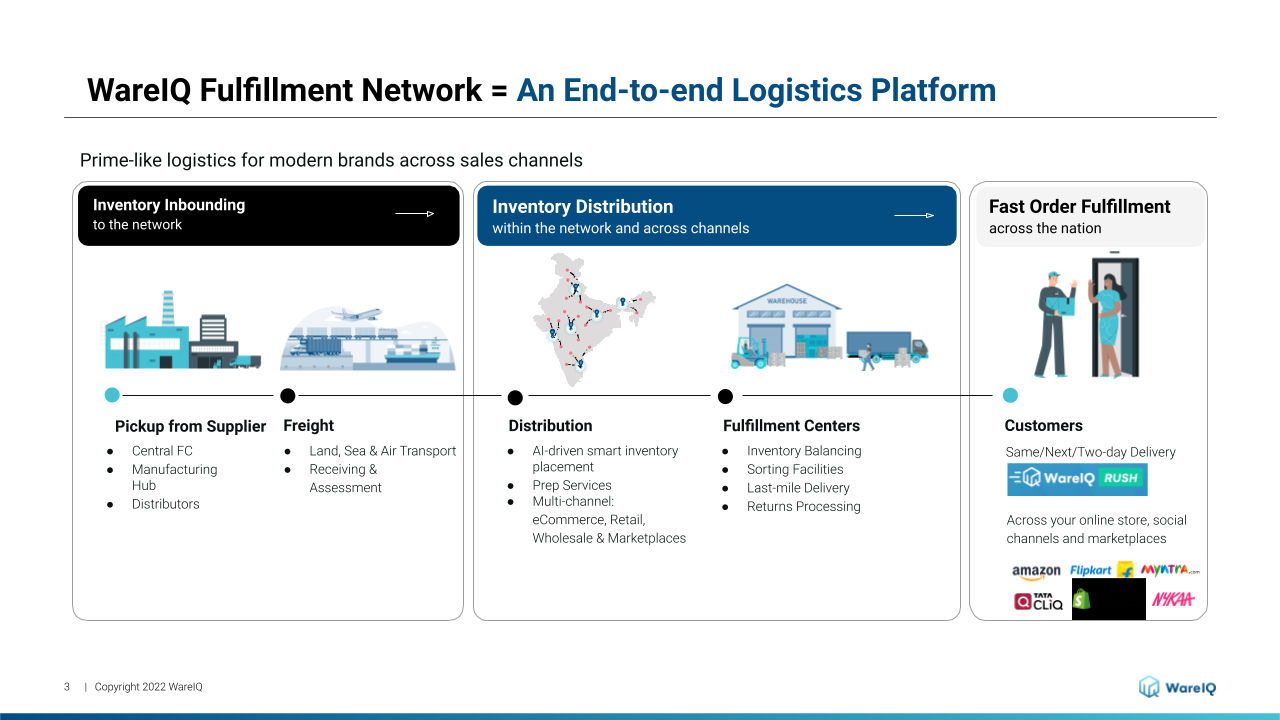 For B2B and B2C businesses aiming to ensure supply chain agility and promote long-term expansion, WareIQ is the appropriate 3PL partner.
WareIQ's WMS aids in managing the nation's fulfillment network by providing real-time access to inventory and order management data as well as visibility and transparency in fulfilling eCommerce operations and performance.
This allows business owners to take a break from daily tasks while still having access to crucial information and insights that affect a brand's operational and financial soundness.
Through a partnership with WareIQ, you may gain access to a strong logistics network, allowing you to focus on expanding your company and holding onto your market share while saving time and money.
Are you eager to know more about WareIQ's offerings if you sign up now? Find the features of the best-in-class, category-defining fulfillment services for eCommerce & D2C brands below:
Pan India Fulfillment & Darkstore Network: Plug-and-play fulfillment infrastructure with no minimums, which is compliant with Amazon Seller Flex, Flipkart Assured, Myntra and other marketplaces
Inventory & Network Planning Excellence: Best-in-class AI models for sales forecasting, product segmentation, and inventory management to reduce inventory by 40% and increase revenue by 10%.
Vertically Integrated Fulfillment Tech Stack: Our Fulfillment Tech Solution supports integrations with 20+ top marketplaces & D2C platforms, and prominent national, regional and hyperlocal couriers, enhancing reach by covering deliveries for 27,000+ pin codes
Supply Chain Productivity Applications: Integrate a host of supply chain productivity apps with a single-click to your existing CRMs, ERPs & accounting software to manage your logistics workflows from one command center. Use Apps like RTO Shield to get 100% RTO protection, Branded Tracking to turn your order tracking page into a profitable marketing channel, and many more.
Trusted by 300+ top Indian brands, we are helping them accelerate online sales and expedite their growth through a synergistic combination of advanced technology, robust fulfillment infrastructure & seller enablement services!WareIQ is backed by leading global investors including Y Combinator, Funders Club, Flexport, Pioneer Fund, Soma Capital, and Emles Venture Partner.
Optimize Google Shopping Ads FAQS