List of Top 10 Logistics Companies In Delhi NCR Providing the Best Logistics Services for eCommerce and Offline Brands in 2023
You need eCommerce logistics services for your eCommerce fulfillment if you sell products online. The right logistics services can boost your company's revenue and consumer satisfaction.
Delhi is the capital city of India, located in the northern part of the country. It is a bustling metropolis with a population of over 18 million people and covers an area of approximately 1,484 square kilometers. It is a major political, cultural, and commercial hub of India.
Delhi is one of the most important business destinations in India, with a thriving economy and a dynamic business environment. The city is home to many major corporations, including those in the finance, technology, and manufacturing sectors. Delhi's strategic location, well-developed infrastructure, and skilled workforce make it an ideal location for businesses to operate.
Many eCommerce businesses in Delhi NCR receive assistance from warehousing and logistics organisations. The state boasts a big eCommerce business and numerous internet and tech-savvy residents.
Due to the eCommerce industry and the importance placed on delivery times and customer happiness, finding warehouse and logistics services in Delhi NCR that will fulfill your needs and conduct continuous operations day in and day out is essential.
So, if you are looking for the best logistics and supply chain firms in Delhi/NCR, we have made it simpler for businesses to identify dependable logistics service providers in Delhi.
Here is the list of the best supply chain and top logistics companies in Delhi NCR to serve your business needs in 2023.
What are Logistics Services in the eCommerce Supply Chain?
We must first comprehend the definition of logistics before we can define warehousing and logistics services. The meticulous planning, organization, management, and execution of complicated processes is the simplest definition of eCommerce logistics. Logistics include the movement of products and information related to inventory in various industries, including warehousing.
Thus, warehousing and logistics include all the various, intricate aspects of warehousing's organisation, movements, and management. This entails transporting (shipping and receiving) tangible inventories and intangible property like workforce and information.
Logistics for warehouses include handling damaged items, safety regulations, human resource management, customer returns management, and pest control.
In other words, warehousing and logistics refer to all the organisational techniques, regulations, and processes required to maintain efficient warehouse operations.
Top 10 Logistics Companies in Delhi NCR in 2023
The most efficient, trustworthy, and competent 3PL logistics companies in Delhi NCR have been assembled in this list. The manufacturer needs to be flexible and able to boost growth as the globe changes ever-increasingly.
Based on their performance history, these businesses have been carefully evaluated and recognized as the top logistics companies in Delhi NCR. Therefore, you can make a well-informed decision with the help of our list of the leading supply chain and logistics companies in Delhi NCR.
A list of the top 10 warehousing and logistics services in Delhi NCR in 2023 along with their top features and offerings are mentioned below.
WareIQ Logistics Pvt Ltd
Holisol Logistics Pvt Ltd
Glaucus Solutions
North Eastern Carrying Corporation Ltd
OTS Logistics and Transportation Services
Professional Logistics Pvt Ltd
Paradise Logistics
Wheel India SCM Solutions Pvt. Ltd.
Om Trans Logistics
AWL India Pvt. Ltd.
WareIQ Logistics Pvt Ltd
Founding Year: 2019
Services Offered: e-commerce fulfillment services, order fulfillment, reverse logistics, SAAs platform, RTO reduction, transportation, warehousing, logistics and other logistics services.
WareIQ was founded by Harsh Vaidya and Aayush Mattoo in the year 2019. As one of the top leading logistics companies in Delhi NCR, WareIQ provides the best eCommerce fulfillment services to B2B and B2C brands, including real-time tracking of inventory levels and order selection, packing, shipping, and delivery.
After we've connected your store, orders are automatically sent to our warehouses. The product is chosen, wrapped, and sent (and tracking info is pushed back to your store and shared with your customers). You can maximise your time and financial resources by using the delivery process to surpass client expectations and get more control over the customer relationship.
Using our countrywide spread fulfillment centers, you may strategically divide your inventory throughout WareIQ's sites to deliver your products more quickly and affordably. This is because maintaining inventory local to your clients helps reduce shipping zones and reduce shipping costs associated with transporting orders to far-off areas. Furthermore, whether you ship from one fulfillment center or numerous, you can provide same-day or next-day shipping to 98% of the country's population with WareIQ Rush with a 2-Day Express shipping option.
WareIQ offers data and analytics to assist you with anything from year-end reporting to enhanced supply chain decision-making. By doing this, we hold ourselves accountable and notify you of the statistical progress, which makes us one of the top warehousing and logistics companies in Delhi NCR. We show essential data like which fulfillment centers you should stock, how much time is left before inventory runs out, how sales affect stock levels, the typical cart value, calculate shipping costs, and transit times for each shipping option, as well as your fulfillment costs per order and storage costs per unit.
Are you eager to know more about WareIQ's offerings if you sign up now? Find the features of the best-in-class, category-defining fulfillment services for eCommerce & D2C brands below:
Pan India Fulfillment & Darkstore Network: Plug-and-play fulfillment infrastructure with no minimums, which is compliant with Amazon Seller Flex, Flipkart Assured, Myntra and other marketplaces
Inventory & Network Planning Excellence: Best-in-class AI models for sales forecasting, product segmentation, and inventory management to reduce inventory by 40% and increase revenue by 10%.
Vertically Integrated Fulfillment Tech Stack: Our Fulfillment Tech Solution supports integrations with 20+ top marketplaces & D2C platforms, and prominent national, regional and hyperlocal couriers, enhancing reach by covering deliveries for 27,000+ pin codes
Supply Chain Productivity Applications: Integrate a host of supply chain productivity apps with a single-click to your existing CRMs, ERPs & accounting software to manage your logistics workflows from one command center. Use Apps like RTO Shield to get 100% RTO protection, Branded Tracking to turn your order tracking page into a profitable marketing channel, and many more.
Trusted by 300+ top Indian brands, we are helping them accelerate online sales and expedite their growth through a synergistic combination of advanced technology, robust fulfillment infrastructure & seller enablement services!WareIQ is backed by leading global investors including Y Combinator, Funders Club, Flexport, Pioneer Fund, Soma Capital, and Emles Venture Partner.
Holisol Logistics Pvt Ltd
Founding Year: 2009
Location: Sainik Farm, Delhi
Services Offered: Supply chain consulting, Fulfillment Center, Hyperlocal fulfillment solution, Integrated packaging and logistics, Transportation, and IT Solutions
Holisol Logistics was launched in 2009 by Manish Ahuja.
They are among the top 3PL logistics businesses in Delhi NCR. Holisol provides eCommerce brands with a technologically advanced end-to-end supply chain logistics platform. Multi-channel fulfillment for B2B and B2C retail, integrated packaging and logistics, and returnable packaging solutions for the automotive, agricultural, and heavy engineering industries are just a few of Holisol's offerings. In addition, Holisol has created full-stack AI-enabled digital solutions to digitize supply chains.
Leading supply chain company Holisol is on a quest to be a significant representative in warehousing and logistics. They provide end-to-end solutions for customers' businesses that are supported by technology. Holisol adheres to the triple bottom-line principle of profit, planet, and people. The goal of Holisol is to expand by enhancing people's satisfaction and accomplishment.
Glaucas Solutions

Founding Year: 2015
Location: Chhatarpur, New Delhi
Services Offered: Omni channel Logistics Solutions, Transportation, Warehousing services, Supply Chain, State of the Art Technology System, Digital machinery, 24/7 security and Electronic surveillance
A group of professionals with vast experience in tech product development, supply chain management, and warehouse design came together to form Glaucus in 2015 by Vivek Luthra. It is headquartered in Delhi.
As a logistics service provider, Glaucus' key competence is operation management, which includes maintaining inventory accuracy, low-cost shipping, and expediting order delivery.
Their automated TMS helps in allocating vendors based on cost, and services and also helps in generating shipping labels and dockets. What makes them the best logistics company is their automatic reconciliation and streamlining of goods, invoices, and logistical services.
North Eastern Carrying Corporation Ltd
Founding Year: 1989
Location: Azad Market, Delhi
Services Offered: Transport and logistics (Freight Forwarding & Logistics), Air and sea transportation, and Warehousing
Since its founding in 1989, the objective of NECC has been to offer its clients adaptable, quick, and economical services. It is headquartered in Delhi.
NECC uses its vast operating experience to provide clients with exceptional solutions unique to their demands.
As one of the top transportation and logistics firms in Delhi NCR, North Eastern Carrying Corporation provides domestic and international freight transportation services.
Services for international product transportation, commercial and industrial goods transportation, and warehousing.
NECC offers affordable transportation options when you need to move items between locations, making it one of the leading logistics companies in Delhi NCR.
OTS Logistics and Transportation Services
Founding Year: 2007
Location: Badarpur, Delhi
Services Offered: Part Load Transport Service, E-commerce Logistics, Warehousing and Full truck load facilities.
OTS Logistics is one of the leading logistics companies in Delhi NCR. As a business that uses cutting-edge technology to support logistics, OTS Logistics provides services and solutions to over 100 Indian cities. The company offers full-truck loading, partial-truck loading, and warehousing services to businesses in the e-commerce, consumer products, automotive, retail, and pharmaceutical industries. Time-bound, quick, and cost-effective delivery is the primary goal of our strategy. Every company is crucial to OTS Logistics, no matter how big or small. OTS Logistics are prepared to offer a tailored solution for your logistical needs, thanks to the dynamic teams OTS Logistics has in place at each hub, branch, and warehouse.
Right now, a comprehensive logistics solution is desired. OTS Logistics' goal is to become the most well-organized logistical partner in the sector by giving our clients accurate information and report. In addition, OTS Logistics strives to be one of the top transportation and logistics companies in Delhi NCR by offering prompt and effective service.
Professional Logistics Pvt Ltd
Founding Year: 2012
Location: Mahipalpur Extension, Delhi
Services Offered: Warehousing, e-commerce logistics, Trading Solutions, Picking, Packing, and moving service, Freight Forwarding, Supply Chain and Custom Clearance
Founded in 2012 by Rajkumar Poonia, Professional Logistics is comprehensive warehousing and logistics services offered by Professional Logistics. with a broad network across India. Customers can benefit from Professional Logistics for Customs Clearing, Warehousing, and Sea and Air Freight Forwarding. Professional Logistics is one of the leading logistics companies in Delhi NCR. Transporting and delivering products is a speciality of Professional Packers and Movers LTD.
They are an international and domestic corporation operating in domestic and foreign markets. They are dedicated to delivering the highest level of client satisfaction. They work hard to give their customers the most incredible logistics service at the most reasonable pricing, which places them among the top logistics companies in Delhi NCR.
Paradise Logistics
Founding Year:
Location:
Services Offered:
Paradise Logistics is a global logistics organization founded in 2009 by Shyam Sundar Bajaj & Sanjay Bajaj. It offers all facets of supply chain management, including customs brokerage, warehousing, and trucking.
Over the past ten years, Paradise Logistics has become one of the best logistics companies in Delhi NCR due to their commitment to every one of their clients.
In addition to lowering the overall cost of the supply chain, Paradise Logistics has successfully eliminated excess inventory, enhanced order visibility, and managed an escalating delivery cycle time.
Because of their dedication to the growing use of technology within the organisation, the high-quality goods and services they offer, and their capacity to maintain a sound financial position. Paradise Logistics's success is partly due to its highly dedicated and skilled workforce.
A few of the services they offer-
Warehouse and Distribution
e-commerce Logistics & Transportation
Freight Forwarding
Supply Chain Management
Wheel India SCM Solutions Pvt. Ltd.
Founding Year: 1998
Location: Gurgaon Sector 15 Part 2, Delhi.
Services Offered: Warehouse management, logistics services, transportation, spares management, distribution, and storage.
Wheel India was founded in 1998 by Srivats Ram. A comprehensive logistics provider with over ten years of experience, Wheel India SCM Solutions Pvt. Ltd. offers technical services, value-added services, customs clearing, warehousing, transportation, and freight forwarding. The company's distinctive variety of services and personalised solutions that are offered in accordance with the requirements of the brands is its greatest strength. Wheel India has gradually increased services throughout India, covering all important cities with a fleet of over 125 vehicles and a warehousing area of over 500,000 square feet. The company's primary competencies are warehouse management, transportation, spares management, technical services & refurbishment, delivery distributions, and import & export management.
By offering top-notch distribution, supply chain, and technical services, their objective is to increase organisational effectiveness and strengthen customers' competitiveness continuously.
They aim to become a top supplier of integrated services to significant sectors and help companies reduce logistics costs. Wheel India SCM Solutions Pvt Ltd is one of the top logistics companies in Delhi NCR.
Om Trans Logistics
Founding Year: 2008
Location: Punjabi Bagh, New Delhi
Services Offered: warehousing and distribution, logistics, customs and shipping, brokerage, land, sea, air transportation, and freight forwarding services.
OmTrans Logistics Ltd. was founded in 2008 by Ajay Singhal. The goal of Om Trans Logistics, one of India's leading freight forwarding and logistics companies in Delhi NCR, is to provide its clients with the best logistical techniques.
The company is pushing the limits of excellence in innovation, production, and service. Om Trans Logistics is a dedicated logistics service providing its clients with the best services.
With over 21 years of combined experience in the logistics sector, they have a team of professionals in that field. To keep clients' costs as low as possible while still offering a high level of service, Om Trans Logistics has constantly offered them innovative and competitive logistic solutions.
Om Trans Logistics has created a comprehensive set of logistics services to meet the needs, including warehousing and distribution, customs and shipping, brokerage, land, sea, and air transportation.
Om Trans Logistics is a fine example of what one of the top freight forwarding and logistics companies in Delhi NCR looks like.
AWL India Pvt. Ltd.
Founding Year: 2007
Location: Golf Course Road, Sector -53, Gurgaon
Services Offered: Shipping and Logistics, warehousing, supply chain management, and tech-enabled logistics services.
AWL Logistics was founded in 2007 by Rahul Mehra. The fastest-growing logistics company in India is AWL India Pvt. Ltd., supported by cutting-edge technology. AWL continually strives to provide top-notch service and assist businesses in expanding their global consumer base. AWL aims to complete tasks regardless of obstacles, positioning them as one of the top logistics companies in Delhi NCR. Their efforts are driven by developing technology and advanced infrastructure. As a result, AWL has established an unrivalled reputation for providing top-notch supply chain management and logistics solutions.
This business, which offers global logistics solutions, bases its success on providing individualised client service and using its vast logistics expertise.
AWL's fleets include a wide range of models that can be employed in several different industries, including entertainment, electronics, cosmetics, and energy.
AWL India Pvt. Ltd. is one of the leading and top logistics companies in Delhi NCR.
They adhere to shipping regulations since their vehicles are built to guarantee accurate temperature and humidity for perishable items with a limited shelf life.
Also Check: 10 Best Shipping and Logistics Companies in Indore
What are the Key Factors While Choosing the Best Logistics Company in Delhi/NCR?
Some key factors to consider when choosing a logistics service in Delhi/NCR are as follows:
Location: It is important to choose a company that is located near your business or warehouse for easy and efficient pick-up and delivery.
Services offered: Make sure the company offers the specific services you require, such as warehousing, transportation, and customs clearance.
Experience and reputation: Choose a company with a good track record and experience in handling similar cargo and logistics needs.
Cost: Compare prices and services offered by different companies to ensure you are getting the best value for your money.
Customer service: A good logistics company should have a dedicated team that is responsive to your needs and can provide real-time updates on the status of your shipment.
IT support: The company should have good IT support to ensure smooth and efficient tracking of cargo throughout the entire supply chain.
Insurance and security: Choose a company that offers insurance and security for your cargo to ensure it is protected during transit.
Conclusion
In this article, the top logistics companies in Delhi NCR are listed. These businesses have strived to understand consumer needs and have adjusted their business models accordingly. By providing the best logistics services in India, all of these logistics and warehousing companies in Delhi NCR place a high priority on satisfying the needs of their customers. Overall, logistics services in Delhi NCR play a vital role in ensuring the smooth movement of goods and materials within the region.
You Can Also Check: Find Best Logistics Companies in Surat for your Business
Why Choose WareIQ As Your eCommerce Business' Preferred Logistics Company in Delhi NCR in 2023?
WareIQ, a top provider of full-stack eCommerce logistics services in Delhi NCR, collaborates with some of the most renowned companies in the nation. For eCommerce businesses to offer same-day delivery to clients, WareIQ, a fulfillment company, provides a full-stack platform similar to Amazon Prime.
When you utilize WareIQ as your go-to order fulfilment provider, you can store your goods in WareIQ's fulfillment centers in Delhi NCR and ship your goods across the nation (including tier 2 and tier 3 locations) safely and effectively. Additionally, it will give you the tools you need to compete with Amazon regarding service quality, making WareIQ one of the topmost logistics companies in Delhi NCR. There are furthermore some fascinating benefits.
Delegating the management of eCommerce logistics to a reputable 3PL provider like WareIQ can free up more of your time so you can concentrate on other essential elements of your business, such as brand marketing and launching new products.
Modern technology used by the WareIQ platform makes it incredibly simple to track and monitor your purchases in real-time.
WareIQ's intelligent inventory placement abilities can enable your business to make timely sales.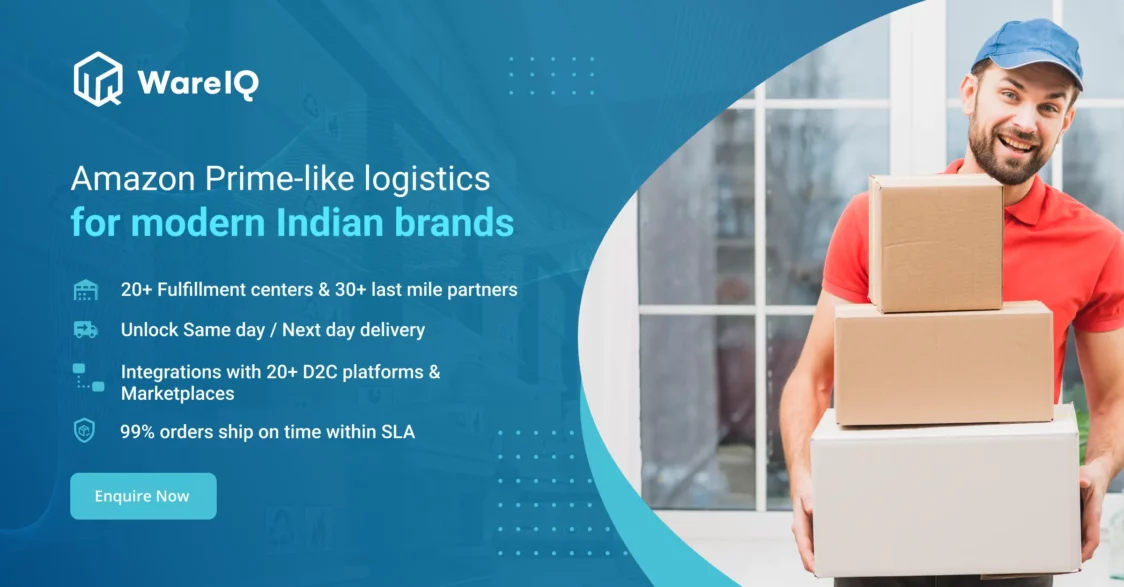 Suggested Read: Top 10 Logistics Companies in Mumbai For Omni-Channel Brands in 2023
Logistics Companies in Delhi NCR: FAQs (Frequently Asked Questions)