List of Top Logistics Companies in Ludhiana for eCommerce, D2C and B2B Sellers in 2023
Ludhiana is the largest and most populous city in the Northern Indian state of Punjab. It is widely regarded as the commercial capital of Punjab and has even been called "The Manchester of India" by the BBC for its industrial prowess. It has been ranked 48th out of 100 smart cities in India and has also been acclaimed by the World Bank as being one of the easiest cities to do business in. There are also plenty of logistics companies in Ludhiana to take advantage if this. The city also has a vast and diverse history, making it home to some major historical attractions in its own right, as well as being in close proximity to neighboring Amritsar's Golden Temple.
The city is a manufacturing hub, producing goods like auto parts, garments, machinery, household appliances and much more. It is also the largest bicycle manufacturer in Asia and is responsible for outputting more than 50% of all cycles that are made in India. All these factors make Ludhiana an attractive place to do business. However, all sellers need varying amounts of assistance with their logistics and distribution if they want to grow their business and fulfill orders throughout India. In this blog, we will go through the importance of partnering with logistics companies in Ludhiana and the top 5 options in the city.
The Importance of Partnering With Logistics Companies in Ludhiana
Provides Access to Expertise
Logistics companies in Ludhiana have the expertise and experience in handling the transportation, warehousing and distribution of goods. They have specialized knowledge in areas such as route optimization, freight management and customs regulations. Partnering with freight forwarders in Ludhiana can provide your business with access to this expertise, which can help in improving your operations and making informed decisions.
Enables Cost Savings
Logistics companies in Ludhiana can help businesses save costs by optimizing transportation routes and minimizing waste. They can also negotiate more cost-effective pricing with carriers and suppliers due to their volume of business, which can result in lower transportation costs for individual sellers. Additionally, freight forwarders in Ludhiana can help businesses avoid costly mistakes such as incorrect labeling, improper packaging or shipping delays, which can lead to additional costs and poor customer feedback, which may deter prospective customers.
Improves the Efficiency of Operations
By partnering with logistics companies in Ludhiana, your business can streamline its supply chain operations and improve its efficiency. Logistics companies can provide a range of services, such as product storage, inventory management and order fulfillment, which can help your business focus on its core competencies. This can result in faster delivery times, improved customer satisfaction and increased sales, as well as better product research and marketing efforts.
Increases Scalability
Logistics companies in Ludhiana can help businesses scale their operations as they grow. They can provide additional capacity and resources as needed without businesses having to invest in their own infrastructure. This can be especially advantageous for businesses that experience seasonal or fluctuating demand. If you have plans of eventually scaling your operations and product range like most companies do, partnering with a competent logistics company is essential in making that journey possible.
Suggested Read: The Necessity for eCommerce Companies to Forecast Seasonal Demand and 7 Ways to Predict it in 2023
Enhances Risk Mitigation
Partnering with logistics companies in Ludhiana can help businesses mitigate risk. Logistics companies have expertise in compliance and regulatory issues, which can help sellers avoid legal and financial penalties. They can also provide insurance and risk management services, which can protect businesses against losses due to theft, damage or other unforeseen events. Additionally, many of them offer services like customs clearance and document consolidation to ensure that all the necessary paperwork is in order for the import and export of products.
List of Top Logistics Companies in Ludhiana in 2023
WareIQ
Founding Year: 2019
Services Offered: Order fulfillment, pan-India storage network, last-mile delivery, shipping aggregation, returns management and more.
About the Company: WareIQ is one of the best 3PL logistics companies in Ludhiana and the entire country for the sheer scale and complexity of the services it provides. The company leverages the use of advanced technology like AI and ML to provide highly efficient, quick and cost-effective solutions for requirements like order fulfillment, inventory management, product storage, domestic and international shipping, automated replenishment, last-mile delivery, returns management and much more. It also provides many value-added services, such as intelligent inventory placement recommendations, smart courier allocation, customizable packaging, branded tracking and a fully functional app store. These types of features help it stand out from the crowd and, coupled with its cost-saving facilities like a lack of minimum order requirements and flexible pricing schemes, make WareIQ a bang-for-the-buck proposition.
Are you eager to know more about WareIQ's offerings if you sign up now? Find the features of the best-in-class, category-defining fulfillment services for eCommerce & D2C brands below:
Pan India Fulfillment & Darkstore Network: Plug-and-play fulfillment infrastructure with no minimums, which is compliant with Amazon Seller Flex, Flipkart Assured, Myntra and other marketplaces
Inventory & Network Planning Excellence: Best-in-class AI models for sales forecasting, product segmentation, and inventory management to reduce inventory by 40% and increase revenue by 10%.
Vertically Integrated Fulfillment Tech Stack: Our Fulfillment Tech Solution supports integrations with 20+ top marketplaces & D2C platforms, and prominent national, regional and hyperlocal couriers, enhancing reach by covering deliveries for 27,000+ pin codes
Supply Chain Productivity Applications: Integrate a host of supply chain productivity apps with a single-click to your existing CRMs, ERPs & accounting software to manage your logistics workflows from one command center. Use Apps like RTO Shield to get 100% RTO protection, Branded Tracking to turn your order tracking page into a profitable marketing channel, and many more.
Trusted by 300+ top Indian brands, we are helping them accelerate online sales and expedite their growth through a synergistic combination of advanced technology, robust fulfillment infrastructure & seller enablement services!WareIQ is backed by leading global investors including Y Combinator, Funders Club, Flexport, Pioneer Fund, Soma Capital, and Emles Venture Partner.
BRC Supply Chain Services
Founding Year: 2021
Services Offered: Customs clearance, warehousing, freight forwarding, packaging, consultancy and more.
About the Company: BRC Supply Chain Services is a relatively new logistics and freight forwarding company that has already garnered a reputable reputation for the services it provides. Its headquarters are in Ludhiana and it provides a comprehensive spectrum of supply chain services, as well as specialized solutions and other third-party services. The business aids in providing shipping, warehousing and transportation services. The company also provides additional perks, such as round-the-clock customer support, door-to-door delivery, multiple product safety features and much more, making it one of the best freight forwarders company in Ludhiana. 
M Primex Logistics
Founding Year: 2012
Services Offered: Trucking, freight forwarding, packaging, transportation, distribution and more.
About the Company: In 2012, M PRIMEX Logistics was founded. It has since become a leading logistics and distribution firm with its headquarters in Ludhiana. It offers top-notch and affordable logistics solutions and offers a wide variety of fulfillment services, including freight forwarding, commercial shipping, packaging and much more. It also operates a fleet of trucks that are capable of transporting most types of goods to and from whichever location you need. However, the company does not employ advanced technology such as GPS-based order tracking for customers, does not offer storage facilities and lacks other important facilities, somewhat limiting its functionality.
Dei Gratia Shipping Agencies
Founding Year: 2007
Services Offered: Freight forwarding, transportation, door-to-door delivery, warehousing, tailored solutions and more.
About the Company: Dei Gratia Shipping Agencies, which was founded in 2007, has amassed enormous knowledge in providing global freight forwarding, transportation, storage and other services. The company is based in Ludhiana, Punjab. Because they are knowledgeable about the most recent technologies, their personnel can best serve the needs of their clients. The company offers reasonably priced logistics services that can be accessed by every type of business. They also help with routinely planning door-to-door deliveries according to each client's requirements.
Go Speed E Logistics
Founding Year: 2017
Services Offered: Customs clearance, international shipping, import and export assistance, transportation, freight forwarding and more.
About the Company: Since its establishment in 2017, Go Speed E Logistics has established itself as one of the top logistics companies in Ludhiana for air cargo, maritime freight forwarding and international shipping. The company is included in Trade India's list of accredited businesses that provide a variety of services, including import shipping from China and international freight forwarding by sea. Additionally, the company also offers services that help with the import and export of goods, such as customs clearance, export refunding, licensing and much more, making it a good option if your business depends on transporting products internationally.
Conclusion: How Choosing WareIQ Can Help Streamline Your Company's Logistics Processes in Ludhiana, Punjab?
Ludhiana has been consistently named one of the best cities in the country to do business. Since it is known as an industrial hub, it has an established manufacturing infrastructure that will help your business flourish by providing an easy way to manufacture and procure products that you can ship across the country. It also has good connectivity to the rest of the country by air, rail and road, making it a good base from which to sell your goods and fulfill orders.
As a retailer, you simply need to choose the best option among the many logistics companies in Ludhiana that suit your goals, budget and existing order volume. You can do this by doing some research, checking existing reviews and asking companies directly for quotes, and comparing all of them. If you need a logistics company that can handle your entire logistics portfolio and then some, WareIQ fits the bill.
WareIQ is one of India's leading logistics and fulfillment companies that specializes in a wide swathe of tasks, ranging from order fulfillment to inventory management and everything in between. Some of our key services are listed below:
Nationwide Storage Network
We have a countrywide storage infrastructure that consists of fulfillment centers on a national scale and dark stores on a local level. Also, we offer AI-based recommendations for inventory placement as to where to keep your stock in relation to your clients.
Collaboration With Several Shipping Companies
We help your clients can access ultra-fast delivery thanks to our alliance with the biggest shipping services in the world. Additionally, we have a smart courier allocator that chooses the most affordable and expedient shipping method for each order.
International Shipping Services
We provide international courier services using our WareIQ Global platform, which takes care of paperwork, customs clearance and product storage in the country of delivery in more than 220 countries and territories worldwide.
A Custom WMS
We offer an in-house WMS that can link with a number of shipping companies, online marketplaces and website hosting systems and also enables you to access your inventory and order data from anywhere, get real-time updates, automate reorder triggers and do much more.
Reverse Logistics
We fully handle your returns management process, taking care of everything from inspection to recovery to transportation and more. We also give you an RTO Shield to help you deal with any unfavorable effects of returns.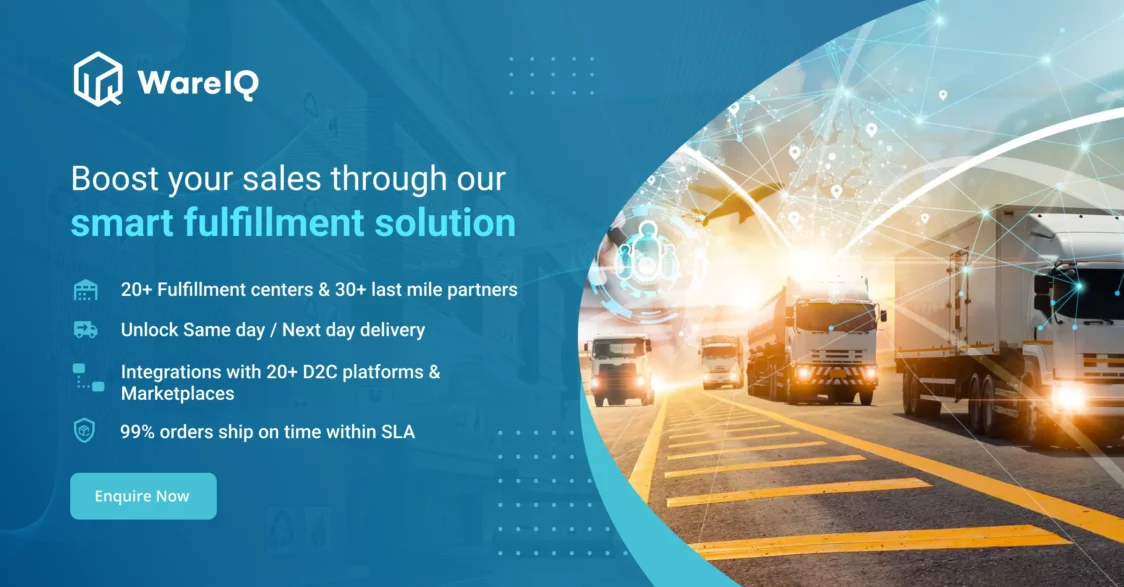 Suggested Read: Looking for Warehouses in Chandigarh?
Logistics Companies in Ludhiana: FAQs