Freight Forwarding in Logistics: How it Works, Types, Key Stages, and What are the Basic Functions of a Freight Forwarder in 2023
Freight forwarding in logistics plays an important role when it comes to the logistics of commercial goods. Transporting commercial goods in bulk can be extremely difficult. It costs a lot of money and is a time-consuming process. However, freight forwarders can aid manufacturers in easily fulfilling their shipping requirements by streamlining the freight logistics and supply chain process.
They are well equipped with vast knowledge, technology, network, and sources to help businesses transport and expand globally while saving both money and time. In this article, we will explore freight forwarding, how freight forwarding in logistics actually function, what are its benefits and types as, well as the key stages of freight forwarding.
What is Freight Forwarding?
Freight Forwarding in logistics is a practice in commercial trade where third-party agencies, also known as freight forwarding companies, move the manufacturer's cargo from the point of origin to the desired destination through single or multiple carriers and via various modes of transportation, namely air, sea, road, or railway.
Freight forwarding in logistics includes everything from cargo pickup, transportation, and delivery, along with all the intricate process that comes along the way. Freight forwarding companies are often regulated by the government to ensure that their regulations are maintained and adhered to.
Freight forwarding companies are in charge of what types of cargo are allowed to be transported as well as the amount of cargo that can be transported at the same time. Further, they are responsible for other activities like warehousing, custom brokerages, fare negotiations, tracking, documentation and insurance, licenses, and much more. These companies make freight logistics completely safe and lucrative with their expertise and problem-solving abilities. A variety of freight forwarding companies can be found. However, it is upon you to consider all aspects and choose the right one for your business transit.
WareIQ – Amazon-prime Like Logistics for Modern Brands in India
WareIQ, an eCommerce fulfillment company, empowers online brands with a superior-tech platform to compete with Amazon like service levels by bringing their average delivery timelines from 5-10 days to 1-2 days.
"WareIQ came to Gynoveda with a full stack fulfillment platform & gave Gynoveda access to a nation wide network of fulfillment centers & last mile & hyperlocal courier partners closer to our customers based out of North East & North India.

They made

same-day delivery possible

for us in metros.

"
What is a Freight Forwarder?
A freight forwarder is an integral part of the supply chain process in global trade. They are agents or operators who are responsible for handling to transit of cargo from one point to the other vis vie a pickup point to a delivery point, on behalf of the manufacturer. It is important to note that freight forwarders do not own the cargo. They are only supposed to aid in freight logistics.
There are several conditions that a freight forwarder must meet when it comes to delivering cargo. They must ensure that the cargo is picked up from the seller at a given pick-up point and delivered to the buyer at the right place within a stipulated amount of time and money using the best possible routes and resources. They must also make sure that the cargo is delivered in the same conditions under which it was picked up without causing any damage to the goods.
The global trade statistics are remarkable; in 2015 alone, the UNCTAD estimated that about 1687 million tonnes of cargo were shipped in 177.6 million containers in ships that covered 998 billion ton-miles. Hence these numbers have increased over time, and businesses are in dire need of freight forwarders. Freight logistics is a complicated process that requires documentation, licensing, proper storage, and much more. Importers and exporters often rely on such agents for freight forwarding in logistics for bulk volumes of cargo so that everything starting from documentation to cargo monitoring, movement, clearance, inspection, etc, is taken care of, and they can focus on other aspects of the business.
A well-experienced freight forwarder is expected to have the following capabilities –
They must be well experienced with all modes of transportation such as the air, sea, railway, and highway. They must also be well-equipped to carry bulk cargo safely; through each of these mediums.
It must provide cost-efficient shipping and transportation solutions to all its customers, individually tailored to their requirements.
Large freight forwarders must have sufficient storage space, which is usually measured in terms of warehousing capacity,
They must have all relevant shipping documents for international as well as domestic trade. Some of these documents include insurance, customs & port documentation, bills of lading, certificates of Origin, etc.
They must have a well-formed network and goodwill among shipping lines so that they can negotiate freight rates on behalf of the shippers.
They must have an updated license and the ability to arrange for customs clearance.
They must have knowledge and experience to handle external crises during border cargo movements.
What Does a Freight Forwarder Do?
Freight forwarders are representatives of freight companies in the freight logistics industry. They are looked upon by businesses because they are responsible for all activities that are undertaken during logistics, including storage, shipping, and delivery.
Freight forwarders must have a vast network of contractors, administrative companies, government bodies, and so on so that they can give their clients an affordable and seamless way to send and receive cargo from any part of the world. It is essential to understand the exact function and responsibility of a freight forwarder so that you have a fair idea of what you must expect when approaching freight forwarding in logistics services for your business. Some of these services include –
Arranging Cargo Insurance and Documents
Domestic and international shipping is a tricky business and requires extensive documentation along with team coordination to execute it. Some of these documents include bills, customs clearance, port documentation, and so on. A freight forwarder's job is to get these documents arranged for their clients so that they can experience hassle-free logistics services. Further, forwarders also provide customers with a cargo insurance policy which enables them to get reimbursements in case the goods are stolen or damaged during transit.
Related Article: How To Offer Free Deliveries in 2023 For Your Online Store in 10 Ways?
Tracking Shipments
Freight forwarding in logistics allows customers to experience a transparent transit process. For the very same reason, freight forwarders establish a Transportation Management System so that customers are aware and can track the movement of the cargo during each stage of the transit.
Consolidating Shipments
Businesses can save a lot of money if they undergo commercial goods transport with the help of freight forwarders, even when they do not have large volumes of cargo for movement. Forwarders have a lot of customers who do not necessarily need an entire container; in such cases, freight is consolidated for less than the container load, where in multiple consignments of small volumes are booked in the same container. This type of freight logistics spreads the shipping costs between several participating customers, each based on the space they require for the cargo.
Negotiations on Behalf of the Customer
Freight forwarders mediate between shippers and goods carriers in the air, ocean, railway, or roads. Their network includes multiple transport partners in several regions, countries as well as continents. With the help of this established relationship, freight forwarders map out the transportation cost and determine the most economical route for transit so that they can come up with cost-effective solutions for their customers. Considering all factors in mind, such as the cargo type, space requirements, timeline, etc, freight forwarders also negotiate and bargain low-cost shipping rates with the carriers. 
Cargo Storage
Some freight forwarding companies that operate on a large scale also have their own warehousing to store the goods that are supposed to be shipped. These warehouses are equipped with advanced tools and can also sustain cargo that has special storage requirements such as temperature control. However, most forwarders offer services to their customers by arranging storage facilities at locally owned third-party warehouses.
Customs Brokerage
Importing and exporting requires permissions and documentation in order to work in a smooth manner. These documents are easily handled by freight forwarders however, even they require a specific license called the customs brokerage license. These licenses are not available for a layman, and hence businesses turn to freight forwarders to complete their transportation process. Once the freight forwarding agent has an updated customs brokerage license, they are automatically qualified to manage extensive documents that are required for transit.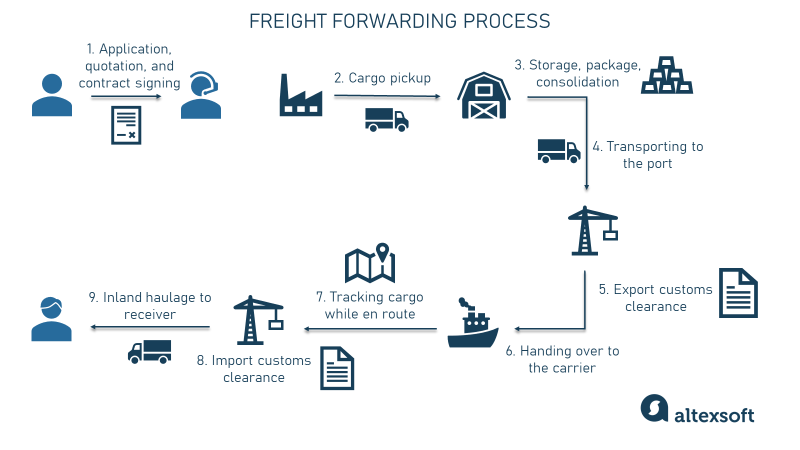 Types of Freight Forwarding
Freight forwarding in logistics is characterized based on the type of cargo and mode of transportation. For example, ocean freight is the type of freight that will use the ocean as a mode of transit. Air freight is transported in aircraft, and truck freight is transported across countries via trucks.
1. Ocean Freight Forwarding
Ocean or sea freight forwarding in logistics refers to the transportation of goods by sea. The freight is carried in huge containers that are loaded on ocean fleets. Ocean freight forwarding specializes in the transportation of ultra-heavy cargo with deliveries to international destinations. Ocean freights are one of the oldest methods of transportation that are still used by businesses because of their affordability and efficiency.
Sea freight allows you to transport goods in bulk where only your shipment takes up the whole container space, this is called Full Container Load or FCL. In another instance, if your shipment does not require the space of a full container, the freight is consolidated and combined with a cargo of other customers, and the cost of shipping is spread among all participants; this method is called Less than container Load or LCL. Both techniques allow seamless transit of goods at a budget that will not pinch your pockets.
2. Air Freight Forwarding
Air Freight Forwarding allows you to deliver goods over longer distances in a shorter period of time. If your cargo needs to be transported at a remarkable speed, air freight forwarding in logistics is the right option for your business. However, air cargo is restricted in terms of weight n certain items since cargo planes can only carry a certain number of shipments at once. Hence, if speed is your only logistical requirement, air shipments are the way to go.
3. Truck Freight Forwarding
Truck Freight forwarding in logistics is the most common method of transportation used by businesses, especially for cross-country transportation. As the name suggests, truck freight delivery is conducted through roads and carried via heavy trucks or vans. Road freight is usually the final point in the delivery itinerary. The timeline and speed of transportation all depend on external factors such as highway traffic, congestion, road maintenance, etc. Road freights can be a great option when your goods have arrived at the destination country and you further want to get them transported within several states, cities, or provinces.
What are the Key Stages of Freight Forwarding?
Following are the key stages of freight logistics:
Export Haulage
As per freight forwarders, export haulage is the very first stage in logistics, where the transportation company picks up the cargo from a company to the freight forwarder's warehouse, which is either a self-owned or a locally owned warehouse. The cargo is usually transferred in trucks. However, it may depend on the distance to the warehouse and the type of cargo. Based on these factors, the time of arrival is also determined.
Export customs clearance
International transportation of goods requires clearing through customs before entering another country. Custom agents of the country of origin check the cargo and associated paperwork, legal documents as well as permission of transit before allowing it to leave the country. Freight forwarders usually have custom brokers to tackle this stage.
Items Checkpoint
Item checkpoint is also known as origin handling, which occurs when the cargo is unloaded at the freight forwarder's warehouse. The products are then inspected for damage, and the documents are verified. The freight is also checked to ensure that it will be accepted at the destination. Some of the restricted items include drugs, counterfeit, alcohol, flammable liquids, etc.
Import Custom Clearance
After the shipment arrives at the destination country, it is then re-checked to see if the products match, if there is any damage, as well as the legality of the transit. There is a impose fees charged by the customs agent, which are initially covered by the freight forwarder and later billed to the customer.
Destination arrival and handling
After clearing import customs, the transportation company arranged by the freight forwarder checks the paperwork of the shipment and prepares the cargo for its delivery at the import warehouse.
Import Haulage
The last stage of freight logistics is called the import haulage, which takes palace when the cargo arrives at the import warehouse and is then prepared to be delivered at the final destination. Much like export haulage, freight forwarders choose a mode of transportation based on the distance and type of cargo. The recipient usually receives the shipment a few hours or days after it leaves the warehouse.
Conclusion
Freight forwarding in logistics is a one-stop solution for all your transportation needs. When you work with a freight forwarder, all the steps and stages are taken care of without any hassle. This ensures timely delivery and cost-effective results and allows you to build a great relationship with your customers. Explore the various types of freight forwarding companies and, based on your business and product type, choose the right freight partner to guide you in every aspect of commercial transportation.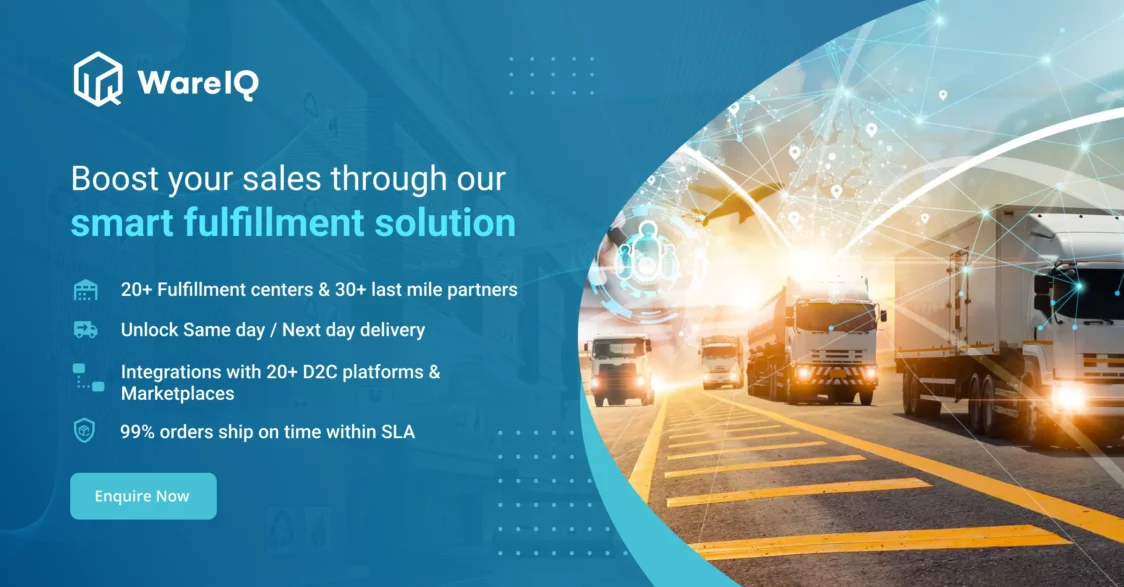 Freight Forwarding: FAQs