Why Should You Sell Products On Instagram? 10 Easy Steps to Sell on Instagram in 2023
In June, Instagram surpassed one billion monthly users or about an eighth of the global population. It is a well-liked site, and its growth trajectory doesn't appear to be slowing down. The amount of money that companies are now spending on marketing their goods and services in the name of selling on Instagram is unfortunate for advertising. In Q2 of this year, ad spending increased by 177% from the previous quarter. The average cost per thousand impressions (CPMs) decreased by 10%, while impressions increased by 209%. The photo-sharing app's advertisers are spending more money than ever, and they're becoming better at it. There is the fierce rivalry.
Despite this, just a tiny portion of Instagram's one billion users—roughly two million—are marketers. Even if not every Instagram user is interested in new goods and services, much alone your particular offering, there are still plenty of ways to utilize the site to promote and sell products on Instagram.
Therefore, if you already use Instagram to promote your company but not to generate revenue, it's time to reconsider. This post will also demonstrate step by step process to sell on Instagram and launch a business; all you need is a marketing plan to connect with potential clients. Then let's get going!
Why Should You Sell Products On Instagram?
About 200 million of Instagram's 1 billion monthly users view at least one business profile daily. This indicates that a sizeable portion of Instagram users considers purchasing from a company on the app. One of the social media networks with the most brand-friendliness is Instagram. Recently, they have changed their attention to expanding their shopping capabilities and providing additional options for companies to succeed.
For some people, selling on Instagram is the ideal option. But not every business needs it. Although it offers a distinctive product sales method, certain features have specialized use cases and can be challenging to expand.
Also, entrepreneurs that want to enhance their sales funnel and broaden their audience shouldn't ignore the advantages of selling on Instagram. It's not surprising that businesses are utilizing smartphone devices to target consumers, given the massive daily user base of the photo and video sharing platform.
Some of the reasons to sell on Instagram are given below-
Reach Out To New Demographics
As many as 928.5 million individuals may be reached with Instagram advertising, claims HootSuite. Additionally, it's estimated that 90% of Instagram users follow at least one business account. Understanding demographics may help you create a more potent, successful marketing plan that generates leads and purchases while you sell on Instagram.
Instagram has a varied user base; therefore, it is a must-have for any entrepreneur or company, regardless of its target age range. The percentage of the population who use Instagram by age group is shown in a report by Statista as follows-
Ages 13 to 17- 8.9%
Ages 18 to 24- 30.2%
Ages 25 to 34- 31.7%
Ages 35 to 44- 15.8%
Ages 45 to 54- 7.8%
Ages 55 to 64- 3.7%
Age 65 years and older- 2.1%
Interact With Clients
Maintaining audience interest in your Instagram posts and products requires engagement. Brand Watch reports that Instagram has 84x higher brand engagement than Twitter, 54x higher brand engagement than Pinterest and 10x higher brand engagement than Facebook.
Remember that your business is defined more by the level of interaction you can generate than by the number of followers you have. Your uploaded photos, Instagram stories, and videos showcased on your profile and highlights reel may all be used for this.
To capture the interest of your audience and keep them coming back for more, you must be consistent. Instagram's stories, customized hashtags, and photos all help you keep your audience interested. In addition, these methods effectively encourage interested customers to share your material, improving your potential to convert.
Boost Consumer Familiarity and Brand Recognition
Instagram is the best platform for showcasing a brand's objectives, aspirations, and successes while establishing a name and identifiable identity. According to a poll commissioned by Facebook IQ, 78% of Instagram users believe that companies on the platform are well-known. In comparison, 77% believe they are creative, 76% think they're entertaining, and 72% are committed to creating communities. In addition, 83 per cent of Instagram users use the app to find new goods and services, 81 per cent do some preliminary research, and 80 per cent make a purchase.
Sure, the blog entries you create may make a significant difference in building your brand's online presence, but have you thought about the overwhelming power of adding appropriate captions to your Instagram pictures?
Similar Items Are Pushed to Buyers via Instagram Algorithm
Have you ever wondered why things you looked for or purchased constantly appear in your feed?
It does this by pushing material related to the stuff you engage with. This implies that ten other recommendations will be made if a reel about scrunchies is liked.
Since it stopped being merely a "photo-sharing app," Instagram has steadily gained popularity as a platform for selling over the past several years.
Its algorithm has experienced significant changes due to the advent of other media forms, including tales, reels, etc.
Every business owner is aware of the excellent chances for customer discovery.
Sell For The Least Possible Investment
The exhilaration of receiving something "free" is unmatched in the world. And that is the price for setting up a business and start selling on Instagram.
No additional financial investment is necessary for you to operate your company on Instagram (apart from what you might want to spend to promote it). Additionally, you can access Instagram shopping, shoppable posts, and much more.
So, in addition to their eCommerce site, company owners set up an Instagram storefront for their brand. Later, more on the subject.
WareIQ – Amazon-prime Like Logistics for Modern Brands in India
WareIQ, an eCommerce fulfillment company, empowers online brands with a superior-tech platform to compete with Amazon like service levels by bringing their average delivery timelines from 5-10 days to 1-2 days.
"With WareIQ, UTH is able to consolidate common inventory for all platforms and get much closer to the customer through access to WareIQ's strong nationwide network of fulfilment centres, and last mile & hyper-local courier partners.

We are excited about being able to offer

same day delivery

in several pin codes due to

WareIQ

.

"
Suggested Read: How to find out the sell-through rate?
Ask Yourself These Questions Before You Start Selling On Instagram
Is it possible to quickly demonstrate your goods using photographs or videos?
Instagram is a platform for visual marketing. This means that things with a great visual appeal or aesthetic are much simpler to market. Physical objects such as clothing, accessories, cosmetic products, household goods, and outdoor/sporting goods are ideal. We're also witnessing the popularity of digital items like presets, custom fonts, and artwork on the platform.
Do you already have an online presence and a website?
If you already have a business, you should concentrate on increasing visitors to your online store. Instagram Shopping Tags, for example, are excellent for this. However, using Instagram as your primary storefront makes little sense if you already have many transactions through your website. You want to pick your sales channels carefully, and collecting orders on Instagram may generate too many channels for you to manage successfully.
Do you have the infrastructure in place to track and fulfil orders that come in from sources other than Instagram?
It does not have to be a whole website. However, you will still need to employ a program to manage incoming Instagram orders and collect vital consumer information. This might be as basic as an Excel sheet or as complex as a spreadsheet programme such as Smartsheet.
Suppose you've gone through the questions above and concluded that you're a good fit! You can sell on Instagram platform to generate sales, raise brand recognition, and get traction for your company before you're ready to establish a complete online store.
By the end of this article, you'll know how to sell on Instagram without having a website too.
You may also read: How to Sell on Messho?
What Does Selling on Instagram Look Like in Profession?
The emergence of Instagram influencers — people who promote branded goods and services to their large followings — indicates that selling on Instagram may be a lucrative business. As a result, Instagram has huge sales and eCommerce potential.
By the end of 2020, Instagram ad income accounted for 30% of the social media giant's revenue. So it's easy to see why many businesses use Instagram to attract new clients. So let's look at some primary strategies to help you produce a good profit and keep returning consumers.
Product Images and Advertisements
Both the customer and seller benefit from online purchasing. However, because Instagram lacks a tangible component, you must ensure that your photo game is on point if you want to convert social media window shoppers into consumers.
Consistent posting builds trust, but only if the photographs are of poor quality. Invest in a good camera or employ a professional photographer to take product shots.
Photographs of Clients and User-generated Content (UGC)
Are you aware that nearly 90% of consumers trust UGC to influence their purchasing decisions? According to a Business Wire survey, 85 per cent of purchasers are more affected by user-generated content (UGC), which includes text, photographs, videos, and reviews, than they are after reading brand-created material.
UGC is a powerful approach for increasing brand reputation and generating trust. In addition, it allows business owners to have original material developed on their behalf.
Brands share this material through various marketing channels, but Instagram has emerged as the most popular site for posting UGC. Consumers are 2.4 times more likely to see user-generated content than brand-created material. This innovative strategy of recruiting new clients is making a significant difference.
Instagram Shopping
When the Shopping Checkout tool was implemented in 2019, the idea of selling on Instagram became highly apparent to companies worldwide. This enabled company owners to convert their feed into a shoppable eCommerce outlet.
You may participate in Instagram Shopping by launching the app, going to your profile's settings area, and then clicking on business and shopping. Simply select a product catalogue and associate it with your professional account. Remember that the Instagram sale option is only available to individuals approved into the social media programme.
Many firms also use this chance to collaborate with influencers who upload photographs of themselves operating, wearing, or testing a company's product. In addition, anyone interested in a product may make a quick purchase by clicking on the item tag highlighted in the sponsored content on the explore page.
How To Create a Sales-Oriented Instagram Account and Start Selling on Instagram in 2023?
Since its inception, selling on Instagram has evolved by leaps and bounds, delivering many new features that contain everything you need to take your business to new heights.
So, here's a step-by-step approach for how to sell on Instagram by establishing an online presence through visual branding and capitalizing on the user's purchasing attitude to help your business reach the furthest reaches of the globe.
10 simple steps to sell products on Instagram are as follows:
Pick A Product And A Niche
Decide on your product niche even before you begin to sell on Instagram. Deciding on your product specialization can help you develop on Instagram. In addition, narrowing down your focus will help your selling on Instagram development in the long term.
It will simplify for your audience to locate your account and items that will help them solve an issue they have been looking for for a long time. It will also increase the traffic to your account and the size of your audience.
Suggested Read: How to Source Products for Your eCommerce Business in 2023
Make Sure That You Have an Instagram Business Account
When creating your account for the first time, select Business Profile. If you're unsure where to look, Instagram will prompt you during the setup process.
A business account grants access to features such as the option to add a phone number and email address to your bio, insight data, and the use of sponsored adverts to market your items. Insights, in particular, are pretty helpful in determining which content is driving the most purchases.
Have you already made an account as a personal profile? Then, you may quickly switch to a business profile by login into your account, heading to "Settings," and selecting the "Switch to Business Profile" option.
You're nearly there! After you've created your company account, you'll need to link a Facebook Business page and make a Business Manager account. Even if you don't currently have a website, you can still establish a catalogue that allows your consumers to purchase and checkout on Instagram (more on this below!) You're nearly there! After you've created your company account, you'll need to link a Facebook Business page and make a Business Manager account. Even if you don't currently have a website, you can still establish a catalogue that allows your consumers to purchase and checkout on Instagram (more on this below)
Be sure to include your email address and phone number in your bio. Because your clients cannot reach you through your website, you must provide as many touch points as feasible. This also contributes to the development of trust, which is essential for any company when selling on Instagram.
Construct A Killing Bio
Follow the steps below to build a stunning Instagram bio without going over the limit of 150 characters.
Define your value proposition in one sentence to describe your brand. Then, identify your expertise and demonstrate your authority.
Make it easier for potential consumers to convert by having a clear call to action language.
Provide your company contact number or email address so potential customers can contact you with product questions.
Instagram only allows users to link to external websites through their bio. It is not possible to put links in captions. As a result, individuals frequently tag their posts with "link in bio." As a result, provide a link in your bio that will assist your brand in selling on Instagram
To add credibility, immediately provide your viewers with all the information they need to know you're the real thing.
Make sure you include your company name, a high-quality profile photo or logo, and a brief description of the things you sell on Instagram. You may also have your location in your bio. When it comes to selling on Instagram, the community is everything. People will be more inclined to assist you if they know where to locate you.
Promote Products on Your Page
Posting content that shows your items is the most basic way to promote them on Instagram.
When you walk into a real business, you first ask the proprietor to tour you around. Similarly, prospective buyers would want to examine product photographs before making a purchase if you begin selling things online. Because Instagram is a visual tool, make the most of your feed by publishing appealing pictures with appealing captions.
After you've set up Instagram Shop, you can begin tagging goods in posts by following the instructions below.
Select the post where you want to tag a product, then click the three dots symbol in the upper right corner and choose edit.
When you click 'tag product,' a list of goods in your shop will appear.
Choose the product to tag and click on it. Then press the done button.
You can tag up to 5 goods in a single picture post and 20 products in a multi-image post.
Create a little lookbook with many goods tagged using this tool. You may also make a single multi-image post to exhibit the wide varieties of a single product to sell on Instagram.
Create blog articles using Instagram's Guide function. For example, you can include product posts to highlight your most extraordinary things; also, you should highlight to publicize the release of new items or construct a gift guide.
Create Payment Options
It's time to move your audience from browsing to ordering and purchasing your stuff. You may take order information by posting a link to an order form in your bio.
You may even urge your consumers to place an order immediately on WhatsApp. Locate your Instagram account, select "Edit Profile," and then paste the Whatsapp connection into the supplied website field. In the captions, tell your viewers to fill out the order form using the link in the bio or to place an order using WhatsApp.
Because Instagram only permits one clickable link in the bio, you may make the most of it by using a connecting tool like Linktree.
Widen Your Organic Reach With Hashtags
Incorporating hashtags is an efficient way to expand your reach and expose your material to new audiences—monitor and assess how hashtags function. Then, attempt to alternate between relevant hashtags to see which one performs best for your brand.
Consider what phrases your buyers will search for related to your product when choosing hashtags. You may also use a hashtag research tool to select the perfect hashtag for your product and target demographic. Then, simply enter an appropriate tag, and you will receive many tag options.
However, don't overburden your content with hashtags. Though Instagram permits up to 30 hashtags per post, using 15+ hashtags appears spammy and desperate and will not provide significant results for your company. Instead, use 4 or 5 relevant hashtags for each post. This way, you may increase engagement without making your content appear cluttered with hashtags.
Use hashtags wisely to increase your reach and engagement.
Do not copy and paste any brand's hashtag into your post.
Conduct thorough research to determine which hashtags are hot to sell on Instagram in your niche.
Use hashtags with caution.
Avoid hashtags that have millions of postings. This will merely cause your post to be lost in a sea of similar postings, resulting in a slight reach.
Create Compelling Content For Selling on Instagram
This one should go without saying. Because Instagram is primarily a visual network, you must generate aesthetically engaging content that presents your items in exciting and unique ways. These are broken down further down.
Use eye-catching material to highlight your items.
Make sure that your material highlights your items. While it is sometimes beneficial to spice things up and include a graphic or a non-product shot, your items are the star of your account and should be treated as such.
To raise awareness, use Instagram Reels and Instagram Live.
Reels
Reels are one of the most effective strategies to increase brand recognition in 2021. So don't pass up this opportunity! Since introducing Instagram Reels in response to TikTok's success, Instagram has been heavily promoting the tool and rewarding accounts that utilize it. Instagram's CEO has even stated that the network is shifting from solely a photo-sharing platform to a greater emphasis on video content.
Reels prioritizes keeping users on the app, showing them more material they enjoy and boosting the likelihood of your work becoming viral. This is a fantastic opportunity for entrepreneurs. You're getting more eyeballs on your fabric, which means more prospective buyers will find you and view your stuff.
Instagram Live Video
Instagram Live is one of the app's most rapidly expanding services. When you start a video, the platform sends notifications to your fans, keeping you front of mind. It also generates a sense of urgency because these films usually vanish after you stop filming. This raises the likelihood that individuals will tune in to avoid missing anything crucial.
Use your imagination! Share client testimonials, show people how the product is manufactured behind the scenes, or perform a Reddit-style "Ask Me Anything" where you invite your audience to ask questions about your business.
With Instagram's introduction of Live Shopping, you can earn sales while broadcasting! Businesses and producers may now tag things when they broadcast live, allowing viewers to buy or save items from the shopping video. Keep in mind that only Instagram-approved goods can be added to live recordings.
Make Instagram posts that are shoppable.
Did you know selling on Instagram includes built-in tools for making your posts shoppable? With 130 million visitors tapping on shoppable posts each month, you're wasting money if you don't use these features. Here are two methods for making your content shoppable:
Product Labels
Product Tags enable you to highlight goods from your catalogue in your content so readers can quickly tap to learn more. These can also link directly to your shop for in-app purchases using Instagram checkout.
Instagram Product Launches
Instagram businesses checkout can now reveal forthcoming exclusive releases. This enables your audience to examine details and create purchase reminders when new goods become available.
Post, Communicate and Repeat
If you are consistent with your content, the Instagram algorithm will favour your brand.
A steady Instagram posting pace will rapidly develop your account. In addition, engagements will help you better understand your community and determine what they want to see more of in your feed.
Avoid sharing on Instagram at random. To sell on Instagram, you must develop content relevant to your company goals. To turn your audience into consumers, you must design a content strategy and stick to it. To stand out from the crowd, you need to figure out what material your audience likes to see on your feed. Your strategy should be both realistic and practical.
Instagram Marketing
You may advertise your Instagram profile organically, which means you can build an audience without sponsored advertising. This choice is free and demonstrates greater long-term participation. However, sponsored marketing can be the way to go if you need more followers or orders quickly.
Instagram advertises in the following ways:
Ads with photographs- A static image ad works well when you want to complete the purchase by giving a discount. Photos can be square or landscape in orientation.
Video advertisements are excellent for introducing new customers to your product and its benefits. Videos of up to 120 seconds can be shared in landscape or square format.
Ads for stories- These dynamic advertising services to enhance the client interaction you've previously had.
Carousel advertisements- Users may swipe through the ads to see more photographs or videos. This advertising style showcases all of the product's features/benefits.
Collection advertisements- Use them to visually excite your audience and assist them in discovering, browsing, and purchasing things. You can use either video or photos or a combination of the two.
Advertisements in Explore- Users use the Explore area to find new material, view videos, and shop. Each user's Explore tab has selected information tailored to their specific interests.
Each ad might have a separate call-to-action. To demonstrate a product's benefits to a new audience, utilize CTAs like "Learn More." Use "Shop Now" as your CTA if you're giving the last discount to complete a purchase.
How can you create an Instagram "Shop Now" ad?
According to Retail Touchpoints, 72 per cent of Instagram users have purchased a product after seeing it on the platform, which is ideal for generating engagement and revenues. Now to create an ad with a "Shop Now" or other CTA, you must first have a Facebook Page and an Instagram business profile. Once you have these, you may run and track advertising within the app or through Ads Manager.
How to Create an Instagram Ad-
Select a post you've already shared on Instagram and press "Promote" within the app. Next, select your ad purpose, target audience, and ad format inside Ads Manager.
Determine the length of time your adverts will run and your budget.
Press the Publish button. You will be notified when your advertisements have been authorized and are ready to run.
Conclusion
Whatever technique you pick for marketing on Instagram, there are several ways to use the network and turn your followers into paying clients. Many companies have found success selling on Instagram. Likewise, the platform's eCommerce companies have a bright future.
Experiment with various options until you find what works best for you! Of course, there is no one-size-fits-all approach, but as long as you keep your clients in mind and make the purchasing procedure as simple as possible, you'll be OK.
How WareIQ as a 3PL Fulfillment Partner Can Help You Advance in Selling On Instagram?
Customers have acquired certain technological benefits when completing online purchases as technology has advanced. They search for products by typing, clicking, and swiping. However, if you operate an eCommerce firm for online selling on Instagram, your success will be determined by the quality of your products and the quality of your order fulfillment service. Now here, WareIQ comes into the picture.
To stay competitive and provide a great client shopping experience, it's critical to work with a reputable order fulfilment provider like WareIQ. One that converts your eCommerce shop into a source of passive money rather than a cause of anguish.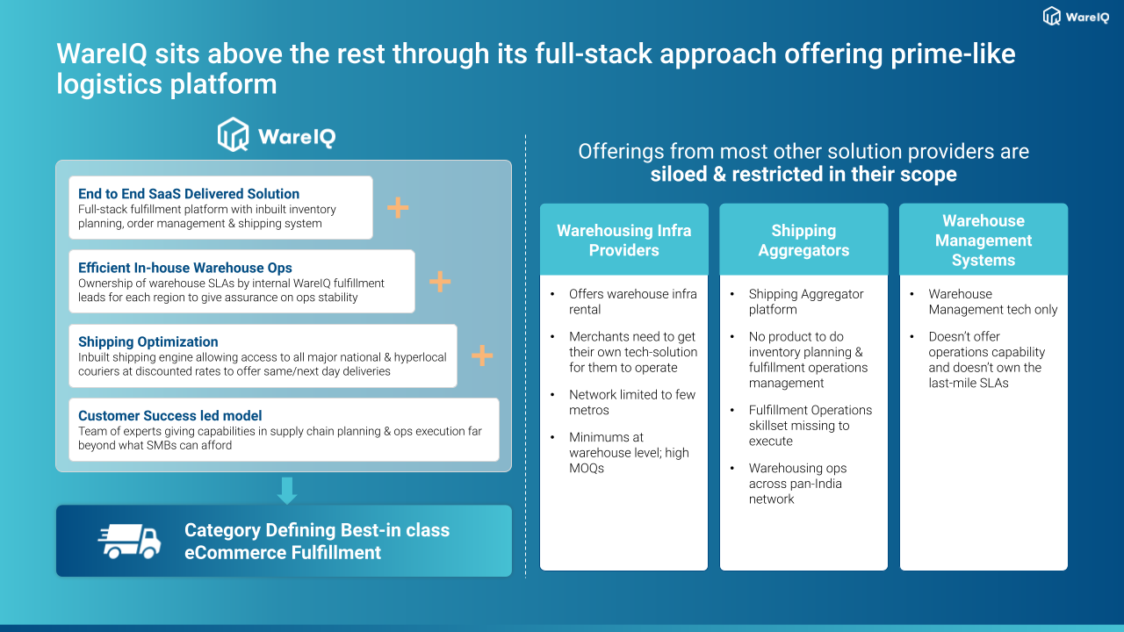 Here are some other advantages to working with WareIQ as your fulfilment and logistics partner for your selling on Instagram:
Get The Most Advanced Technologies and Inventory Management
An order fulfilment partner like WareIQ offers the technology, experience, and industry leadership to help your eCommerce selling on Instagram to function smoothly. This includes seamless interaction with your sales channels and other management solutions that improve inventory efficiency and carrier selection.
Reduces Your Operational Costs
It is expensive to ship packages, buy packing supplies, hire personnel, maintain quality control, and rent space. However, you may eliminate these overhead expenses by partnering with WareIQ, your order fulfilment partner, and beginning to share resources and play with other vendors.
Efficient Distribution and Storage
WareIQ's fulfilment network helps you to arrange, store more efficiently, and distribute your e-commerce business orders. It will manage, store, and receive your items for you, providing quick access to track your current stock levels.
Having an order fulfillment partner removes the possibility of shipping mistakes. Furthermore, WareIQ has inventory technology, streamlined pick and pack techniques, automated processes, and improved return and receiving procedures, which will assure speedy and precise fulfillment processing.
Quicker Delivery
If you perform order fulfillment in-house, it is done from a location that is handy for you. However, chances are your business isn't in a position that provides your customers with the best prices and travel times. Working with WareIQ will allow you to save money on shipping and deliver orders to your consumers faster and what is better than affordable and fast shipping timelines?
Best In Fulfilment Experience
Remember that you are not aiming to become a fulfillment specialist but to run your e-commerce firm. By outsourcing your packing, shipping, and storage, you will benefit from the equipment, software, and employees of a credible and experienced fulfillment partner, such as WareIQ.
WareIQ, as an order fulfillment partner, is well-versed in your industry. As a result, collaborating with WareIQ will expedite the fulfillment process.
Are you eager to know more about WareIQ's offerings if you sign up now? Find the features of the best-in-class, category-defining fulfillment services for eCommerce & D2C brands below:
Pan India Fulfillment & Darkstore Network: Plug-and-play fulfillment infrastructure with no minimums, which is compliant with Amazon Seller Flex, Flipkart Assured, Myntra and other marketplaces
Inventory & Network Planning Excellence: Best-in-class AI models for sales forecasting, product segmentation, and inventory management to reduce inventory by 40% and increase revenue by 10%.
Vertically Integrated Fulfillment Tech Stack: Our Fulfillment Tech Solution supports integrations with 20+ top marketplaces & D2C platforms, and prominent national, regional and hyperlocal couriers, enhancing reach by covering deliveries for 27,000+ pin codes
Supply Chain Productivity Applications: Integrate a host of supply chain productivity apps with a single-click to your existing CRMs, ERPs & accounting software to manage your logistics workflows from one command center. Use Apps like RTO Shield to get 100% RTO protection, Branded Tracking to turn your order tracking page into a profitable marketing channel, and many more.
Trusted by 300+ top Indian brands, we are helping them accelerate online sales and expedite their growth through a synergistic combination of advanced technology, robust fulfillment infrastructure & seller enablement services!WareIQ is backed by leading global investors including Y Combinator, Funders Club, Flexport, Pioneer Fund, Soma Capital, and Emles Venture Partner.
Frequently Asked Questions