What is a Distribution Partner? A Detailed Guide Including Definition, Types of Services, Challenges Faced, and How a Distribution Company Can Help in 2023
Developing a product, researching the appropriate audience to target, and listing it on your website and other eCommerce marketplaces is only one side of the story that goes towards ensuring that you have a successful online business. Making sure there is enough stock of high-demand products on various selling channels, limiting the number of units of slow-moving products, and ensuring that orders are distributed successfully and securely is the other side. In an effort to generate buzz around a newly launched commodity or create hype for an upcoming one, retailers often neglect the value and reduced effort that an enhanced distribution process can bring.
However, this approach could have many negative implications in terms of the relationship and perception customers have of your brand, and if they don't have a seamless delivery and post-purchase experience, it could severely hamper your chances of getting a repeat purchase from them. One way to avoid this and make sure that all your eCommerce logistics and eCommerce fulfillment services are being carried out properly is to opt for a distribution partner. In this blog, we will help you understand what a distribution partner is when to look for one, what services you should expect from them, and the challenges faced in the distribution industry.
What is a Distribution Partner?
A distribution partner is a type of company that assists eCommerce sellers with distributing their products, not only to the end customer but also from the factory back to their storage facilities to various physical retail stores and the warehouses of the online selling platforms that they sell on. Additionally, they may also provide additional capabilities, such as marketing and the ability to resell products. You can learn more about the retail distribution process here.
The sole purpose of a distribution company is to help retailers get their products to where they need to be according to the situation. In the B2B sector, this would mainly entail transferring products between different warehouses, distribution centers, and physical marketplaces.
Conversely, in the B2C sector, this would dictate goods being delivered to their respective customers in a fast and efficient manner. Other services that a distribution company performs include order processing, shipping, and transitory preparation. Distribution partners are aware that most eCommerce sellers don't relegate themselves to a single platform, so they can often integrate seamlessly with multiple online selling channels and shipping carriers.
WareIQ – Amazon-prime Like Logistics for Modern Brands in India
WareIQ, an eCommerce fulfillment company, empowers online brands with a superior-tech platform to compete with Amazon like service levels by bringing their average delivery timelines from 5-10 days to 1-2 days.
"With WareIQ's full stack digital enabled fulfillment solution, we got access to the pan India network of fulfillment centers & cold storage facilities enabling same/next day delivery, without any upfront investment in supply chain infrastructure from our end. During the IPL campaign in April 2022,

WareIQ efficiently

handled unpredictable 200x surges in daily order volumes

of ~20k/day with a

99% fulfillment rate

. With WareIQ as our preferred fulfillment partner, we witnessed 172% growth in online order volume in just 4 months, with a significant improvement in the overall customer experience in fulfillment."
Under What Circumstances Should You Opt for a Distribution Partner?
Need for Cheaper Pricing Plans
Not all distribution partners will have the same impact on your wallet. Some companies provide more value-added services to command more of a premium. Similarly, companies that just focus on the basics of getting products from point A to B are often on the cheaper end of the spectrum. However, with the booming growth of eCommerce in the past decade, many distribution companies have, by sheer necessity due to stiff competition, needed to lower their prices, regardless of the services they offer, in order to successfully attract customers and compete in a highly challenging industry. So if you need a way to reduce the current strain on your wallet, partnering with a distribution partner can be the way to go.
Demand for More Comprehensive Coverage
Virtually all distribution partners offer their services throughout the country. However, it is the density of pin code coverage that often varies between companies. Distribution firms may offer more inclusive coverage in different sections of the country compared to their rivals. Some may service 95% of pin codes in the South but only 20% of pin codes in the North. As a seller, the onus is on you to figure out the hot spots of where your demand is primarily coming from and select a company that offers significant coverage in those areas.
Requirement to Ship Products Internationally
International shipping can be a complicated affair but with the right distribution company handling it for you, it doesn't have to feel like it. If you are looking to expand your business and sell your products abroad, you will need a distribution partner that has the ability and experience to get the necessary permissions, get your documents in order and obtain discounted import duties to help increase your profit margins. Selling in foreign markets can cause severe delays and issues, so it is important to have a dedicated distribution partner that can handle any unforeseen challenges that may arise.
Access to Faster Delivery
These days, due to the pervasive trend of ultra-fast delivery, most customers expect their orders to be delivered within a couple of days. Many customers are also willing to pay more for the benefit of having their orders delivered instantaneously. Thus, for sellers that don't want to fall behind the times, it is highly recommended to provide the option of ultra-fast deliveries to their customers. Most distribution companies have partnerships with multiple shipping carriers and the necessary technology to automate important processes. This ensures that there are no bottlenecks at any step of the supply chain and that orders can reach their destination on time and intact.
Need for Additional Services
As stated above, the list of services provided by each distribution partner differs from the next. If you are someone that genuinely needs access to features, such as customizable packaging, customs clearance, ultra-fast shipping, choice of shipping company, eCommerce order tracking, and more, there are many options available. However, it would be noteworthy to understand that many of these features do come at an additional premium, so even if you partner with a company that provides all of them, you may only be able to access them at an extra cost.
Suggested Read: Distribution Metrics and KPIs for Online Businesses to Enhance Operational Efficiency
How to Choose a Distribution Partner in 2023? 5 Factors to Consider While Finding a Distribution Company
Large Distribution Network
Having a comprehensive network of fulfillment centers, hyperlocal units and distribution facilities will help you in storing and dispersing your products wherever you need them. Some distribution partners provide nationwide storage facilities both in India and abroad, which will enable you to store your commodities in close proximity to areas showcasing the highest demand.
Similarly, you can choose to prioritize which products to stock and in what volumes in specific fulfillment centers, dictated by factors, such as demand, price, size, value, and more, which help keep your inventory more organised and dispatch-ready whenever an order is confirmed.
High-Grade Infrastructure
Distribution partners need to have access to high-end logistics and fulfillment infrastructure in order to successfully coordinate all the activities that are involved in successfully delivering an item to its relevant customer.
Technology, such as WMS software that can integrate with and consolidate your order and inventory data across fulfillment centers and eCommerce marketplaces, a country-wide network of fulfillment centers, access to multiple shipping partners and more, will enable your supply chain to run smoothly and efficiently while also sheltering you from needing to deal with delays and other unexpected events.
Dependable Services
Having all the services in the eCommerce world is of no use if they aren't solidly dependable. While searching for a distribution partner, conduct some research to find out important information like their order accuracy rate, frequency of RTOs, and shipping/delivery speeds.
Additionally, browse through some of their reviews online to get a sense of the experience other customers have had with the company. Complaints and negative reviews are inevitable, especially in eCommerce but look specifically for the way that they handle bad customer feedback and if customers got a fair and swift resolution to their problems.
Ability to Adapt to Growing Volumes
One of the main goals of starting an eCommerce company is to generate as many orders as possible through the use of various promotional tactics. Once demand generates an increase in your order volumes, you will have to look for a distribution company that can not only take on your company's current sales velocity but will also have the capacity to handle more significant surges in the future.
In order to determine if a distribution partner is equipped for the future, check their current order volume and the existing number of sellers that have partnered with them. Also, check if they have any expansions planned to their infrastructure and service lineup in the future.
Size is Proportional to Your Company
When looking for a distribution partner, it may be easy to assume that the biggest is always the best. While that may sometimes be the case, it isn't always the best option, especially if you are just looking to get the ball rolling for your own company. Even if you have the funds, we recommend shortlisting options that may be of comparable size or even slightly larger than your business.
For instance, if you want to fulfill orders in the hyperlocal setting, it would be better to partner with a local distributor that is based in the area. Similarly, if you require product distribution in various countries around the world, you would be best suited to find a multinational company that has international storage facilities and transport infrastructure.
5 Distribution-Related Challenges Faced by eCommerce Sellers and How a Distribution Partner can Help in 2023
Facing Soaring Demand
On one hand, everything that eCommerce sellers do is so that more people will purchase their products. On the other, increasing order numbers can spell trouble for companies that aren't prepared or do not have the financial capabilities to adapt. Not being able to fulfill orders can have a negative impact on the perception customers have of your business, the willingness prospective customers will have to order from you, and create overstocking and understocking situations for various products.
Solution: This is where a competent distribution partner can help alleviate some of the burdens. By completely handling your distribution process, including order processing, packaging, dispatching, shipping, and delivery, your distribution company can help free up time for you to work on other core aspects of your business.
Dealing With Unanticipated Disruptions
No eCommerce company, no matter how large, is exempt from the uncertainty caused to natural disasters, road work or political rallies. Events like these can hinder your ability to get customers their orders on time, which will lead to dissatisfaction and negative feedback online.
Solution: While a distribution partner cannot control external forces, they can help equip your supply chain with all the fail-safes and technology that are needed to predict and curtail their adverse effects of them.
Ensuring Customers are Satisfied
These days, it takes a lot to acquire positive feedback and opinions from eCommerce customers. Having been pampered with the latest technology and features for the past decade, they have grown accustomed to instant gratification and if even a slight delay or hindrance occurs in the purchase or delivery experience, they are bound to let you and every other potential customer know.
Solution: Distribution partners are responsible for a giant aspect of a customer's overall experience with your company. By providing short delivery times and ensuring that customers are kept up to date about every detail related to their order, you will enhance their satisfaction.
Surging Transportation Costs
Every person and industry has been affected by the steadily rising fuel and transportation costs. If you are an eCommerce seller, it can seriously impact the profit margins you receive for each order. However, transferring the burden of paying for the increased shipping costs is also not an option. Therefore, changes need to be made elsewhere to your supply chain to curtail the diminishing returns you get from each sale.
Solution: Distribution companies have set prices for all their services and ensure that their clients do not bare the brunt of price increases for recurring expenses like transport.
Needing to Utilize Updated Technology
Due to the nature of eCommerce, companies are often expected to make use of emerging technologies and services. For instance, since customers are used to ultra-fast delivery, they will think poorly of a retailer that doesn't offer it as an option. For companies with limited finances and access to research and development, implementing these new technologies can be a curveball.
Solution: Most distribution partners already have the latest features and technology baked in and have the necessary infrastructure in place to implement new services as they get introduced.
Conclusion: Why You Should Consider WareIQ to be Your Distribution Partner
Distribution partners can be a key element in the success or failure of a company. If your business is at the onset of rapid expansion, either domestically or abroad, it would be highly beneficial to partner with a distribution company. Their entire goal is to completely manage your end-to-end distribution requirements whether it is to customers, storage facilities or other businesses. This can remove a huge burden from your shoulders and leave you with the time and resources to focus on researching and developing new products, and refining and marketing existing ones.
While the services and pricing of each distribution partner can vary, you need to determine which one aligns the closest with your objectives and financial capabilities. If you do need a distribution partner that offers highly flexible and transparent pricing, and a variety of additional eCommerce solutions, look no further than WareIQ.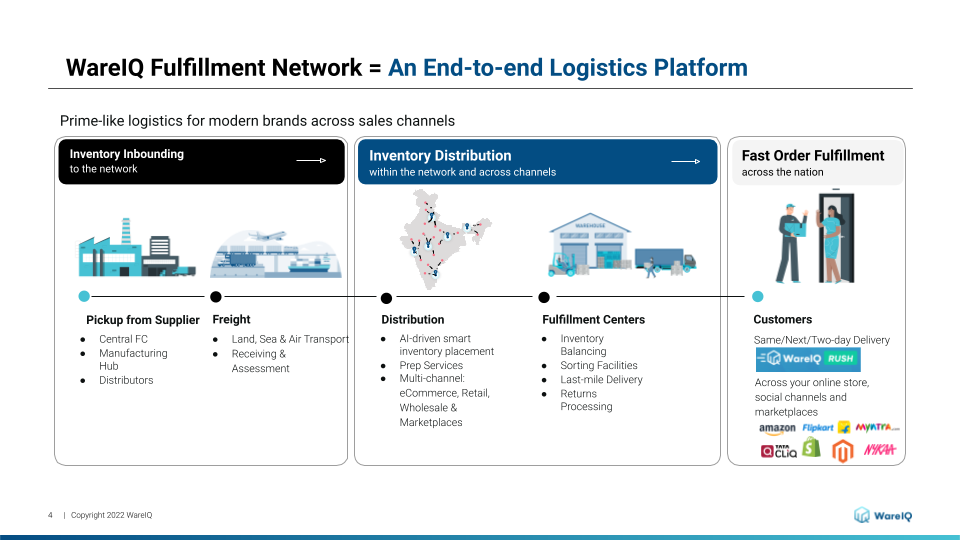 WareIQ is an eCommerce fulfillment company that was started in 2019 and is currently based in Bangalore. Having emerged as one of the fastest-growing options in India, the company offers a variety of 3PL distribution services and fulfillment facilities. Some of the key ones are listed below:
India-Wide Network of Dark Stores and Fulfillment Centers
All of our fulfillment centers, which are spread out across the nation, are equipped with specialised SKU-specific amenities, such as cold storages, temperature-controlled warehouses, specialised storage materials for fragile goods and more. Additionally, we provide dark stores, which let us store and distribute products to nearby locations that need to be fulfilled in a hyper-local setting.
Customizable Branded Packaging
Depending on the requirements of your business, we provide specialised packaging services. With your logo and the colours of your choice, you can draw positive attention to your brand. Additionally, you can pick materials that will safeguard your goods, especially if they are fragile, like jewellery or technological devices.
Same-Day and Next-Day Delivery
We have collaborated with more than 20 of the top eCommerce shipping aggregators in the country to guarantee that your products are always delivered on time. Additionally, for each order, we automatically choose the fastest and most affordable alternative.
In-house WMS with Multiple Integrations
Our custom-built WMS can communicate with a range of eCommerce selling platforms, such as Amazon, Flipkart, eBay, and more, in order to track, store and update your inventory in real-time. All of your important data is accessible from a single dashboard.
No Minimum Order Restrictions
Our services are offered without any minimum order requirements. Because you only pay for the facilities and services that you use, you can only choose what you require.
Distribution Partner: FAQs