Shiprocket vs Delhivery vs WareIQ: A Detailed Comparative Analysis to Help You Choose the Right Fulfillment Company in 2023
It would be easy to think that the primary focus of eCommerce is to have an attractive website that also performs well, a smooth checkout process, and the ability to encourage customers to make multiple purchases at your store. However, one of the core tenets of the industry is order fulfillment.
The operations involved in order fulfillment comprise all the necessary steps to ensure that a parcel reaches the customer that placed it. Generally, large firms have access to plenty of financial resources and technology that enables them to provide facilities such as same-day delivery, free shipping, attractive custom packaging, and much more, relatively easily. Historically, local firms have lagged behind their multinational counterparts due to a lack of access to these facilities and the resources which makes them possible.
However, in today's hyper-competitive eCommerce environment, there is no dearth of 3PL fulfillment companies that can provide these facilities and much more to eCommerce retailers at a quarter of the price than if they had to do it themselves. In this blog, we will compare 3 of the best options in the country – Shiprocket vs Delhivery vs WareIQ – and help you identify which would be the right choice for you.
About WareIQ
WareIQ is an eCommerce fulfillment company that has emerged as one of the fastest-growing options in the country. With a heavy emphasis on the use of technology to provide solutions to a wide range of eCommerce requirements, the company is able to offer some of the most comprehensive services in the industry. WareIQ was founded in 2019 in Bangalore, where it is currently headquartered.
While it is still a relatively young company, it not only provides all the conventional facilities that are offered by companies that have been around for longer but also provides value-added offerings that are unique to it, such as a custom app store, no minimum order requirements, a network of hyper-local dark stores and much more. Some of the services offered by WareIQ that warrant your consideration are listed below:
It provides a nationwide network of fulfillment centers and dark stores and also offers smart inventory placement recommendations to help you store your products closer to your customers and major transport facilities, enabling faster and more efficient delivery.
It provides comprehensive inventory management through its custom WMS, which can monitor and provide real-time updates regarding the order and inventory data, across fulfillment centers, in a central dashboard.
It offers integrations with more than 20 of the biggest eCommerce marketplaces, such as Amazon, Flipkart, eBay, Meesho, Nykaa, and many more. Order information across all platforms is consolidated in a single account that can be accessed by you from anywhere.
It enables ultra-fast same-day and next-day delivery by partnering with more than 20 shipping carriers and automatically designates the quickest and most cost-effective option for every order.
It reduces the damage caused by returns by providing an RTO Shield that insures every product and also offers reverse logistics facilities to inspect the product and ensure it is transported safely back to the warehouse.
WareIQ – Amazon-prime Like Logistics for Modern Brands in India
WareIQ, an eCommerce fulfillment company, empowers online brands with a superior-tech platform to compete with Amazon like service levels by bringing their average delivery timelines from 5-10 days to 1-2 days.
"With WareIQ, UTH is able to consolidate common inventory for all platforms and get much closer to the customer through access to WareIQ's strong nationwide network of fulfilment centres, and last mile & hyper-local courier partners.

We are excited about being able to offer

same day delivery

in several pin codes due to

WareIQ

.

"
About Shiprocket
In India, one of the most experienced and highly acclaimed shipping aggregation services is a company called Shiprocket. The business was established in Delhi in 2012 and is also presently based there. As a shipping aggregator, its main services include combining shipping providers to offer a more straightforward selection to its customers, the automation of multiple logistics and shipping operations, and connections with different eCommerce platforms.
It also provides merchants with additional services like cost estimation, which makes it easier for them to see upfront how much money they will be spending overall and order management across several selling platforms. With a daily order capacity of 200,000, the organisation currently serves customers in 200-plus nations globally. Some of the services offered by Shiprocket that warrant your consideration are listed below:
It offers a thorough system for analysing and monitoring vital order-related data, enabling you to quickly analyse your success rates and pinpoint areas in need of reassessment.
It offers auxiliary facilities, including insurance for every order, shipping label printing, and much more. This makes it one of the most complete eCommerce shipping platforms currently available.
It gives you access to critical data pertaining to your orders and inventory levels through a single dashboard and also provides integrations to a number of online selling platforms.
It enables you to choose from up to 17 shipping companies and its user-friendly interface lets you manage and combine your order and logistics data across all of them.
It provides a bespoke shipping rate calculator that can assist you in determining which distributor is providing the highest-quality and most inexpensive service for every order based on variables like product characteristics, distance, and more.
Suggested Read: Check Out Top Warehousing Companies in Delhi NCR.
About Delhivery
Delhivery is primarily a shipping and logistics company that provides a wide range of supply-chain-improving facilities, such as order fulfillment, courier services, and warehousing facilities. The company was founded in 2011 and although you would think that the company was pioneered in the nation's capital judging by its name, it was actually set up and is currently headquartered in Gurgaon, Haryana, a short distance to the south.
The main goal of the company is to provide reliable infrastructure that enhances the day-to-day operations of eCommerce as a whole. It does this by leveraging technology to provide coverage to more than 18,000 pin codes, offers 24/7 customer services, has a vast network of warehouses and fulfillment centers, and much more. Some of the services offered by Delhivery that warrant your consideration are listed below:
It provides round-the-clock customer support for any inquiry throughout the year, which makes sorting out any issues or delays extremely simple and quick.
It offers a vast fulfillment and storage network comprising sort centers, fulfillment centers, shipping gateways, and direct-delivery centers.
It provides same-day and next-day delivery for conventional orders and 48 to 96-hour deliveries for long-distance orders across the country.
It offers returns management to mitigate the damage and delays caused by returns.
It provides global B2B and B2C shipping facilities to many different countries using carriers like FedEx and DHL.
Shiprocket vs Delhivery vs WareIQ: 10 Main Differences in Services and Facilities in 2023
Shiprocket vs Delhivery vs WareIQ: Core Offering
WareIQ: WareIQ's core offering is centred around its eCommerce fulfillment offerings and all the processes involved in it, such as product storage, inventory management, packaging services, distribution facilities, and last-mile delivery, among others. The company uses advanced technologies and automations to speed up and optimize these procedures.
Shiprocket: Shiprocket's core offering is providing shipping aggregation services which involve bundling together shipping carriers so that their customers can make a well-informed decision. To help with this, the company employs the use of an AI-enabled recommendation engine. The company seeks to make fast and efficient shipping available to a wide audience at an affordable price.
Delhivery: Delhivery is branded as a shipping and logistics company. Their core offering is focused on shipping aggregation and distribution services. However, the company also provides various fulfillment facilities, such as a fulfillment center network and returns management.
Shiprocket vs Delhivery vs WareIQ: Customer Onboarding Time
WareIQ: WareIQ's entire customer onboarding procedure is done in a mere 7 days.
Shiprocket: Shiprockert offers customer onboarding services but an exact timeline isn't mentioned.
Delhivery: Delhivery's customer onboarding process is almost instantaneous, as you only need to sign up and can start shipping products immediately.
Shiprocket vs Delhivery vs WareIQ: Pricing
WareIQ: WareIQ offers pricing benefits, such as no minimum order restrictions and the option to only select the services you require, in addition to cost-effective and flexible payment plans. It also offers a variety of options internally, including a personalised WMS and a selection of shipping carriers, that mitigate the need to purchase those services elsewhere.
Shiprocket: Shiprocket offers multiple payment plans with the base subscription starting at ₹20 per 500 grams. There is also an option to customize your plan with specific services you require.
Delhivery: Some perks of Delhivery's pricing model include no sign-up fees or monthly subscriptions. Instead, the company imposes charges based on the weight and dimensions of each order and payments can be determined using the in-house pricing calculator.
Shiprocket vs Delhivery vs WareIQ: Technological Features
WareIQ: One of WareIQ's main selling points is its broad use of technology in every facet of its services. The company offers technological facilities, such as a custom WMS, automated replenishment triggers, an app store, real-time inventory updates, integrations with multiple eCommerce platforms, branded order tracking, and much more.
Shiprocket: Shiprocket provides its customers with access to many essential technologies, such as an AI-powered recommendation engine, NDR management, SMS alerts, automated distribution facilities, order tracking, and much more.
Delhivery: Delhivery also employs some advanced technological features, such as smart inventory placement, multi-channel integrations, real-time order visibility, documentation management and much more.
Shiprocket vs Delhivery vs WareIQ: App Store
WareIQ: WareIQ has a simple and well-designed in-built app store that has an entire suite of apps that provide the ability to enhance various business functions, such as generating customer feedback, providing shipping badges to indicate delivery speed, and using branded tracking pages to improve the order tracking experience.
Shiprocket: Shiprocket offers API integrations and some in-house platforms but does not have an app store.
Delhivery: Delhivery does not offer an app store or first-party app support.
Shiprocket vs Delhivery vs WareIQ: Services Offered
WareIQ: WareIQ provides almost every facility relating to eCommerce fulfillment, such as SKU storage, shipping facilities, a custom app store, inventory management, an in-house WMS, last-mile delivery, shipping badges, packaging facilities, branded tracking, and much more.
Shiprocket: Shiprocket mainly offers shipping aggregation and other subsidiary services, such as packaging facilities, prepaid COD, no monthly charges, no minimum order requirements, API integrations, and much more.
Delhivery: Delhivery offers a wide range of shipping and fulfillment services, such as domestic and international shipping, trucking facilities, specialised transit facilities, order tracking, fulfillment centers, no monthly fees, and much more.
Shiprocket vs Delhivery vs WareIQ: Integrations
WareIQ: WareIQ offers multiple integrations through its custom WMS with eCommerce marketplaces, such as Amazon, Flipkart, eBay, Nykaa and more, as well as with website builders, such as WooCommerce, Shopify and Magento, among others. Historical order data can also be imported and information from all platforms can be accessed through a single dashboard.
Shiprocket: Shiprocket can integrate with most large-scale eCommerce selling platforms, such as eBay, Amazon, Shopify and more, to successfully monitor and consolidate order data in one location.
Delhivery: Delhivery can integrate with most major shipping carriers as well as eCommerce selling platforms.
Shiprocket vs Delhivery vs WareIQ: Unique Selling Point (USP)
WareIQ: WareIQ uses technology to provide a vast array of eCommerce solutions that encompasses almost any requirements that an online seller would need. The company also allows retailers to edit their plans and only opt for the services they need, so it is highly flexible.
Shiprocket: The flagship offering of Shiprocket is its shipping aggregation services that utilize advanced technology and are easily affordable for eCommerce sellers en-masse.
Delhivery: Delhivery not only provides shipping aggregation solutions both internationally and domestically but also offers many fulfillment-specific services, such as a fulfillment center network and order tracking.
Shiprocket vs Delhivery vs WareIQ: Customised Packaging
WareIQ: Customised packaging facilities are provided by WareIQ where every aspect of the parcel, such as its dimensions, design, materials and logo, can be changed according to your requirements.
Shiprocket: Shiprocket does provide customised packaging facilities that can be edited as per the customers' preferences.
Delhivery: Delhivery also offers customised packaging solutions where most elements of the parcel can be personalised.
Shiprocket vs Delhivery vs WareIQ: Cold Storage Facilities
WareIQ: WareIQ provides cold storage facilities in most of its fulfillment centers.
Shiprocket: Cold storage facilities are not provided by Shiprocket.
Delhivery: Delhivery does offer temperature-controlled warehousing and shipping solutions.
Suggested Article: NimbusPost vs Shiprocket vs WareIQ
Shiprocket vs Delhivery vs WareIQ: Feature Comparison Table
Company ➡️
Features ⬇️
WareIQ
Shiprocket
Delhivery
Core Business
All-encompassing fulfillment solutions such as inventory storage, warehouse management, shipping, last-mile delivery, eCommerce marketplace integration and much more.
Shipping aggregation and logistics
eCommerce shipping and fulfillment services
Unified Platform Experience (OMS & WMS)
Yes (fully integrated WMS, OMS, inventory analytics & prediction, shipping aggregation and returns management)
No (only provides access to shipping aggregation tools)
No (required to bring your own tech solutions separately)
Smart Fulfillment Network Design
Yes (AI-powered inventory and network planning tools are available)
No
No
Inventory Placement Insights
Yes
No
Yes
Marketplace Fulfillment Compliance
Yes
No
No
Smart Courier Allocation
Yes (AI-powered shipping recommendations provided to help balance cost and speed)
Yes (AI-powered shipping recommendation engine is available)
No
Assured Prime-Like Shipping Badges for D2C Websites
Yes (Same-Day, Next-Day, Two-Day and Standard shipping badges are available
No
No
AI-based Inventory Forecast & Replenishment
Yes
No
No
Periodic Reports for Inventory Planning & Management
Yes
No
Yes
Fulfillment Centers
Yes, managed in-house
Yes
Yes
Dark Store-Led Same-Day Delivery
Yes
No
No
Integration with Top
Courier Partners
(Last Mile Delivery)
Yes
Yes
Yes
RTO Risk Prediction & Insurance
Yes, with insurance claims managed internally
No
No
Integrated Value Apps
Yes (Self-built and can integrate with 3rd party apps)
Yes (Self-built but cannot integrate with 3rd party apps)
No
Branded Tracking
Yes
Yes
Yes
Notifications/Alerts
(Post Ship Experience)
Yes
Yes
Yes
Key Account Manager
Allocation
Yes
Yes
Yes
Onboarding Support
Yes
Yes
Yes
Troubleshooting Support
(Customer-Success Led Seller Enablement Services)
Yes
No
Yes
Returns Management
Yes
Yes
Yes
SPF Claims Filing
Yes
No
No
Conclusion: Why WareIQ is the Best Choice Among Shiprocket vs Delhivery vs WareIQ As a Fulfillment Service Provider in 2023?
Choosing a 3PL fulfillment partner that encompasses all your requirements and considerations is imperative to the success of your business. Your goals can vary depending on factors such as the nature of your products, the sector your business is in, your short-term and long-term goals, the financial resources you have access to, your growth estimation, and much more.
You need to ascertain what facilities are the most important to you and whether you can afford the services of the company you want to partner with. If you need a solid shipping aggregator, Shiprocket could be a good choice. If you need access to a vast fulfillment network, Delhivery could be the right call. However, if you need a blend of both in addition to plenty of other eCommerce facilities, such as a custom WMS, with no minimum order requirements so you can be flexible with your finances and bespoke packaging facilities, there is no better option than WareIQ.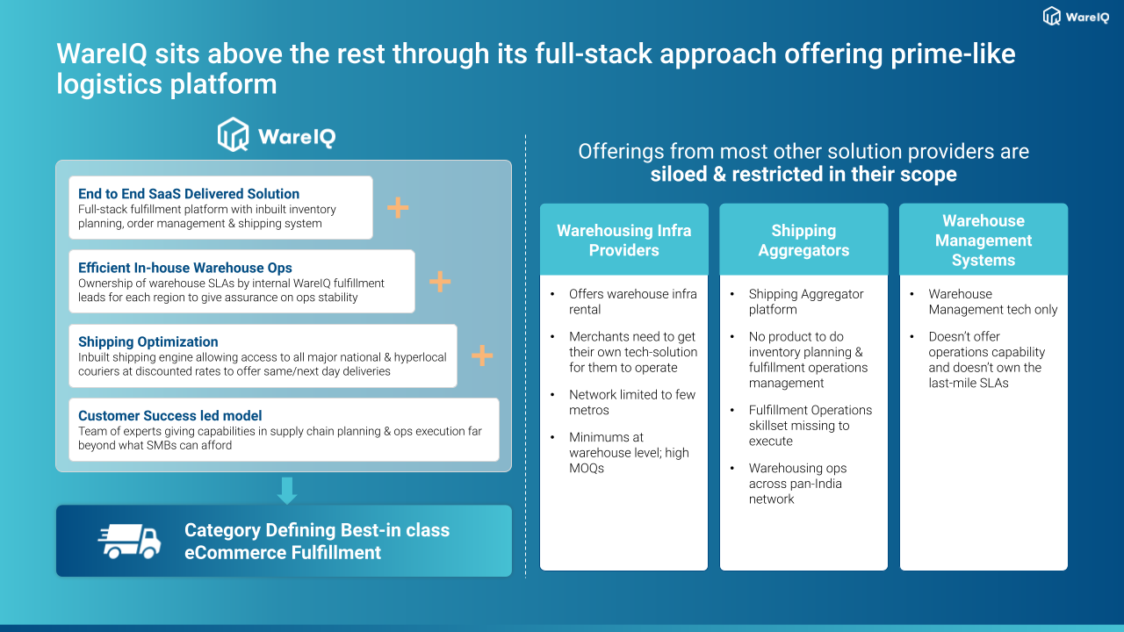 WareIQ is one of India's fastest-growing eCommerce fulfillment companies. We offer a variety of eCommerce services, from inventory storage to last-mile delivery and everything in between. Some of the key facilities we provide are listed below:
We offer a SaaS application for AI-based inventory optimization that avoids out-of-stock and overstocking problems.
We provide reverse logistics support and have an RTO Shield that covers every product against the possibility of damage caused by returns.
We have custom packaging capabilities where you can customise every element of the parcel, such as the logo, materials, design, and more, to your taste.
We have a strong team of customer support specialists who provide 24/7 help for the swift resolution of customer inquiries.
We impose no minimum order requirements, so you are free to choose and pay for what you need and you can always upgrade or edit your plans according to future circumstances.
Delhivery vs Shiprocket vs WareIQ: FAQs