Top 10 Eshopbox Alternatives and Competitors for eCommerce Retailers Looking for Fulfillment & Shipping Solutions in 2023
Eshopbox is an all-encompassing eCommerce logistics company that was founded in Gurgaon in 2012 with the aim of providing quick and easily-accessible fulfillment facilities to eCommerce brands. The company was one of the first entrants into the pivotal Indian eCommerce market, even preceding Amazon's entry into the country by a year. This has enabled Eshopbox to cement itself as a household name in the eCommerce fulfillment and eCommerce logistics space and acquired a loyal client base. The company provides all the usual set of facilities associated with 3PL fulfillment providers, such as inventory storage and management, integration with multiple eCommerce selling platforms, ultra-fast delivery, Prime-like shipping badges, and more.
However, with the emergence of multiple competitors offering more up-to-date features, advanced software solutions, and even more cost-effective prices, retailers in today's eCommerce industry are spoiled for choice and need not relegate themselves to just one fulfillment company. In this blog, we will touch on the reasons that sellers search for Eshopbox alternatives, the top 10 alternatives to Eshopbox, and make a detailed feature comparison of Eshopbox competitors in the market.
Why Do Companies Search for Eshopbox Alternatives for D2C and eCommerce Fulfillment?
Need for Alternative Services
Although Eshopbox is well known for its shipping services, its operations are centered around standardised packaging that is more suited towards non-perishable items such as electronic items and clothing. Thus, it is not always the best choice for transporting high-end commodities such as jewelry or other expensive items and bulky products such as furniture and large appliances. It can be beneficial to choose Eshopbox competitors that provide these services if a merchant deals in pricey or perishable goods that need special packing and cautious handling in addition to other services that may be required by specialised goods.
Access to Cheaper Pricing
While Eshopbox markets itself as an affordable option, there are 3PL fulfillment companies that provide their services at significantly cheaper rates, in addition to utilities such as no minimum order or service requirements, which would enable you to only opt for the facilities that you need and pay for the what you use. Many retailers seek Eshopbox alternatives so that they can find a way to save money so that they can increase their profit margins or redirect the savings back into the business.
Requirement for a More Expansive Fulfillment Center Network
Eshopbox has an impressive network of fulfillment centers in the grand scheme of things. However, the specific requirements of your business may entail storing products near tier-2 or 3 cities as opposed to large metropolitan areas. This is where the constraints of Eshopbox's fulfillment network become apparent. The company has a combined 7 fulfillment centers for the entire country, which may result in increased delivery distances and timelines. The company also lacks the operation of dark stores, which are a necessity in the event of highly perishable goods such as food items. Many companies seek alternatives to Eshopbox for this reason.
WareIQ – Amazon-prime Like Logistics for Modern Brands in India
WareIQ, an eCommerce fulfillment company, empowers online brands with a superior-tech platform to compete with Amazon like service levels by bringing their average delivery timelines from 5-10 days to 1-2 days.
"With WareIQ, UTH is able to consolidate common inventory for all platforms and get much closer to the customer through access to WareIQ's strong nationwide network of fulfilment centres, and last mile & hyper-local courier partners.

We are excited about being able to offer

same day delivery

in several pin codes due to

WareIQ

.

"
10 Best Alternatives to Eshopbox for eCommerce and D2C Businesses Looking for Fulfillment Solutions in 2023
WareIQ
WareIQ is one of the fastest-growing eCommerce fulfillment firms in India. The company leverages technology as a foundation to support a variety of eCommerce services, including order fulfillment, inventory management, ultra-rapid delivery, customer support, reverse logistics, and much more. WareIQ was established in Bangalore in 2019 with the goal of providing incredibly quick delivery to every Indian Pincode by erecting a sizable infrastructure of distribution centers and transportation hubs.
The company offers a variety of distinctive features, including a custom WMS that can integrate with different eCommerce selling platforms, an app store where users can download different apps to improve their experience, an RTO shield to shelter retailers from having to pay for returns management, and much more. A few features that make WareIQ one of the best alternatives to Eshopbox are:
It does not require a minimum order amount
It provides a nationwide network of dark stores and fulfillment centers
It offers upfront pricing that is affordable
It provides branded tracking services that can be customised
It provides services for personalised packaging
Are you eager to know more about WareIQ's offerings if you sign up now? Find the features of the best-in-class, category-defining fulfillment services for eCommerce & D2C brands below:
Pan India Fulfillment & Darkstore Network: Plug-and-play fulfillment infrastructure with no minimums, which is compliant with Amazon Seller Flex, Flipkart Assured, Myntra and other marketplaces
Inventory & Network Planning Excellence: Best-in-class AI models for sales forecasting, product segmentation, and inventory management to reduce inventory by 40% and increase revenue by 10%.
Vertically Integrated Fulfillment Tech Stack: Our Fulfillment Tech Solution supports integrations with 20+ top marketplaces & D2C platforms, and prominent national, regional and hyperlocal couriers, enhancing reach by covering deliveries for 27,000+ pin codes
Supply Chain Productivity Applications: Integrate a host of supply chain productivity apps with a single-click to your existing CRMs, ERPs & accounting software to manage your logistics workflows from one command center. Use Apps like RTO Shield to get 100% RTO protection, Branded Tracking to turn your order tracking page into a profitable marketing channel, and many more.
Trusted by 300+ top Indian brands, we are helping them accelerate online sales and expedite their growth through a synergistic combination of advanced technology, robust fulfillment infrastructure & seller enablement services!WareIQ is backed by leading global investors including Y Combinator, Funders Club, Flexport, Pioneer Fund, Soma Capital, and Emles Venture Partner.
FedEx
FedEx is a multinational eCommerce behemoth that provides shipping facilities, supply chain services and eCommerce fulfillment solutions to a wide range of industries, including healthcare, retail, electronics and many more. The company was established in Little Rock, Arkansas in the United States, more than 50 years ago and it now maintains its corporate headquarters in Memphis, Tennessee.
The business has operations in more than 220 nations and provides eCommerce retailers with services like the ability to sync their order information and inventory lists from different selling platforms in one place. Given its extensive eCommerce fulfillment experience, the business would be able to complete any requirement with ease. A few features that make FedEx one of the best alternatives to Eshopbox are:
It offers a worldwide network of services
It provides several integrations with various online marketplaces
It has a platform that is intuitive and simple to use
It provides a vast delivery network
It delivers packages quickly and offers reverse logistics services
ShipMonk
The central objective of ShipMonk is to make tech-based eCommerce services easily accessible to a large number of retailers across industries. The company was founded in 2014, and since then, its activities and services have swiftly grown. The company's headquarters are in Fort Lauderdale, Florida. Packing services, pick-and-pack operations, warehouse management, customer assistance and a host of other services are all provided by ShipMonk. It presently operates more than 100 digital storefronts and provides specialised account managers to each customer for help with onboarding. A few features that make ShipMonk one of the best alternatives to Eshopbox are:
It provides users with a digital billing portal
It assists in the automation of fulfillment center operations
It has several different branding and customization services
It provides tax advantages and lower prices for large orders
It excludes setup and inventory receiving fees
DHL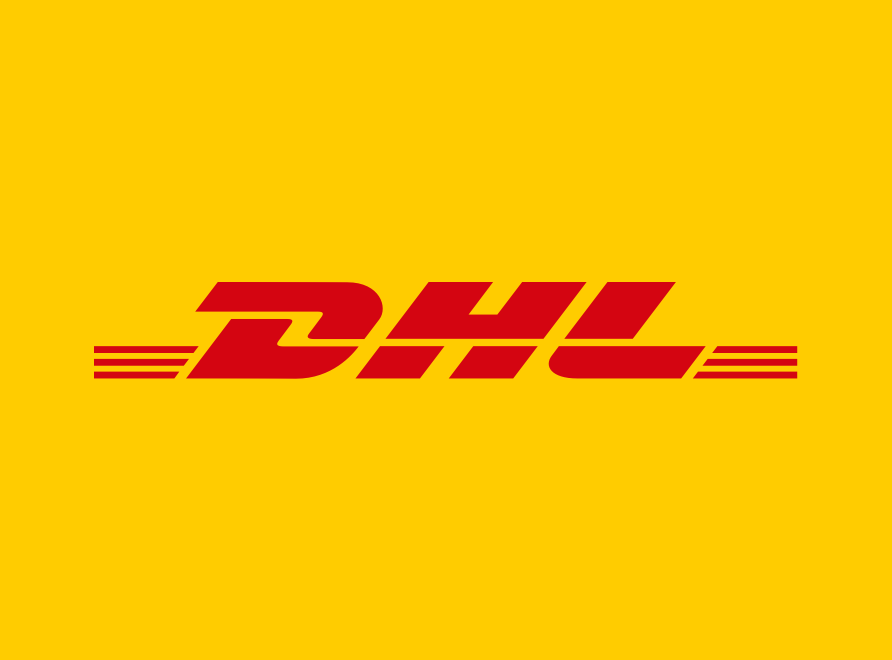 DHL, whose expanded name is Dalsey, Hillblom and Lynn, is a dominant player in the world of eCommerce fulfillment. The organisation, which was established in 1969 in San Francisco, California and now has its corporate headquarters in Bonn, Germany, has experienced tremendous growth and offers courier and shipping services to more than 220 nations worldwide.
Although the business is divided into many different industries, its distribution branch provides door-to-door delivery as well as freight transportation by air and sea. The ability of the corporation to easily clear customs and handle any other difficulties that may arise, as well as providing insurance on every parcel, is a huge benefit for shops that ship worldwide and choose DHL for their needs. A few features that make DHL one of the best alternatives to Eshopbox are:
It provides inventory optimization and integrations across several eCommerce marketplaces
It offers efficient logistics management
It offers both B2B and B2C fulfillment services in a wide range of industries
It provides next-day delivery in more than 80 Indian cities and towns
It provides a centralised technology platform for order fulfillment, inventory management and other processes
Ekart
Ekart was first established in 2009 as a Flipkart subsidiary, but it has since changed hands and expanded its service offering to provide fulfilment to a variety of other eCommerce marketplaces, including Amazon. The company, which has its headquarters in Bangalore, Karnataka, has become well-known for both its lightning-quick delivery and comparatively affordable rates. Presently, they provide next-day delivery in 50 locations and same-day delivery in 13 cities. The business also provides a tracking API that enables updates on orders, label printing and much more. A few features that make Ekart one of the best alternatives to Eshopbox are:
It provides services for reverse logistics
It offers some of the lowest rates in the sector
It has an API that provides real-time updates to inventory and order levels
It accepts the majority of major payment methods
It covers almost 4,000 pin codes
ShipKaro

For eCommerce companies that require effective order administration, ShipKaro has offered shipping aggregation services since its founding in 2017. The Gurgaon-based company also gives organisations the ability to automate and customise shipping procedures in accordance with their intended results. Additionally, it offers services like label printing, bulk uploading of order data, individualised delivery schedules and much more. A few features that make ShipKaro one of the best alternatives to Eshopbox are:
It has affiliations with over 14 domestic and international shipping providers
It integrates with a variety of eCommerce marketplaces, including eBay and Flipkart
It enables customers to take advantage of shipping discounts and offers a tool for contrasting those prices with those of competing businesses
It syncs order data from various order management platforms for seamless order processing
It offers precise order tracking
Shipyaari
With its current headquarters in Mumbai, Maharashtra, Shipyaari is an Indian eCommerce logistics and shipping aggregator that was established in 2013. Its capacity to manage orders from big businesses in great volume is one of its distinctive qualities. The business offers a variety of delivery partners and eCommerce integrations in addition to offering comprehensive cash-back guarantee programmes. A few features that make Shipyaari one of the best alternatives to Eshopbox are:
It provides alliances with ten courier providers that provide coverage for more than 25,000 pin codes
It offers integrations with popular eCommerce systems, including WooCommerce, Shopify, and Magento
It provides a software solution for order fulfillment, inventory management and delivery services
It provides consumers with order tracking via API integrations
It provides supplementary features, including RTO reduction, data analytics and NDR management
Fulfillment by Amazon (FBA)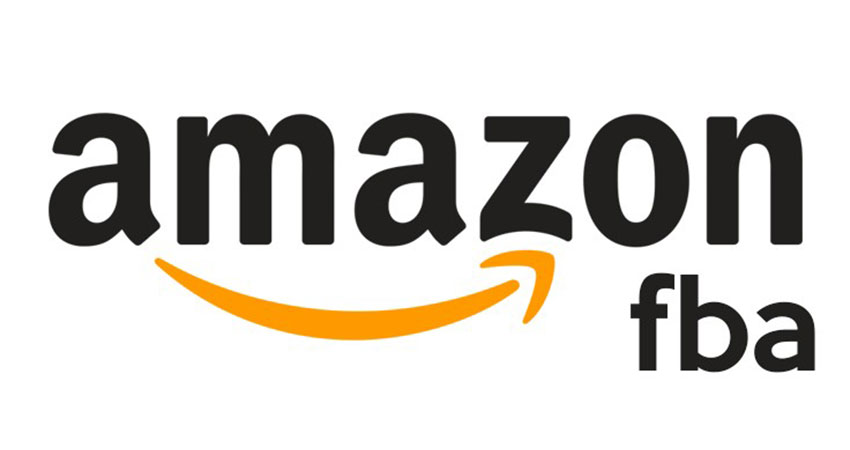 Amazon is a household name in eCommerce fulfilment and retail. When it debuted in 2006, its first-party fulfilment service, known as Fulfillment by Amazon (FBA), was the forerunner of the order fulfillment revolution. Amazon takes advantage of its position to offer the best services possible, including running numerous fulfillment centers around the world, providing consumers with free shipping, providing picking and packaging services, managing returns and much more.
Additionally, by providing free order processing, warehousing and other services, it helps retailers to control their costs. However, sellers must keep in mind that it can only be used to fill orders placed on Amazon and a few other specific eCommerce selling platforms. A few features that make Fulfillment by Amazon (FBA) one of the best alternatives to Eshopbox are:
It has no limits for minimum orders
It answers all customer questions and handles returns and refunds
It can handle orders on a few different outside selling channels
It uses inventory pooling to combine similar items from several sellers
It offers customers free shipping
Read our blog on Amazon FBA alternatives if you are an Amazon seller looking for other fulfillment solutions.
DTDC
DTDC was one of the first providers of eCommerce logistics in India. The company established its headquarters in Bangalore in 1990 and remains there today. It has a customer base of more than 10,000, with 75% being online shoppers. It provides extra services, including warehousing, a tracking API that may provide order updates and issue non-delivery notifications, and services more than 17,500 pin codes in India.
In addition to the standard options of same-day and next-day delivery, it also provides a range of other delivery alternatives, such as ultra-fast delivery, hyperlocal delivery, scheduled delivery and slot-based delivery. The company sets itself apart from its competitors by being able to complete requests for a wide range of commodities, such as expensive items, hazardous goods and bulky products. A few features that make DTDC one of the best alternatives to Eshopbox are:
It accepts all popular forms of payment
It offers specialised delivery for expensive, large and dangerous goods
It provides real-time tracking capabilities through a tracking API
It facilitates more than 17,500 pincodes
It offers express delivery
Ecom Express
Ecom Express is a logistics and courier service provider that offers eCommerce fulfillment services. It was established in 2012 and has its current headquarters in Gurugram, Haryana. Their ability to successfully deliver high-value goods like jewellery and electronics by offering extra security and safety safeguards is one of their distinctive selling factors. The business is open every day of the week, including holidays and guarantees delivery within 72 hours after the order's confirmation. They also offer a 72-hour return guarantee in a similar manner. A few features that make Ecom Express one of the best alternatives to Eshopbox are:
It has improved security features for all orders
It operates around the clock and on vacations
It guarantees all orders will be delivered within 72 hours
It provides services for reverse logistics
It services more than 27,000 pin codes
Feature Comparison Table of Eshopbox Competitors [Updated 2023]
Shiprocket Alternatives ➡️
Features ⬇️
WareIQ
FedEx
Shipmonk
DHL
Ekart
ShipKaro
Shipyaari
Fulfillment by Amazon (FBA)
DTDC
Ecom Express
Core Business
eCommerce Fulfillment
- Fulfillment Centers & Full - Stack Fulfillment Platform
- Inventory Management & Network Design
eCommerce shipping and courier services
eCommerce shipping and fulfillment services
eCommerce shipping and courier services
eCommerce fulfillment services
eCommerce shipping and courier services
eCommerce shipping and logistics services
eCommerce fulfillment services
eCommerce logistics and courier services
eCommerce logistics and courier services
Unified OMS & WMS (Fulfillment Tech Stack)
Yes
No
Yes
No
No
No
No
Yes
No
No
Smart Inventory Placement
Yes, enables same/next-day delivery and prevents inventory bloat
Yes
No
Yes
No
No
No
Yes
No
No
AI-based Inventory Forecast & Replenishment
Yes
Yes
Yes
Yes
No
No
No
Yes
No
No
Periodic Reports for Inventory Planning & Management
Yes
Yes
Yes
Yes
No
No
Yes
Yes
No
No
Fulfillment Centers
Yes, managed in-house
Yes
Yes
Yes
Yes
No
No
Yes
Yes
Yes
Dark Stores
Yes
No
No
No
No
No
No
Yes
No
No
SPF Claims Filing
Yes
Yes
Yes
Yes
Yes
No
No
Yes
Yes
Yes
RTO Prediction & Insurance
Yes, with insurance claims managed internally
No, but RTO management available
No, but RTO management available
No, but RTO management available
No, but RTO management available
No
No
No, but RTO management available
No, but RTO management available
No, but RTO management available
Branded Tracking
Yes
Yes
Yes
Yes
Yes, through 3rd party apps
No
No
No
Yes, through 3rd party apps
Yes, through 3rd party apps
Integration with Top Courier Partners (Last Mile Delivery)
Yes
No
Yes
No
Yes
Yes
Yes
Yes
Yes
Yes
Notifications/Alerts (Post Ship Experience)
Yes
Yes
Yes
Yes
No
Yes
Yes
Yes
No
No
Key Account Manager Allocation
Yes
Yes
Yes
Yes
No
No
No
Yes
No
No
Onboarding Support
Yes
Yes
Yes
Yes
Yes
No
No
Yes
Yes
Yes
Troubleshooting Support (Customer-Success Led Seller Enablement Services)
Yes
Yes
Yes
Yes
Yes
No
Yes
Yes
Yes
Yes
Returns Management
Yes
Yes
Yes
Yes
No
No
Yes
Yes
No
No
Suggested Article: Shiprocket Alternatives for eCommerce Business
Conclusion: What Makes WareIQ One of the Best Alternatives to Eshopbox?
By comparing your options and deciding which company fits your requirements the best, you can get access to the best service and the lowest prices while ensuring that your customers get the same. Eshopbox has been in the eCommerce fulfillment game for a while now but there are many additional competitors that have entered the market since then that may place more focus on the facets that are important to you.
If you are looking to expand your operations or introduce new products into the market, it may serve you well to identify existing pain points that your customers may have and also areas where you can save financial resources to increase your profit margins. There are many Eshopbox alternatives that offer facilities such as RTO insurance and do not impose minimum order requirements so you only need to subscribe to what you need. While there are many options available, WareIQ offers the perfect blend of the latest features at the most affordable prices.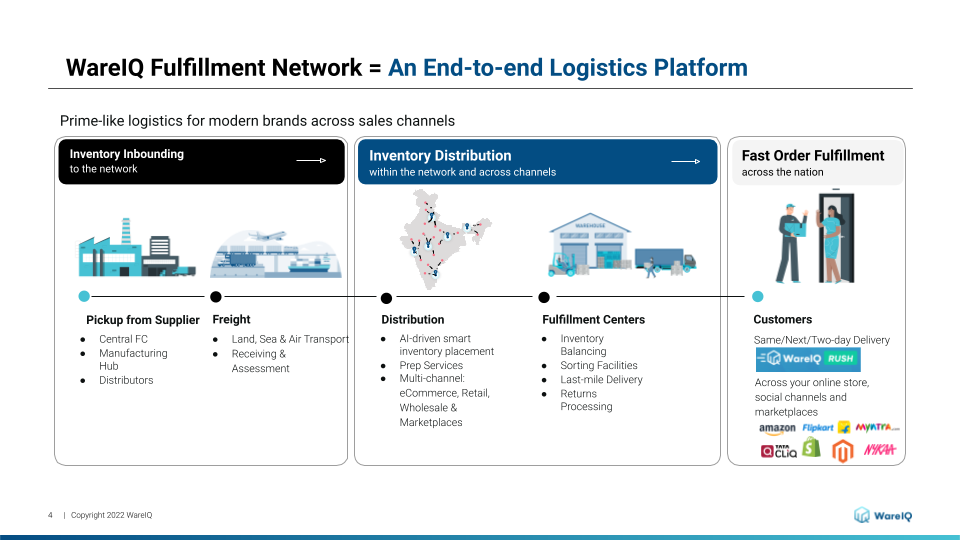 WareIQ is one of the fastest-growing fulfillment companies in India. We differentiate ourselves from the competition by providing advanced and unique features such as a custom WMS, an app store with multiple downloadable apps, and much more. A few of our key offerings are listed below:
Pan-India system of Dark Stores and Fulfillment Centers
Provides a straightforward plug-and-play setup with no minimal requirements
Offers integrations with eCommerce marketplaces such as Myntra, Flipkart Assured, Amazon Seller Flex, and many more
Provides access to local sourcing hubs to cut out on first-mile costs
Uses internal warehouse management
Improved network planning and inventory management
Provides industry-leading AI models for auto-replenishment thresholds and sales forecasting
Offers product classification depending on SKU type (regular, non-regular, seasonal, etc.) to increase sales conversions
Stack of Vertically Integrated IT Services
Provides connections to more than 20 popular channels and D2C sites
Enables integrations with over 27,000 pin codes worth of regional, national, and hyperlocal courier providers
Offers a single, integrated technology stack for OMS and WMS
App Store with Downloadable Productivity-Boosting Apps
Ultra Fast Delivery With WareIQ Rush
Eshopbox Alternatives: FAQs