Top 10 Best Logistics Companies in Kochi for Retailers in 2023
Kochi, combined with neighbouring Ernakulam, is the largest metropolitan area in Kerala and also the most densely populated. It is a port city located on the serene Malabar Coast, in close proximity to the world-renowned backwaters of Kerala. In recent times, it has emerged as a major hub for multiple startups and global companies, with many of them having localised offices in Kochi. The city has also seen the inception of a number of different tech parks and other corporate infrastructure.
Additionally, its large port is often the entry and exit point for imported and exported goods entering and leaving India, making the city a good choice for companies that seek to sell their goods in foreign countries or obtain goods from abroad and sell them locally. In this blog, we will take a look at what logistics companies are, the 10 best logistics companies in Kochi and how WareIQ can help.
What are Logistics Companies?
Logistics companies are businesses that provide transportation, storage, and distribution services to move products, goods, and materials from one location to another. They manage the entire supply chain process, including transportation, warehousing, inventory management and order fulfillment, among other activities. These companies play a crucial role in both the local and global economy by helping businesses of all sizes deliver products to customers and markets around the world and within their own countries.
The facilities provided by logistics companies include shipping, air freight, land transportation, sea freight, customs brokerage, and warehousing. They also offer value-added services such as inventory management, packaging, and labeling. However, do keep in mind that the pricing and extent of the services offered by the logistics companies in Kochi can vary significantly.
Top 10 Shipping and Logistics Companies in Kochi in 2023
WareIQ
Founding Year: 2019
Services Offered: Last-mile delivery, inventory management, customized packaging, product preparation, distribution, storage facilities, and reverse logistics.
WareIQ was established in 2019 and is among the most rapidly growing logistics companies in the country. The company provides a vast range of services that include every logistical requirement that your business could possibly have. Its bread and butter offering is its order fulfillment services but it also offers many other, more nuanced solutions, such as an app store with productivity-enhancing apps, a custom WMS software that can automate many inventory management processes and track inventory levels in real-time, multiple eCommerce marketplace integrations and much more.
It also has fair pricing plans and does not impose any minimum order restrictions, making it a compelling choice if you are looking for an option that doesn't break the bank. Some features of WareIQ that make it one of the top logistics companies in Kochi are listed below:
It offers integrations with multiple eCommerce marketplaces and eCommerce web-building platforms like Amazon, Shopify and more.
It offers returns management and takes care of the entire reverse logistics process.
It has a partnership with more than 20 shipping companies and provides a smart courier allocator.
It provides a nationwide network of storage facilities, comprising fulfillment centers on a national scale and dark stores on a local level.
It has an in-house WMS that can manage inventory, automate reordering, and much more.
Are you eager to know more about WareIQ's offerings if you sign up now? Find the features of the best-in-class, category-defining fulfillment services for eCommerce & D2C brands below:
Pan India Fulfillment & Darkstore Network: Plug-and-play fulfillment infrastructure with no minimums, which is compliant with Amazon Seller Flex, Flipkart Assured, Myntra and other marketplaces
Inventory & Network Planning Excellence: Best-in-class AI models for sales forecasting, product segmentation, and inventory management to reduce inventory by 40% and increase revenue by 10%.
Vertically Integrated Fulfillment Tech Stack: Our Fulfillment Tech Solution supports integrations with 20+ top marketplaces & D2C platforms, and prominent national, regional and hyperlocal couriers, enhancing reach by covering deliveries for 27,000+ pin codes
Supply Chain Productivity Applications: Integrate a host of supply chain productivity apps with a single-click to your existing CRMs, ERPs & accounting software to manage your logistics workflows from one command center. Use Apps like RTO Shield to get 100% RTO protection, Branded Tracking to turn your order tracking page into a profitable marketing channel, and many more.
Trusted by 300+ top Indian brands, we are helping them accelerate online sales and expedite their growth through a synergistic combination of advanced technology, robust fulfillment infrastructure & seller enablement services!WareIQ is backed by leading global investors including Y Combinator, Funders Club, Flexport, Pioneer Fund, Soma Capital, and Emles Venture Partner.
Mint Logistics

Founding Year: 2009
Location: Kaloor, Kochi
Services Offered: Warehousing solutions, secondary transportation, truck transportation, freight forwarding, logistics services, and storage.
Leading distribution firm Mint Logistics was founded in 2009 in Mumbai, Maharashtra and currently has its main national headquarters in Kochi. Numerous logistical services, such as warehousing, break bulk operations, supply chain management, fair and event logistics, and on-ground transportation, are part of their service offerings.
They have a major presence throughout most of the Southern states in the country. They currently have a vast client list comprising big names like Videocon, Haier and Electrolux, among many others. Some features of Mint Logistics that make it one of the top logistics companies in Kochi are listed below:
It provides freight forwarding and other distribution services across the country.
It has equipped all of its warehouses with the machinery needed to locate, lift and store products with ease.
It provides various security features, such as surveillance cameras and separate bays for onboarding and offloading.
It has a team with plenty of experience in managing the logistics operations of multiple clients.
It offers all the transport facilities you would need in one location.
Kerala Roadways
Founding Year: 1981
Location: Calicut, Kerala
Services Offered: Parcel Service, pack & move, warehousing, logistics services, 3PL, Carrying & forwarding, supply chain management, JIT Management.
Kerala Roadways, also known simply as KRS, was founded back in 1962 and is currently among the best logistics companies in South India, where their operations are currently limited to. Their distribution network isn't the most comprehensive in other parts of the country, which could be a deal breaker if you require nationwide logistics facilities.
They have a fleet of more than 1200 vehicles. Their service offerings include supply chain management, warehousing, packing and moving, and parcel delivery. Each day, they move more than 4500 tonnes of cargo. They also have 400 offices in other parts of the country, with around 190 of them in Kerala alone. Some features of Kerala Roadways that make it one of the top logistics companies in Kochi are listed below:
It has an extremely condensed distribution network in Kerala, with a density of 10 branches per every 10 km of the national highway network.
It consists of state-of-the-art freight management systems.
It has plans to expand its warehouse space to over 3 million square feet in the next 3 to 5 years.
It offers pickup services from any location you need it from.
It provides order tracking facilities for every shipment.
Beta Exim Logistics
Founding Year: 2002
Location: North Kaloor, Kochi,
Services: Cargo services, shipping logistics, Domestics & International Freight and Logistics management 
Beta Exim Logistics, which was founded in 2007 in Kochi, has emerged as one of the fastest-growing 3PL logistics companies in South India. Their primary line of business is 3PL warehousing. In Kochi, they oversee more than 100,000 square feet of storage space.
They can handle every kind of commodity, including those that are perishable and require special storage and transportation methods. They can also deal with pharmaceutical, agricultural and medical items. Their warehouses are outfitted with cutting-edge technology and qualified staff. Some features of Beta Exim Logistics that make it one of the top logistics companies in Kochi are listed below:
It has a large amount of usable storage space across South India.
It can handle any type of item and ensure that they are delivered to its destination smoothly.
Its warehouses are equipped with the latest inventory management technology.
It has a distribution network that extends across South India.
It offers services like order fulfillment, inventory management, product storage and more.
Albatross Shipping
Founding Year: 2007
Location: Ravipuram, Ernakulam
Services Offered: Logistics management, fleet management, vessel leasing, and supply chain services.
Albatross Shipping is a logistics and shipping company in Kochi that was founded in 2007. It maintains its national headquarters in Mumbai but its regional headquarters are in Kochi. It provides a host of shipping-related facilities such as fleet management, vessel leasing and much more.
It provides shipping services for all types of companies and also allows them to rent ships and other forms of transport directly from them. However, it does not offer other types of facilities typically associated with a logistics company, so it may only be a good fit for you if you have very specific shipping requirements. Some features of Albatross Shipping that make it one of the top logistics companies in Kochi are listed below:
It operates a vast fleet of shipping vessels and other transport vehicles.
It has an extensive client list consisting of brands like Essar and L&T.
It takes care of the maintenance of its entire fleet of vehicles.
It offers support for loading and unloading, supply chain management and much more.
It offers clearance of port fees and other formalities.
Maersk
Founding Year: 1989
Location: Ernakulam, Cochin
Services Offered: International Logistics services, end to end supply chain, freight transportation,port operation, logistics, and shipping services.
Maersk is a Danish shipping and logistics company that was founded in 1904, making it more than 100 years old and it is currently headquartered in Copenhagen. The company has its regional headquarters in Kochi and it has a global presence that extends to many different countries worldwide.
It offers a variety of services pertaining to transportation, supply chain management, online integrations and much more. Being an expansive MNC, it has access to the latest technologies and features in the logistics industry, making it a go-to option. Some features of Maersk that make it one of the top logistics companies in Kochi are listed below:
It offers a wide range of transportation options, including air, rail and sea.
It offers a diverse portfolio of online integrations that make its platform simple to operate.
It provides an emissions dashboard for companies that are concerned about their environmental footprint.
It provides warehousing facilities that are equipped with the latest tools.
It provides comprehensive eCommerce customer service.
IAL Logistics
Founding Year: 1999
Location: Marine Drive, Kochi
Services Offered: Logistics Services, Shipping Services, Liner Shipping Services, Multimodal transportation, and Supply Chain Logistics.
The well-known IAL group's logistic enterprise, IAL Logistics, was founded in 1987. They can handle logistical services using technology and skills, and offer their services around the world. Its primary offerings include warehousing, supply chain logistics, and air, ocean and land transportation.
They have 12 regional offices spread across the major cities in the nation, including Kochi and they employ more than 800 highly qualified people. Some features of IAL Logistics that make it one of the top logistics companies in Kochi are listed below:
It operates its own fleet of ships and other types of delivery vehicles.
It facilitates trade between India and various countries in the Middle East.
It operates offices in many countries across the globe, including the USA and UK.
It has a comprehensive list of supply-chain services.
It provides warehousing facilities across the country.
Almi Shipping and Logistics

Founding Year: 2022
Location: Cochin, Kerala
Services Offered: International Logistics, international inland transportation, Project logistics, Air freight, and Warehousing & Distribution.
Budding distribution company Almi Shipping and Logistics was founded in 2022. Ocean freight, project-specific logistics, on-ground transportation, warehousing and air freight are all part of their service offerings. They have emerged as pioneers in liquid transportation. They created "Fluid Flexi Bag Containers," which are innovative and leak-proof, specifically used for transporting liquids. When compared to standard logistic services, they are also less expensive.
Their main office is in Kochi and they also have networks in foreign countries like Bangladesh, China, Japan, Pakistan, Australia, the United Arab Emirates, Korea, Malaysia and more. Some features of Almi Shipping and logistics that make it one of the top logistics companies in Kochi are listed below:
It offers a variety of loading and transportation configurations.
It provides customs clearance facilities for international shipments.
It offers warehousing networks for storing inventory.
It offers many services, such as order management, inventory management, material handling and more.
It has shipping services from the point of pickup to the point of delivery.
Varuna Logistics

Founding Year: 1996
Location: Kalamassery, Kochi, Ernakulam
Services Offered: Primary & secondary road movement services, express delivery, multimodal transportation, warehousing and contract logistics services.
Varuna Logistics is a logistics and fulfillment company that was founded in 1996 in Bareilly, Uttar Pradesh. It has since expanded its service range to offer solutions such as warehousing, transportation, cold storage services, and more. It maintains a large regional office in Kochi and has a distribution network that extends across the country.
It currently has a network of 25 warehouses and distribution hubs in every major region of the country. Some features of Varuna Logistics that make it one of the top logistics companies in Kochi are listed below:
It has many value-added services such as kitting, labelling, cold storages and more.
It implements a sustainable supply chain and environment-friendly tech in its warehouses, such as rainwater harvesting, solar panels and more.
It offers round-the-clock order tracking facilities.
It maintains a vehicle fleet consisting of more than 2,000 trucks and other vehicles.
It takes care of repairs and maintenance for its entire fleet of vehicles.
Atlas Logistics
Founding Year: 1999
Location: Willingdon Island, Kochi 
Services Offered: Freight forwarding, Customs brokers and clearing agents, Transportation logistics
With the goal of offering top-notch international freight forwarding, Atlas Logistics was founded in 1999 in Bangalore, Karnataka. This logistics company based in Bangalore operates among the top in Kochi. Its primary offerings include ground transportation, customs clearance, warehousing and distribution, project-based logistics and freight administration.
Hero Honda, Siemens, Tata Motors and many other big-name companies are some of their clients. Some features of Atlas Logistics that make it one of the top logistics companies in Kochi are listed below:
It provides many value-added services such as handling hazardous materials, insurance and more.
It provides warehousing solutions and has a vast storage network.
It offers distribution facilities across the country.
It provides a wide variety of on-ground road and rail transportation methods.
It has multiple supply-chain solutions to aid in streamlining the shipping and fulfillment process.
Suggested Read: The top logistics companies in Tamil Nadu.
Conclusion: Streamline Your Retail Logistics With WareIQ's Services
Kochi is an important destination for companies in India due to its large port that facilitates the entry and exit of goods to and from foreign countries, its proximity to large-scale tourist areas and its burgeoning corporate growth. This makes the city an attractive proposition, especially for companies that can take advantage of the city's unique facilities. There are many logistics companies in Kochi providing a wide range of solutions to various eCommerce requirements. However, they can greatly vary in terms of pricing, quality and extent of their services. If you need a full-fledged logistics company that offers reasonable pricing, consider partnering with WareIQ.
WareIQ is one of India's fastest-growing eCommerce fulfillment companies. We offer a variety of solutions from inventory storage to last-mile delivery and everything in between. Some of the primary services we offer are listed below:
We provide a SaaS system for AI-powered inventory management that maintains the proper amounts of inventory and reduces the occurrence of overstocking and understocking
We help with reverse logistics and protect every product with an RTO Shield to safeguard it from any damage brought on by returns
We offer a range of custom packaging options that let you modify the theme, components, design and more to suit your preferences
We have a committed group of knowledgeable customer support agents who are on call 24/7 to address consumer inquiries
We don't have a minimum order requirement, so you can always upgrade or adjust your subscriptions based on your future requirements and you can opt and pay only for the services you need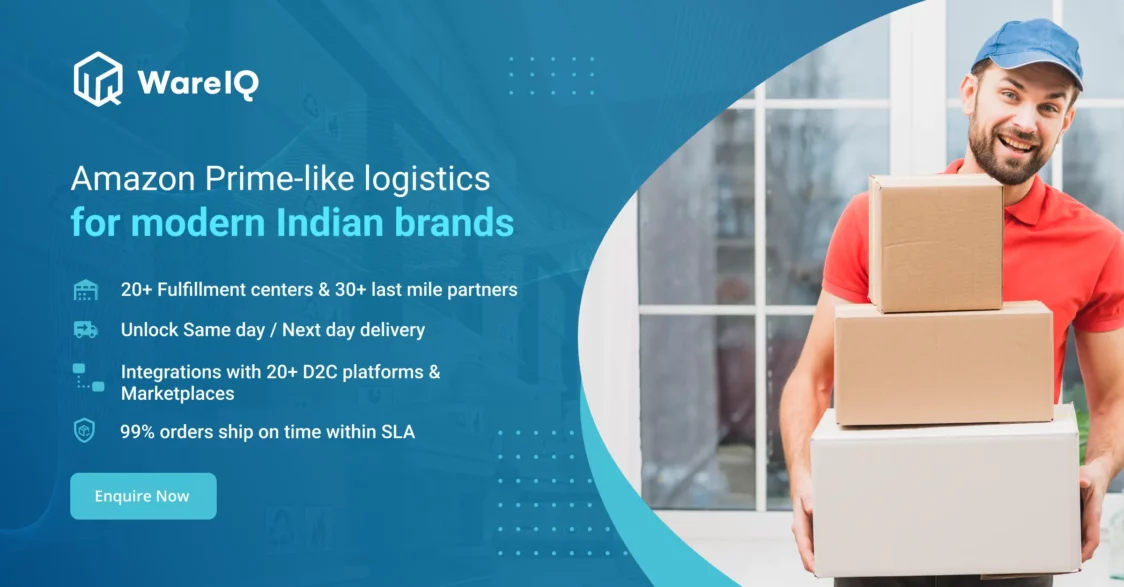 Suggested Article: 10 Best Logistics Companies in Coimbatore for Online and Offline Sellers in 2023
Logistics Companies in Kochi: FAQs