Top 10 Best Logistics Companies in India for eCommerce Shipping in 2023
Online shopping has gained massive popularity due to the immense convenience and hassle-free nature that is associated with it. Due to this, there has been a surge in the number of businesses that want to sell their product online but may not have the resources and logistical capabilities to do so independently. This is where eCommerce logistics companies can help by enabling sellers to offload their entire logistical requirements to them.
What are eCommerce Logistics Companies?
Demand always fuels supply, and as eCommerce firms have rapidly grown into global giants, their requirement for logistics, distribution, inventory handling, and supply-chain management has grown equally. This is where the importance of logistics companies for ecommerce shines through.
To support this growing global industry – that works across borders, eCommerce logistics companies have evolved as well. They have grown to become supply-chain partners from merely being providers of last-mile logistics and delivery services. These logistics companies for ecommerce specialise in this type of service are typically called "3PLs", i.e., third-party logistics providers.
When eCommerce firms partner with the logistics companies, they outsource several key functions of their business processes to them, e.g., order fulfillment, inventory management, ecommerce warehousing, order returns, and customer support.
The rapid growth of eCommerce platforms has also spawned a whole new world of brands, i.e., D2C (direct-to-consumer) brands. These brands are hugely dependent on collaborating with eCommerce logistics companies to act on their behalf as fulfillment partners since they do not operate any brick-and-mortar stores. Their only connection with their consumers (outside the eCommerce platform for receiving orders) is via such logistics companies for eCommerce.
The best logistics providers for eCommerce have flexible and vast operations to service eCommerce businesses of all sizes – and it is your job to select best logistics companies in India that best match your requirements.
You would do well to remember that while a good logistics companies for eCommerce will help you manage your supply chain, dropshipping and order fulfillment, the very best ones will help you optimise and improve your supply-chain operations. This enables you to
service your customers as best as possible
stay competitive
grow your business profitably
WareIQ – Amazon-prime Like Logistics for Modern Brands in India
WareIQ, an eCommerce fulfillment company, empowers online brands with a superior-tech platform to compete with Amazon like service levels by bringing their average delivery timelines from 5-10 days to 1-2 days.
"With WareIQ's full stack digital enabled fulfillment solution, we got access to the pan India network of fulfillment centers & cold storage facilities enabling same/next day delivery, without any upfront investment in supply chain infrastructure from our end. During the IPL campaign in April 2022,

WareIQ efficiently

handled unpredictable 200x surges in daily order volumes

of ~20k/day with a

99% fulfillment rate

. With WareIQ as our preferred fulfillment partner, we witnessed 172% growth in online order volume in just 4 months, with a significant improvement in the overall customer experience in fulfillment."
What are the Features Offered by Top eCommerce Logistics Companies?
As is typical in all industries and ecosystems, the top logistics companies for ecommerce that compete for the best clients and command significant market shares have several key characteristics in common. That is to be expected because these companies have become forces in their respective industries by adopting the best practices, and this is what you must check to see.
Given below are four top features that the top best logistics companies in India offer:
Tracking facilities
The logistics and distribution industry and the vast and complex supply-chain networks they operate have numerous moving parts. The top logistics firms maintain real-time, and 100% visibility across all elements of their operations and are sure to track every movement.
Modern-day logistics companies for eCommerce use the latest technologies, tracking systems, and inventory trackers to maintain a holistic and detailed view of their current orders and ongoing deliveries received from various channels. Thus, you have real-time information about your inventory levels and order statuses (completed, delayed, returned and to be fulfilled, etc.)
Modern technology
The top eCommerce logistics companies are fully equipped with the latest technology by the natural extension of the point above. Their systems are driven by tools like data analytics, Artificial Intelligence, Machine Learning, and cloud software. All these technologies and systems are geared toward reducing the dependence on manual labour and automating cumbersome and time-intensive functions across the entire supply chain network.
The good thing is that since all players within this ecosystem (at least the top ones) have adopted modern technology that is adaptable and inter-connected across various stages of the supply-chain network, the entire ecosystem functions at an incredibly high level of efficiency. Users like you can monitor it all from a centralised location.
Route-optimisation for improved efficiency
Leading eCommerce logistics companies are constantly striving to improve their processes, improve the reliability of their deliveries, reduce costs, and minimise delivery times (etc.).
Therefore, they rely heavily on delivery management software for route optimisation. By identifying the "best route" to transport goods from the storage location to the delivery address, they can achieve a cost-effective, efficient, and reliable service. Bear in mind that the "best route" is not the shortest, cheapest, or fastest – but the one that balances out all the numerous elements to come up with the best one.
This goes a long way toward improving customer loyalty, a key indicator of a sustainable, prosperous business.
Top-notch customer support
Satisfied and happy customers are the lifeline of any business. Here too, logistics companies for eCommerce make sure that they treat this as a final metric and operate omnichannel customer support systems. This is especially important today since customer demands have evolved. In the modern hyper-connected era, they want to be kept in the loop at all times and track their parcels across all stages of their journey in real-time (etc.)
10 Important Factors to Consider While Choosing an eCommerce Logistics Company
Choosing the correct logistic company for eCommerce is important and must not be made in a hurry. Thorough due diligence is needed since several elements have to be considered when assessing your logistics partner. These range from industry-related points to those that are specific at the company level.
Let's look at the top 10 points to consider while making your decision:
Cost of shipping
This is a very important metric. As mentioned above, just like the "best route" considers all elements, the shipping cost determines the overall package of your shipper. A low price does not mean your overall shipping cost will be low. Therefore, you must look for the correct balance between price and services.
For example, hidden costs such as additional fees for cash orders, add-on services charged separately, or discrepancies in goods tonnage, can result in a much higher overall shipping cost for you even though the rate-card price offered may appear low.
Therefore, make a thorough analysis of what service you need and your cost and profit structure, and then assess which eCommerce logistics companies fit your requirements.
The number of pin codes reached
While a greater number of pin codes your logistics partner serves is always a good thing, you must start with your requirements. If you expect the bulk of your orders to come from a limited number of pin codes, you do not require this.
You must first ensure that your logistics partner covers – with efficiency – the areas that you need to service. For example, your customers may live mostly in tier I & II towns versus metros. Therefore, select eCommerce logistics companies accordingly.
Real-time visibility
Everything in today's world is now tracked in real-time. Everything is on-demand and instant. Today's customer is unsatisfied with the good old "your order is out for delivery" – he needs to track his parcel movement in real-time and receive regular updates about its progress.
This has become a critical component of creating customer satisfaction, and eCommerce logistics companies must have the power to provide it. For example, GPS-equipped delivery management software helps them to maintain this visibility.
Service-level-agreements (SLAs)
Given the vast array of services performed by logistics companies for eCommerce, this is a long list. Naturally, these can be core services (e.g. cash delivery, next-day delivery) or other special delivery services, including customised packing, hyper-local, specific time-window based (etc.)
Each service has its price tag, terms and conditions of delivery, and rates. Negotiating a package price could work well for you in reducing your shipping costs. But for that, you first need to have a good handle on your requirements such as volume of orders, weight, value, fragility (etc.)
Speed
Customers, especially eCommerce customers, have rapidly evolved. Fuelled by the super-quick delivery times offered by eCommerce behemoths like Amazon, the consumers now expect this as a standard. Not only that, but they also want options, customisation, and real-time updates. However, speed of delivery – as maintained by your competitors- is something your eCommerce logistics companies must provide. If you cannot keep up, customers will go to your competitors.
You should be able to eliminate some options based on delivery speeds and their associated shipping rates.
Return-order management
Unfortunately, an unavoidable aspect of an online business is the order returns. And while it will never go away completely, the trick is to reduce the number to its bare minimum so that it does not burn a hole in your operational expenses or create unhappy customers.
Some eCommerce logistics companies pitch order-return management as part of their core strengths and are experts at managing it – from picking the parcel up to redelivery or refunding. They also efficiently handle other related issues, such as delayed shipments or failed ones.
This becomes especially important if you are a large eCommerce firm or are experiencing rapid growth.
Infrastructure
Using modern-day infrastructures like temperature-controlled delivery trucks or specialised packaging that is hardy and moisture-proof results in fewer goods being damaged while in transit.
Choosing a logistics company for eCommerce that offers such facilities may cost more than regular services but depending on the type of products you sell, the distance, and the type of roads they have to be transported over (etc.), this may be a good idea. You will see that your overall cost of operations will be lowered since the cost of breakage, pilferage, and damage during transit will come down significantly. A good track record on this front also helps in reducing your insurance premium, thereby further reducing your costs.
Last-Mile Delivery software
As mentioned earlier, route optimisation is a cornerstone in the logistics business. If an eCommerce logistics company can optimise the delivery routes by balancing out several elements such as number of deliveries on a route, bunching together similar deliveries of weight, destination, time etc., it results in a much lower cost of operation, including significantly reduced fuel consumption, which is one of the costliest line-items for logistics companies.
Thus, not only is your customer happy due to speedy delivery, but you can also offer them competitive shipping rates.
Delivery security
You may want to offer your customers security and peace of mind with insured and secured deliveries. This has grown to become particularly useful for eCommerce firms and their customers.
For example, specialised services like white-glove delivery, a service typically used for special cargo like heavy and bulky (e.g. large furniture sets), fragile, or high-value goods (e.g. expensive large-screen TVs), take very strict precautions while delivering these specialised goods. Customers are happy to pay a premium to ensure their goods are delivered safely, and you make a larger profit while offering your customers a choice of delivery options. It is a win-win for everyone concerned.
Past performance
While looking for best logistics providers, a starting point in your research should be its past performance scorecard.
At the end of the day, it is the performance that matters. A logistics firm may have several important features required for good, solid performance, but it is not of much use if it cannot harness all of them and put them together. For example, they may have poor leadership. Or suffer from labor turnover. Or from union-related problems.
Speak to their clients, both current and former, their vendors, suppliers, and value-chain partners. Check online reviews and eCommerce customer forums. You will immediately get a sense of whether they can walk the talk. Since the leading logistics firms have been around for a while, you should not have any problem getting the information you seek.
10 Best Logistics Companies in India for eCommerce in 2023
In 2020, the value of the logistics market in India was pegged at about $220 billion. This is expected to grow at approximately 6% CAGR over the next five years.
With a vast geographical spread, limited infrastructure (roads, airports, rail connectivity, etc.), and a widely-dispersed population, logistics companies in India put in a lot of effort to make sure your parcels are being delivered safely and on time.
The advent of eCommerce and its increased coverage of pin codes in the country has also meant an improved infrastructure. Several logistics companies for eCommerce, dedicated to fulfilling online orders, now operate 24/7 on a large scale. They use an elaborate network of warehouses, vehicular fleets, employees, modern technology (etc.) to manage their daily tasks.
We have enlisted the top 10 best logistics companies in India. The following companies have gained popularity and acclaim due to their speedy deliveries, modern systems, and strong customer service.
WareIQ
Ecom Express
Rivigo
Gati
XpressBees
Aramex
BlueDart
Trackon
Shadowfax
Dotzot
WareIQ
WareIQ is a category-defining, best- in class full-stack eCommerce fulfillment tech platform (with inbuilt inventory planning, order management & shipping system) for modern brands to accelerate online sales/ expedite revenue growth & profits with same/next day delivery.
We not only help you reduce your logistic costs but also your delivery timelines – this could be the game-changer your business needs!
WareIQ offers centralised tech platform for your entire eCommerce operations
ML-based prediction engine for efficient warehouse network design & smart inventory placement
Centralised platform for core fulfilment & shipping operations
Post-shipping apps for a delightful experience & zero to minimum supply chain leakages
Today, over 300 brands have taken charge of their logistics & fulfillment with WareIQ to unlock tremendous value in terms of revenue and customer satisfaction. WareIQ Rush is their tech platform that provides same day delivery service. Using this platform, WareIQ is aiming to help online sellers offer same day delivery in every major metropolis in India, with a plus 99% fulfillment rate through their network of fulfillment centers and micro fulfillment centers.
Suggested Article in India: Top 10 Logistics Companies in Mumbai
Ecom Express
Founded in 2012 by a group of people who collectively have more than 100+ years of experience in the logistics and distribution sector, Ecom Express is an end-to-end technology enabled logistics service company and provides a plethora of eCommerce logistics services and is the best logistics provider in the country. Some of the services it offers are express delivery, fulfillment services, door step compliance and value added services.
It serves leading online portals in India.
It is a leading choice for companies that deliver high-value parcels since Ecom Express provides additional surveillance security options.
It covers approximately 2,400 cities/towns, more than 27,000 pin codes, and 20 states across India and offers a full-coverage model for eCommerce firms.
It currently employs more than 36,000 people.
Their express delivery service guarantees 72 hours of order fulfillment. It also provides doorstep quality checks for their order-return facility and a 72-hour guarantee for returning the item.
Rivigo
While Rivigo only entered the eCommerce logistics business in 2014, it has quickly risen to the position of one of the most reputed and trusted logistics partners in India. It is a technology company that has emerged as a big player in the sector who's goal is to provide logistical services to a mass audience of eCommerce sellers. Rivigo is seeking to solve a tangible problem of truck driver shortages by using a breakthrough relay model.
It employs more than 100,000 people and has 15,000+ delivery partners.
It covers more than 4,000 cities in India across 29,000+ pin codes.
It has partnered with leading firms like ITC, Maruti Suzuki, Flipkart, and Hero MotoCorp etc.
It offers convenient payment options to allow you to choose from COD, UPI, prepaid orders, or payment during delivery.
Their API is reputed for superfast delivery. It provides express and hyperlocal services also.
It offers tools for crowdsourcing and route-optimisation to cut shipping costs for eCommerce firms.
It offers relay trucking, express delivery, specialised security, FTL, LTL, and customs clearance.
Gati
Gati Ltd. is an eCommerce logistics company that is headquartered in Mumbai. It is an established player in this industry, having begun its journey more than four decades ago in 1989. It is one of the oldest logistics firms in India. It provides end-2-end logistics for eCommerce fulfillment. You can choose from the numerous service packages they offer. It offers ground level and air express logistics, supply chain and warehouse management, air freight and e-commerce services. Gati has offices in all major states of India.
It lays claim to be the express delivery pioneer in India.
It covers 17,000+ pin codes and 99% of states.
It offers different services at various price-bundles.
It serves a range of industries like B2B, B2C, and C2C.
It offers services like heavyweight shipments, express delivery, EPOD (electronic proof-of-delivery), customised packaging, and time-scheduled delivery. It also offers AM-PM delivery, COD, and high-surface cargo.
XpressBees
Founded in 2015, XpressBees has risen to become a major Indian player in the logistics industry. It serves a wide range of industries and products, including pharmaceuticals and heavy-duty machinery. It maintains a wide network of fulfillment centres. It is one of the fastest growing ecommerce logistics companies in India catering to end-to-end supply chain solutions. Since our inception, they have maintained a 100% growth in revenue on a yearly basis.
It has more than 100+ distribution centres.
Its pin code coverage is 13,000+ kms.
It employs more than 30,000 people across 2,800 offices.
Solutions it offers include express delivery and cross-border customs clearances.
Aramex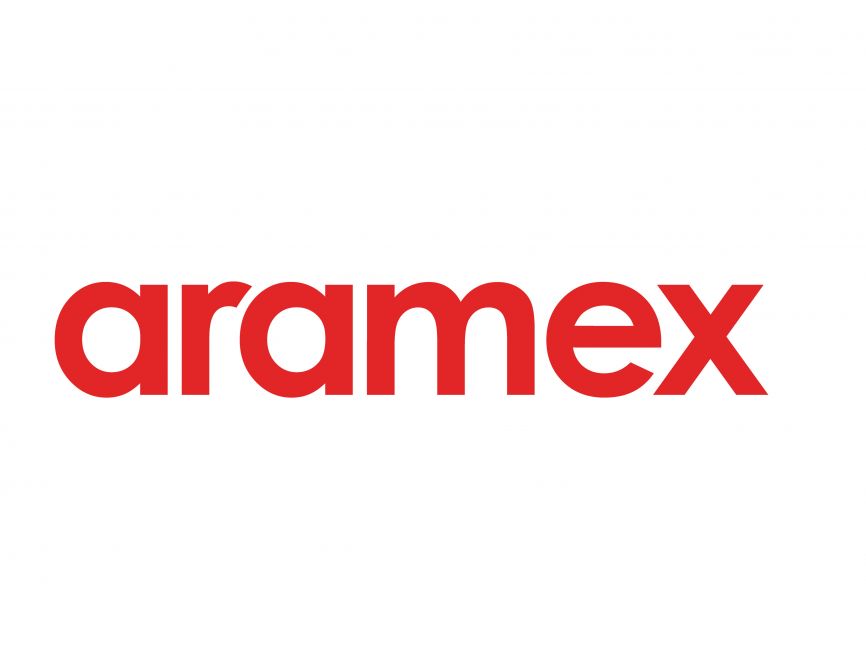 Founded in 1982 and headquartered in Dubai, Aramex is an international delivery, courier service, package delivery, and warehousing company that has grown rapidly since its inception and is a preferred logistics firm in India. It is the first Arab company to be listed on NASDAQ. The company was founded in 1982 in Amman, Jordan.
It offers facility management for brands that have their own warehouses.
It offers warehousing facilities for smaller firms and MSEs (Medium-Small Enterprises).
It offers flexible pricing on large orders (by volume).
It offers online tracking for orders and dropshipping facilities
BlueDart
Founded in 1983, BlueDart is an Indian eCommerce logistics and distribution company which provides courier services and is a behemoth in the fulfillment and delivery business and has a huge network in India. It has it's headquarters in Mumbai, Maharashtra.
It employs 12,200 people in India and 275,000 people internationally.
It covers more than 220 countries all over the world.
Its pin code coverage is 35,000+kms in India
It offers special services like giving customers the ability to choose the date and time of delivery (scheduled delivery), COD, customised packaging, EPOD (electronic proof-of-delivery), and express delivery.
Trackon
From its humble beginnings in 2002 with only two locations in Mumbai and Delhi, Trackon has grown rapidly and is among the best logistics providers in India. With nearly two decades of experience, they have a topline of over Rs.240 crores, they are focused mainly in the northern part of India. They also provide services in South Asia. They offer services such as air and surface express cargo, reverse pickup solutions and cash on delivery,
Its pin code coverage is 5,000 km
It has more than 4,000 offices pan-India
It has 10,000 employees
It covers 47 cities
Its daily consignments are over 2 lakhs
Services that it offers include Prime Track (launched in 2010), the flagship premium service for urgent and valuable parcels that ensures quick delivery. A free-pickup service is also offered, in addition to both air and surface modes.
Also Check: List of Top 10 Warehousing and Logistics Companies In Delhi NCR
Shadowfax
Founded in 2015, Shadowfax has become one of India's premier 3PL service providers and serves a long list of companies in India and internationally. They have garnered a reputation for their speedy delivery services and can pick up parcels from warehouse locations and marketplaces.
Its pin code coverage is 7,000+ km
It has an employee count of over 150,000 people
It offers special services like hyperlocal delivery, COD, on-demand, express delivery, COD, and in-transit storage in the first mile and last mile
It also accepts cashless payments for doorstep deliveries
Dotzot
Launched as the logistic arm of DTDC in 2013, Dotzot says it is the first all-India delivery logistics operator that has focused on eCommerce. They aim to enhance the fulfillment experience for online customers by constantly focusing (and improving) on its processes, technology, and design. It claims to be the first Indian network that offered store pickup, order-return services, and home delivery.
Its pin code coverage is 10,000+ kms
It covers 10 leading Indian cities, has 180 offices and operates 1,000 stores
It employs over 8,400 people and collaborates with 10,000 channel partners.
It services 1+ million clients through pickup locations or from home pickups.
It offers comprehensive order fulfillment services right from parcel pickup, shipping, and tracking through to return-order fulfillment.
Conclusion: Should You Partner with eCommerce Logistics Companies?
As evident from the above, there should not be any hesitation on the part of eCommerce firms to partner with suitable eCommerce logistics companies to take care of their order fulfillment.
However, what is also evident is that you go through robust due diligence. This ensures that you partner up with logistics companies for eCommerce that is most suited to your requirements. As enumerated above, several eCommerce logistics companies offer a variety of services and packages, and it is incumbent upon you to assess these in context with your needs. This is where a company like WareIQ can help.
WareIQ has empowered brands to sell more, sell faster & sell everywhere. WareIQ has customised offerings for merchants experiencing different order volumes as well as having different delivery speed expectations. WareIQ is probably one of the very few fulfilment tech companies in the world that have same-day delivery service for their customers under their product "WareIQ RUSH".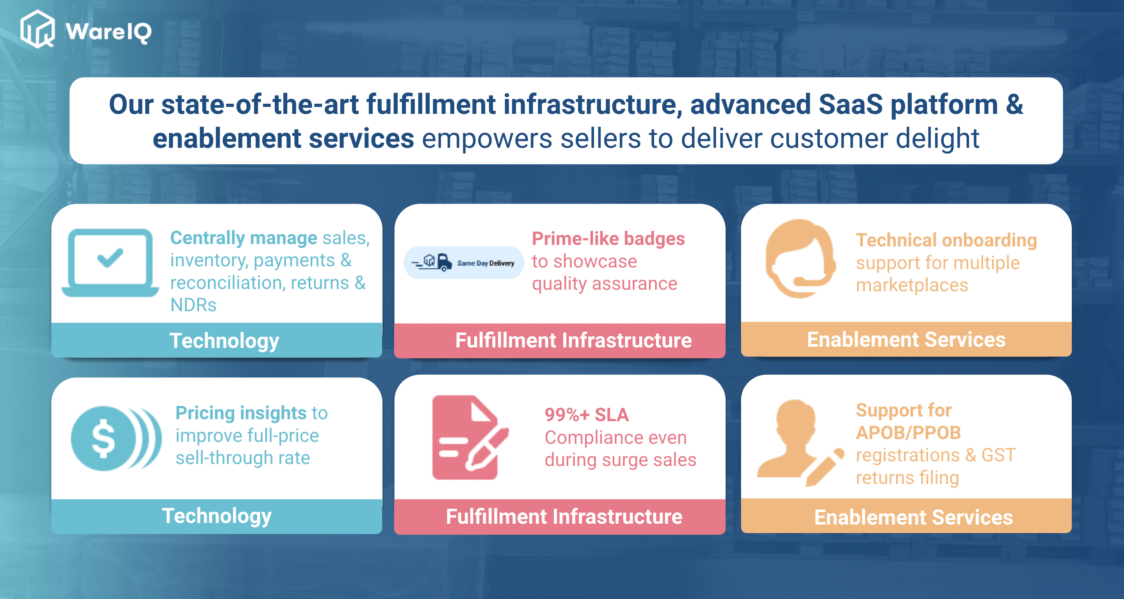 The success of your e-commerce business not only depends on your product quality but also on the time it takes to reach your customer. With WareIQ's real-time data and prompt response times, you can ensure timely deliveries and greater brand reliability. This translates to satisfied customers — the most crucial success metric for DTC brands in a competitive space like India.
Are you eager to know more about WareIQ's offerings if you sign up now? Find the features of the best-in-class, category-defining fulfillment services for eCommerce & D2C brands below:
Pan India Fulfillment & Darkstore Network: Plug-and-play fulfillment infrastructure with no minimums, which is compliant with Amazon Seller Flex, Flipkart Assured, Myntra and other marketplaces
Inventory & Network Planning Excellence: Best-in-class AI models for sales forecasting, product segmentation, and inventory management to reduce inventory by 40% and increase revenue by 10%.
Vertically Integrated Fulfillment Tech Stack: Our Fulfillment Tech Solution supports integrations with 20+ top marketplaces & D2C platforms, and prominent national, regional and hyperlocal couriers, enhancing reach by covering deliveries for 27,000+ pin codes
Supply Chain Productivity Applications: Integrate a host of supply chain productivity apps with a single-click to your existing CRMs, ERPs & accounting software to manage your logistics workflows from one command center. Use Apps like RTO Shield to get 100% RTO protection, Branded Tracking to turn your order tracking page into a profitable marketing channel, and many more.
Trusted by 300+ top Indian brands, we are helping them accelerate online sales and expedite their growth through a synergistic combination of advanced technology, robust fulfillment infrastructure & seller enablement services!WareIQ is backed by leading global investors including Y Combinator, Funders Club, Flexport, Pioneer Fund, Soma Capital, and Emles Venture Partner.
You Can Also Check: Find Best Logistics Companies in Surat
Best Logistics Companies in India for eCommerce FAQs