10 Best 3PL (Third Party Logistics) Companies in India in 2023 
There's an old adage that goes, "if you need help, ask". Everyone needs assistance sometimes, especially in the strenuous and hyper-competitive environment known as the eCommerce industry. While eCommerce has taken the world by storm, a phenomenon especially prevalent in developing countries like India, eCommerce sellers have had to fend off competition from both small, local firms and gigantic MNCs alike.
As more people use eCommerce to browse and purchase items they need, more people are also trying to capitalize on setting up new businesses or expanding the online presence of their existing ones. This has given rise to multiple new technologies and innovations that have changed the way we are able to use eCommerce, for the better. For instance, just a few short years ago, no one would complain if they received their orders in a week.
However, in the current day and age, people have grown accustomed to getting their orders in a day and even a few hours due to the advent of ultra-fast and hyper-local delivery services. This may seem daunting if you are a budding eCommerce seller but fear not. This is where you can ask for help from 3PL logistics companies that provide dedicated fulfillment services for online sellers. In this blog, we will provide answers to what a 3PL logistics service provider is, why you should partner with one, and the 10 best options currently available in the market.
What are 3PL Logistics Companies?
3PL logistics companies are firms that provide a vast swathe of eCommerce services, primarily relating to tasks such as order fulfillment, inventory management, order processing, picking and packing fulfillment service, eCommerce shipping, and last-mile delivery service. They are a good alternative to self-fulfillment or 1st-party fulfillment services, such as Amazon FBA, because they provide increased flexibility, cheaper pricing, and value-added services, such as WMS software, branded tracking page, eCommerce customizable packaging, and more.
Keep in mind that the range of services may vary depending on the company but the core focus is centred around successfully delivering orders to customers safely and on time. Once you have partnered with a 3PL logistics service provider, all you need to do is receive and monitor your orders and let them do the rest. These companies provide respite from most eCommerce logistics and eCommerce fulfillment-related tasks, allowing you to focus on the main aspects of your business, such as product development and marketing.
WareIQ – Amazon-prime Like Logistics for Modern Brands in India
WareIQ, an eCommerce fulfillment company, empowers online brands with a superior-tech platform to compete with Amazon like service levels by bringing their average delivery timelines from 5-10 days to 1-2 days.
"With WareIQ's full stack digital enabled fulfillment solution, we got access to the pan India network of fulfillment centers & cold storage facilities enabling same/next day delivery, without any upfront investment in supply chain infrastructure from our end. During the IPL campaign in April 2022,

WareIQ efficiently

handled unpredictable 200x surges in daily order volumes

of ~20k/day with a

99% fulfillment rate

. With WareIQ as our preferred fulfillment partner, we witnessed 172% growth in online order volume in just 4 months, with a significant improvement in the overall customer experience in fulfillment."
Top 5 Reasons/ Benefits to Partner With a 3PL Logistics Service Provider in India
Reduces Expenses
Since 3PL fulfillment companies take care of almost every logistics and fulfillment requirement you may have and you only pay them a specific, pre-determined amount, the result is that you end up saving a ton of money compared to if you did it yourself. Most 3PL companies have partnerships with many other companies for various tasks, such as shipping and eCommerce warehousing, and can take advantage of bulk discounts that would not be available to a single seller. This enables you to increase your profit margins on every order, saving you a significant amount of money in the long run.
Offloads Important Logistics Processes
When you partner with a 3PL logistics service provider, you aren't just saving on money but on time and effort as well. Since most logistics tasks, such as transporting goods to wherever they need to be, storing products in a fulfillment center, selecting the appropriate product, packaging it and getting it ready for dispatch, shipping it to the customer's destination, and more, will be offloaded to your logistics partner, the entire post-sale process becomes more simplified and clear-cut. You only need to focus on promoting and selling as many products as you can while your 3PL provider does the rest.
Gives You Access to Advanced Technology and Features
Many 3PL logistics companies come readily equipped with the latest technologies and features. Some of them include WMS software, fleets of different delivery vehicles, automated inventory management, order consolidation across platforms, and much more. It is important to note that most 3PLs are competing with each other in their own right, so in order to get customers to choose them over their competitors, they have to stock themselves with cutting-edge features for reduced prices.
Provides Multiple Marketplace Integrations
Investing in and operating a standalone WMS with no assistance can be tedious in addition to being expensive. However, most 3PL companies have their own WMS that can integrate with multiple selling platforms, website builders and shipping companies. This will allow you to store all your vital order and inventory-related data in one dashboard that can be accessed from anywhere. Additionally, you will be able to access historical data to be able to compare metrics from the current sales season to a previous one of your choosing.
Amplifies Customer Satisfaction
By giving your customers access to the best features and technology, you will ensure that they have a good experience with your company. This will increase positive sentiments about your company, which will become apparent in the customer feedback you receive, both personally and online. Customers appreciate services that help them get what they want with the least possible effort. Therefore, partnering with a 3PL logistics service provider that will ensure each product is packaged and delivered in the best and most seamless way will only increase your chances of receiving repeat purchases from existing customers and first-time purchases from new ones.
10 Best Third-Party Logistics (3PL) Companies in India in 2023
A list of the top 10 3PL logistics services providers in 2023 along with their features & offerings are mentioned below:
WareIQ
FedEx
Mahindra Logistics
AWL India
KD Logistics
Access Warehousing
Stockarea
Blue Dart
Delhivery
Allcargo Logistics
WareIQ
WareIQ is an eCommerce fulfillment company that was established in Bangalore, Karnataka in 2019. The company provides a vast amount of logistics and fulfillment services, such as storage facilities, inventory management, product preparation, customizable packaging, shipping, last-mile delivery and much more. It has a custom WMS that can automate various warehouse tasks and can integrate with multiple eCommerce marketplaces like Amazon, Flipkart, and more, website builders like Shopify, WooCommerce and more, and shipping companies for eCommerce like FedEx, BlueDart and more.
The company also has a partnership with more than 12 of the largest shipping carrier facility provider in the industry and has smart courier allocation that assigns the swiftest and most wallet-friendly option for every package. Some features of WareIQ that make it one of the best 3PL logistics companies in India in 2023 are listed below:
It has an India-wide network of fulfillment centers and dark stores that aid with efficient inventory storage and ultra-fast delivery, in addition to smart inventory placement that assigns the best facility for each SKU.
It provides ultra-fast delivery through a partnership with the largest shipping companies in the nation and always assigns the quickest and cheapest option.
It helps with returns management and offers an RTO Shield to offset the negative symptoms of returns, in addition to taking care of the entire reverse logistics procedure.
It takes care of last-mile delivery by ensuring that once orders are transported to the same city as the customer, an on-ground delivery executive picks it up and delivers it to the customers doorstep.
It offers customization options for product packaging where every aspect can be tailored according to your liking.
FedEx
FedEx is one of the most recognisable names in the logistics industry. The company was founded in 1971 in Little Rock, Arkansas, USA. To fulfill orders, the business collaborates with online stores that receive a lot of traffic. Although FedEx has a vast transportation network, it also has alliances with several other companies to provide a seamless fulfillment experience.
Integrations with online marketplaces like Etsy and Walmart as well as online selling platforms like Shopify, are available through the FedEx API. Some features of FedEx that make it one of the best 3PL companies in India in 2023 are listed below:
It provides a smooth experience by allowing collaboration with external business tools, such as Xero and QuickBooks.
It has a specialised eCommerce platform that enables businesses to remotely manage their inventory and orders.
It provides unmatched customer service where every query is taken care of instantly.
It has an online commerce platform that enables users to follow their orders and receive thorough business reports.
It provides crucial 3PL services such as order fulfillment, packaging, warehousing and reverse logistics.
Mahindra Logistics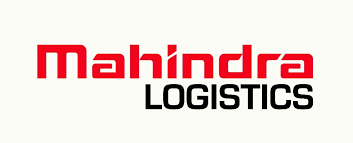 To expand Mahindra's emphasis on distribution services for customers and stakeholders, the company established a critical 3PL logistics service provider known as Mahindra Logistics, currently headquartered in Mumbai. The company offers its services in a wide range of industries and provides supply chain and transportation facilities. Distribution facilities, notably in rural and far-flung areas, and technology-driven logistics solutions are among its primary services.
This distribution and fulfillment company is well-established throughout India, particularly in tier-2 and tier-3 cities and towns. Some features of Mahindra Logistics that make it one of the best 3PL logistics companies in India in 2023 are listed below:
It accepts the most significant payment processing options.
It claims the biggest warehouse facility in all of India at one of its storage locations.
It prioritizes sustainability and has begun utilizing electric trucks for last-mile delivery.
It facilitates upwards of 400 distinct clients that sell a wide range of products.
It is part of a well-known multi-industry organization.
AWL India
AWL is one of the most reputable B2B 3PL logistics providers in India, with over 15 years of experience and presence in 1700+ locations. AWL handles the entire operations starting from warehousing, picking packing, and distribution for their clients from various industries like food & beverages, retail & lifestyle, healthcare, etc. Their logistics solutions include warehousing, transportation & distribution, express cargo, order fulfillment, freight forwarding, customs clearance, reverse logistics, etc.
Some of the USPs of AWL that make it one of the best 3PL companies in India in 2023 are listed below:
10 million square foot area of Smart Robotics Warehouse WAAS.
A logistics business with a license that offers services for packaging, handling, and distribution.
The distribution of consumer and medicinal goods in times of crisis.
The use of contemporary tracking and observational systems.
Analysis of data in real-time
Cold Chain Solutions for pharmaceuticals and perishable commodities.
Storage that is temperature-controlled.
Management systems supported by AI.
Servicing a variety of sectors globally.
A single dashboard to manage the whole supply chain.
Vision from the control tower and order management.
Rapid and adaptable integration
Platform for supercomputing data insights
Automated Capacity Control
Cross-docking, consultation, labeling, packaging, and barcoding.
KD Logistics
KD Logistics was set up in 2005 and is currently headquartered in Mumbai, Maharashtra. They prioritize client satisfaction in addition to providing third-party logistics services. The quality of every service is of extreme importance to the company. Every endeavor is seen as a chance and a launchpad for achieving new goals.
Due to these tenets, KD Logistics has amassed a following of devoted customers across India. They aim to enable their clients to become leaders in their respective fields and are dedicated to giving them the most value for their money by offering top-notch service. Some features of KD Logistics that make it one of the best 3PL logistics companies in India in 2023 are listed below:
It offers most eCommerce fulfillment services, such as a warehousing network, distribution facilities and more.
It services many high-end clients, such as Kohler and P&G, just to name a few.
It gives its customers access to a unified WMS and OMS system.
It has a vast fleet of various types of delivery vehicles, segmented into different categories according to the nature of its operations.
It currently has a distribution network of more than 15,000 pin codes in India.
Access Warehousing
As one of India's top non-asset-based supply chain management organisations, Access Warehousing creates and implements market-leading solutions in both freight management and contract logistics. The company was founded in 2013 in Bangalore, Karnataka. The company's 200-plus member teamwork in several geographic aggregates in order to provide organisational excellence and workable solutions to the most difficult supply chain problems.
With an enhanced focus on broad business sectors and the specific demands of the retail, automotive, oil, healthcare, technology and aerospace sectors, this organisation utilizes its renowned experience in the industry to provide best-in-class services over an integrated worldwide network. Some features of Access Warehousing that make it one of the best 3PL logistics companies in India in 2023 are listed below:
It provides many conventional services, such as storage, delivery options and more.
It consists of multiple tools for warehouse management, including pallet racking, vertical forklifts and more.
It can ship orders through various mediums, such as air, land, rail and sea.
It provides guaranteed same-day and next-day delivery services.
It offers personalized warehousing solutions.
Suggested Read: Find other logistics companies in Bangalore.
Stockarea
Stockarea is a 3PL logistics service provider that was founded in 2019 and is currently based in Chennai, Tamil Nadu. Distributors and manufacturers all over India may create, configure, use, and duplicate inventory bases thanks to Stockarea. Using Stockarea's custom cloud-enabled solution, businesses can set up their remote Inventory base in any warehouse in their network. Sellers can also benefit from all-inclusive 3PL services that cover shipping, warehousing, fulfillment and clearing customs.
To ensure that their client's goals are achieved through the distant base, Stockarea assigns a specialized contract manager to every contract. Some features of Stockarea that make it one of the best 3PL logistics companies in India in 2023 are listed below:
It provides multiple configurations for various solutions, such as warehousing, transportation, logistics and more.
It provides returns management and complete implementation of the reverse logistics procedure.
It offers dedicated customs clearance facilities for international orders.
It supplies value-added features, such as cross-docking and pallet-based inventory management.
It offers freight-forwarding services through various air carriers.
BlueDart
BlueDart is an Indian 3PL company founded in 1983. It provides delivery services for both domestic and international destinations, serving over 220 countries worldwide. The company has a large network of service locations and provides a range of delivery options, including express, deferred, and same-day delivery services.
With its strong emphasis on technology and reliability, BlueDart has established itself as a trusted brand for businesses and individuals in India. Some features of BlueDart that make it one of the best 3PL logistics companies in India in 2023 are listed below:
It has a vast network of service locations, providing delivery services to over 220 countries worldwide.
It places a strong emphasis on technology and the company ensures that shipments are tracked and delivered on time.
It offers express, deferred, and same-day delivery services to cater to customer needs.
It provides seamless integration with eCommerce platforms, making it easy for online businesses to manage their deliveries.
It has a dedicated customer support team that assists with shipping, tracking, and delivery issues.
Delhivery
Delhivery is a business that specializes in shipping and logistics. Its present headquarters are in Gurgaon, Haryana, where it was founded in 2011. It offers a variety of services, such as order fulfillment, marketplace integrations, and warehouse facilities, to support the supply chain. The company's major objective is to offer a solid infrastructure that improves daily eCommerce operations.
In order to do this, technology is used to service more than 18,000 pin codes, give around-the-clock customer support, offer a huge network of fulfillment centers and more. As a result, it has grown to be one of the most reputable eCommerce delivery partners in the country. Some features of Delhivery that make it one of the best 3PL logistics companies in India in 2023 are listed below:
It offers year-round, 24-hour customer support services to all consumers.
It offers shipping aggregation services for the domestic and international B2B and B2C markets.
It provides a large network of different warehouses and fulfillment facilities.
It offers 2 to 4-day shipping for orders coming from a distance.
It offers returns management in order to lessen the harm and delays brought on by returns.
Allcargo Logistics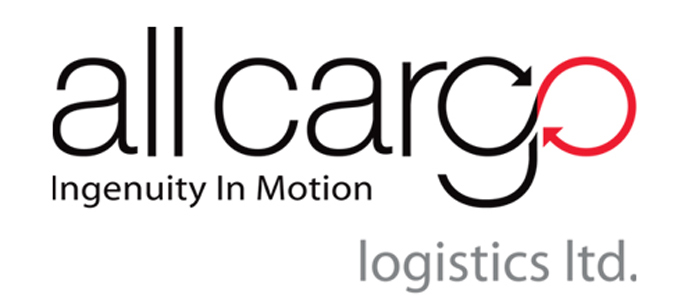 Allcargo Logistics is an Indian logistics and distribution company that was founded in Mumbai, Maharashtra in 1993. The company offers its services in more than 180 countries around the world and has more than 300 offices located in major regions. It specializes in eCommerce logistics solutions such as transportation, supply chain management, contract logistics and much more. Additionally, it has also partnered with many regional and international courier services to be able to provide fast and reliable delivery services. Some features of Allcargo Logistics that make it one of the best 3PL logistics companies in India in 2023 are listed below:
It ships to more than 180 countries globally.
It offers a variety of transportation and delivery methods.
It has more than 69 warehouse locations scattered across India.
It provides returns management services.
It offers value-added services such as cross-docking, quality checks and more.
How to Choose the Best eCommerce Logistics Company in India?
Here are some factors to consider when choosing the best logistics partner for your eCommerce business in India:
Network Coverage: Look for a logistics company with a wide network coverage in India, as this will ensure that you can deliver products to your customers across the country.
Delivery Speed: Choose a logistics company that can meet your delivery speed expectations, whether it's same-day delivery or next-day delivery.
Cost-Effectiveness: Consider the cost of shipping and handling, as well as any additional charges for services such as reverse logistics or returns management.
Reliability: Look for a logistics company with a reputation for reliability, as this will ensure that your products reach your customers on time and in good condition.
Technology and Automation: Choose a logistics company that uses the latest technology and automation to streamline processes, increase efficiency, and provide real-time tracking and updates.
Customer Support: Look for a logistics company with a responsive customer support team that can handle any issues that may arise during the shipping process.
Scalability: Choose a logistics company that can scale with your business, as your shipping needs will likely change as your eCommerce business grows.
Conclusion: Why WareIQ Should be Your First Choice for a 3PL Logistics Service Provider in India?
Choosing a 3PL logistics service provider can have a significant impact on the future growth and outcome of your business. It would be prudent to identify your own current and future requirements and conduct some research about which companies fit that bill the best. There are also plenty of options in the market, so you can get one for a competitive price while also sacrificing the least amount of features.
If you are just starting your eCommerce journey or are looking to expand your reach and ability to fulfill orders across the country, partnering with a good logistics partner would be extremely beneficial. While there are many good options to choose from, WareIQ sets itself apart by offering a diverse range of features, advanced technology, flexibility and transparent pricing.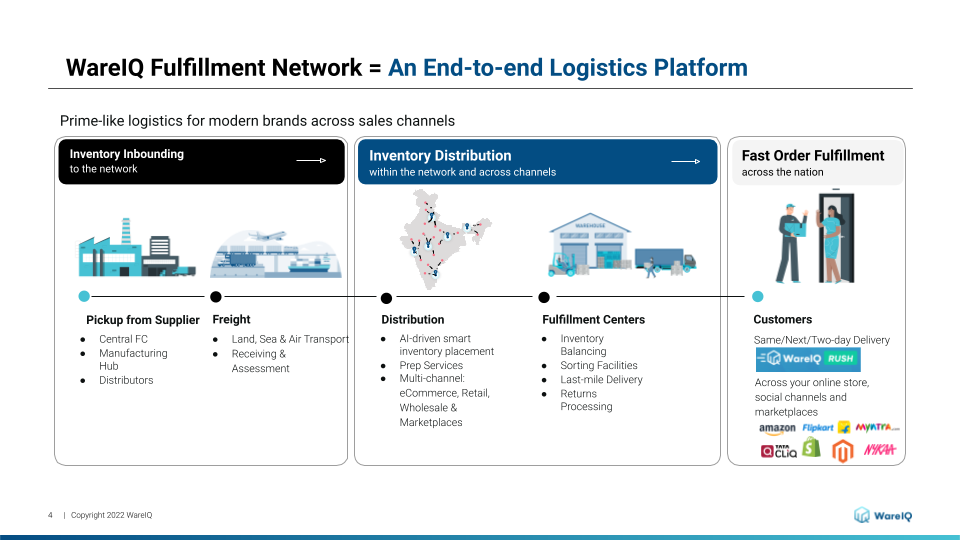 WareIQ is one of India's leading 3PL fulfillment and logistics providers that consists of many different types of eCommerce services. Some of our flagship services are listed below:
Inventory Control: We have a customised WMS that provides real-time updates and the ability to automate a number of tasks
Ultra-Fast Fulfillment: We offer solid same-day and next-day delivery options that are quick
SKU Storage: we can hold your inventory wherever you need it with our India-wide selection of dark stores and fulfillment centers
Shipping Badges: We enable you to include shipping badges on your online product listings that offer delivery estimates, similar to Prime
App Store: We offer a comprehensive, neatly-designed app store with a wide selection of apps
Branded Tracking: We provide branded order monitoring so that you can add any information to your parcel tracking pages that you want to draw attention to
Partnerships with Shipping Carriers: We work with over 12 different courier services and we automatically choose the best option for each order
Online Integrations: We are able to link to more than 20 web development and online retailing platforms, including Amazon, WooCommerce, Flipkart and others
Branded Packaging: We offer specialised packaging solutions that can be tailored to your requirements
Returns Management: We take care of returns and protect you from any consequences that may result from them
Related Search in India: Top 10 Logistics Companies in Mumbai & Logistics Companies in Delhi.
3PL Logistics Companies: FAQs (Frequently Asked Questions)