Top 10 Best Warehousing Companies for eCommerce and D2C Brands in 2023
Warehousing is key to your success in supply chain management, and that is why it is essential to use the best warehouse companies in India. Warehouses need an integrated management system that includes professionals in different areas. These individual specialists help complete tasks concerning the financial aspects and stockouts, extending the business core.
Warehouses provide a safe place to store goods until they are needed and are used to store goods and provide them with the appropriate packaging. They make sure that there are no shortages by ensuring that products are available when needed. Hence, they act as a bridge for the flow of goods or other materials, ensuring that demand is met with supply and reducing the difficulty in working around a fluctuating supply and demand problem.
Proper warehousing is critical to boosting productivity and reducing costs. Warehouses have been changed from a storage space to a process that facilitates the efficient distribution of products between production and consumption.
Warehouses exist in three different types: public, private, and bonded. Read along to find the list of top 3PL warehousing companies in India to decide which company will best suit your needs in 2023.
What are 3PL Warehousing Companies?
A 3PL warehousing company is responsible for all your warehousing services from storing products and goods purchased from a manufacturer, looking after those items at a facility, and then delivering them to another location for final fulfillment. For example, many eCommerce businesses buy products in bulk from their suppliers, who ship them to their warehouses to be stored. Online businesses partner with eCommerce fulfillment companies that have eCommerce warehouses where they store, pick and pack products and ship them to end customers efficiently.
WareIQ – Amazon-prime Like Logistics for Modern Brands in India
WareIQ, an eCommerce fulfillment company, empowers online brands with a superior-tech platform to compete with Amazon like service levels by bringing their average delivery timelines from 5-10 days to 1-2 days.
"WareIQ came to Gynoveda with a full stack fulfillment platform & gave Gynoveda access to a nation wide network of fulfillment centers & last mile & hyperlocal courier partners closer to our customers based out of North East & North India.

They made

same-day delivery possible

for us in metros.

"
Why are Third-Party Warehousing Services Companies Important for Efficient Warehousing Services?
Warehouses have been around for years. Today, they offer more than just storing items – may also provide services to optimize the supply chain and reduce necessary costs. Read on to find out the answers to the importance of using such services.
If you need a warehouse company that can monitor and track your storage needs effectively, you should contact them now before you need their services. Goods only need to be released when they are required.
Better Inventory Management
8% of small businesses do not track their inventory, and of those who do, 24% don't have any stock. Late orders and delayed processing mean frustrated customers and wasted time. Warehouse companies provide you with a centralized, convenient location to store your goods.
With a warehouse, you will be able to track and manage inventory more efficiently and ship and distribute products. In case a product is out of stock, you will know right away and can provide your customers with alternative options in the meantime.
More Efficient Packing and Processing
Most 3PL warehouse facilities provide you with all the equipment and supplies you need to store, ship, and process shipments from customers. Pallet racks, loading docks, and packing materials are just a few examples of products you can employ to save time and money.
3PL warehouses maximize flexibility by eliminating the need to arrange pickup or hire more employees for fulfillment. They can pack goods and classify them according to their legality and customer needs. It means that businesses have to write less code because the warehouse will do most of it and save money on logistics.
Superior Customer Service
88% of online customers will pay more for faster delivery speeds. Over 63% of consumers expect to know an estimated or guaranteed delivery time. Better yet, they are willing to pay more for this service.
A business's reputation can be quickly tarnished, which will hurt its revenue over time. If you fail to deliver orders on time, your company will suffer. With warehousing companies, you can return products more quickly and optimize distribution. They reduce errors and the chance of damage to goods while preventing your products from being lost or stolen in the order fulfillment process.
Price Stabilization
To maintain a continuous line of products, you can store your materials for a later release. A warehouse allows this by creating a demand-resource system where resources are available when needed.
For example, if you own a sports equipment manufacturing and distribution company, you can store ski accessories in your warehouse so that when winter is over, they are still available. It ensures consistent stock levels to maximize your profits.
Improved Risk Management
Warehouses can store perishable items and may have refrigeration, depending on the type of storage you need. Warehouses offering cold storage for products keep your products at the right temperature and prevent them from spoiling or changing in colour or texture.
They also help extend the products' shelf life and ensure customer satisfaction. Additionally, your inventory will be insured, so you will have a better chance of being compensated if they're damaged.
Advantages and Disadvantages of Partnering with 3PL Warehouse Companies in 2023
When deciding whether or not to outsource your company's warehouse operations, you must consider several factors – you may be looking for a way to expand, but company growth is heavily contingent on your space.
New opportunities imply significant changes in storage needs. While not as environmentally friendly as other options, warehouses can efficiently and economically handle these needs with unique, expansive models such as CrossDocks WMS. Consider warehousing as an option for your business and whether there are any drawbacks before making your decision.
Advantages of Partnering with 3PL Warehousing Companies
Warehousing services can significantly enhance your company. Under the right circumstances, you will benefit from warehousing your products, and overseas vendors will ship at as-needed intervals to reduce overstock and inventory.
Significantly Lower Investments
Contract warehousing is a great option for a wholesaler, manufacturer, importer, or other small business that needs to store products, as its costs less money and time than regular warehouses. Warehousing using contracts lets small companies invest in obtaining and storing goods for a specific time, rather than investing in large warehouses to store items. Warehousing services providers keep your inventory, allowing you to have less space and money invested.
Safety, Security, and Insurance
If you wish to guard your wares, leave them under contract warehousing and keep a watch for any breaches. Typically, you do not have to worry about safety when renting a warehouse, as a renter – usually the owner – handles security and rent collection. The products are insured, covered by a guarantee, and are closely monitored with video surveillance.
Location and Distribution
The location of a good contract warehouse can significantly impact the company's success and profitability because of availability. While warehouses are expensive and time-consuming, contracting with them allows you to store your inventory in multiple locations, giving you easy access to your stock no matter where you are.
Flexibility and Scalability
Ease of scalability is a benefit to using 3PL warehousing companies – you can use as much or as little space as possible. Since different companies need different amounts of storage at different times, this saves time and money. The benefits of renting space in a warehouse are scalable and offer many other pricing options. Unlike having your own warehouse which needs considerable investment, here, you have the flexibility of renting rooms from different warehouses that often cater to various clients.
Access to Unlimited Distribution Centers and Technology-Enabled Solutions
E-commerce distribution and delivery become easier through tech-enabled eCommerce warehousing services companies. You can use leveling software that connects to all of your online stores, providing instant fulfillment. You can also receive real-time inventory monitoring reports and automate the order process by tracking and reminding people when it's time to reorder.
Inventory Tracking
The distribution of your company's products is handled by warehousing companies. The most efficient way to get real-time data on products in transit is to streamline the tracking process by providing SKU information, batch numbers, or serial numbers. You can also get activity information about your inventory with comprehensive auditing.
Disadvantages of Partnering with 3PL Warehouse Companies
Though there are some potential negatives, the benefits of outsourcing warehousing typically outweigh them every time.
Complex Reverse logistics
There are a few factors that can impact the efficiency of reverse logistics with warehousing firms. Reverse logistics is the set of post-sales activities that are related to recapturing value and attempting to end a product's life cycle following sales. It's also called backflow, meaning an order goes from front to back.
When a company is unable to sell its products, it must ship the product back to the manufacturer or distributor. However, the costs for shipping and selling are higher for companies with electronic commerce.
When the number of returns spikes in a certain area, it slows down warehouse operations and can lead to higher customer dissatisfaction. It can also be problematic for retailers online who rely on 3PLs to handle such exchanges.
Less Control
The main disadvantage of using 3PL warehousing companies is that you give up some control over your supply chain and distribution networks. The third party takes this responsibility, communicating with customers and suppliers. This doubles the risks.
3PLs usually offer a partnership with a company, but this can be risky. Usually, it is not enough to mitigate the risks. As a part of this partnership, companies have to sacrifice control over their supply chain and distribution network.
Top 10 3PL Warehousing Companies for eCommerce
Many top third-party logistics (3PL) warehousing companies handle warehousing, fulfillment, logistics, and distribution services. 3PLs and logistics providers specialize in distribution, warehousing, and fulfillment services. The core competency of these companies is logistics, and they do it well. Nowadays, many individuals start their own successful online retail businesses from anywhere globally. A 3PL company is often necessary to help their products efficiently deliver to customers. It includes Amazon, which used third-party logistics in the early stages of its company before establishing a logistics arm for itself.
WareIQ
WareIQ is an eCommerce fulfillment company that consolidates all aspects of fulfillment for eCommerce business into one platform making it the best 3PL warehouse company in India. They also provide fulfillment centers near the recipient, an aspect in which not every eCommerce company has a competitive advantage. To save time, it is best to get all your logistic needs from one place: managing inventory, shipping orders, solving delivery problems for customers, and analyzing performance. WareIQ has a network of fulfillment centers across India to help businesses offer two-day deliveries. They also work with third-party providers to support their services' operations, like last-mile deliveries.
WareIQ offers integrated customer support services, such as messaging and calling. Its features include integrating your online store and eCommerce channels and sending the products. WareIQ can manage orders by picking, packing, and shipping them to customers with the same efficiency level as a ground team. It can also store products in warehouses and update inventory in real-time.
WareIQ deals with problems during order fulfillment, like quickly damaged or lost inventory, and returns promptly for a perfect customer experience. They offer COD remittance twice weekly to keep your cash flow. Your deliveries are handled by finding the most efficient and reliable option and managing returns.
Suggested Read: Looking for Top Warehousing Companies in Bangalore?
Emiza
Emiza is one of India's leading eCommerce warehousing companies. It has warehouses across 7 cities in India. Emiza's fulfillment centers help their eCommerce customers with speedier delivery and distribution, as well as simplified consumer returns. Shippers frequently have agreements in place with warehouses of 3PLs like Emiza that consistently handle huge amounts of business. These agreements allow Emiza to deliver the best shipping and distribution rates to eCommerce players, which are then passed on to the client. Returns are collected and sent to the warehouse facility in the event of an improper order, where the proper procedure is followed. Read the blog on best 3PL for small businesses to get access to the list of 3PL providers.
Stockarea

Stockarea has a network of 100+ warehouses across 10+ cities in India in 2023 & caters to its customer's inventory storage, & movement needs. It has warehouses of all sizes & functions – General warehouse, Bonded warehouse, Cold storage, Food grade warehouse etc.
It is one among good performing warehousing and best storage companies in India.
Central Warehousing Corporation
Central Warehousing Corporation is a statutory body under the Government of India. Its mission is to provide socially responsible and environmentally friendly integrated warehouse and logistics solutions that are dependable, cost-effective, and value-added. It is a government-owned public warehouse operator that was founded in 1957 to help the agricultural sector with logistics.
Its aim is To reduce warehousing, handling, and distribution losses & to provide seamless forward and backward integration in areas such as port handling, procurement and distribution, cold chain, warehousing financing, 3PL, consultant services, multimodal transport, and others to plan and diversify across the logistics value chain.
Gati & Fulfillment & Warehousing
Gati is an Indian company with a long-standing relationship with the express distribution industry, responsible for many of the innovative innovations in the logistics industry. With an income of INR 1700 crores per year, Gati provides customers across various sectors with integrated Express Distribution and customized Supply Chain Solutions. They are among the top 3PL warehousing companies in Hyderabad, Bangalore, Delhi and PAN India. Gati has a fleet of 5000+ vehicles available in India comprised of air, rail, and road transportation. Additionally, Gati has 7000 business partners who work as Gati Associates.
Snowman
Snowman Logistics provides a variety of logistic solutions for companies in India. Responsible for everything from refrigerated transportation to infrastructure, Snowman Logistics delivers the opportunity for frozen and chilled items to return to their natural state with the help of their transportation division.
The company has many warehouses throughout the country and owns a fleet of 293 trucks. With their advanced logistics, customers always get what they need when and where needed, maximizing customer satisfaction.
VRL Warehouse Logistics
VRL is a global logistics company that offers tailored warehouse and 3PL solutions for the needs of its many customers. VRL makes it possible for you to be confident in your deliveries as it has been a dependable company since its inception. They provide economical Priority Cargo, Courier Service, and Air Chartering. Many of VRL's corporate partners use the parcel service to transport goods within India because it offers its largest transportation network. The system has also strategically placed trans-shipment hubs to meet customers' needs better.
IndoSpace
IndoSpace is India's leading industrial warehousing provider that operates in a variety of capacities, with facilities for various types of products. It was the pioneer of modern industrial real estate in India with a partnership with Everstone, which invests in India-focused private equity firms. In 2018, IndoSpace partnered with GLP, which has $89 billion AUM.
The IndoSpace-GLP partnership allows IndoSpace to leverage GLP's expertise in fund management, development, and operational resources. The IndoSpace platform manages three funds – one core fund and two development funds – and is a joint venture vehicle established with the help of a large Canadian pension plan. The other two funds are opportunistic investments where the companies have combined equity commitments for over $1 billion.
IndoSpace holds more than 40 million sq. ft. of industrial/warehouse property. It can also be named Best Developer of Industrial/Warehouse Real Estate in India for six years. The company is also known as the Best Developer of Industrial/Warehouse Real Estate in India for the last six consecutive years by Euromoney. It has been named the Firm of the Year – India by PERE.
Mahindra Logistics
Mahindra Logistics Limited, a portfolio firm of Mahindra Partners, provides integrated third-party supply chain and people transportation solutions to various business sectors. Mahindra Partners has a market capitalization of $20.7 billion. With Warehouse Management Systems (WMS), they have automated traditional warehouses to increase operational efficiency, increase inventory visibility etc.
Kotak Third-Party Logistics Warehousing
For many years, Kotak Logistics has been successfully serving its clients in the heart of India with the country's oldest heritage port. They are a top warehousing company and are rapidly growing as a professional group. It has demonstrated experience with advanced operations at major ports & also provides services like road freight, air freight, and ocean freight.
Conclusion: Why Should You Choose WareIQ For Availing the Best eCommerce and 3PL Warehousing Services in India in 2023?
Should you opt for warehousing companies for your eCommerce needs, the factors to keep in mind include the size of your business, the amount of capital you have, and other resources that can be allocated to your eCommerce logistics strategy. Suppose you have a warehouse that meets the needs of your eCommerce inventory and maintains a process for order management. In that case, taking care of your eCommerce warehouse should be enough to meet customer expectations.
One of the biggest reasons to leave warehousing to professionals is the sheer scale. Expert warehouses have access to technology and systems to keep track of every item stored in their facility that most small businesses can't afford. If you want to scale your business quickly, consider a third-party fulfillment center or a third-party warehouse. Large companies like Amazon can continue to grow without relying on warehouses with an efficient system.
3PL fulfillment companies provide access to a pan-India network of fulfillment & micro-fulfillment centers to small businesses & medium-sized businesses & help them offer the same service level as larger enterprises in this scenario. One can manage and fix all logistics issues, from inventory to fraud—the perfect solution for organizations as it is a one-stop-shop. Hence, less time is wasted on shipping and more time is allotted for focusing on business growth.
These are the salient advantages of partnering with a 3PL provider:
A Time-saving Tool
It is often difficult to organize everything from inventory tracking to customer orders. A 3PL provider will take this challenging task away from you and keep tabs on your products. With more space and a better organizational system, you will have an easier time with everything.
Accuracy
3PL services provide warehousing for eCommerce and help by taking the fulfillment process of picking and packing off their plate. They have staff specializing in each part of the order fulfillment process and work to identify any supply chain optimizations. Their technology and procedures ensure that products are delivered to customers on time for a good customer experience.
Unlimited Growth
Online business needs to be growing to be successful. They can use 3PL services from top providers to take care of warehousing to concentrate on other functions. These warehouses can be an asset for your business, contributing to growth.
WareIQ is one of India's leading and fastest growing full-stack eCommerce fulfillment companies that offer a variety of services from same-day and next-day delivery, shipping badges, and RTO Shield, to state of the art technological solutions such as our custom WMS and our intuitive, well designed app store. We can take care of your brand's entire fulfillment requirements and ensure that you and your customers get the best order fulfillment in the country and have a hassle-free experience and raise satisfaction levels to new heights.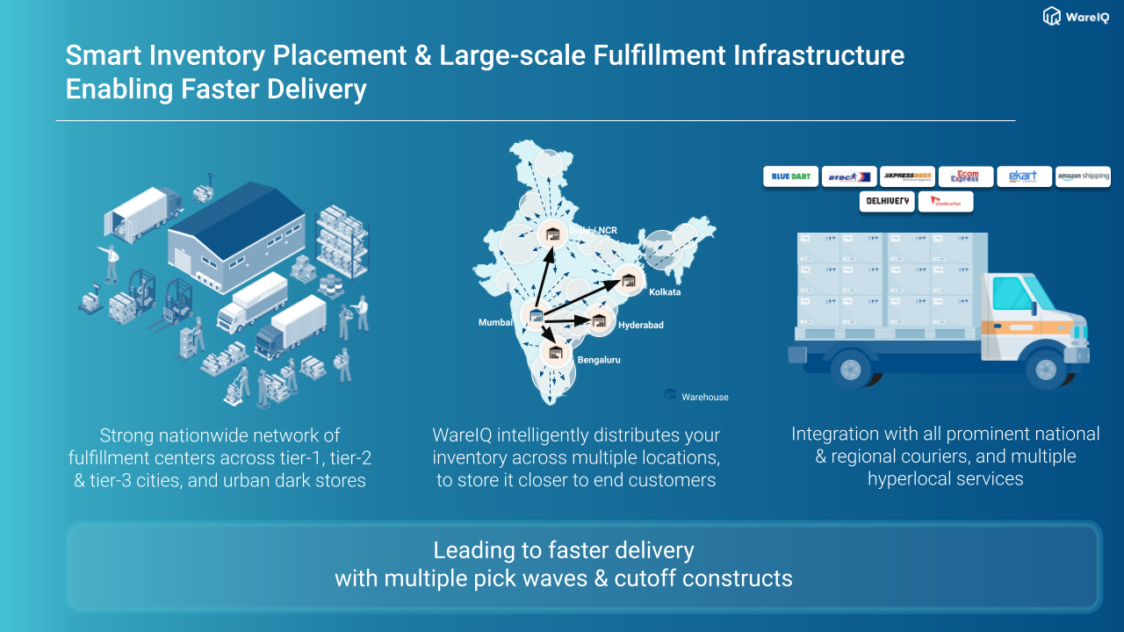 Are you eager to know more about WareIQ's offerings if you sign up now? Find the features of the best-in-class, category-defining fulfillment services for eCommerce & D2C brands below:
Pan India Fulfillment & Darkstore Network: Plug-and-play fulfillment infrastructure with no minimums, which is compliant with Amazon Seller Flex, Flipkart Assured, Myntra and other marketplaces
Inventory & Network Planning Excellence: Best-in-class AI models for sales forecasting, product segmentation, and inventory management to reduce inventory by 40% and increase revenue by 10%.
Vertically Integrated Fulfillment Tech Stack: Our Fulfillment Tech Solution supports integrations with 20+ top marketplaces & D2C platforms, and prominent national, regional and hyperlocal couriers, enhancing reach by covering deliveries for 27,000+ pin codes
Supply Chain Productivity Applications: Integrate a host of supply chain productivity apps with a single-click to your existing CRMs, ERPs & accounting software to manage your logistics workflows from one command center. Use Apps like RTO Shield to get 100% RTO protection, Branded Tracking to turn your order tracking page into a profitable marketing channel, and many more.
Trusted by 300+ top Indian brands, we are helping them accelerate online sales and expedite their growth through a synergistic combination of advanced technology, robust fulfillment infrastructure & seller enablement services!WareIQ is backed by leading global investors including Y Combinator, Funders Club, Flexport, Pioneer Fund, Soma Capital, and Emles Venture Partner.
Suggested Read: List of Warehousing Companies in Mumbai
Warehousing Companies FAQs (Frequently Asked Questions)